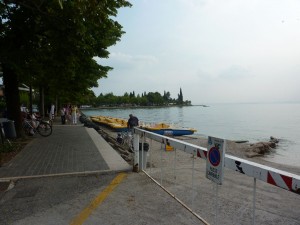 Late afternoon of June 22 my destination was Bardolino. I had got a reasonable lay of the land in the Valpolicella region; Bardolino is just west of Valpolicella, on the shores of Lago di Garda. A very interesting contrast here – totally different wines produced from the same varietals of grapes. Bardolinos are lighter reds, and some nice roses, both still and sparkling. It's hard to imagine these light, even refreshing wines are made from the same grapes that give us the intense Amarone.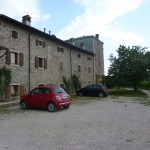 My first stop was the Le Fraghe winery. I have a bottle of this waiting in my wine cooler at home, but I had to hunt it down in the US. I wanted to try some of their other offerings. However, after a bit of a trip down some country roads (as expected), I arrived to find the winery is not open for tastings in the afternoon. From what I could understand from the gentleman that greeted me, who spoke only Italian, they don't get enough business in the afternoon to warrant opening. On to the next stop, which was the town of Bardolino.
On the way, I happened upon another vineyard I had happened upon while researching the area; Ca' Bottura. This location includes vineyards, a full-fledged tasting cantina, as well as an agrotourimso. The pleasant woman in the tasting room was assisting me in English, and the couple next to me in German. They don't produce enough to export to the US, but do export a bit to German, Denmark, and other European countries. The German couple left with 2 cases. I started with a refreshing Chiaretto rose, a fun sparkling rose perfect as an aperitif. Next, a tranquilo Chiaretto, a still version of the same wine. Then came the reds; their very drinkable table Bardolino, followed by the more upscale (and therefore more intense) wines, ending with a robust Merlot. I purchased both the roses and the table Bardolino. It will be great way to introduce our guests next week on our trip with Susan Regis to the wide range of wines that can be produced with these varietals.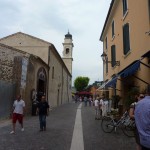 On to Bardolino proper. I parked, and within a minute or so walk of the parking lot I was on the shores of gorgeous Lake Garda. The largest lake in Italy, formed thousands of years ago during the last ice age by receding glaciers, with dramatic changes of altitude within and around it; it drops as deep as 346 meters, with the immediate surrounds soaring rapidly to the 2217 meter summit of Monte Baldo. I don't think of the center of a wine district being a 'beach' town, but here it is. Crowded this time of year with many tourists, I hear more German being spoken than English.
I found a great wine store with a comprehensive selection of local wines; often the stores here will sell wines from other regions, I suppose to offer their local clientele something 'new'. My priorities are obviously different, so a wine store in the Veneto with a fantastic selection of Tuscan wines doesn't appeal to me. Now, if it were in Tuscany…
I picked up a Bianco di Custoza and a Lugana wine; both of these DOC regions are adjacent to Bardolino, on the southern shores of Lago di Garda. Refreshing whites, made to accompany dishes that feature the fresh water fish of the region.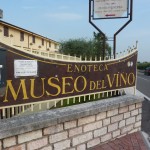 I made a quick stop at the Museo del Vino, housed in the Zeni winery here in Bardolino. They were just closing as I arrived, but as I had seen it before, and will again on our upcoming Bike the Wine Roads trip, I'm not too put out. I also stopped by another place we will visit in September, the Church of San Zeno. An interesting example of Carolingian architecture, with fragments of medieval paintings on the wall. Very small, but well worth a quick peek in.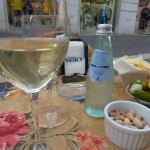 I stopped in a bar for a snack and a glass of Bianco di Custoza, this one from Aldegheri. A refreshing citrus and floral flavor, with a bit of acidity. It would be nice with salads, fresh cheeses and a light fish, but anything too heavy would overwhelm it.
Back to Fumane tonight; tomorrow I head east to the Gambellara wine region.