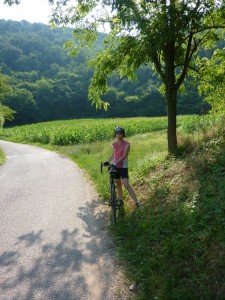 A shorter ride today, our destination being downtown Vicenza. We are staying just to the south of this beautiful city, in the Berici Hills. Our locanda is situated in a picturesque location, but its panoramic view means we have a bit of a hill to climb to reach it at the end of the day! So we know today that challenge is in front of us, but first, lots of sights to see.
We begin heading down the hill – the easy part, and then wind our way around Lago di Fimon, taking the scenic route to Vicenza. We ride through a few small hamlets, corn fields (polenta corn), and vineyards. We eventually make our way to a bike trail which will lead us most of the way into Vicenza.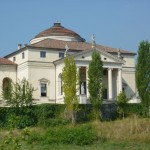 As we begin to enter the city, the beautiful Renaissance villa La Rotonda by Palladio, otherwise known as Villa Almerico Capra greets us on the left. A classic example of Palladio's architecture, it was built in the late 1500s. Inspired by the Pantheon in Rome, it is one of Palladio's best known works. It is beautifully maintained both inside and out. We took a few moments off of the bike to explore the villa and the beautiful grounds, then headed into downtown Vicenza.
Our destination was the centrally located Piazza dei Signori, where we left our bikes and had a few moments to stroll around and get the lay of the city. We will return here tonight for dinner, so we are identifying our shopping spots for tonight! A quick gelato to refuel, and we hop back on the bikes for a direct ride back to the Locanda. That hill is still in front of us.
But before our challenge – a little purse shopping! Vernon knows a great leather goods producer right on the way; we all stop (except for me, who is outside changing my flat tire), and purchase handmade bags for an amazing price. We leave our orders, and Vernon will pick them up for us later in the week. Back on the bikes. Now, not much remains between us and that hill.
We arrive at the hill, and all start the ascent at our own pace. It is hot, and a 1.6 km climb. But our biking skills and our familiarity with our equipment has improved significantly over the last two days, and before you know it, we are all up cooling off under a tree at the Locanda. What had seemed such a challenge only two days before was not so much this time around!
A quick shower, and back in the kitchen with Susan. Today is a prep day, as we make a duck ragu, cure some pork belly, and make polenta. On Friday, we will enjoy all of this preparation at our farewell dinner. We begin with Susan showing us a quick antipasti with zucchini flowers. We take out the stamen, stuff them with our homemade ricotta and a sage leaf, and coat them with a bit of tempura batter – egg white, seltzer water, and flour. A quick fry, and we have a tasty treat.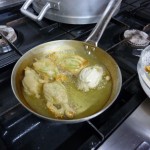 We chop onions, carrots and celery for our ragu, as well as our braised pork belly. Our duck ragu is started; saute the soffrito (onions, carrots, celery), render the fat off of the duck legs, deglaze with wine, and braise the legs in stock, wine, some herbs, tomatoes.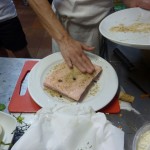 We cure our pork belly, coating it with salt, sugar, and whatever spices we find on hand – garlic, juniper berries, crushed fennel, thyme. It will sit until tomorrow, when we braise this. We make polenta with a combination of corn and buckwheat flours; a bit untraditional, but the use of buckwheat in polenta actually predates the use of corn, which was not cultivated here until it arrive from North America. Sherry and Joyce pitched in on the stirring. It takes a good 45 minutes or more of cooking to really properly develop the flavors of the polenta.
Tonight we headed back into Vicenza for dinner. No specific plan was in place, besides a bit of shopping. After the stores closed, we found Antica Casa della Malvasia for dinner, located in a quiet alleyway. And, comically enough, we had the same waiter here as we did on Monday at Antica Guelfa – he holds 3 different wait staff jobs in Vicenza. We were making plans to meet up with him at his third job later in the week. A very nice Gargenega from Colle di Bugano, a winery we rode by on Monday in the Colli Berici, was our first choice. Susan shared her great salad, with strawberries, robiola, and poppy seeds. And our entrees paired well with a robust Cabernet from Piovene Porto Godi, yet another great winery from the Colli Berici.