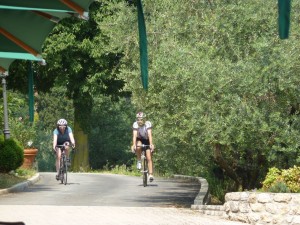 Torrential downpours overnight made for wet roads in the morning at our scheduled departure time of 9am. The skies still appeared threatening, and some occasional drips were coming down. But our trips always allow for a bit of flexibility, so we decided to delay our ride until the afternoon; allowing the skies to clear a bit and the road to dry.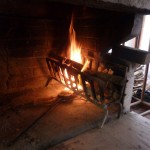 Our plan for the evening was to cook our last dinner over the fantastic Locanda grill, staying a bit out of the way as the kitchen was open for service. We had a bit of prep to do beforehand, so with the late start on the bikes, we moved to the kitchen.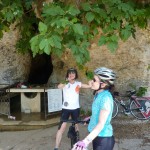 We had a few tasks: continue to braise the pork belly, which was proving a bit tenacious; finish off the duck ragu; marinate the radicchio; make some sort of dessert; and the big task: Susan's Venetian wedding ravioli. These raviolis are made with a dough of potato and flour, much like a gnocchi dough without an egg. They are stuffed with a mixture of dried fruit, nuts, our homemade ricotta, grana, and grappa. I know these as cjalsons, a type of ravioli that hails from Friuli Venezia Giulia. Sometimes made with pasta dough, sometimes with this potato dough, I was happy to learn from Susan Regis how to make it successfully with the potato dough.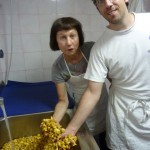 We baked the potatoes, then skinned them when still warm, spreading the potato flesh across the counter to cool it quickly and let the steam escape. We riced it while warm as well. We mixed it with the flour, and kneaded it a bit. The flour we had was semi-whole wheat, which we would not recommend using for this – it doesn't seem to absorb moisture as well as a white flour. Joyce and Chrissie did a great job forming the ravioli – rolling it out just like a pie dough, placing a spoonful of dough on the top, brushing a bit of egg was around the sides, covering the filling with dough and using a cutter to cut the individual raviolis. They were circular in shape, and we pressed around the edges to seal in the filling. We only needed to make one or two per person, as we have plenty of food lined up for tonight, so we made pretty quick work of it.
We cranked up the heat and finally got the pork belly to soften up a bit. We defatted the duck ragu, and Chrissie did a precise job cutting up the meat from the legs. This was added, and we were done here. The radicchio was cut into quarters lengthwise, then marinated in balsamic glaze, wine vinegar and herbs. I threw together a bread pudding, made from a sweet panettone like bread that I bought at a great bakery in Bassano the day before. The remaining cherries were roasted to accompany them.
We put together a quick salad for lunch, with leftover potato skins from the ravioli, topped with pancetta and cheese. Vernon returned, the bikes were ready, and we headed out for a quick afternoon ride. The skies had cleared, the roads were dry, and we were off.
More hills today, but we were ready for them! We rode along the spine of the Colli Berici, taking a different, more remote route. Dropping down into the valley, we revisited beautiful towns like Lumignano and Custozza, before one last trip up our favorite hill to our Locanda. A quick shower, and then Susan started up the grill.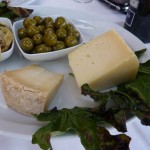 We began with lots of antipasti: burrata cheese with the local Prosciutto di Berico Euganeo, as well as the Prosciutto di Sauris from Friuli. Roasted eggplant, roasted onions, and roasted tomatoes. Two stronger cheeses: bastardo del grappa, and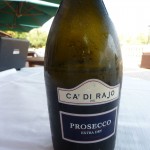 montasio from Friuli. We enjoyed this with a Ca' di Rajo prosecco.
Our first course: the ravioli, or cjalsons, served with a browned butter and sage sauce. Yummy!
Susan and I grilled and plated, while the others enjoyed some wine. Our last meal: pork belly with our fresh borlotti beans; duck ragu with buckwheat polenta, grilled radicchio. Just a little taste of each, but everyone had contributed during the week to produce a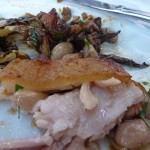 fantastic feast under Susan's expert supervision. We enjoyed Valpolicella and Amarone wines from Brigaldara and Novaia wineries just to the west. Big meaty reds to complement our pork and duck dishes. Finally, our dessert: bread pudding with roasted cherries and grappa whipped cream. A perfect last meal to celebrate our trip!