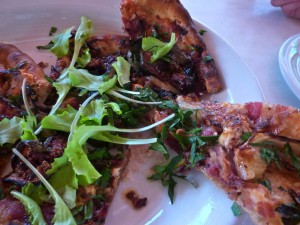 When deciding on our menu for our last Italiaoutdoors Chefs on Bikes trip with our Master Guest Chef Susan Regis, pizza was the first to be added. Although not a traditional dish of Northeastern Italy, it is commonly found all over Italy today. I've yet to meet someone who does not like pizza; and the options for toppings are basically limitless, although I have to admit to not being sold yet on true 'fusion' versions like buffalo chicken pizza! But select your favorite seasonal produce, and complement it with  cheese, perhaps a cured meat, and it's hard to go wrong. Offer a selection of toppings in a 'make-your-own' party and even the pickiest eaters are happy.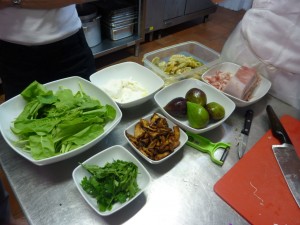 Susan makes fantastic pizzas at her restaurant Upstairs at the Square. During her stint at Biba, the Lobster Pizza was a house favorite. In Italy this past trip, she shared with us her secrets to producing a great pizza crust. We also prepared a couple of items for topping. The following day we prepared at late post-ride pizza lunch, with some wonderful varieties of pizzas!
Here's the original recipe:
Pizza Dough
1 cup warm water
1/2 teaspoon fresh yeast
1 1/2 high gluten flour
1/2 cup all purpose flour
1/2 cup semolina flour
1 teaspoon salt
2 tablespoons olive oil
Additional 2 tablespoon all purpose flour for dusting
Mix first four ingredients and let rise for an hour. Add the next three ingredients to above, then add enough all purpose flour to bring dough together into a smooth, soft, but not sticky dough.
Let sit out 1 hour. Put in oiled bowl. Cover. Refrigerate overnight. Use the next day.
Now, a few things to add:
I recently made this at home, and can't find anything in my supermarket that is 'high-gluten' flour. But you can purchase pure gluten, so I used 2 cups all purpose flour, and 1 tablespoon pure gluten. Bread flour, if you can find it, will have a higher gluten content than regular or pastry flour.
Gluten is a protein composite that is present in wheat, and gives dough its elasticity, helps it to rise and keep its shape when baked. We want to develop the gluten in products such as bread and pizza, but not develop it when working with pastries or cakes.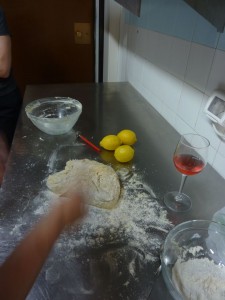 After the hour rise, we added the remaining ingredients. We then kneaded the dough for 10-15 minutes – this step is not mentioned in the recipe. Again, this is to develop the gluten, which will result in an elastic, stretchy pizza dough. Knead until soft and smooth; when done, if you poke your finger into the dough, the indentation should disappear as the dough returns to its original shape. If this doesn't happen, you haven't kneaded it long enough.
An overnight rise is essential; it allows the flavors to develop, and the gluten to relax. Take the dough out of the refrigerator 2 hours before making the pizza.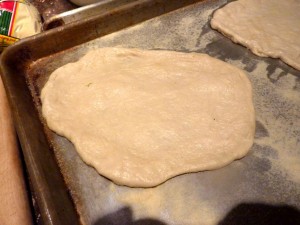 Susan recommends pulling the dough into the desired shape, rather than rolling it out. She likes the big bubbles that form on the edges, so you want to encourage those air bubbles to develop, rather than flatten them during the rolling process. So we divided the dough into 4-5 pieces and slowly pulled them into a somewhat rounded shape. The shape doesn't need to be round; this is a rustic product! If the dough rips, just pinch it back closed.
We had some great options for toppings – fennel confit (fennel braised in oil), homemade ricotta, fresh figs, two types of prosciutto, arugula, various ages of asiago cheeses, mushrooms, honey. We started with a prosciutto, ricotta and grana pizza; then aged asiago, fig and honey. We ended up with leftovers, that made a great antipasti the following day.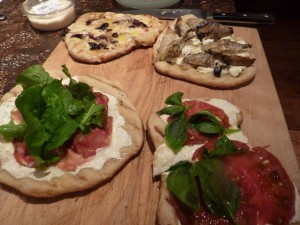 If baking in the oven, the pizza should be baked at as high a temperature as you can get it. The idea is to have the pizza cook from below; you want to place it on as hot a surface as you can possibly get. That is why a pizza stone is key to getting a good home crust. You get it nice and hot, and cook your pizza directly on top. Our challenge in Italy was 1) no stone, and 2) convection oven only. Our first crust did not crisp up like Susan wanted it too; we played around a bit with various scenarios. We ended up cooking it directly on the oven rack, making pretty much a mess of things. The result was tasty, and pretty crisp in spite of the non-ideal circumstances.
At home during the hotter summer months, we cook our pizza on the grill. We cook just the crusts first,  then take them off and top them, returning them to the grill just to melt the cheese and warm the toppings.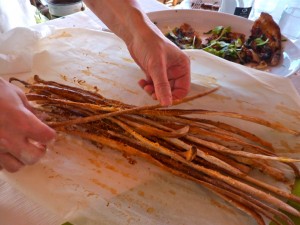 Susan also showed us how to make breadsticks from the pizza dough. You just roll out a rectangle, cut them into thin strips, and top with grated cheese and some minced herbs – we used thyme.