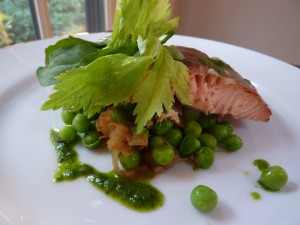 I spent a couple of days earlier this month exploring the towns of Bolzano and Trento in the Sudtirol and Trentino regions of Northeastern Italy. A place absolutely worth a visit, with the magnificent Dolomites surrounding you, terraced vineyards at the base of these peaks, green fields of grapes and apple trees in all directions, and picturesque cities and hamlets reflecting history and culture of both Italy and the Mediterranean to the south, and Austria and Germany to the north.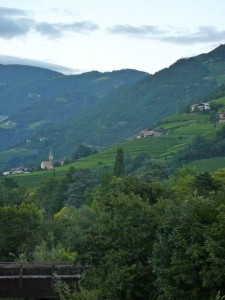 But hidden among these natural beauties is a surprisingly innovative gastronomic scene. Sudtirol, one of the least populous regions in Italy, boasts more Michelin starred restaurants than any other region in Italy. Pair this with the sheer number, as well as quality of wines produced here, and it becomes a must-see region for active foodies. Biking along bike trails, hiking the Dolomites, skiing and winter hiking, paired with amazing foods and wines.
While winding my way from Bolzano down to Trento along the Suditrol Weinstrasse (Wine Road), I stopped at several wineries along the way. I discovered a small recipe book in one of them, a collection of regional recipes put together by three of these chefs; entitled 33x Classici delle Dolomiti. Here is the first recipe I've translated from it. I've loosely converted metric measurements to US, and added a few instructions. But it is a delicious and healthy dinner.
Trout is commonly found in the lakes in both Trentino Alto-Adige as well as Friuli-Venezia Giulia. This recipe lightly sautes trout fillets in butter, and serves it over a bed of 'Mediterranean' vegetables. I had smoked salmon in my refrigerator, so I substituted that. Smoked trout would also work, and it is regionally 'correct' as smoking trout and salmon is done in both these regions.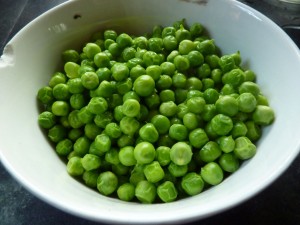 The recipe called for fava beans, which I replaced with some fresh local peas from my CSA. I topped it with arugula from the same CSA, as well as some celery leaves. We used celery leaves as a garnish a couple of time with Susan Regis on our last Chefs on Bikes tour in June; its an attractive and tasty garnish.
Saumon o Trota su Verdure Mediterranee
1 spring onion
1 teaspoon sugar
1/2 cup white wine
1 anchovy filet
1/2 clove garlic, finely minced
1 bay leaf
1 sprig thyme
1/4 cup olive oil
Kosher salt and freshly ground pepper
1/2 small chili pepper, finely minced
10 ounces blanched fava beans, green beans or fresh peas
4 trout filets or 4 – 4 ounce pieces of smoked salmon
Kosher salt and freshly ground pepper
2 tablespoons butter for roasting
1 sprig thyme
4 herb oil for garnish (4 parts oil to 1 part blanched basil, pureed in a blender)
1 cup watercress, arugula or celery leaves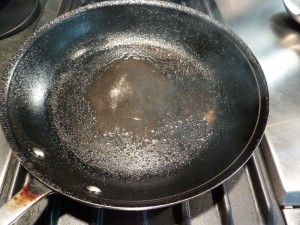 Peel the onion, then cut into thin strips. Place the sugar in a medium saute pan, and caramelize the sugar over low heat, then add the white wine. Reduce the white wine by half.
Add the onion, anchovy fillet, garlic, bay leaf, a sprig of thyme and olive oil, season with salt and pepper, simmer on low heat.
Add the beans or peas and warm.
Remove any excess bones from the trout using tweezers. Season the filets with salt and pepper.
Heat the butter in a saute pan until just beginning to brown. Add the trout, and cook for two minutes. Turn, add the thyme, and cook for another minute.
Serve on the vegetables, and garnish with the basil oil and arugula.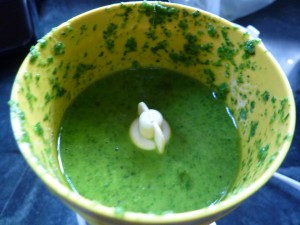 The recipe suggested several alternative preparations:
instead of the beans and onions, serve in a salad of lentils
Use perch, turbot, or cod instead of trout
instead of fava beans you can use peas or green beans.
A great wine to pair with this, especially the smoked salmon version I made here – the Alois Lageder Lagrein Rosato. A wonderful, refreshing, flavorful rose with enough strength to stand up to some stronger smoke flavors.