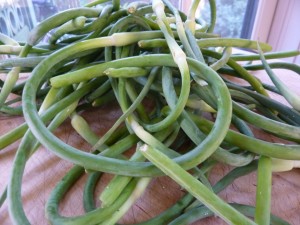 Garlic is a key ingredient in my cooking both here and in Italy. There is hardly a sauce, soup, or pasta that doesn't include it. And it seems to have found it's way into every region of Italy. In the Veneto region that we visit on our bike and hike tours, the Polesine area is renowned for it's white garlic, protected by an official DOP designation.
This time of year, however, my use of garlic turns to the 'scapes'. Garlic scapes have recently found there way to my local farmstands and farmer's markets here in the US. Every year, when they appear, I hear many customers asking "What do I do with these?" The answer is always the same – use it in a stir fry. Actually, this is the answer whenever anyone asks "What do I do with X?", X being garlic scapes, kohlrabi, anything unfamiliar!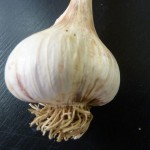 So, what are garlic scapes?
Garlic scapes are the curled flower stalks of the hardneck varieties are garlic that are grown in colder climates. This round green stem grows up from the bulb, growing to about 2 feet in length and beginning to curl in on itself. They are cut off by the farmer to promote better bulb growth, and so are available in early summer only. They are crunchy, with a mild garlicky flavor. They keep for a while in your refrigerator.
What do I do with garlic scapes?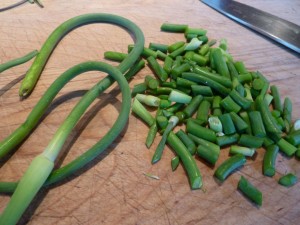 Well, besides the stir fry, or chopped up fine to add a bit of garlic flavor to a salad, you can use them raw to flavor a fritatta or omelet, or a pizza. But my favorite thing to do with garlic scapes is to make a pesto out of them. This is a very simple puree of scapes with olive oil. I then can freeze it in large spoonfuls, and have this available all winter long. I don't make a 'full' pesto with nuts and cheese; I can always add these later as I use the pesto, and this allows me the flexibility to add different nuts, use different cheeses, or eliminate the nuts for guests with food allergies.
What can I do with garlic scape pesto?
Here's a list, with more to come: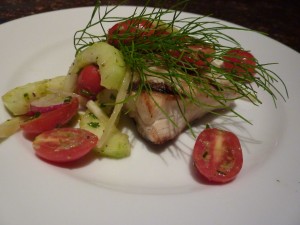 Crostini
Pizza
Flavor a pasta
Mix with other herbs for different pestos (basil, mint, chive…)
Flavor a soup
Flavor a risotto
Flavor grilled or steamed vegetables
Make a sauce for fish or chicken – mix in other herbs, chopped capers
Garlic Scape Pesto
This is not your standard pesto with nuts and cheese; it is even simpler. I basically puree the scapes with olive oil – that's it. Every spring I make a huge batch of this, and freeze it, either in ice cube trays, mini muffin cups, or just spoon out tablespoons onto a sheet pan. After the cubes are frozen, I wrap each in a small piece of plastic wrap, and then place a few wrapped cubes in a vacuum freezer bag, or a small ziplock with the air squeezed out. I pull one or two out when I am ready to use it; they only take a few minutes to defrost. I'll add nuts and cheese only when I am ready to serve it as pesto; that way, I can use whatever nuts I wish; walnuts, almonds, pine nuts, and I can experiment with different cheeses, parmesan, pecorino, or aged asiago.
I make this puree to preserve lots of fresh herbs, such as basil, mint, and chives. I blanch these before using to maintain a nice bright green color, but the scapes keep a nice color even without blanching.
Makes about 1 cup
10 or so garlic scapes, coarsely chopped
1/2 cup extra virgin olive oil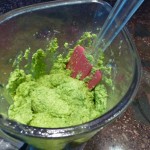 Put the chopped garlic scapes in a blender or food processor. With the motor running, add the oil in a thin stream and process until the scapes are very finely chopped, close to a puree, about 1 minute.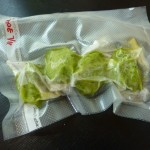 At this point, you can place in ice cube trays or mini muffin cups to freeze. If serving immediately, you can add your favorite nuts and grated cheese (pine nuts and parmesan, for example). About 1/4 cup of each, or to your taste.