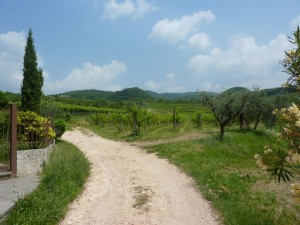 During my June trip to Italy, I visited several vineyards in the Valpolicella wine region, doing 'research' for Italiaoutdoors Bike the Wine Roads  bike trips. One stop I made was the Novaia winery, located in a large manor in the Alto Valpolicella area, in the township of Marano di Valpolicella.
A winding drive through some of the 7 hectares of vineyards leads to an elegant 15th century manor. This is a multi-generational family run operation, I was greeted by the mother, whose grandparents ran the business, and then was introduced to her son, who is continuing the tradition. Mom did not speak any english, but her son, Marcello did, and was brought in when I described my interest. Marcello's father, Gianpaolo Vaona, was the enologist for Bolla for many years, but now can devote all of his energy into developing wines from his own estate. A very gracious and welcoming family, and both the company and the wines make this well worth a visit.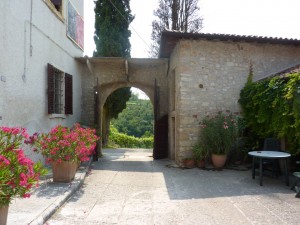 The vineyards of Azienda Agricola Novaia face south and south-east, and are between 250 and 300 meters above sea level. Novaia cultivates the following grape varieties: Corvina Veronese, Corvinone, Rondinella, and, most recently, Oseleta, an indigenous heirloom variety from Valpolicella which was lost during the last fifty years.
I tasted several of their wines, all quite enjoyable; a bit less intense than some other examples, but elegant and lively. Here are three excellent examples of the classic wines of this region:
Valpolicella DOC Classico 2009: Produced from Corvina, Corvinone and Rondinella grapes hand picked at the end of September. It is fermented in stainless steel for 7-8 days, and aged 10 months in steel, and an additional 2 in the bottle.
This is a medium-bodied, ruby red wine that is meant to be drunk young, when it is lively and fragrant with flowers and cherry fruit. This red can pair with a lot of lighter dishes and first courses, including pasta dishes, soups, and even grilled or roasted poultry.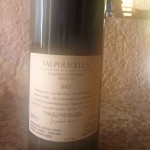 Valpolicella Ripasso DOC Classico Superiore 2007: Using the same grapes, a heartier, more intense wine is produced as a result of the Ripasso method. This is a traditional vinification technique in which the Valpolicella wine undergoes a second fermentation on the pomaces (solid remains after pressing) of grapes that were used for Recioto and Amarone wines – wines that have been produced from dried, concentrated grapes. After the second fermentation, these wines are aged for 12 months in barriques, and an additional 4 months in the bottle.
This wine is a deeper red, and has a more intense and fuller-bodied flavor that the standard Classico. A slightly spicy nose, a savory dark fruit and cherry flavor, with a harmonious, medium acidic finish. This wine can age for 5-6 years. It pairs well with a bit more robust foods; meaty pasta dishes, truffles, and grilled and roasted meats.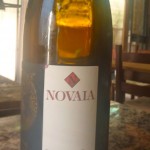 Amarone della Valpolicella Corte Vaona 2007: This Amarone is named in honor of the ancient paved courtyard that graces the front of the manor house that today is the site of the Azienda. The grapes are hand selected by the Vaona family from their own vineyards. The same grape varieties are used – Corvina, Corvinone, and Rondinella – demonstrating the amazing diversity of wines that can be produced by the various vinification techniques.
Amarone wines are produced from grapes that have been allowed to dry to concentrated the sugars. The grapes are the last to be picked in this zone, and then spend the next three to four months in drying rooms, being carefully desiccated to avoid mold and rot. This technique (passito) produces a raisin that has the acid balance characteristic of grapes from cooler climates. These grapes are then fermented, in a similar method used to produce sweet Recioto wines; however, instead of stopping the fermentation to produce a sweet wine, due to some remaining sugar, Amarone wines allow the fermentation to continue until all the sugar is  consumed, resulting in a robust, slightly bitter (amara) wine with a fairly high alcohol level. The Corte Vaona is aged for 24 months in barriques, and another 8 in the bottle.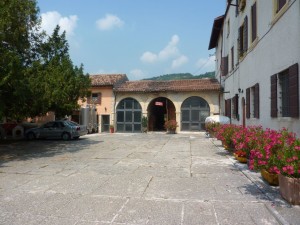 The Corte Vaona has an intense aroma of cherries, red fruits and spice, with a dry, tannic, long-lasting mineral finish. This would pair well with grilled and roasted meats – we enjoyed is with pork belly during our recent trip with Master Chef Susan Regis – but also goes nicely with aged cheeses such as Grana, or as a wine to be just enjoyed on its own; a wine for 'meditation', as they say in Italy. The 2006 vintage of this wine received a 91 rating from Wine Spectator.