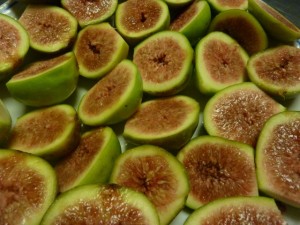 With the exception of special occasions, I am a simple dessert person. Fruit desserts are my favorite – usually fairly easy to prepare, and healthy – or at least better for you than a concoction of sugar, butter, and cream. This recipe I've done at several cooking classes, changing it up to feature whatever is in season. In the spring, I make it with a mixture of berries; strawberries first, then blueberries and raspberries.
As I write, we are on our September Italiaoutdoors Chefs on Bikes trip through the Veneto, and fresh figs are plentiful, both green and black. Fig trees are common in the backyards we pass, all laden with their fruits this time of year. So I adapted the berry recipe to use figs. Small local honey producers are also common, providing lots of options for flavoring and sweeting the figs a bit – I used a chestnut honey. Finally, a few toasted walnuts provide a bit of crunch.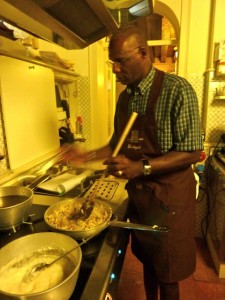 My first choice was chestnuts for the garnish, but we are just a few weeks early; chestnuts, or marroni, will shortly be found in every market here. Grown in the woods just north of our stop in Asolo are the Marroni di Monfenera, a variety of chestnut with the IGP quality designation (Indicazione Geographical Protecta), verifying the origin and growing environment of the product. Chestnuts have been part of the cuisine here for hundreds of years, providing not just the nuts, but also flour. Today, the cured pork products from this area attribute their unique flavor to the chestnuts that are used for fodder for the pigs.
A little local grappa, from Poli in Bassano del Grappa, flavored the whipped cream. We visit Bassano today, and will do a grappa tasting at the Poli distillery, with a chance to purchase a bottle or two for home!
Roasted Figs with Grappa Mascarpone Cream
Serves 8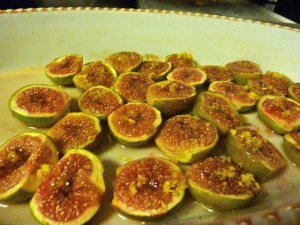 3/4 cup chilled whipping cream
1/2 8-ounce container mascarpone cheese
3 tablespoons confectioners sugar
3 tablespoons grappa
1/2 cup walnut halves (or chestnuts, if available)
1 tablespoon butter
32 fresh figs
1/2 cup walnut halves
1/4 cup honey
1 tablespoon grated lemon peel
Preheat the oven to 350°.
Combine whipping cream, mascarpone, 3 tablespoons sugar, and grappa in large bowl. Beat until soft peaks form.
Place the walnut halves on a baking sheet and toast in the oven until just beginning to brown. Remove from oven.Allow to cool slightly, then coarsely chop.
Butter a small baking dish. Wash the figs and remove the woody stem. Cut in half, and lay in the baking dish, cut side up. Place in the oven and roast until softened and beginning to brown, about 12 minutes. Remove from oven.
Drizzle the honey over the warm figs, and sprinkle with the lemon zest. Top with the walnuts, and serve on a plate with a large spoonful of the grappa cream. You can drizzle a bit of the grappa over the figs if you wish!
We paired this with a wonderful Picolit from Friuli Venezia-Giulia, which was enjoyed immensely by all! Another option is more grappa, of course.