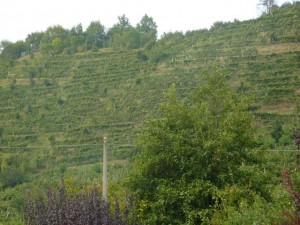 The Merotto Winery is located in the heart of the Conegliano Valdobbiadene Prosecco Superiore DOCG production zone, known for its famous quality proseccos. In these Alpine foothills,  the vineyards of Giovanni Merotto are located in a ring of hills surrounding Col San Martino, an ancient Lombard city north of Treviso. Merotto owns 12 hectares of vineyards in this area, and rents another six, for a total annual production of about 2.3 tons of grapes. In addition, he purchases additional grapes from another 25 local growers, who are constantly subjected to inspections to insure their grapes achieve the quality levels Merotto requires.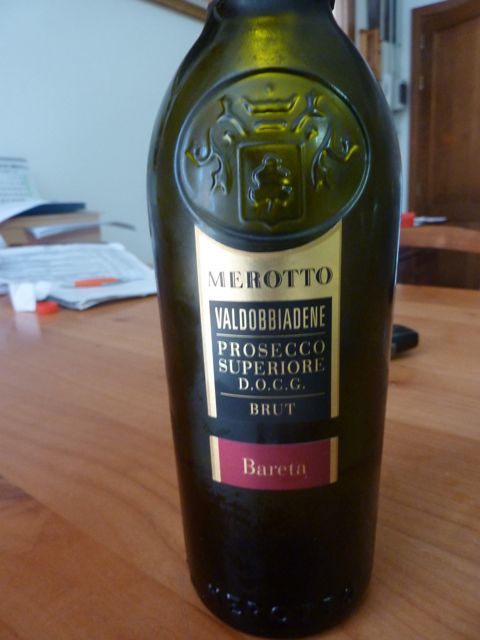 Merotto Bareta Brut
I tasted two of the Merotto Proseccos on a recent visit to their production facility in Farra di Soligo as I researched wineries for our Italiaoutdoors Bike and Wine tours. The first, the Bareta, is a Brut Prosecco Superiore DOCG, made from 100% Giera grapes (the official 'new' name for the prosecco grape.) From the vineyards in Col San Martino, this wine is a straw yellow, with small pearlage and persistent sparkle. It's perfume is fruity, with apple, peach and pear. A fresh and well-balanced flavor, intense with a long finish.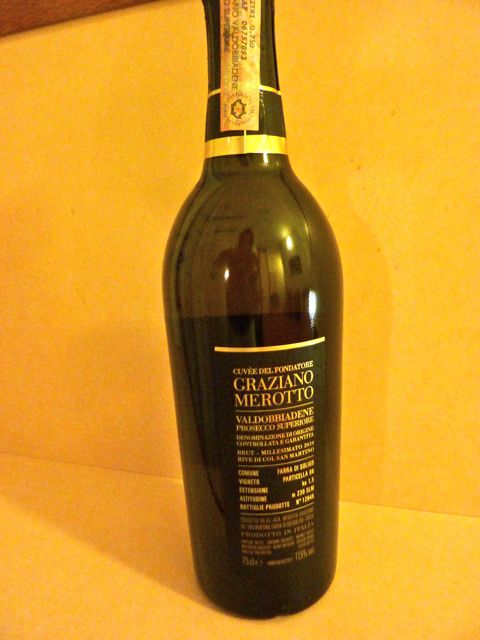 Cuvee di Fondatore Merotto
My second taste was of their flagship Prosecco, the Cuvee del Fondatore Graziano Merotto. This founder's cuvee "is the result of over 40 years of experience matured by Graziano Merotto among his precious vineyards." From the hills surrounding their production facility in Farra di Soligo, this wine is also produced exclusively with Giera grapes, with an extensive period of on-skin maceration. Straw yellow, with fine bubbles and a touch of foam, it has a fruity nose with both stone fruits as well as citrus notes. A very pleasant fresh taste, with a great balance and a nice mineral finish. Again, a long lasting finish.
Both are perfect aperitif wines, and pair well with fish and shellfish dishes, as well as spring vegetable first courses, such as the local white asparagus.