I've been finalizing itineraries for our 2012 Italiaoutdoors bike tours, and we're offering a couple of Bike the Wine Road tours. One I am really looking forward to is biking the Strada del Vino in Alto Adige down to Trentino. There are wonderful wines in this region that we don't see too much of in the US. We are beginning to see their whites here and there, but they actually produce quite a few reds as well. I recently tasted a nice Lagrein from one of the oldest wineries in the entire country, Cantina Convento Muri-Gries.
Located outside of Bolzano,  this winery and convent dates back as far as the 11th century, when the Earl of Bolzano built a stronghold in an old 'chellar' (or cellar) to protect himself from the Bishops of Trento. In the 13th century, Meinhold II, who ruled the independent state of Gorz-Tirol, lived in this stronghold of Gries, as it had come to be known.  In the 1400s, the then ruler of Tyrol, Earl Leopold, gave the estate to a group of monks, who had lost their monastery due to a flood. The facility has been a monastery ever since, being taken over by Benedectine monks from Muri in the Swiss Alps in 1845.
The Benedictine are a pretty serious bunch when it comes to their wines, and as the monastery entered the 20th century, there was a rededication to the production of quality wines. They started exporting their wines to the German speaking countries to the north, focusing on local varietals and styles like St. Magdalener, Malvasia, Lagrein, Kretzer and Pinot Grigio.
The monastery today relies on many agricultural activities for their livelihood, with nearly 30 ha (75 acres) of vineyards, 52 ha (131 acres) of fruit orchards, a large farm on the mountain slopes around Jenesien with meadow and wood, and 45 animals kept in stables.
Muri-Gries produces primarily red wines, with whites lagging at only 15% of their production. And among all red wines Lagrein covers 80% of their production. The resting 20% is shared among other brands like Vernatsch, St. Magdalener, Kalterersee selection, Pinot Nero and Moscato Rosa. The white offered include Pinot Bianco, Pinot Grigio, Chardonnay and Gewürztraminer.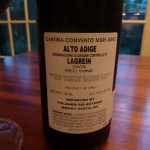 I tasted the Muri-Gries 2009 Lagrein. It exhibits a deep, garnet red color, with a strong cherry and chocolate nose. An intense palate of spice, chocolate and cherry, with a slightly bitter, tannic finish. As a varietal, the Lagrein is a bit on the acidic side, and this wine is no exception. It would easily overwhelm a light dish, but the acidity makes it a wonderful foil to a strong meat dish, such as a braise, roasted meats or game. This wine was awarded two glasses (very good to excellent in its respective catagory) by Gambero Rosso 2011, a perfect example of this regional varietal, meant to be paired with the mountain foods of this area.