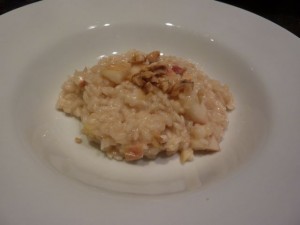 Along with researching the recipes and cuisines of Northeastern Italy for our Italiaoutdoors active culinary and wine tours, I am busy these days developing a cooking show for our local Sugarloaf TV channel, WSKI. We are featuring local producers from Maine in each short segment. I am visiting each producer we cover, and developing recipes that use their products. Here's a dish that works for both – a recipe from Northeastern Italy that uses one of Maine's best products, available now – fresh apples.
I have found versions of this recipe in the cuisines of both Trentino and Fruili-Venezia Giulia. Apple orchards wind their way across Italy's northeast area, from Val Sugana, continuing along the Adige Valley and then straight to the epicenter of apple cultivation, the Val di Non and Val di Sole in Trentino. More than four million apples of all varieties and sizes are produced each year in these valleys and today, more than ever, they are used satisfy a growing overseas market.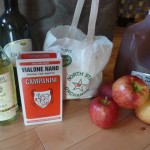 Italy is the world's sixth largest producer, and Europe's second, with 2.2 million tons of apples. Golden Delicious is the second most widely cultivated apple variety globally and the first in Trentino where around ten thousand hectares are dedicated to production.Trentino is particularly well-suited to the growing of high-quality fruit, and production totals for 2009 were around 450 thousand tons, accounting for 21 per cent of the national market. One in five apples eaten in Italy comes from Trentino, and together with Alto Adige, it provides over 60% of apple production in Italy.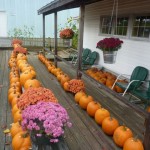 Traveling from producers in Italy, I return to similarly well-suited producers here in my backyard in Maine. I recently featured Judy Dimock from North Star Orchards here in Madison, ME on my cooking show. I visited her family's orchard a few weeks ago. A beautiful farm in Madison, with spectacular views of Sugarloaf from their orchards. They produce over 15 different varieties on their 35 acres, and sell  their apples through Hannaford's, as well as from their own retail store at their orchard, or via mail order. Visit their retail store in the fall for apple picking, or to pick up some of their homemade apples jams – the Apple and Garlic jam is great with a sharp cheese.
Here's my adaptation of a couple of Italian Apple Risotto recipes. Fred Plotkin has a recipe in his cookbook on the cuisine of Friuli-Venezia Giulia, "La Terra Fortunata". He suggests using apple juice and water as the cooking liquid, which immediately struck me as too sweet. A similar recipe I found from Trentino uses meat stock for the cooking liquid. I used, and liked, a combination of fresh apple cider – also from North Star Orchards – with chicken stock. Using pure cider, or apple juice, would definitely be too sweet for this savory dish.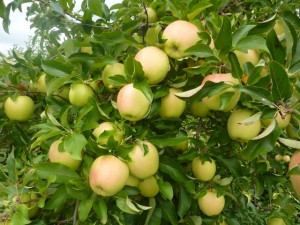 Plotkin recommends NOT using any spices such as cinnamon, while the recipe from Trentino called for them. I think with the meat stock used in the latter version, it might work. Plotkin suggests flavoring with fresh mint, which I wasn't crazy about, and couldn't find this time of year anyway. I used walnuts instead, which seemed to me a better fit with the regional cuisine, walnuts being another fall product of Northeastern Italy.
I served this with some roasted pork and roast squash – a great fall dinner.
Apple Risotto
Serves 4-6
2 cups diced apple
Freshly squeezed lemon juice 2 cups apple cider
2 – 3 cups chicken stock
2 tablespoons unsalted butter
1 1/2 cups risotto rice (arborio, canaroli, vialone nano)
1 teaspoon grappa
1/2 cup white wine
1/2 cup freshly grated aged Montasio or Grana cheese
Chopped toasted walnuts
Toss the fruit with the lemon juice to prevent it from turning brown
In a medium saucepan, combine the apple cider with the chicken stock, and bring to a boil. Reduce to a simmer.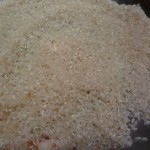 Heat the butter in a large saute pan over medium-low heat. Add 1/2 cup of the fruit and saute for about 2 minutes, until the fruit is slightly soft. Add the rice, and saute until the rice toasts, about 2-3 minutes. The rice should become slightly opaque.
Combine the grappa and the wine and pour into the saute pan with the rice. Cook, stirring, until the wine has evaporated. Add approximately 1/2 cup of the cider/stock, and stir again until the liquid has been absorbed. Continue, adding the liquid one ladle at a time, until the rice is creamy, but still firm, "al dente". This will take 15-20 minutes. Do not just cook until the stock is gone, the risotto may well be done before you have finished using all of the stock. After the first 10 minutes of cooking, add the remaining apple pieces.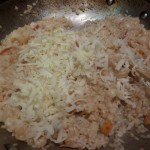 Stir in the cheese, until it has melted. Serve immediately, garnished with the toasted walnuts.