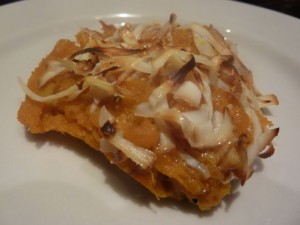 Last year around Thanksgiving I posted a couple of turkey recipes. If you're looking for some ideas, check out my Braised Turkey with Pears and Chestnuts, and How to Use Your Entire Turkey.  This year, I'm writing up a few side dishes, all Italian inspired. Today I am making a Butternut Squash Puree, which can also just as easily be a Pumpkin puree, or zucca in Italy.
Pumpkin and other winter squashes are more commonly found in Northern Italy than down south, and interestingly enough, came to Italy from the New World, rather than the other way around. In Italy on our bike tours, we see a few winter squashes and lots of pumpkins, but many different varieties than we see here – not a lot of butternut squash. In Emilia-Romagna and Lombardia, you will most often see zucca inside of a stuffed pasta, such as tortellini di zucca. In Venice and Padova, it appears in Zuppa di Zucca, which I covered in another post. You'll also find it used in other classic dishes from Northeastern Italy, including risottos and pumpkin gnocchi.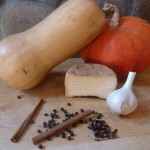 But with the turkey and lots of other things to prepare, I look for side dishes that are a bit different,  but easy and not requiring a lot of last minute preparation. This recipe is a simple puree from the region of Friuli-Venezia Giulia, flavored with cinnamon, cloves, black pepper, and flavored with the classic cheese from Friuli, a smoked ricotta. If you can't find smoked ricotta (or should I say 'when') substitute another smoked cheese.
In Italy, pumpkin is more commonly used than winter squashes such as butternut, but all will work here. This recipe, which I've adapted from Elisabeth Antoine Crawford's Flavors of Friuli, called for steamed squash, but here I roasted it. I think it adds a bit more flavor, and, more importantly, I don't have a steamer basket. For pumpkins, or other oddly shaped squash that is extremely difficult to peel, you can simply dispense with the peeling, cut the squash or pumpkin in half, scoop out the seeds and roast it with the skin on, then scoop out the cooked flesh and puree.
Venzone is a tiny town in the province of Udine that annually hosts a Festa della Zucca, to celebrate the locally grown pumpkins, squash, and gourds of all shapes and sizes. Contests for pumpkin carving, as well as the largest, longest, unusual, and unique squashes are held, and the local restaurants feature dishes that showcase the squash. You will find soup, gnocchi, cakes and breads, and this dish, called Cavucin.
Cavucin or Butternut Squash Puree
1 large butternut squash or small pumpkin, peeled, seeded, and cut into 1/2 inch slices
1 tablespoon extra virgin olive oil
Kosher salt
4 tablespoons butter
2 cloves garlic, minced
2 tablespoons all-purpose flours
1/2 teaspoon ground cinnamon
1/4 teaspoon ground black pepper
pinch of ground cloves
1/2 cup grated ricotto affumicata (smoked ricotta) or other smoked cheese
ground cinnamon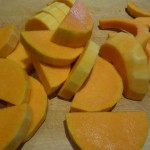 Preheat oven to 375°.
Place squash slices on a sheet pan, drizzle with olive oil and season with salt. Roast until soft, approximately 20-30 minutes. Transfer to a medium bowl; mash well.
Melt the butter in a large pot over medium high heat. Add the garlic and cook until aromatic, about 1 minute. Add the flour, and cook for 3-4 minutes. Stir in the mashed squash, cinnamon, black pepper and cloves. Cook until heated through. Taste and adjust seasonings. At this point, you can hold the squash puree for a few hours in the refrigerator, or even overnight. Reheat the puree in a saucepan before proceeding with the next steps.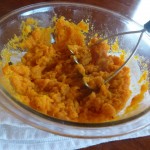 Turn on broiler.
Place mashed squash into a oven proof baking dish. Top with the grated smoked cheese. Place under broiler and heat just until cheese begins to brown. Remove and serve, topped with a sprinkle of cinnamon.