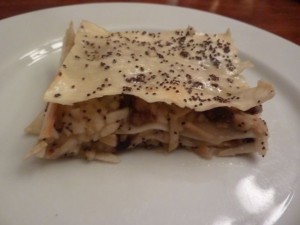 Another traditional Christmas dish from Northeastern Italy intrigued me the moment I discovered it, but it is quite unexpected, and I was unsure of how it would go over with American palates. I've made it a couple of times now, and it has been incredibly well-received, with people requesting seconds. It is a Christmas Lasagna, Lasagna da Fornel, but it's not your typical lasagna. Throw out all your preconceptions of what goes into a lasagna – this is made with apples, figs, raisins and nuts.
This recipe hails from a couple of different areas in Northeastern Italy, where apples abound throughout the area – you can cycle through apple orchards from Trentino-Alto Adige all the way down to the Adriatic. It is found in the mountainous Carnia territory of Friuli-Venezia Giulia; a festive dish that is commonly served at Christmas, but may be found throughout the year. It is also found in the Veneto region, in the provinces of Belluno and Treviso, served either on Christmas eve or Christmas day. It is made as a lasagna, layers of apples, dried fruits and nuts between sheets of pasta; or it can be made as a  deconstructed loose pasta dish.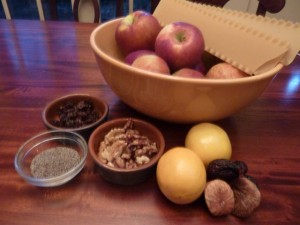 It is seasoned with semi di papavero, poppy seeds, not a spice you think of when you think of Italian food, but quite common in these regions in the Northeast. Poppy seeds are used in many cuisines of Central Europe – Austrian, Czech, Hungarian, German and Slovac. There appearance in the cuisine of Friuli-Venezia Giulia is one more example of the influence of these areas on the foods of this region of Italy.
The city of Trieste lies on the Adriatic, and throughout history was a very active trading port, as Austria lavished money and attention on the principal port of the Hapsburg and then Austro-Hungarian empire. Here, spices of all types arrived to be carried north to Austria, Germany and elsewhere in Central Europe. These spices were often transported by cramars, traveling peddlers who lived in the mountains of Carnia in the northernmost section Friuli-Venezia Giulia. Originally settled by the Celts, who brought with them a talent for land management, and began by raising livestock in this region. When winter approached, and grazing was limited, these pig farmers would load up with spices, leave their families behind and made a difficult trek north through the Alps to Austria and Germany to pick up some additional income by selling their wares.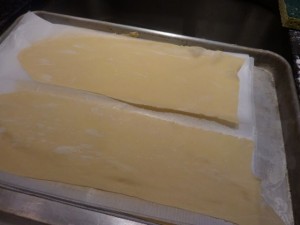 As many of these spices were believed to have medicinal benefits, these cramars became a sort of medicinal healer as well, selling mixtures of spices and dried herbs as remedies. Any of these spices that were not sold ended up being used in the kitchens of this region. You see them in many baked sweets, breads, and salad dressings, just as you do here in the US, but they also appear, as here, in pastas.
I made it with both store purchased as well as homemade pasta. My homemade was much preferable. I would recommend using the best pasta sheets you can find, as it is a  bit more delicate that a traditional meat lasagna.
A prosecco would make a wonderful pairing with this dish, most certainly what they would enjoy it with in Treviso, the home of prosecco.
Lasagna da Fornel – Christmas Lasagna
Kosher salt
1 pound dried lasagna
8 apples, such as Macoun, McIntosh, or Cortland
1/4 cup lemon juice
6 ounces dried figs
6 ounces raisins
4 ounces walnuts, finely chopped
3/4 cup unsalted butter, melted
1/4 cup poppy seeds
Preheat oven to 350°.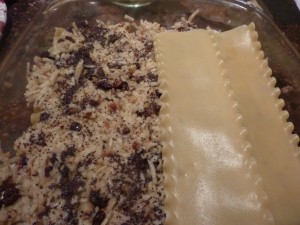 Bring a large pot of water to boil over high heat. Add salt. Cook the lasagna noodles, 4 or 5 at a time, until about 1/2 done. For fresh pasta, this would be about 2 minutes; for purchased dried pasta, about 4-5 minutes.
Spread the cooked sheets out on a towel, without overlapping. Allow to dry.
Peel and core the apples. Grate them into a large bowl, or using a food processor. Transfer to a large bowl, and add the lemon juice to keep them from turning brown. Add the figs, raisins and walnuts, and mix to combine.
Melt the butter.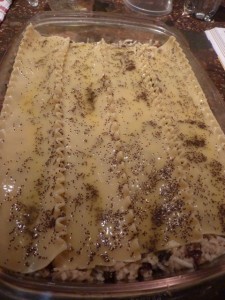 Brush butter on the bottom of a 13×9 baking dish. Place a layer of lasagna sheets, and top with 1/3 of the apple mixture. Brush with about 1/4 of the butter, and sprinkle with 1 tablespoon of the poppy seeds. Repeat the layers of noodles, apples, butter and poppy seeds two more times. Finish with a last layer of noodles, brush with the remaining butter and sprinkle the last of the poppy seeds.
Place in the oven and bake for 15 minutes. Serve.