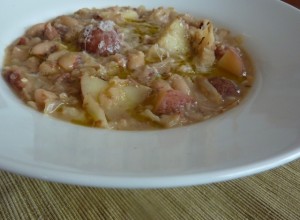 Located on a narrow strip of land, between the Adriatic Sea and Slovenia, lies the city of Trieste. This unique location has placed this city at the crossroads of Latin, Germanic, Slavic and Austro-Hungarian cultures for centuries. United with Italy after World War I, today Trieste remains a very cosmopolitan city, where east meets west in an exciting blend of culture, history, art, and cuisine. We are excited to add this fascinating region Friuli-Venezia Giulia to our Italiaoutdoors tours this season.
A traditional food of the city that visitors will find at the many buffets and restaurants is La Jota, or Iota, a peasant soup made from beans, potatoes, and sauerkraut. This is a thick, hearty soup, perfect for a cold winter evening. You will find, as usual, different variations. Marcella Hazan's recipe thickens the soup with cornmeal, a version common near Gorizia, and flavors it at the end with a paste of finely chopped salt pork, called pesta. Others, such as Fred Plotkin thicken with flour and puree a portion of the beans. Plotkin also mentions that a similar soup is made in Slovenia, using fresh cabbage rather than sauerkraut. Further west in Friuli, you may find Jota made with brovada, pickled turnips, rather than sauerkraut.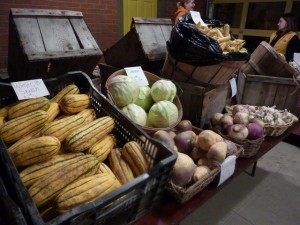 I have been intending to try this soup for while, and was inspired to finally do so by a recent trip to the Skowhegan CSA, called "The Pickup". It is still amazing to me to find fresh produce available from the local farms here in Maine in the middle of January, albeit mostly root vegetables. But there were local dried soldier beans, cabbage, and potatoes. A bit of pancetta, some garlic, and I was ready to go. Except for the weeks I would need to make the sauerkraut. And there are no high quality store-bought alternatives nearby. So I set about to see what I could do to create a somewhat similar flavor with what I had at hand – fresh cabbage, salt and vinegar. You can make this soup either way, using store-bought or homemade sauerkraut, or with the 'quick pickled' cabbage. Either way, it is a tasty soup that improves after a day or so in the refrigerator.
I would call this recipe "inspired" by Jota, rather than authentic. But it was delicious, and a great way to incorporate many local foods into a great soup. I'll try the authentic version someday when I've made my own sauerkraut. But don't hold your breath waiting for that post.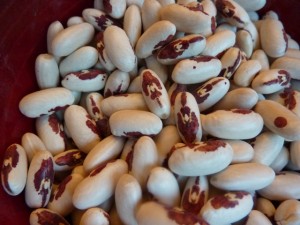 Jota Inspired Bean and Cabbage Soup
10 ounces dried beans, bolotti, soldier, white
3 tablespoons extra virgin olive oil
1 head cabbage, thinly sliced
Kosher salt and freshly ground pepper
1/2 cup white vinegar
3 bay leaves
1 pound new potatoes, cleaned and cut into 1/2" pieces
2 ounces pancetta, chopped
3 cloves garlic, minced
2 teaspoons caraway seeds
4 cups chicken stock
Begin the soup the night before you plan to eat it.
Place the beans in a large bowl, and cover with water. Allow to soak overnight.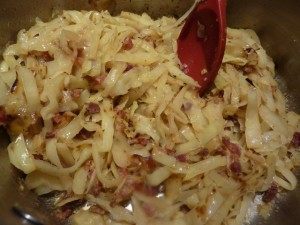 Heat 2 tablespoons of the olive oil in a saute pan. Add the cabbage and saute until soft and beginning to brown, about 10-12 minutes. Season with salt and pepper. Transfer to a plastic container, add the vinegar, and allow to sit in the refrigerator overnight.
When ready to prepare the soup, drain the beans and place in a large saucepan. Cover with water by about 1 1/2 inches, add the bay leaves, and bring to a boil over high heat. Reduce the heat to low, and allow to simmer, covered, until tender, about 1 hour. The length of the cooking time depends on the size and the age of the beans. Drain and remove the bay leaves.
While the beans are cooking, place the potatoes in a medium saucepan. Cover with cold water, add salt, and bring to a boil over high heat. Cook just until the potatoes are tender, about 15 minutes. Drain.
Heat the olive oil in a large pot, over medium heat. Add  the pancetta and cook until browned and beginning to crisp, about 5 minutes. Add the garlic and caraway seeds and cook until aromatic, about 1 minute. Add the cabbage and vinegar mixture, and cook until thickened a bit, about 5 minutes.
Add the beans and the chicken stock, and bring to a boil. Reduce heat and allow to cook and thicken a bit. Using an immersion blender, puree about half of the soup, leaving about half of the beans and cabbage intact. Add the potatoes, and continue to cook for another 10 minutes. Season with salt and pepper, and serve with a sprinkling of Montasio cheese, and/or a drizzle of olive oil. Serve with a nice glass of Refosco from Friuli.