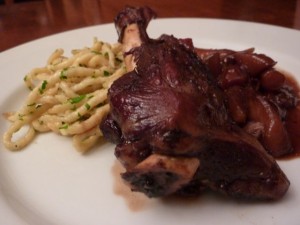 My last post on spaetzle made a very simple preparation of this rustic noodle. To dress it up a bit and make a delicious Sunday dinner, I wanted a hearty meat dish with lots of sauce to enjoy with the spaetzle. My favorite way of creating such a dish, meat with lots of sauce, is a braise. In Italy, a very common braised dish is shanks (veal, for Osso Buco, for example) cooked in wine, tomatoes, and broth. In Trentino-Alto Adige you can enjoy it with spaetzle, in Milan, your Osso Buco would come with risotto, in the Veneto we enjoy it with a soft polenta.
Braising does take a while, but not a lot of hands-on time. I can write, ride my bike trainer, read a book, figure out how to make spaetzle, anything to while away the couple of hours of cook time. The same basic technique works for all types of meat: beef, pork, lamb, even chicken, turkey and rabbit. The cook time will vary a bit for each type of meat, you can play with all sorts of options for the braising liquids, from broth, to wine, cider, milk, beer, as well as the "aromatics", or vegetables to add. Often, my choices are dictated by what I have on hand, rather than a trip to the grocery store. Right now, lamb is what I have on hand.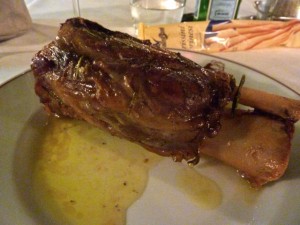 I had just purchased my second full lamb from a fellow ski instructor at Sugarloaf. Bill Trussell runs French Hill Farm, where he raises lambs throughout the year, breeding and birthing them himself. These are true lambs, not mutton or sheep; a leg will only feed about 3 people, and I can fit the entire animal in the freezer section of my refrigerator with room to spare. The meat is mild and quite delicious. The first time I made lamb burgers for the family the boys LOVED them, and they have become the burger of choice in our household.
French Hill Farm raises Coopworth lambs, a breed from New Zealand known for its mild meat and lustrous wool. Billy feeds them oats, some corn, and hay. In New Zealand,  they are often feed a salt supplement that Billy avoids, as he believes it gives the lamb meat a more 'gamey' flavor. This lamb was definitely not at all gamey. I get several pounds of ground lamb, chops, ribs, legs, and four lamb shanks. The shanks are perfect meat for a braised dish.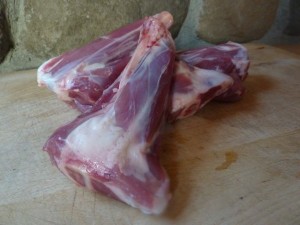 The shank is the lower part of the leg, from the knee down. The meaty part is up toward the knee joint, and as you move down towards the ankle, the meat basically disappears. These are the most used muscles on the animal, and so are the toughest, making this cut not a good candidate for grilling or sauteing. But perfect for the slow-cooking involved in braising. The tough connective tissue dissolves slowly, mixes with the braising liquids and creates a wonderful, luxurious sauce with no effort on the part of the cook.
Stinco di Agnello Brasato (Braised Lamb Shanks)
Serves 4
4 lamb shanks
2 tablespoons olive oil
kosher salt and freshly ground pepper
2 turnips, peeled cut into 1/2 inch pieces
3 carrots, peeled and sliced into 1/4 inch slices
1 cup red wine
2 cups beef or chicken stock
1 tomato, chopped, or 2 tablespoons tomato paste
Lay the lamb shanks out on a sheet pan and season generously with salt and pepper.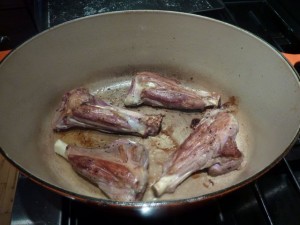 In a large, heavy bottomed pot, heat the olive oil over medium-high heat. When hot, add the shanks to the pan and brown well on all sides. Allow space between the shanks, searing them in batches if they are too large to fit nicely in the pot. You want them to sear, not steam. When nice and brown, remove from pan and set aside.
Add the turnips and carrots, and cook until beginning to soften and turn brown. Season with salt while browning.
Add the red wine, bring to a boil and reduce by about half.
Place the lamb shanks back in the pot on top of the vegetables. Add the stock and tomatoes or tomato paste, stirring the paste a bit to break it up and mix it in with the broth. The shanks should be covered about half way with the liquid. Bring to a boil, then reduce to a low simmer.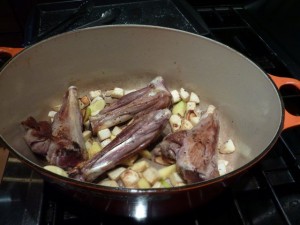 Cover the braise with a piece of parchment paper, then with an additional cover of aluminum foil. Push this down so it lies on top of the braise. Cover with the pot lid. Allow to simmer over very low heat until the lamb is very well done, and falling off of the bone, about 2 – 3 hours, depending on the size of the shanks. Alternatively, you can transfer the braise to a preheated 325° oven and cook there, rather than on the stove top. Just make sure your pot is oven-proof (no plastic handles.)
Remove the shanks from the braising liquid and defat. If you make this a day ahead, this becomes easy as the fat will rise to the top and harden.
Serve with spaetzle, soft polenta, or risotto, accompanied by a Lagrein from Trentino-Alto Adige or a Valpolicella from the Veneto, and enjoy as if your were in Italy!