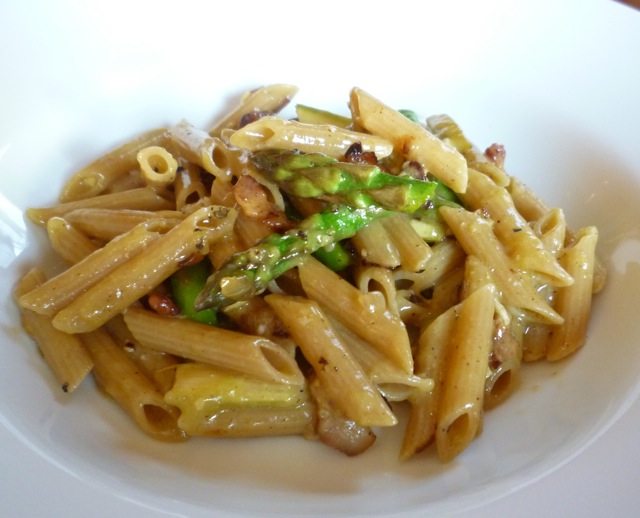 A classic Italian pasta preparation known the world over, pasta alla carbonara is a quintessential example of Italian peasant food. Stories as to its origin are many and varied, and you will find versions of it all over Italy, with spaghetti used in Rome, penne when prepared in the Appenine mountains of Abruzzo, bucatini when in the Northeast – a thick, hollow spaghetti-like noodle native to the regions we explore on our bike tours, but most believe it was popularized in Rome itself. You will find various debates at to the proper ingredients: pancetta versus guanciale (pork cheek), pecorino romano versus parmigiano reggiano. I'll share a few of the more interesting stories and thoughts on this dish, and then offer a basic recipe that I've mucked around with by adding asparagus. You can go totally traditional and leave this out, but I am always trying to include more vegetables in my diet, asparagus is in season as I write this, it is traditionally paired with eggs in Italy, and my kids will eat it if I hide it in something else.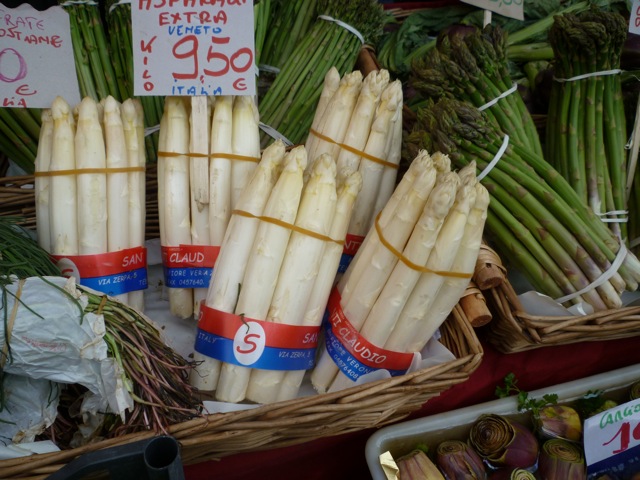 Many authorities, including Clifford Wright, mention that the name carbonara derives from the Italian word carbonaro, meaning charcoal burner, and the carbonari, the woodcutters who would cut wood and make charcoal. They would spend months at a time camping outside in the woods, with little ability to store fresh food. This was prepared with foods that would keep without refrigeration – cured pork, cheese, oil, pasta, the only perishable ingredient is the eggs, which they could usually find at a nearby farm. They would prepare this over a charcoal fire.
A second popular anecdote about its origins is attributed to the food shortages that plagued the city after the liberation of Rome in 1944. Allied troops were generously distributing military rations to the locales that included powdered egg and bacon; they added water, and combined these ingredients with pasta, most likely in an effort to recreate a dish they were already familiar with.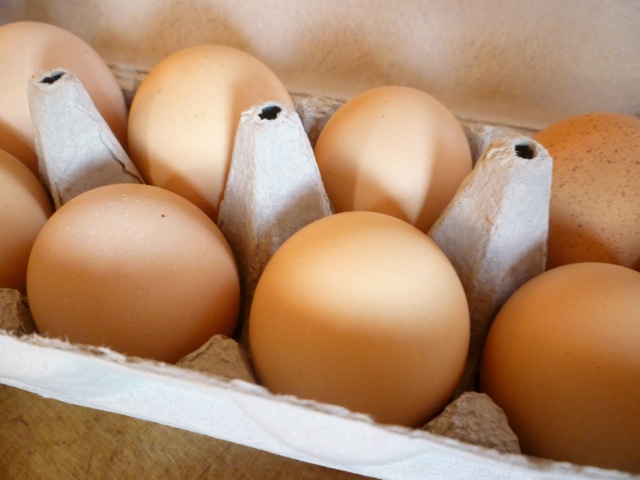 The world-famous actress, Sophia Loren, shares her experiences with this dish in her cookbook, Sophia Loren's Recipes & Memories. When in Italy in the late 1950s filming the movie Two Women, she tells of a mountainside encounter between the film crew and a group of carbonari, who prepared the dish for them in the traditional way. She shares their recipe in her cookbook, although her particular version does include cream, which most authorities would turn up their nose at!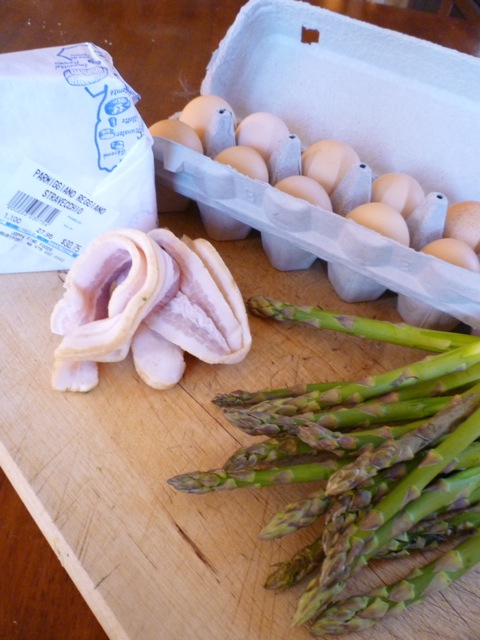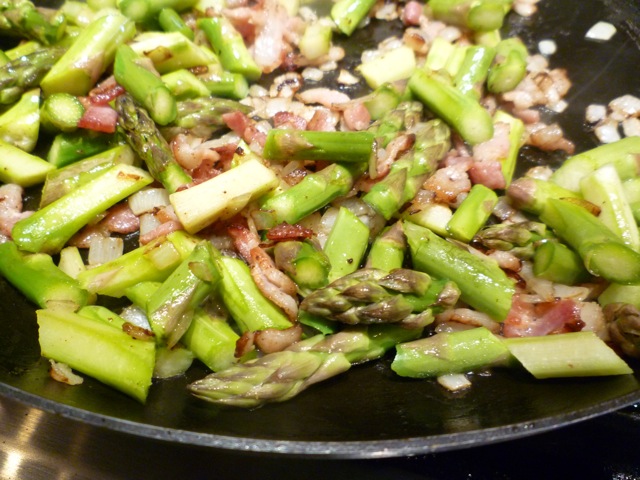 So here's the version I just prepared; again, not rigorously authentic. But if you are running out to the grocers in order to make this, that is not really in keeping with the spirit of this peasant dish. It was created to make the best use of the ingredients you would have on hand. So I used bacon, rather than pancetta or guanciale, because that is what I always have. Great fresh eggs from a local farm. Fresh asparagus, and a mixture of pecorino and parmigiano cheeses. No cream – gasp! I used a whole wheat penne, as I enjoy the rustic feel of this dish and I think it pairs well with the whole wheat pasta. And penne is so much easier to toss, and eat! The key here is to not overcook the eggs; there should be liquid egg/cheese sauce, not hard cooked eggs, when you are finished. This is achieved by combining the eggs with the cooked pork and cooked pasta AFTER you have removed the pan from the heat; the residual heat in the pasta/pork will cook the eggs just enough.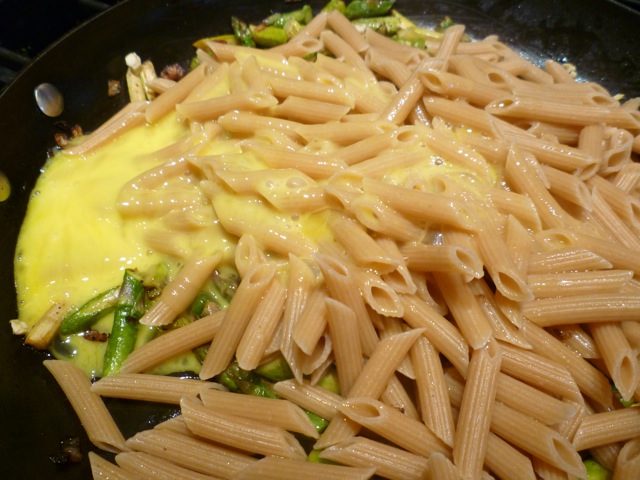 Pasta alla Carbonara con Asparagi
Serves 4
1/4 pound pancetta, guanciale, or bacon, chopped in 1/2 inch dice
2 tablespoons olive oil
1/2 medium onion, cut into 1/4 inch dice
12 ounces fresh asparagus, peeled, woody end snapped off, and cut into 1 inch pieces
1 clove garlic, minced
1 pound of your favorite pasta; spaghetti, fettucini, penne
4 eggs
Freshly ground black pepper
1/2 cup freshly grated pecorino or parmigiano reggiano cheese
Bring a large pot of water to a boil over high heat.
Heat the olive oil in a large skillet over medium-high heat. Add the pancetta/guanciale/bacon and onion. Cook until the onion begins to soften and the pork begins to render a bit of its fat. It should remain a bit soft.
Add the asparagus, and cook until tender. Add the garlic, and cook just until aromatic, about 1 more minute. Remove from heat.
When the water is boiling, salt the water. Add the pasta and cook until just al dente.
While the pasta is cooking, place the eggs in a small bowl and whisk until combined.
Drain the pasta, and place the pasta back into the pot. Add the asparagus/pork/onion mixture. Pour in the eggs and add the grated cheese. Stir until the pasta is thoroughly combined with the rest of the ingredients. Season liberally with freshly ground black pepper, and serve.
I would pair this with a not-too heavy, rustic, indigenous red wine – a Schiava/Vernatsch from Trentino would be wonderful; this one from Baron Widmann was quite enjoyable!