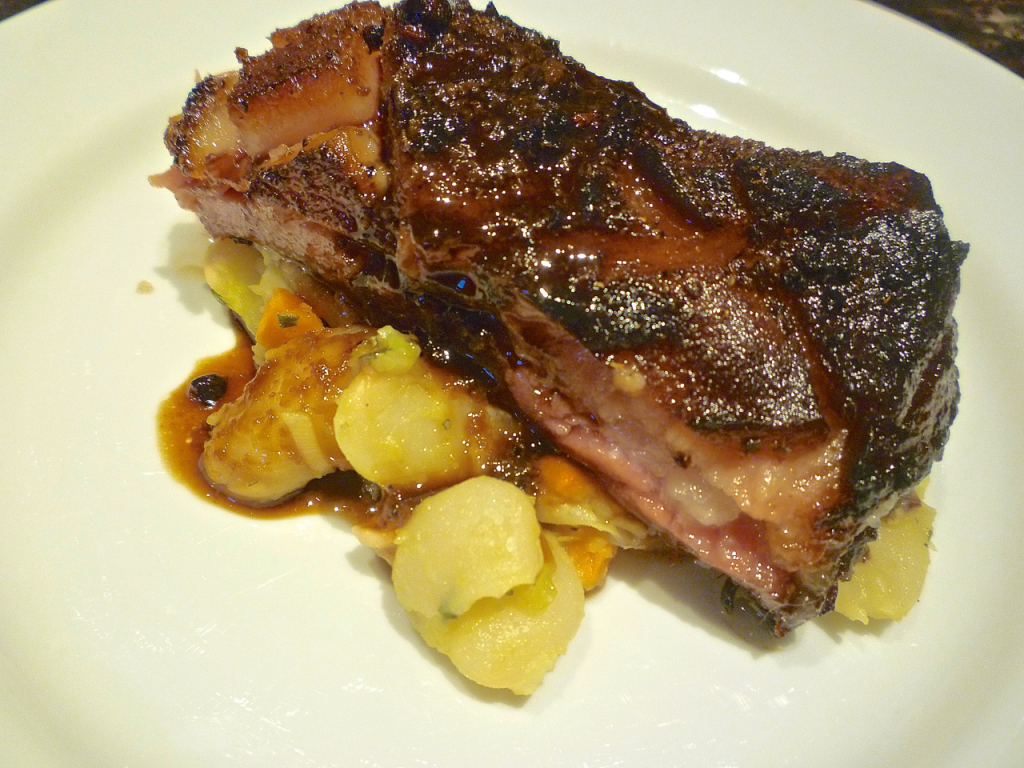 Last June, we welcomed James Beard Award winner Susan Regis as a Master Guest Chef on our Chefs on Bikes tour in Italy. One of the dishes we cooked with her was a braised pork belly. We did have a challenge locating this in the markets in Italy, but it was certainly easier than finding it here in the US! In Italy, fresh pork belly is often sold as pancetta, and not well differentiated from cured pancetta, which is cured and ready to eat. We learned we wanted pancetta fresca – fresh pancetta.
Cured pancetta is fairly easy to find here in the US, but I've always seen it sold rolled up into a cylinder and sliced. In Italy, you can find it both rolled and flat, the latter looking more like fresh pork belly than the pancetta I am familiar with. Fresh pork belly, pancetta fresca, is available in grocers and markets in Italy, most frequently in the winter months.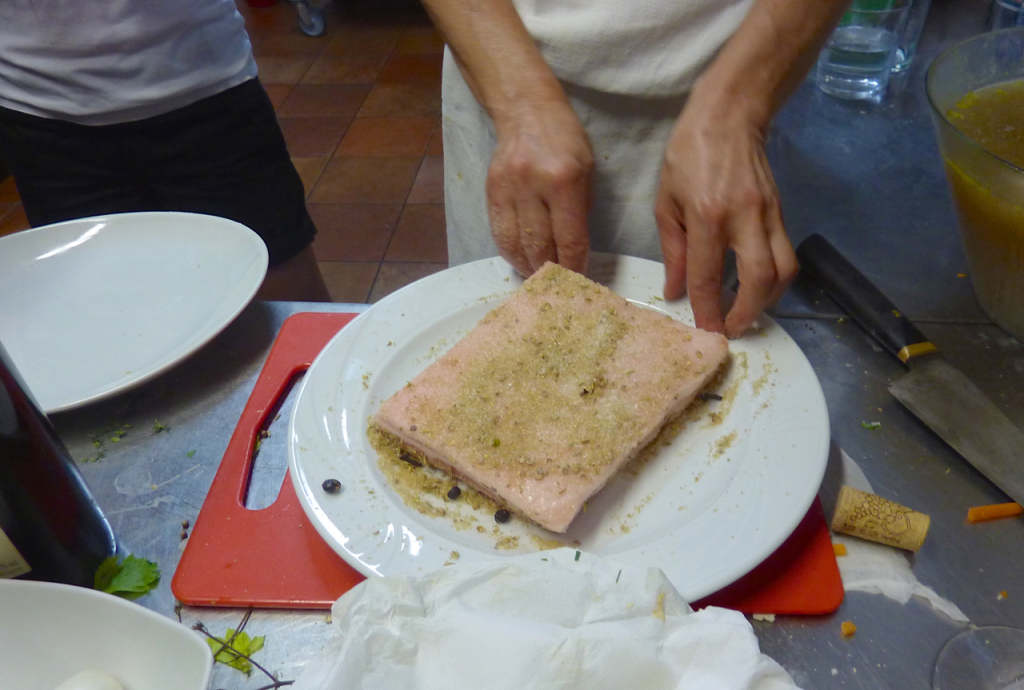 I've been itching to play with this recipe since our visit last June, but had real difficulty locating fresh pork belly here in New England. I can order it, but never quite seem to get my act together. Finally, my local farm stand in Massachusetts, Tendercrop Farm in Newbury, MA, was selling a smoked pork belly. Tendercrop Farm raises their own cows, chickens, and pigs,  and I purchase their locally raised meats every chance I can get. I use their bacon on a regular basis, and was quite excited to find them selling their own pork belly.
I was cooking this yesterday, when my 16-year old son Liam asked what was for dinner. "Pork belly", I answered. He expressed skepticism as to whether he would like it, making a face and saying something like "Doesn't sound too good to me." His enthusiasm increased when I explained that they made bacon out of pork belly, as bacon is definitely a favorite. When I served this last night, his comment was "Mom, make this meat again. A lot."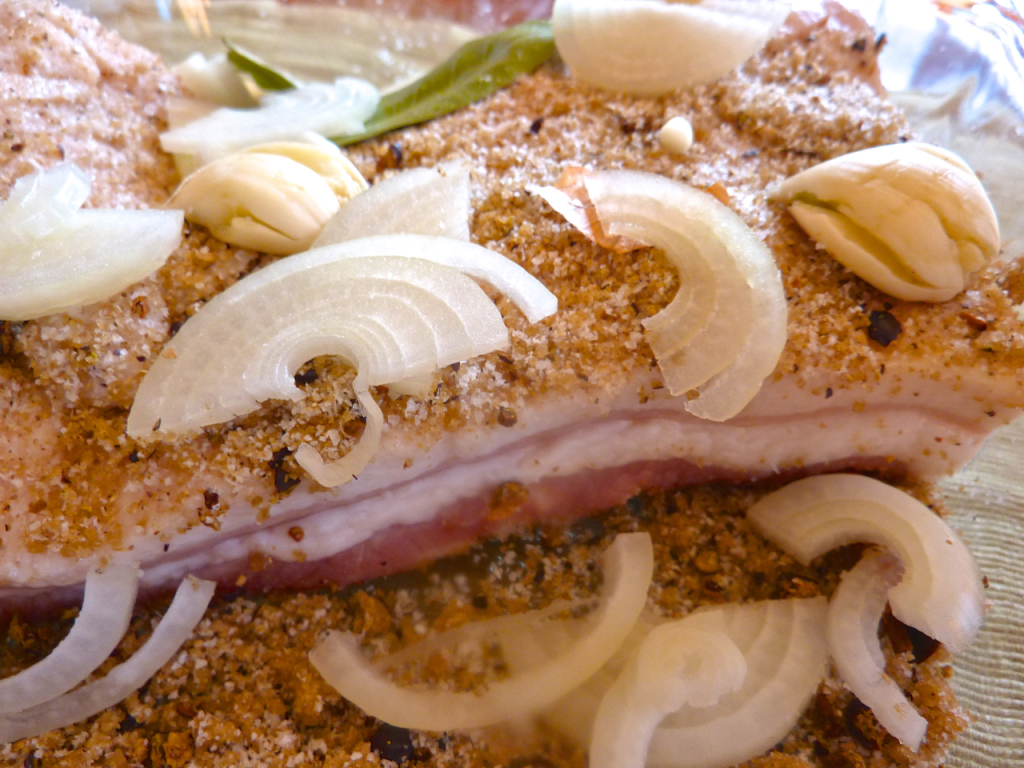 Pork belly needs a long cooking time, allowing the fat to render down. Italian recipes for pancetta fresca slather the belly with herbs and other seasoning, and then slow roast or braise. Susan had her own seasoning mix, which I include below. In my version, I include a seasoning mix more reflective of the cuisine of Northeast Italy, using juniper berries and apple cider as the braising liquid. Trentino-Alto Adige, Friuli-Venezia Giulia and the Veneto are all big producers of apples and apple products such as cider.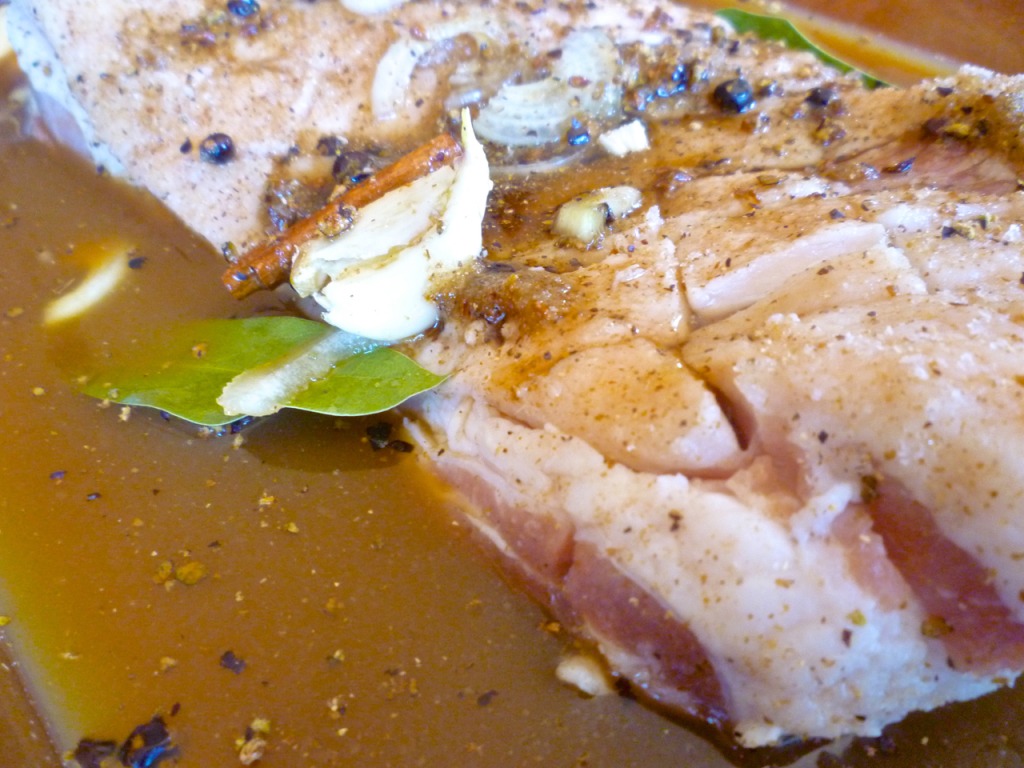 During the class itself, Susan created a 'gastrique' sauce to accompany the pork. A gastrique is a classic French sauce made from fruit and vinegar; she wanted something acidic to help counter the fat in the belly. Here, I've created something similar with the defatted braising liquids (fruity apple cider), by adding balsamic vinegar and a bit of grappa.
Pancetta di Maiale Fresca con Cidro di Mele e Bacche di Ginepro
Serves 4
2 1/2- 3 pounds fresh or smoked pork belly
4 tablespoons kosher salt
2 tablespoons brown sugar
1 cinnamon stick, gently broken
1 tablespoon juniper berries, coarsely ground
4 cloves garlic, smashed with your knife
2 bay leaves
1/2 sliced onion
2 cups apple cider
Combine salt, sugar and spices in a small bowl. Score the pork belly by slicing through the fat in a diagonal pattern (see photos above). Place belly in a shallow roasting pan. Add spice mixture and rub all over belly. Turn the belly so the fatty side is facing up. Add garlic, bay leaf, and onion.  Cover and refrigerate for 18-24 hours.
Preheat oven to 325°.
Remove the belly from the refrigerator and add enough liquid to cover 3/4 of the belly. Wrap tightly with aluminum foil and place in the preheated oven. Braise until tender, about 4-5 hours. Remove from oven, and transfer belly to a sheet pan. Turn the oven up to 425°.
Pour the liquid from the roasting pan into a heatproof measuring cup. Pour off as much of the fat as you can; this will probably be most of the liquid. The liquids that are not fat are a cloudy brown, and will sink to the bottom. Pour the defatted braising juices into a small saucepan. Add the vinegar and grappa. Heat until warm, and adjust the seasoning. Keep warm while to you finish off the belly.
Place the pork belly back in the roasting pan. Do not cover, and place back in the oven. When warmed through and slightly caramelized on top, remove. If the caramelization is taking a while, you can sit it under the broiler for a minute or so. Cut into 4 pieces, and serve with the warm sauce.
Susan Regis Spice Mix
4 tablespoons kosher salt
2 tablespoons sugar
1 cinnamon stick-gently broken up with your knife
1 piece star anise
1/2 tsp fennel seeds-coarsely ground
1/2 tsp coriander seeds-coarsely ground
This dish needs a strong, acidic red to stand up to the fat – a nice Lagrein from Alto Adige, like those made by Cantina Convento Muri-Gries, would be a great choice.