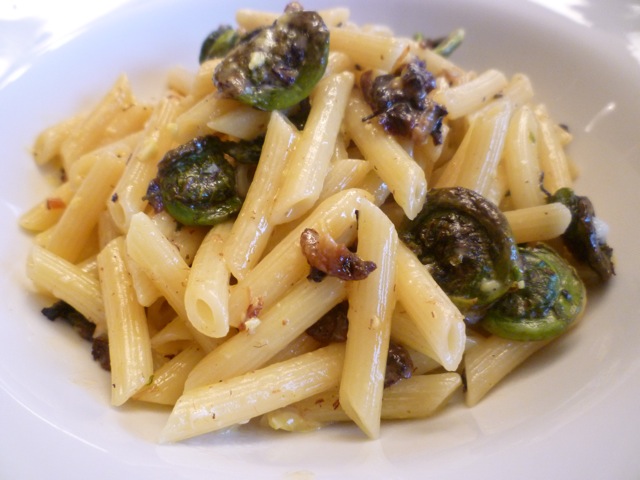 This recipe developed fortuitously, evolving from a couple of my recent recipe posts, combined with the season and some recent reading. Here are the inspirations:
– Like many cuisines with a long history, many traditional Italian dishes were born from the need to use up the food that one had on hand. In Italy, this cuisine is referred to as cuisina povera, the 'cuisine of the poor'. In this simple style of cooking, you work with what you have already; in your pantry, in your yard, what was left over from your last meal.
Leftover pork belly from my last post, a slow braised pork belly in apple cider. A perfect opportunity to apply cuisina povera.
– Articles and blog posts on foraging in Italy. Judy Witt Francini, owner of Davina Cucina cooking school in Tuscany recently blogged about discovering wild asparagus. In a winter 2012 article, "Finding the High Ground in Alto Adige", La Cucina Italiana shares how local chefs gather wild herbs such as dandelion and pine to flavor their modern versions of traditional foods. We forage ourselves a bit on our Italiaoutdoors Food and Wine culinary bike tours, using bay, basil and rosemary, even wild fennel we stop and harvest while riding. And, of course, we will never turn down fresh figs offered from a friendly farmer!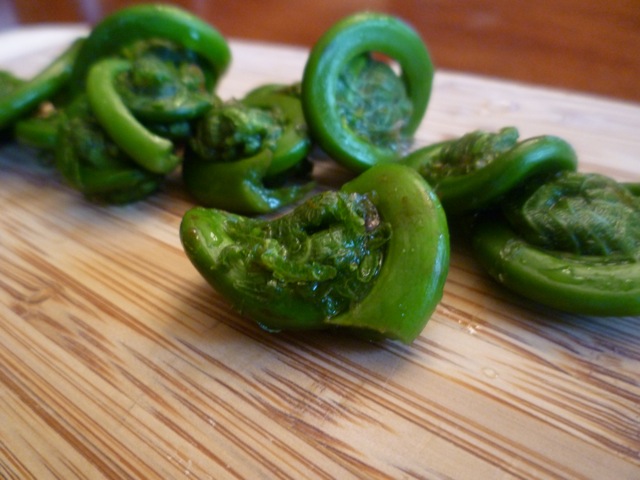 – Here in Maine, we are seeing the first of our locally foraged seasonal favorites, fiddleheads. One of the singular delicacies of the spring season here in New England, fiddleheads grow wild in moist, mossy areas. Fiddleheads are the young leaves of the ostrich ferns that have not yet opened. Once they have opened, fern leaves are poisonous, so they can only be used when young and curled up, resembling the scrolled top of a violin. Their taste resembles the flavors of both artichokes and asparagus. And if anyone can educate me as to the proper Italian word for 'fiddleheads', please do!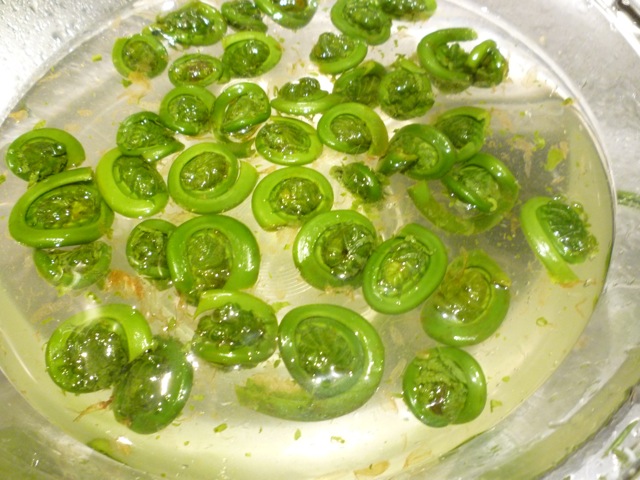 – My recent posting on Pasta alla Carbonara, a prime example of cuisina povera, a simple dish made by woodcutters while cutting wood deep in the forests of Italy. While fiddleheads aren't indigenous to Italy, one can imagine that if they were, they might well have found their way into a dish such as this.
So here is the end result, a very tasty adaptation of Pasta alla Carbonara, designed to use up the foods I had on hand – pork belly and fiddleheads.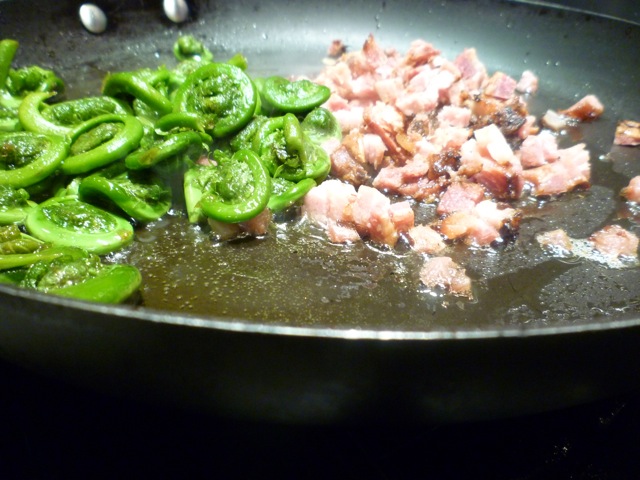 Pasta con Pancetta Fresca e Fiddleheads
Serves 4
2 tablespoons extra virgin olive oil
1/4 pound leftover cooked pork belly, chopped into 1/2 inch dice. Substitute pancetta, guanciale, or bacon.
12 ounces fresh fiddleheads, end cut off and soaked in water to remove brown
1 pound of your favorite pasta; spaghetti, fettucini, penne
4 eggs
Freshly ground black pepper
1/2 cup freshly grated pecorino or parmigiano reggiano cheese
Bring a large pot of water to a boil over high heat.
Heat the olive oil in a large skillet over medium-high heat. Add the pork belly and fiddleheads. Cook until fiddleheads are tender and the pork belly has rendered most of its remaining fat. Remove from heat.
When the water is boiling, salt the water. Add the pasta and cook until just al dente.
While the pasta is cooking, place the eggs in a small bowl and whisk until combined.
Drain the pasta, and place the pasta back into the pot. Add the pork belly and fiddlehead mixture. Pour in the eggs and add the grated cheese. Stir until the pasta is thoroughly combined with the rest of the ingredients. Season liberally with freshly ground black pepper, and serve.
I enjoy a lighter bodied red, but with enough acidity to stand up to the fat in the pork belly. A Lagrein from Convento Muri-Gries in Bolzano would fit the bill nicely!