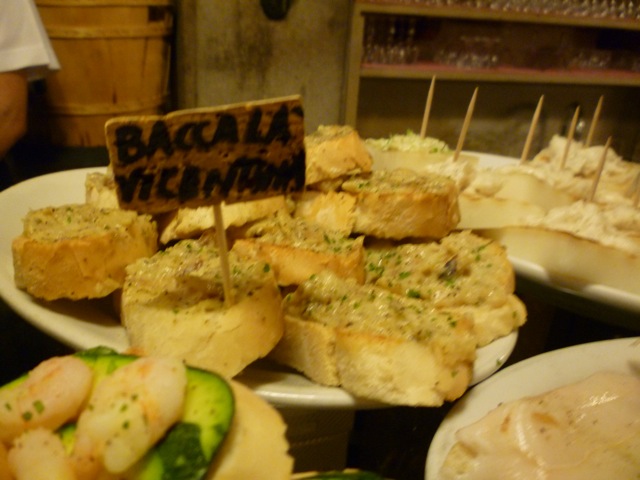 My previous post discussed our visits on our Italiaoutdoors Food and Wine tours to Venice's famed Rialto market, and the many wine bars, or bacaro, found just around the market. A great place to try a glass of wine and many wonderful snacks, called cicchetti, similar to tapas. A few of our favorite stops:
Cantina Do Mori, Calle Do Mori
I stop here pretty much every time I am in Venice. A classic establishment, it is rumored to have opened in 1462, with luminaries such as Casanova as patrons. Many wines to taste, fancier ones from the bottle, and many 'house' wines from large casks behind the counter. Try the traditional baccala, both vicentino (dried cod, cooked in milk with anchovy, parsley, cheese) and mantecato (dried cod, whipped with potato and olive oil), as well as all types of artichokes which were just becoming available on my visit last March. They are grown on the islands surrounding Venice. Also, you will see frittatas, and tramezzini – little thin sandwiches, filled with a variety of yummy combinations, made with crustless white bread.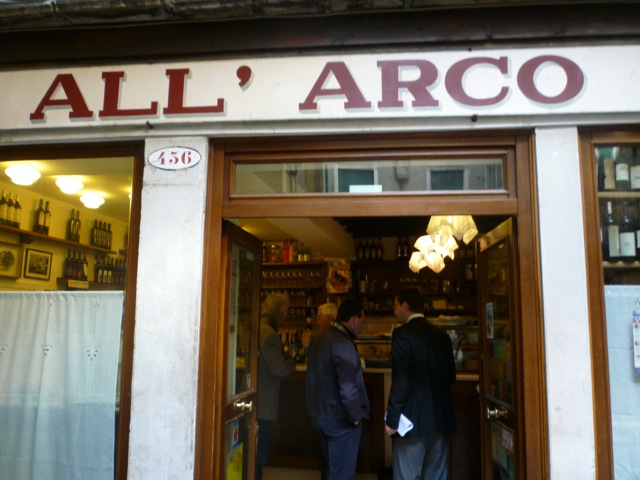 All'Arco, Calle del Arco
Literally just around the corner from Do Mori, this little spot was ranked #2 for restaurants in Venice on Trip Advisor – pretty good for a wine bar in the midst of the many wonderful restaurants in Venice. Francesco and his son Matteo vary the cicchetti they produce daily, depending upon what's in season. The baccala mantecato is a favorite, as well as various crostini type treats with prosciutto, cheeses, and grilled vegetables.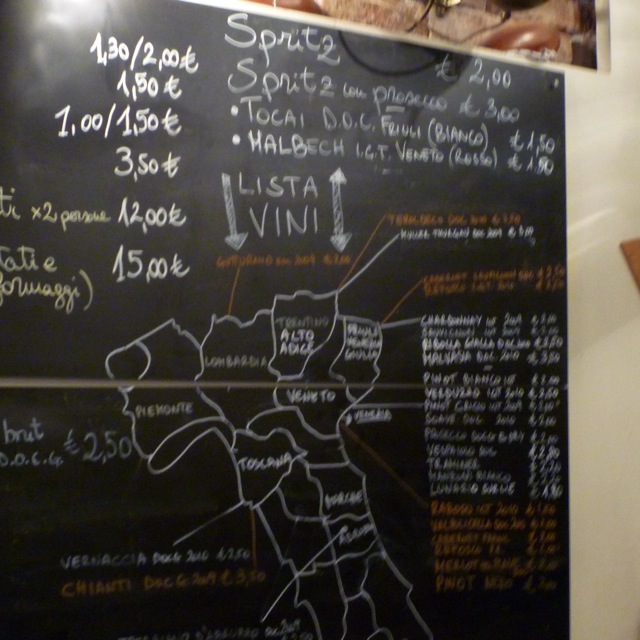 Osteria alla Ciurma, Calle Galeazza
A large wine selection here, all available for only 2 euros a glass. You can even try a taste before investing your 2 euros! A large selection of traditional cicchetti, including polpette – fried meatballs – both with meat, and also tuna. Just a few stools for seating, but just move on up to the bar and rub elbows with the many locals that frequent this place.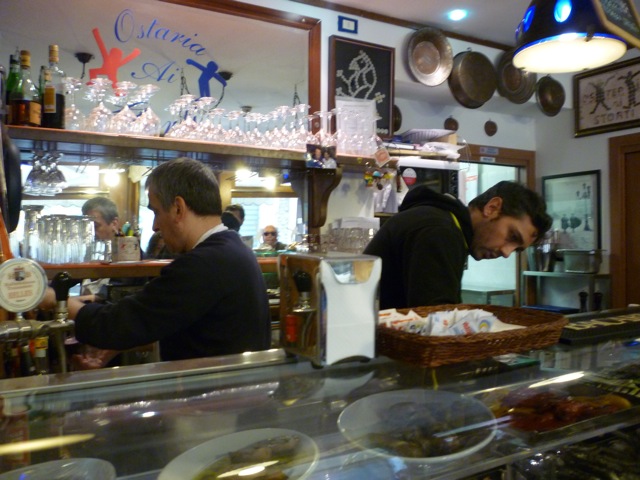 Osteria ai Storti, Calle San Matio
This spot is notable for two things – seating, and a bathroom. I would recommend selecting one of the fish or shrimp you will find at the bar. Skip the assorted cicchetti from the menu; it's a plate of mediocre deep fried nibbles, none of which was particularly worth the trouble.
Here are a few more recipes, my versions of the snacks I've enjoyed on my visits to these traditional Venetian wine bars.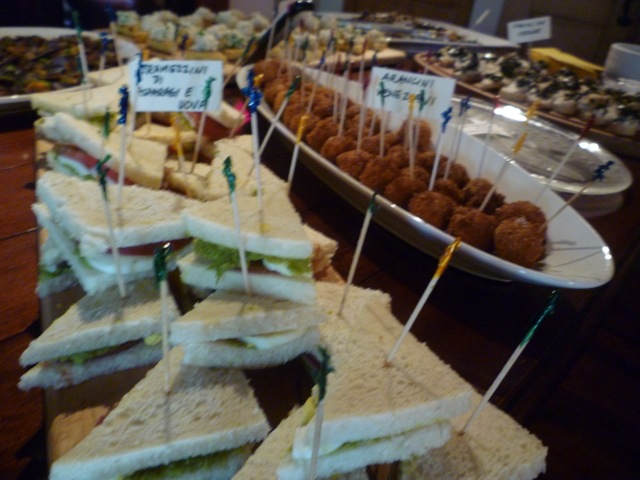 Tramezzini
You don't really need a recipe for tramezzini – it is basically a sandwich. I get a loaf of thin white sandwich bread at the store, cut of the crusts, and make sandwiches with an Italy inspired filling. Possibilities include:
Prosciutto, shaved grana or parmegiano reggiano cheese, arugula
Tuna, olive and egg
Eggplant caponata
For my recent cicchetti party, I made tramezzini with sliced tomato, sliced hard boiled egg, and asparagus pesto. I would suggest placing the tomato slice down first on one slice of bread, followed by the egg slices, and season with a bit of salt and pepper. Spread the pesto on the other slice, place the two slice together, and cut in half on the diagonal.
Asparagus Pesto
1 bunch asparagus, woody end snapped off
kosher salt
1/2 cup extra virgin olive oil
1 tablespoon lemon juice
Bring a large pot of water to a boil over high heat. Salt. Place the asparagus in the boiling water and blanch until tender, about 7 minutes. Do not cover the pot while blanching. When tender, remove the asparagus from the boiling water and immediately immerse in an ice water bath to halt the cooking. Remove and pat dry.
Place the cooked asparagus spears in a food processor. Add half the olive oil, and puree. Continue to add olive oil until it reaches the consistency of pesto. Season with salt and lemon juice.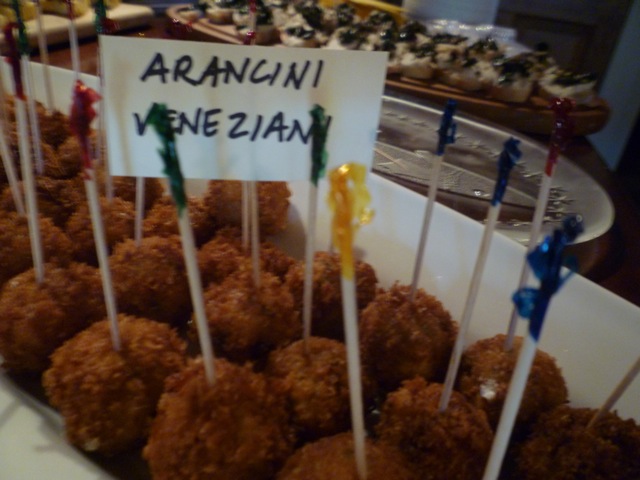 Arancini
I posted a recipe for this a while ago, where you stuff them with prosicutto and mozzarella. This is a variation better suited for smaller, bite-sized snacks. Everything is simply combined, rolled into small cherry tomato sized balls, and deep fried.
Arancini
4 1/2 cups leftover risotto
kosher salt and freshly ground pepper
1/4 cup unsalted butter, melted
2 tablespoons finely minced parsley
1 cup freshly grated parmegiano reggiano
4 ounces mozzarella, cut into very small cubes
4 ounces prosciutto, finely diced
Flour
4 eggs, lightly beaten
Bread crumbs or panko
Vegetable oil for frying
Place the risotto in a medium bowl. Season with salt and pepper, if needed. Add the butter, parsley, parmegiano, mozzarella and prosciutto and combine.
Combine the prosciutto and mozzarella. Take a small handful (about 1 tablespoon) of rice and begin to shape into a small ball, rolling between your palms. Keeping your palms wet will help keep the rice from sticking to your hands. Repeat with all of the risotto mixture.
Place the flour in a shallow bowl, the eggs in another, and the bread crumbs in a third bowl. Roll the arancino first in the flour, then dredge it in the beaten egg, and roll it well in the breadcrumbs.
Fill a heavy sauce pan with the vegetable oil to a depth of 3 inches. Heat the oil over medium heat to a temperature of 350°. Carefully place a couple of arancino in the pan and fry until golden brown, turning occasionally. Using a slotted spoon, remove from the oil and drain on a dish covered with a paper towel. Continue cooking until all are fried.