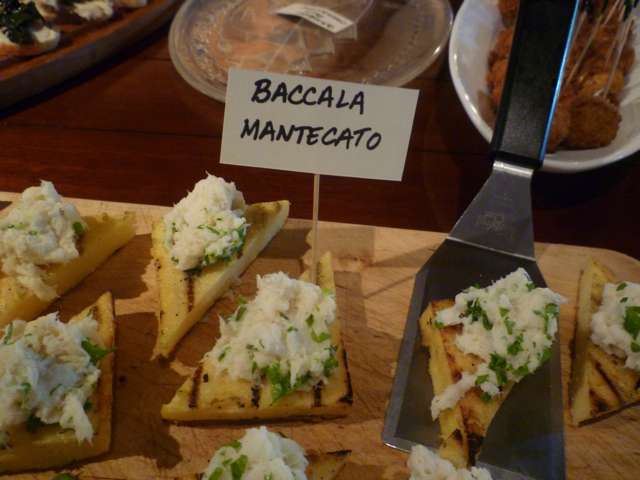 One of the most traditional dishes of the Veneto region are various versions of baccala. You will find baccala on the menu in restaurants all over Venice, from the small hidden bacari (wine bars) to the most elegant ristorante. It's a local specialty which we see almost daily on our biking adventures in the area.
Recipes with baccala are found in almost every region in Italy. Outside of the Veneto, baccala is similar to the brandade found in France, and made with salt cod, cod that has been salted and dried. In the Veneto, however, salt cod is not used in their baccala. Instead, they use stoccafisso (stockfish), which is cod that has been air dried as they hang on sticks – hence the name – and not salted. It is much firmer than salt cod, and requires several days of soaking to rehydrate.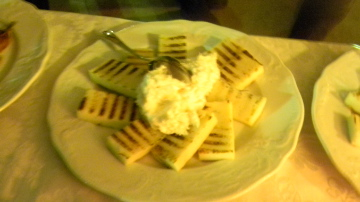 The use of stoccafisso in this region has its' origins far back in history. In 1432, an expedition led by the Venetian captain Pietro Querini was stranded on one of the island Lofoten, off the coast of Norway. Querini returned from his travels with the local specialty, stockfish. In this Catholic country, the use of stockfish became a popular and cheaper way for the poorer inhabitants to refrain from the consumption of meat during fast days, as fresh fish was expensive. In this way, dishes that use stockfish, such as baccala, made their way onto the tables of the Veneto. The dish is so popular in this region that today the majority of Norway's stockfish production is consumed in the Veneto.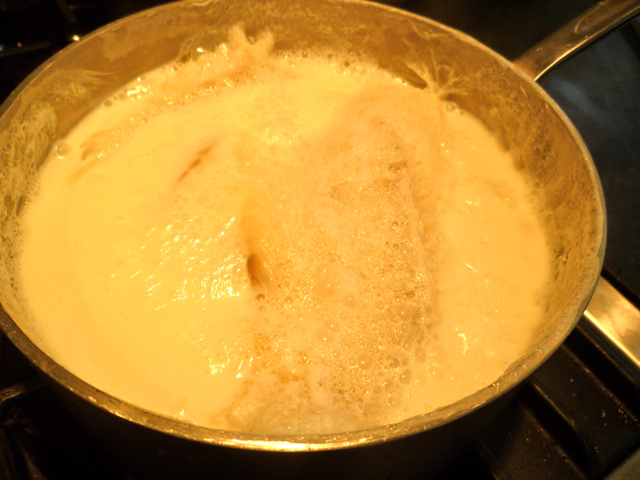 You will see various versions of baccala during a trip to the Veneto. In Venice, you will see baccala alla veneziana, which is made only with olive oil. In Vicenza, a city in the Veneto just west of Venice, you will see baccala alla vicentina, which uses milk and olive oil, or sometimes just milk. You will also see baccala mantecato. Mantecato comes from the verb mantecare, to beat or whip, which refers to the process of beat the fish to make the baccala. So you may see baccala mantecato alla vicentina, or alla veneziana.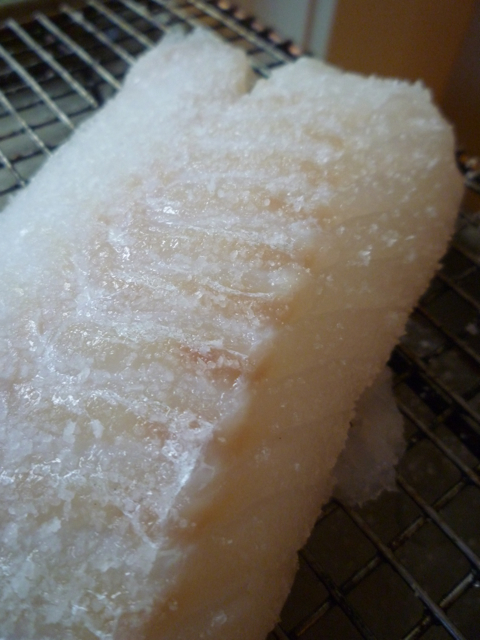 Here in the US, I don't find stockfish. But in New England, I have made my own salt cod using fresh local cod on several occasions. I use this as a substitute for stockfish when I make baccala. It's easy, and if you start with very fresh cod, won't smell up your refrigerator. This recipe is adapted from Judy Rodger's cookbook, The Zuni Cafe Cookbook.
House-Cured Salt Cod
2 pounds fresh skinned cod fillet
3 tablespoons kosher salt
Rinse the cod fillet under cold water, and press it with paper towels to dry. Salt the fish with the kosher salt – 1 1/2 tablespoons per pound. Sprinkle a bit more salt on the thicker center than on the edges and tail. If the center section is thicker than 1 1/2 inches, cut a 1/2 inch slash in the thickest section and salt inside this to make sure the salt will penetrate the fish evenly.
Place on a stainless steel rack, and place this on a sheet pan to catch any drips. Cover with another sheet pan, placed upside down. Whatever you use as a cover, make sure it does not touch the fish. Refrigerate and cure for up to 7 days. You can pour any drips off each day. If you keep the fish for longer than 5 days, you should lift out the fillet, rinse and dry the rack, and lightly resalt.
To desalt the cod, rinse it under cold water, and then soak it in plenty of fresh cold water.  Refrigerate. If the cod was salted for only 24 hours, allow 4 to 8 hours to desalt it. For longer cures, allow 24 hours, changing the soaking liquid twice. After the soaking, the texture should resemble the texture of fresh cod, rather than the firmer texture it took on after salting.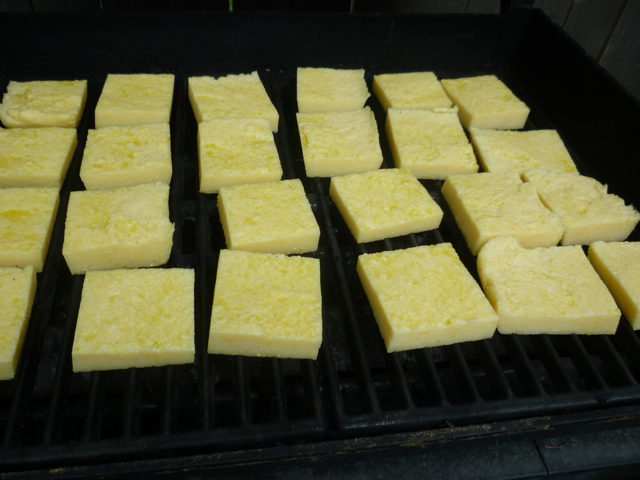 I made baccala recently for a cicchetti party I hosted, featuring lots of delicious little snacks I've enjoyed in Venice. I used my own salt cod, and adapted a recipe from La Cucina: The Regional Cooking of Italy. I served it with its' traditional pairing, grilled polenta.
Baccala Mantecato alla Vicentina
2 pounds salt cod, soaked for two days
5 cups milk
3/4 cups extra-virgin olive oil
Salt and white pepper
Place the fish in a pot with the milk over medium heat. When the milk begins to take on a little color from the fish, add the olive oil. Cook and reduce the liquid. When the mixture begins to dry out, beat with a wooden spoon or a potato masher to break up the fish. You want a dense, flavorful mixture. Season with salt and pepper.