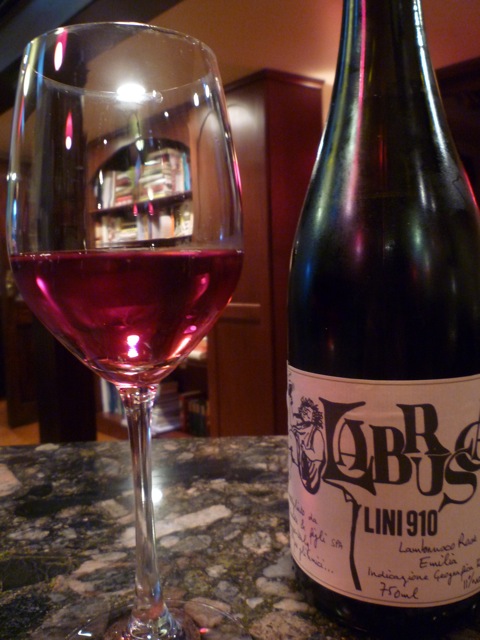 My first introduction to Lambrusco was early on in my wine drinking days – the 'infamous' sweet Riunite sparkling wines that we all found very drinkable when we first began indulging (usually a bit too much) in alcoholic beverages. With a bit more sophisticated palate (I hope), I've moved on to other, more elegant wines, and didn't have a Lambrusco for many years. Recently, however, I've rediscovered this grape, yet another overlooked gem. As with several other wines from Northeastern Italy, such as Soave and Valpolicella, Lambrusco was mass produced and low quality wines were imported in volume to the US in the 70s and 80s – at that time, Lambrusco was the biggest selling import wine in the US – earning these wines a poor reputation stateside that still follows them today.  Back in Italy, however, many smaller producers forged ahead, sticking with these varietals and investing in the development of prime vineyards (usually at higher elevation, and harder to cultivate) and enhanced production techniques. The result are wonderful wines that bear little or no resemblance to the wines we may remember from the 70s and 80s. Eric Asimov from the New York Times recently published an article about his 'rediscovery' of Lambrusco, Lambrusco Wants You Back.
Lambrusco is the name of both a family of red grapes, and the wines produced with them. Both are made in Emilia-Romagna and Lombardia, near Mantova, Modena, Parma and Reggio nell'Emilia. There are many varieties of the grape, over 60 have been identified throughout Italy. The most common ones, native to Emilia-Romagna and Lombardia are (all beginning with Lambrusco): Lambrusco Salamino, Sorbara, Marani, Maestri, Monterrico and Grasparossa.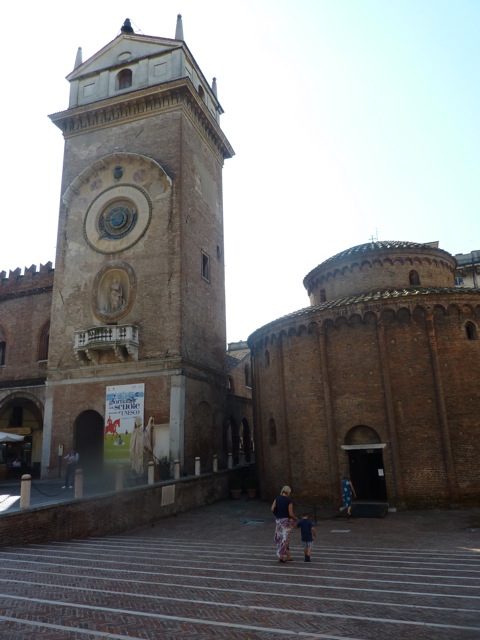 Lambrusco wine production in this region dates as far back as the Etruscans and Romans. The vines were often trained to climb up trees, holding them high off the ground to prevent mildew. Lambrusco was valued for its productivity and high yields, which unfortunately probably led to its 'abuse' in the 70s.
Today, we can find fun, refreshing frizzante (slightly sparkling) wines produced in five Lambrusco DOC regions: Lambrusco di Sorbara, Lambrusco Salamine di Santa Croce, Lambrusco Reggiano, Lambrusco Mantovano, and Lambrusco Grasparossa di Castelvetro. You will find whites, rose, as well as red sparkling wines. Most produced in Italy are dry, as the grape itself is not particularly sweet, but sweeter versions are produced either by only allowing for partial fermentation, or by blending with sweeter grapes, such as Ancelotta.
I recently found two Lambrusco wines at one of my favorite gourmet stores, Joppa Fine Foods in Newburyport, MA. Both are sparkling wines produced by the Lini winery, in Correggio, Emilia-Romagna. The Lini family celebrated its' 100th year of winemaking in 2010, and today the wines are produced by fourth generation wine maker Alicia Lini. They offer a wide array of sparkling Lambruscos, white, rose and rosso, produced using both the Charmat method (the method used to produce prosecco, and most commonly used for Lambrusco), as well as the more labor intensive Metodo Classico (classic method used for champagne.)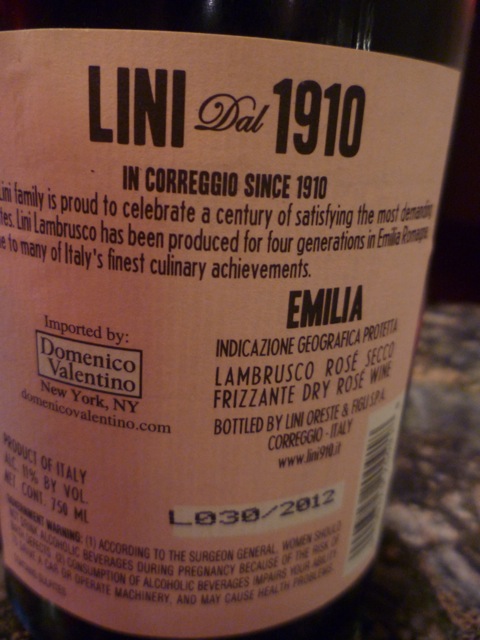 The two I tasted are the Lini 910 "Labrusca" Rose and Rosso. The historic "Labrusca" label is designed "to appeal to all consumers, satisfying the largest and most diverse clientele." Both are vibrant, refreshing wines; fun wines at an affordable price point (under $20), perfect for a warm summer evening. Both are Emilia IGT (Indicazione Geografica Tipica) wines, which indicates they are a blend of Lambrusco grapes from different DOC zones.
The Lini 910 rose is produced using the Charmat method, with the secondary fermentation taking place in stainless steel tanks over a period of 3 months.  According to the Lini web site, this results in finer bubbles "that aid in digestion." It is a blend of 80% Lambrusco Salamino, with 20% Lambrusco Solara. One first appreciates its' very attractive deep pink and intense aromas of rose and cherry. It has crisp, fresh palate and nicely balanced acidity. A wonderful accompaniment to a variety of antipasti, from seafood to cured meats and fresh cheeses, as well as light pastas.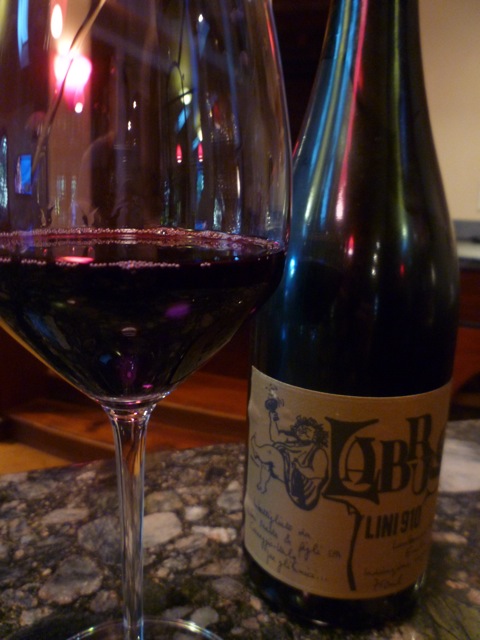 The Lini 910 rosso is a real experience, as red sparkling wines are few an far between – but this will have you wondering why we don't see more of them! Again, produced using the Charmat method, from a blend of Lambrusco Salamino (85%) and the slightly sweet Lambrusco Ancelotta (15%). Dark ruby red in color, with scents of red fruits and berries – cherry, strawberry, raspberry, blueberry. Well-structured, with intense, refreshing flavors of cherry and dark berries, and a slightly tannic finish. This pairs well with white meats, roast pork, and hearty soups.