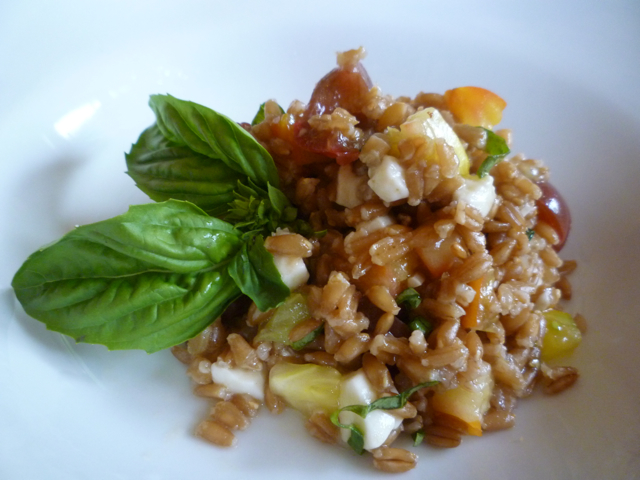 My last post was one of my favorite late summer pasta dishes, an incredibly simple pasta with raw tomatoes, mozzarella, and basil. This post is a follow-on; using the same flavor combinations to create a whole grain salad. This is not an authentic Italian dish, but an example of how you can use Italian cuisine to inspire your own cooking. Most fans of Italian food will recognized the ingredients for an Insalata Caprese, a salad 'in the style of Capri', an island off the western coast of Italy just a bit south of Naples. I usually focus my recipes on the cuisine of Northern Italy, where we focus our bike and ski tours, but the Insalata Caprese is found throughout Italy today.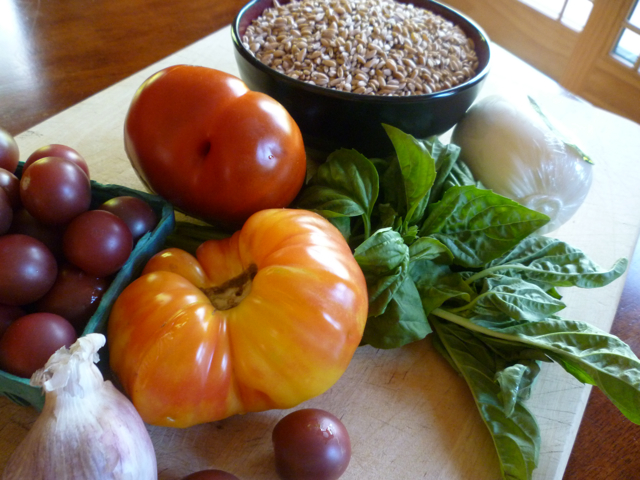 The key to a great Insalata Caprese, wherever it is made, is fresh ingredients – tomatoes, basil, mozzarella. Don't make this with imported January tomatoes, basil pesto from a tube, and shredded mozzarella. It is a late summer dish to be made with garden fresh ingredients and handmade mozzaralla. I'm serving this over Labor Day weekend, as a side dish to grilled bluefish and vegetables.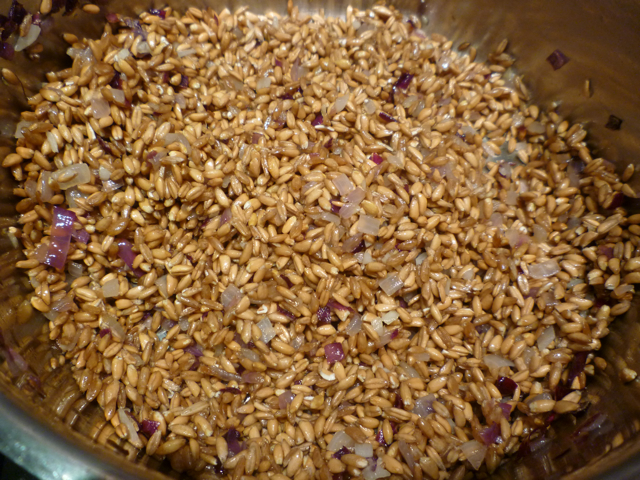 Farro is an ancient grain, grown for thousands of years in North Africa, the Middle East, and northern and central Italy, it flourishes best in high-altitude, barren land. Centuries ago, it fed the Roman legions and was a nutritious food that played a primary role in their diet during this time, and may have even been used as money.
It is a very nutritious grain, high in vitamins A, B, C and E, magnesium, and fiber. It is quite easy to digest, and as it is also quite low in gluten, may be appropriate for some who are gluten-intolerant.
Today in Italy, you will see farro used in the cuisine of Central and Northern Italy. It is very common to find it in soups, together with beans, chickpeas, and greens. Farro pastas are wonderful to try. And as it contains a starch very similar to that found in rices such as Carnaroli and Arborio, it makes a wonderful risotto, with its characteristic creamy liquid.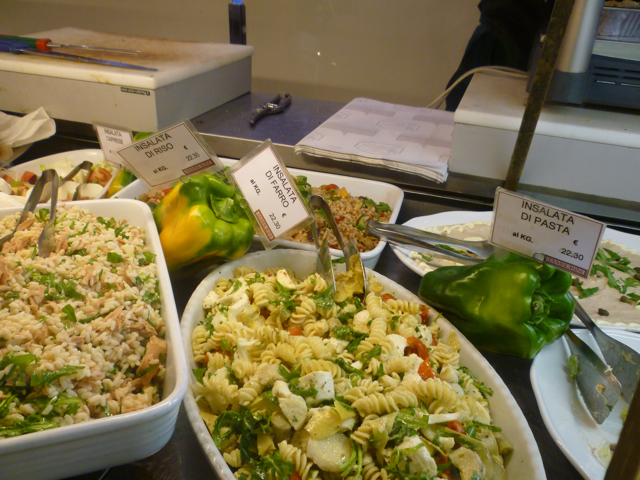 On a recent trip to Bologna, I visited one of the wonderful local food stores, Tamburini, on Via Caprarie. This is a beautiful store featuring the magnificent cuisine of Emilia-Romagna. There is a vast array of cured meats and cheeses to tempt you, as well as the sublime stuffed pastas that Emilia-Romagna is renowned for. A wide variety of prepared foods are available for take-out, and among the choices was a lovely farro salad. A perfect side dish to bring to a barbecue or pot luck.
A great wine to enjoy with this would be a Lambrusco from Emilia-Romagna, like the Lini Labrusca Rose.
Insalata di Farro Caprese
Serves 6
3 tablespoons extra virgin olive oil
1 onion, chopped into 1/4 inch dice
1 clove garlic, minced
1 1/2 cups farro
1/2 cup white wine
4 cups chicken broth
2 large, fresh tomatoes, cut into 1/2 inch pieces
1 ball fresh mozzarella, cut into 1/4 inch pieces
10 basil leaves, thinly slices, or 1 tablespoon pesto
1/4 cup extra virgin olive oil
Kosher salt and freshly ground pepper
Heat half of the olive oil in a sauce pan over medium high heat. Add the chopped onion and saute until beginning to soften, about 4 minutes.
Add the farro, and saute briefly, about 1 minute. Add the white wine and simmer until the wine is reduced by half or more.
Add the chicken stock and bring to a boil. Reduce the heat and simmer until the farro is done, about 15-20 minutes. This can vary quite a bit, depending upon the farro itself, so keep checking it. The chicken stock may not be totally absorbed before the farro is tender. If this is the case, simply pour the contents of the saucepan into a strainer (over the sink or a bowl) to remove the excess liquid. Transfer the farro into a large bowl and allow to cool.
When the farro is cool, combine with the tomatoes, mozzarella, basil and olive oil. Season with salt and pepper. Serve at room temperature.