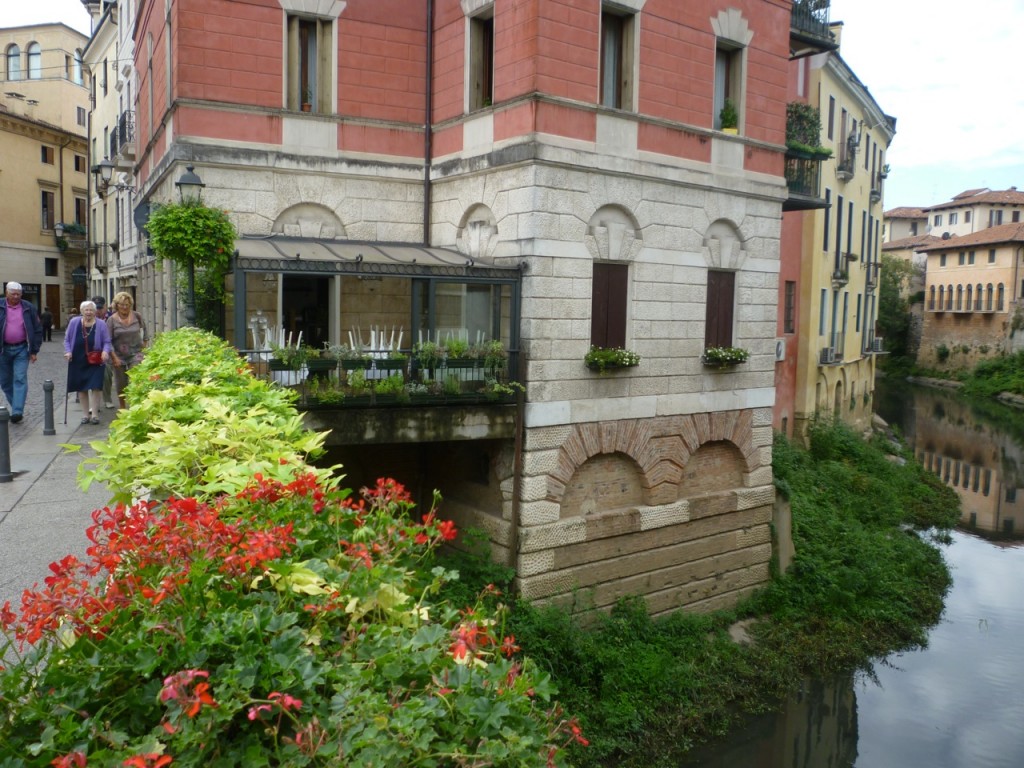 I am in Italy for the next couple of weeks, leading a small custom bike tour, and touring with some girlfriends, so my blogs will be centered on restaurants and food I am enjoying while here rather than recipes. I apologize to those who visit looking for recipes, but promise some of my experiences here in the next few weeks will make it to recipes in future posts. Everyone needs a source of inspiration!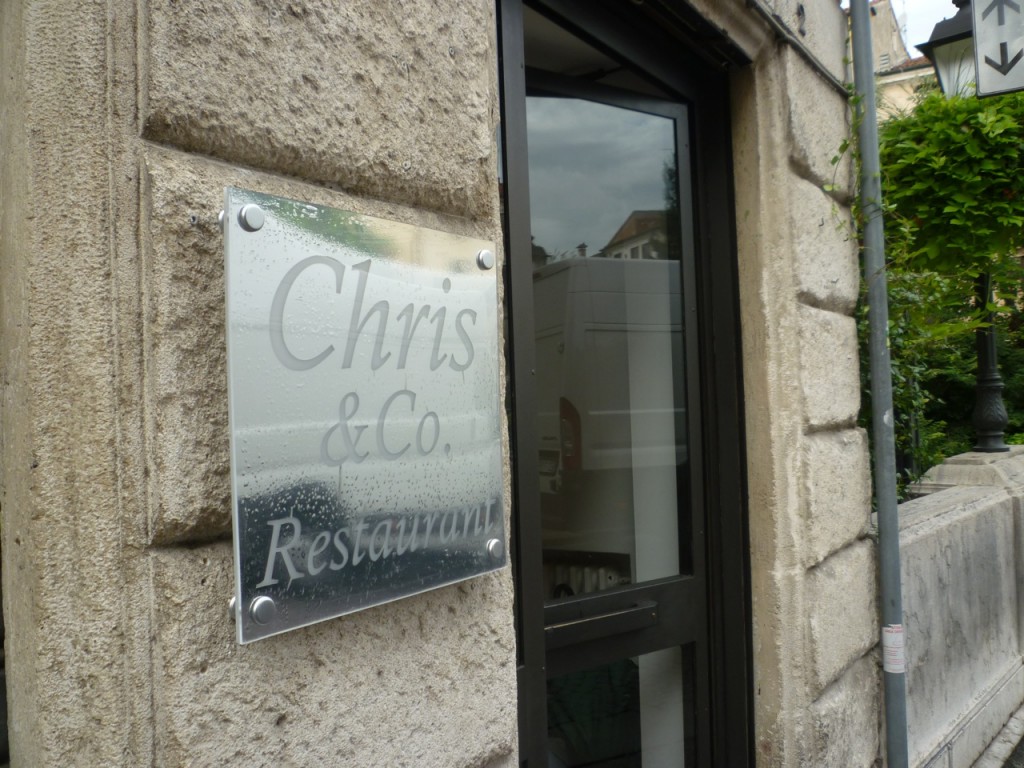 Whenever I visit, I have a list of restaurants to try. My first stop was Vicenza, and my first dinner was at Chris & Co., a restaurant not far off of the main piazza, Piazza Signori. I was warmly greeted by the proprietor, Chris himself, who made room for me (a single) in the popular sun room. Certainly a beautiful spot to enjoy a leisurely dinner, a small glass-enclosed room overlooking the canal in Venice.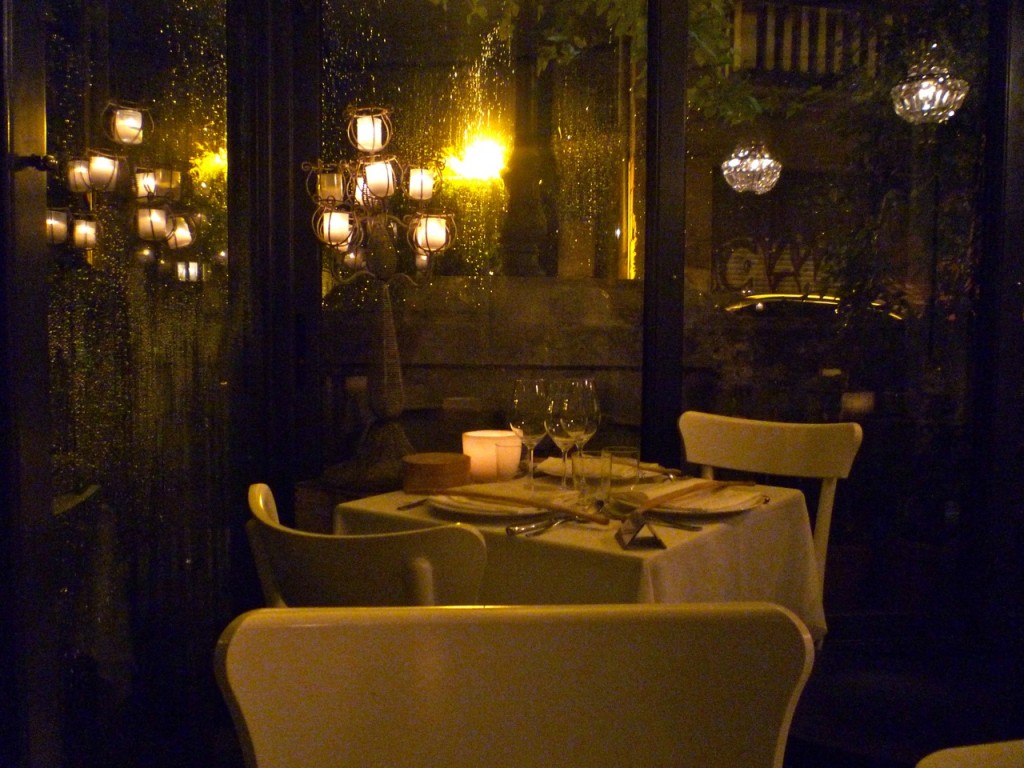 With Chris, there is no menu. He brings you the food he made that day, and recommends wines to accompany. Here is a man who is passionate about what he does and the food he serves; he describes it as 'real' food. To enjoy a meal here is to sit back and let Chris do what he does best, feed you the food he loves to cook. As I was fresh off of a transcontinental flight, followed by a six hour drive, I was more than happy to not have any more decisions to make that night.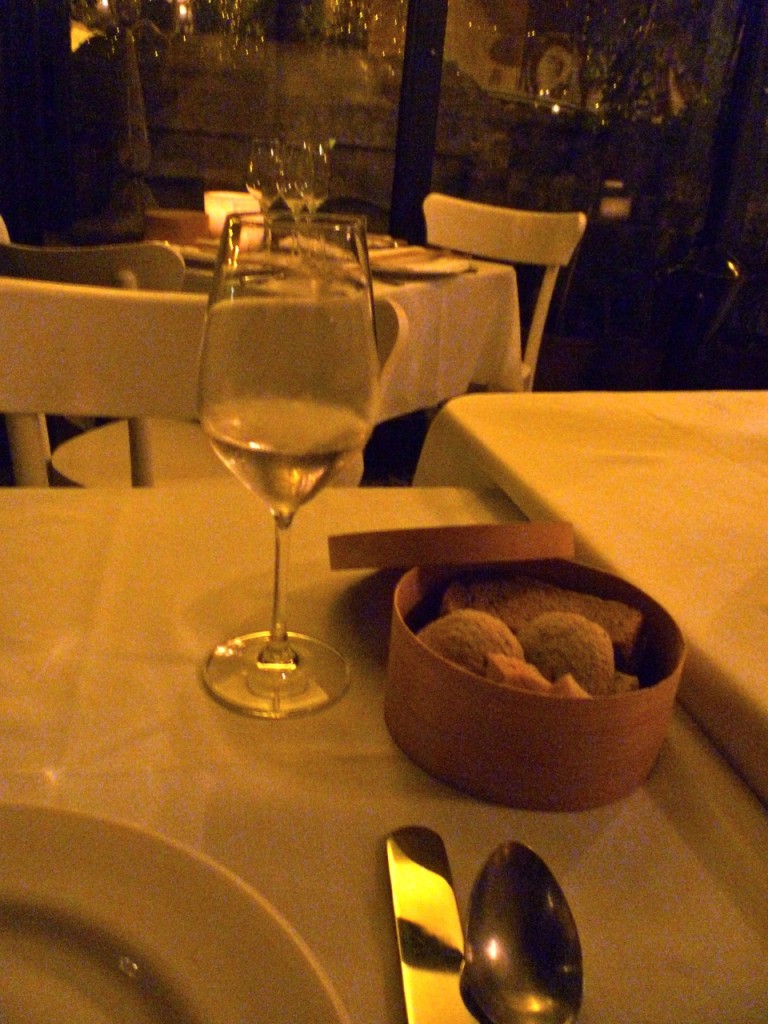 I was seated at an elegant table right next to the window, and served a glass of prosecco as I awaited my meal. Chris is as opinionated on wine as he is on food, so I was quickly informed that he does not like the local red wines –  the only Veneto wines he serves are prosecco, Soave, and Valpolicella. I began with a wonderful crisp prosecco from Valdobbiadene, by Nardi Giordano, their DOCG Brut Millesimato. Refreshing, dry, light – a perfect wine to start the string of antipasti courses that was soon to follow. A small closed box was on the table, I opened it to find a nice selection of breads, all of which are made in house by Chris – much better than the standard Veneto bread basket. I sat back, enjoyed my prosecco, and eagerly anticipated my feast.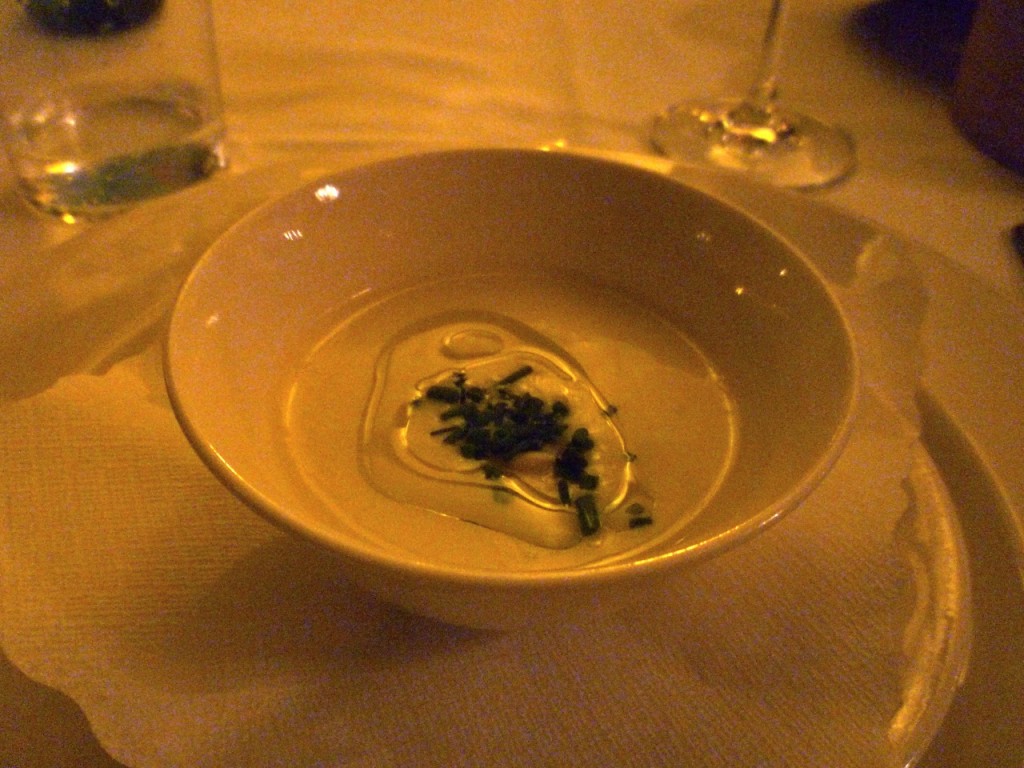 First to arrive was a small bowl of potato and leek soup. Very nice, well seasoned, topped with a drizzle of olive oil and minced chives. To quote Chris, "I worked in Germany, for over twenty years. I know potatoes." How true this is was to be revealed in future courses. The soup was very well done.
Next, a glass of Balestri Valda Soave, one of the top producers of the region. Then a small mason jar arrived, with an empty bowl. Chris opened the jar, and poured the contents into the bowl. He fills the jar with small pieces of monkfish, tiny clams and shrimp, halved cherry tomatoes and potatoes, closes it and cooks the contents by immersing in boiling water. Again, well seasoned, and everything was cooked perfectly. I suspect the potatoes must have been precooked at bit, in order for these to be tender while the shrimp not overcooked. Another very nice dish, light with clean flavors.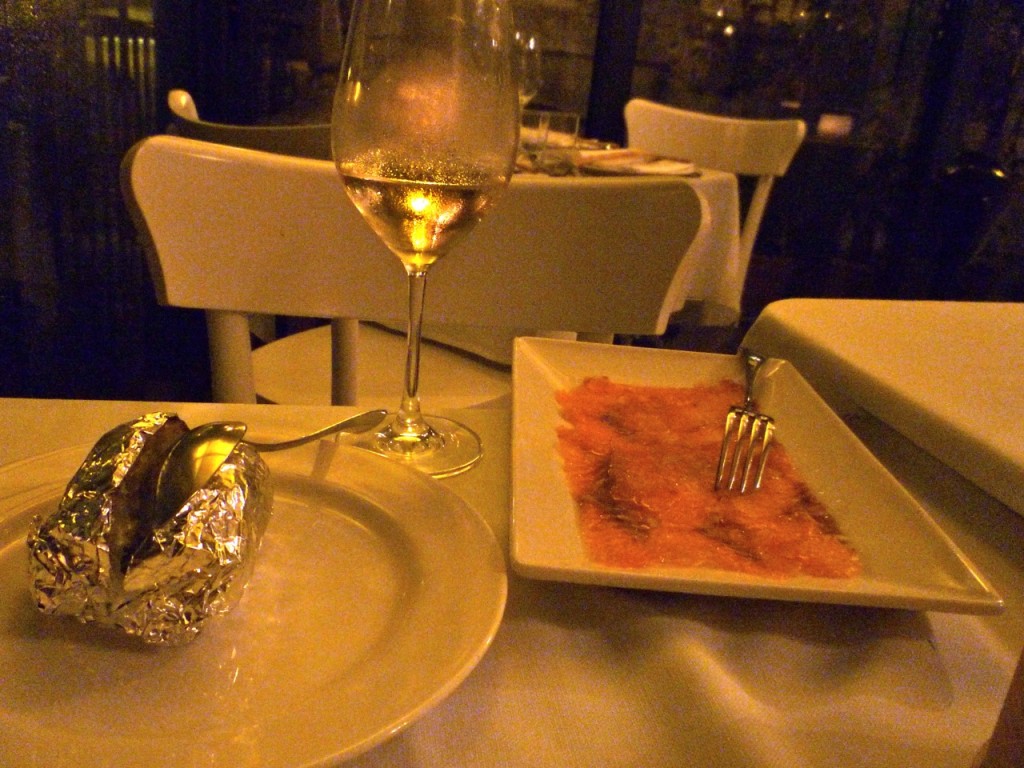 The next course arrived on two plates – a baked potato, topped with chives and the Italian equivalent of sour cream, and a plate of gravlax. Too much for one person, but always a nice combination. But you may notice the beginning of a theme here – the third course with potatoes.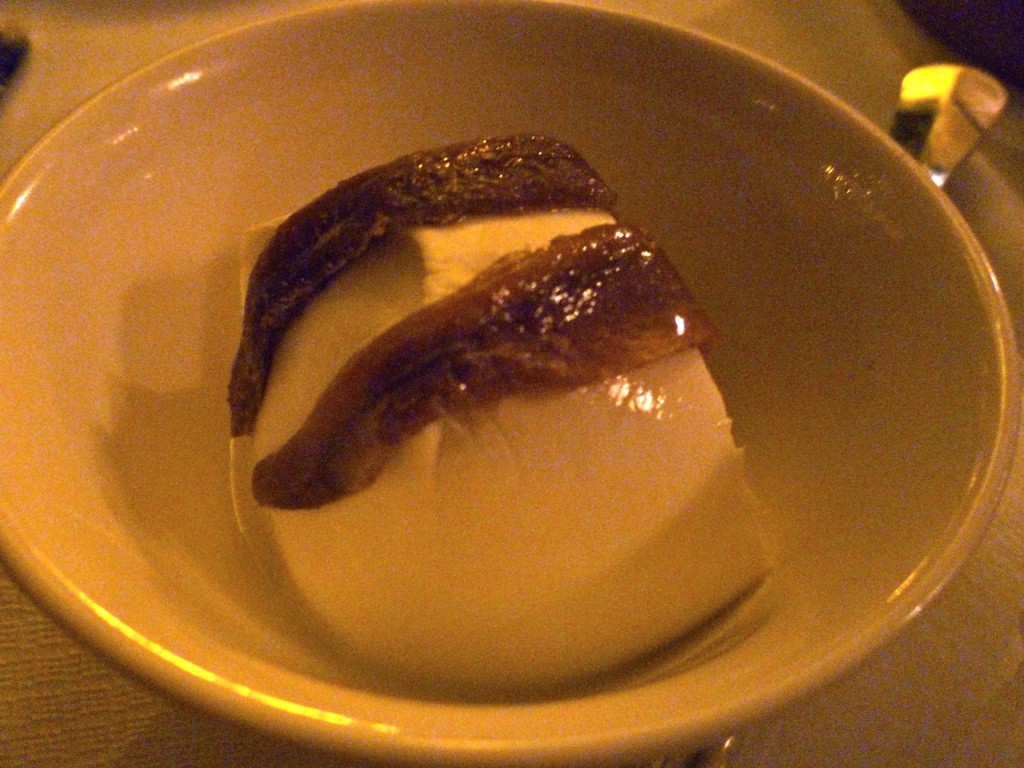 Next, I was treated to Chris' signature dish, he claims to be famous throughout Vicenza for it. No cooking involved here, just an eye for finding the right flavor combination, which he certainly did. Take one ball of exquisite freshly made mozzarella, preferably buffalo milk, and top with two anchovies (here, from Spain.) Ignoring the often quoted rule in some areas of Italy of not serving cheese with seafood, this combination of sweet/creamy with the salty was fantastic. I'll be using this one at my next antipasti event!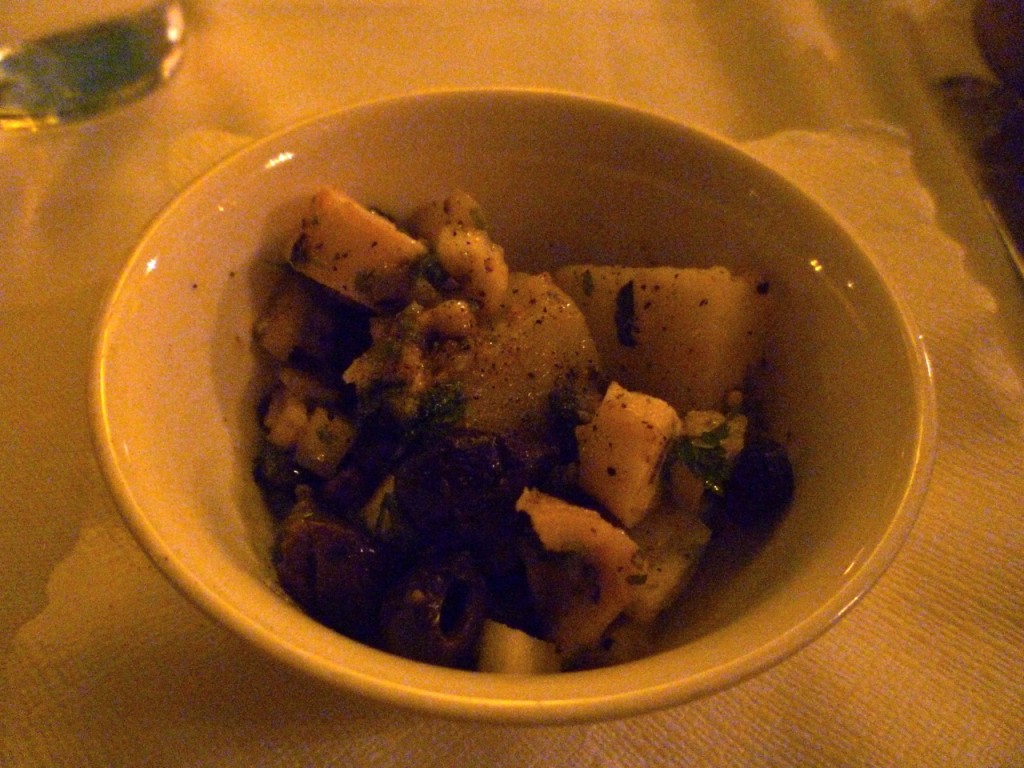 Another seafood course followed. This one a combination I've had before in the Veneto, we've prepared this on some of our past Chefs On Bikes trips, Octopus with Potatoes. Tender chunks of octopus, combined with olives, tomatoes, celery, capers, and, surprise surprise, more potatoes.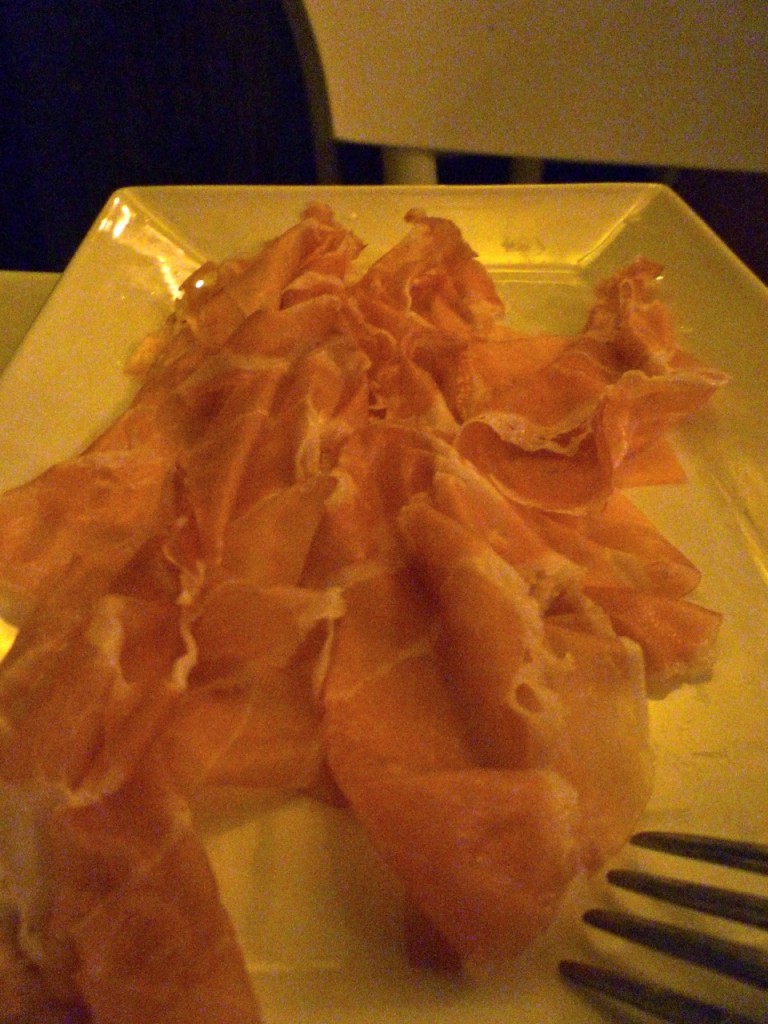 Still not through with the starter courses, I was then presented with two good sized plates of meats, the local DOP prosciutto Berico-Euganeo from Montagnana, and a second plate of a dried beef from Iberia, Spain. The first was served simply, just thinly sliced; the second topped with lemon juice and olive oil. Both were quite tasty, although I preferred the prosciutto, and again, more than I could finish.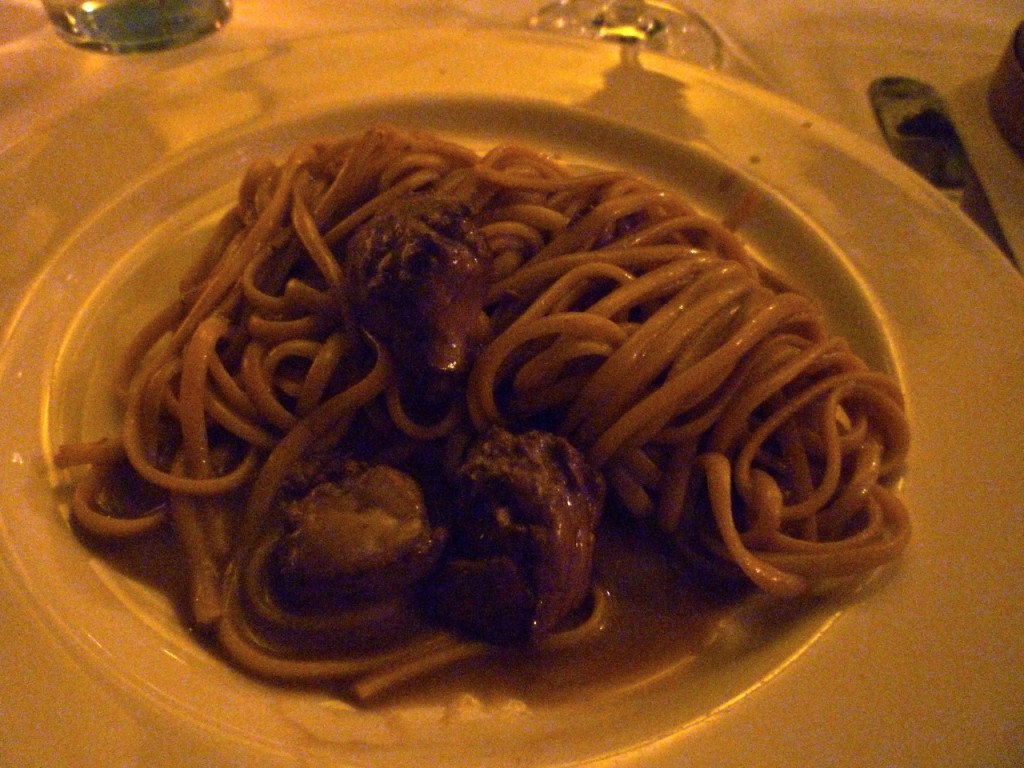 After clearing my plates, Chris then offered to follow with a primi and secondi, as if I had room! A risotto could be had, but only for two people and it would take a half hour. This is pretty standard in Italy, as a 'good' risotto is a difficult dish to make in advance; there is not starting in advance and holding it in the kitchen here – each is made to order. I order the pasta, a plate of homemade linguini with fois gras (the only other choice is mushroom.) There were also options for a roast beef, and another fish course.
The pasta is finished at your tableside, where the cooked pasta is combined with a few pieces of foie gras that have been cooked in port wine and rosemary oil. I could hardly do it justice, after the wide array of starters, but I gave it my best. I enjoyed a red with this, a nice robust Valpolicella which I never succeeded in getting the name of, as Chris at this point was quite busy with the other diners. He serves each and every table.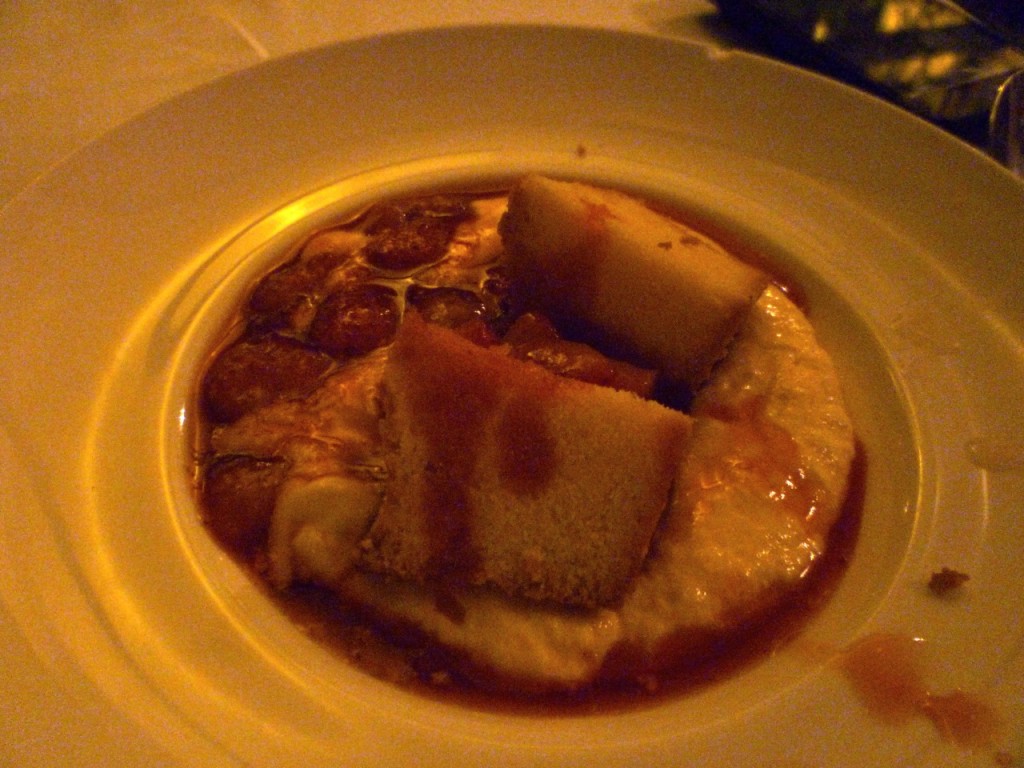 Dessert was, of course, required. I selected what sounded like the lightest option, caramelized strawberries with mascarpone cream. Another dramatic tableside preparation followed, where Chris arrived with a gas burner and saute pan, and melted raw sugar until liquid and brown. He added chopped strawberries and flambeed all with brandy. This concoction was poured over bowls of mascarpone cream and a light sponge cake. A dessert wine was served, a sweet moscato from Piedmonte.
A delicious meal, and I truly enjoyed letting Chris share with me the dishes he creates. The experience is made by his personality and passion. Visit Chris if you are ready to be introduced to his cuisine; if you want to select your own dishes, if you are looking for a quick, light meal, or if you are a vegetarian, I would recommend a visit elsewhere – it was certainly protein-centric, and Chris describes himself as a non-vegetable eater (except for potatoes, I guess.) But in a world of dining option too often characterized by standard, unimaginative menus, it is certainly worth supporting someone who has put real thought into cooking 'real food', even if you have to do it his way. The price of 40 euros, including the wine pairings, was more than reasonable.