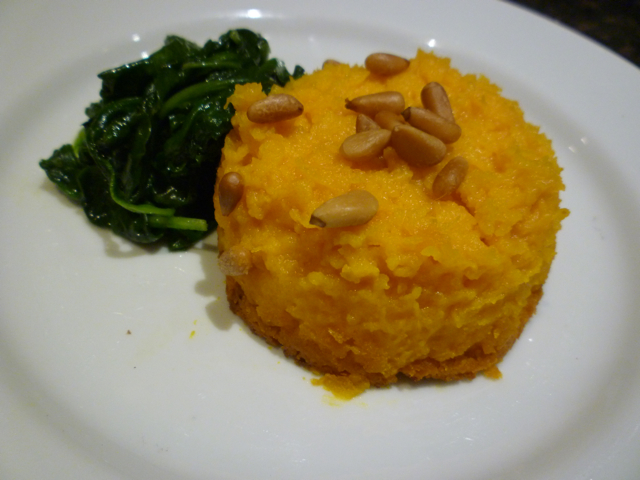 On a recent trip to Ferrara, I indulged in several of their local specialties, all that involved pumpkin, or zucca. According to Lynne Rossetto Kasper in The Splendid Table, "The Bolognese call the people of Ferrara 'squash eaters' because of their love for the sweet orange squash". We enjoyed their favorite over-sized pasta stuffed with pumpkin and cheese, Cappellacci con la Zucca, as well as a wonderful lighter starter, a Sformato di Zucca. This easy, delicious recipe might well make its way on to my recipes for our next culinary bike tour.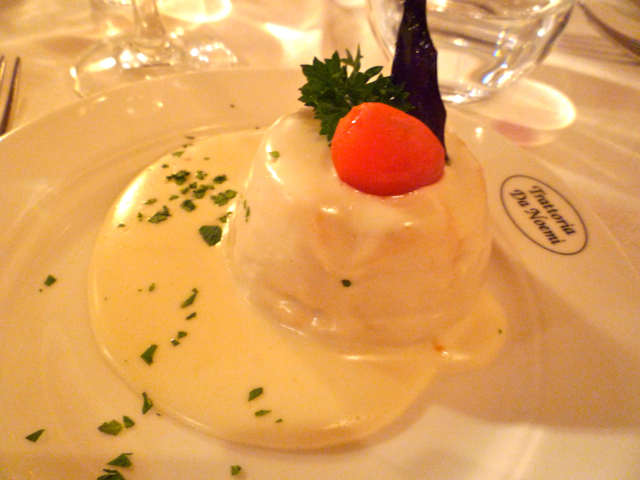 Sformato is a custard, similar to, but not as airy as a souffle. It can be made from just about anything, from cooked and pureed vegetables to pasta, rice, potatoes, cheese, even sweet versions are made with chocolate.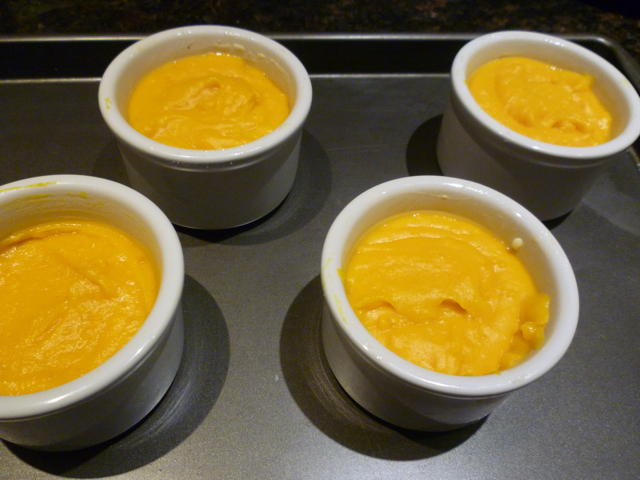 In the case of a savory vegetable sformato, the pureed vegetable is bound with a bechamel sauce and/or eggs and cream, poured into a mold and baked, either on its own, or in a water bath (bagno maria). The name sformato comes from the Italian verb sformare, to unmold. As it is slightly heavier than a souffle, more like a quiche without a crust, the cook doesn't have to worry about it collapsing. You can make it in a single large dish, or in smaller ramekins for individual servings.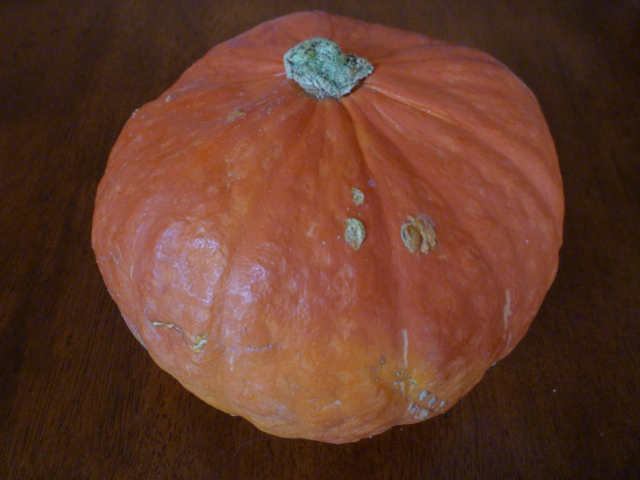 Pumpkin is not native to Italy, it is one of many products imported to the Old World from the New. Originally from Central America, pumpkin seeds came to Europe, specifically Spain, through the explorations of Christopher Columbus. It made its way to Italy via the  Spanish and Portuguese Jews who were expelled from Spain in 1492 following the Inquisition. Ferrara was particularly welcoming to Jews, under the rule of Ercole d'Este, and is the one city in Emilia Romagna that has had a continuous population of Jews since the Middle Ages. Today, you will still find many traditional cucina ebraica (Jewish kitchen) dishes on the tables in Ferrara.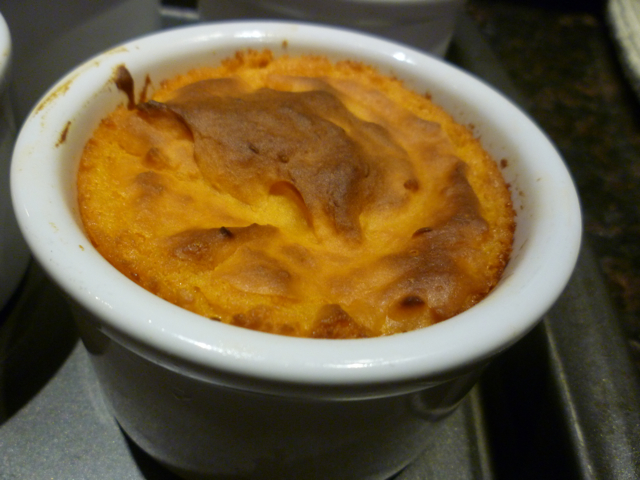 This recipe is adapted from The Silver Spoon, Italy's best selling cookbook for the last 50 years. In Ferrara, I enjoyed a sformato di zucca con fonduta, a cheese sauce. In the Silver Spoon, they recommend serving this sformato more simply, with sauteed spinach. For an elegant dinner party, I may try the sformato with the fonduta, but as an everyday treat, the simple green side is my preference.
Sformato di Zucca
Serves 6 to 8
1 3-lb. or so pumpkin or butternut squash
1 quantity bechamel sauce (recipe follows)
2/3 cup grated parmigiano reggiano or grana cheese
2 egg yolks
1/2 cup pine nuts (optional)
Kosher salt and freshly ground pepper
Preheat the oven to 375°. Grease a quiche pan or 6 individual ramekins with butter.
Cut the pumpkin or squash in half, and scoop out the seeds. Place cut side down on a baking sheet, and bake until cooked through and soft, about 45 minutes. Scoop out the flesh from the skin, and place the flesh in a large bowl. Mash until well pureed.
Reduce the oven temperature to 325°.
Stir in the bechamel sauce, grated cheese, egg yolks, and pine nuts and season with salt and pepper.
Pour the mixture into the prepared pan(s). Bake for 1 hour for one large pan, or 40 minutes for smaller ramekins. Increase the oven temperature to 350° and bake for 10 minutes more. Let cool in the pan, then turn out.
Serve with spinach, sauteed in butter.
Besciamella (Bechamel Sauce)
1/4 cup butter
1/4 cup all-purpose flour
2 1/4 cups milk
pinch of freshly grated nutmeg (optional)
Kosher salt and freshly ground pepper
Melt the butter in a sauce pan over medium heat. Whisk in the flour. Pour in all the milk, whisking continuously until it starts to boil. Lower the heat, cover, and simmer gently, stirring occasionally, for at least 20 minutes. The sauce must cook long enough so that it does not taste 'floury'.
Remove the pan from the heat. Taste, and season with salt and pepper, and nutmeg if desired. If the sauce is too thick, add a little more milk. If too thin, continue to cook until it reaches the desired thickness.