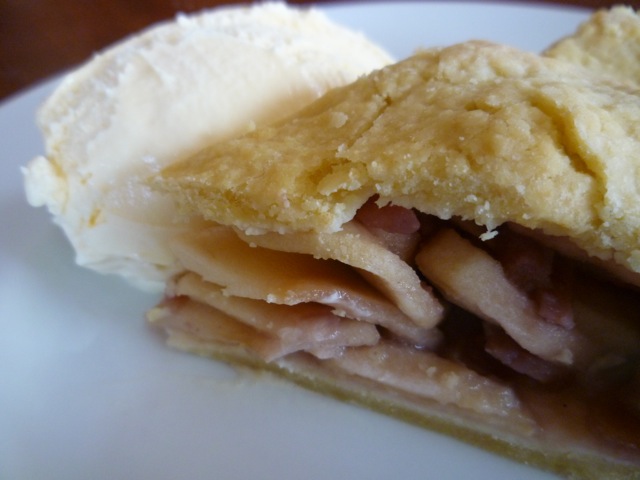 Our culinary adventures in Italy always inspire my cooking back home in the US. I recently have been playing around with some versions of mostarda, a sweet and sour relish, most commonly made from fruit, fresh, dried or candied – quince, pears, apples, even grape must, and mixed with wine and mustard. I had a delicious antipasti on my last cycling tour that included mostarda paired with goat cheese, but mostarda is customarily paired with boiled meats.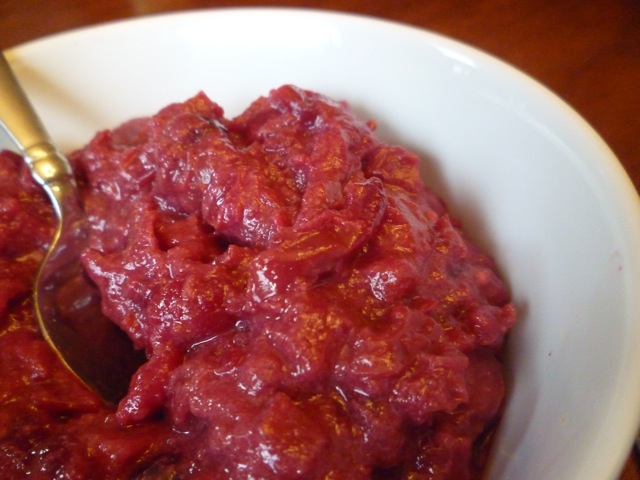 An on-line food magazine I write for, The Daily Meal, was looking for recipes for Thanksgiving side dishes, specifically cranberry. What new version could I supply – of course, a cranberry mostarda!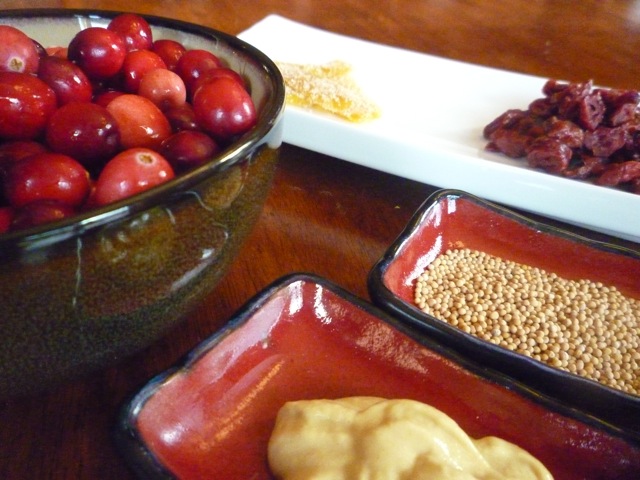 Mustard isn't a common ingredient in your traditional cranberry sauces. But the combination works, and makes a great foil to the turkey. I recall a trip I made once with Chef Jody Adams, where she was invited to cook a traditional Thanksgiving dinner for a group of journalists in Paris. I got to tag along, and as the turkey arrived, complete with carefully matched side dishes of gravy, dressing, potatoes, cranberries and vegetables, each and every Parisian reached for the dijon mustard in the center of the table. Apparently no one in France eats turkey without mustard!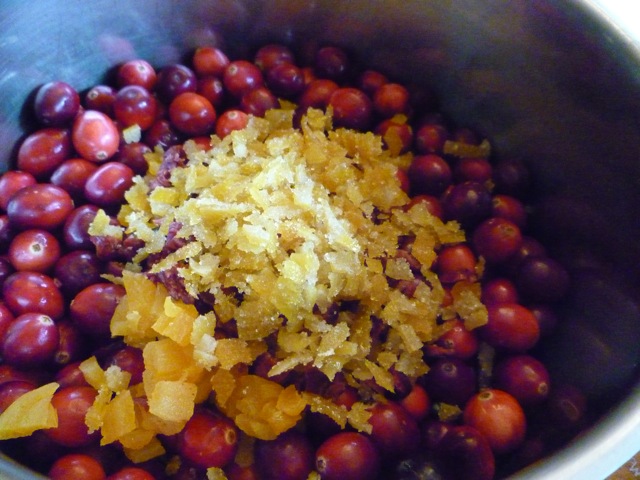 This will be on our table this Thanksgiving, as well as on our turkey sandwiches the next day instead of mayonnaise. And I've also added a couple of spoonfuls to an apple pie for a version of Torte di Mele e Mostarda, a traditional Veneto dessert recipe.
Cranberry Mostarda
Makes approximately 2 cups
12 ounces fresh cranberries
1/4 cup dried apricots, cut into 1/4" pieces
1/4 cup craisins, chopped
1/4 cup candied orange peel, chopped
1/4 cup candied lemon peel, chopped
1/2 cup dijon mustard
1 1/2 cups red wine
1/4 cup honey
1 1/2 teaspoon mustard powder or 1/2 teaspoon mustard seeds
Place all ingredients in a large saucepan and stir to combine. Bring to a boil over medium-high heat. Reduce to a simmer, and cook over low heat until softened and thick, about 20 minutes. Allow to cool.
Advance prep: This is better after sitting for a day or so to let the flavors blend, so make a day or two ahead!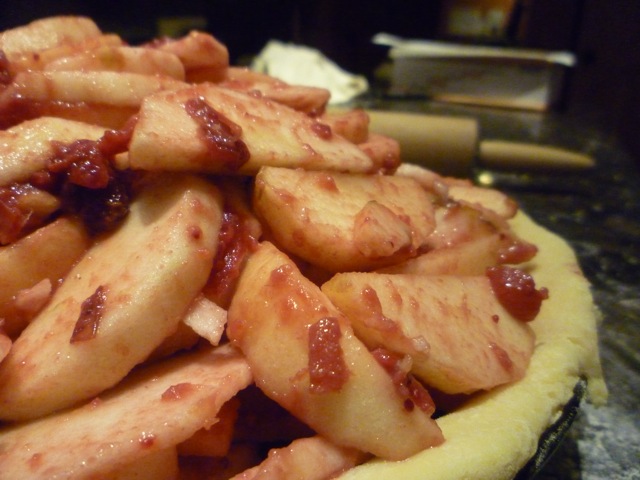 Torta di Mele e Mostarda
Pie Crust:
2 1/2 cups all-purpose flour, plus additional for dusting
1/4 cup granulated sugar
1/2 teaspoon salt
1 cup unsalted butter, very cold and cut into pieces
1 large egg, beaten
4-6 tablespoons cold water
Pie:
6-8 apples, peeled, cored, and sliced
1/4 cup cranberry mostarda
For crust:
Place the flour, sugar and salt in the bowl of a food processor. Pulse several times to combine.
Add the butter pieces, and pulse just until the mixture is a coarse meal, with small pea size pieces of butter.
Add the egg, and pulse to combine.
Add the cold water, 1 tablespoon at a time, pulsing to combine. After each addition, pinch the crumbly mixture. When it holds together, it is done. If it doesn't, add more water.
Remove the dough from the food processor, and place on the counter. Using the heel of your hand, smear the dough mixture across the counter, to flatten the butter into layers. Do this a few times, then shape the dough mixture into two discs. Wrap in plastic wrap and refrigerate for at least an hour.
Preheat oven to 350°.
Remove one disk from the refrigerator, and allow it to sit at room temperature for 5-10 minutes in order to soften. Roll out with a rolling pin on a lightly floured surface to a 12-inch circle. As you roll out the dough, keep checking to make sure the dough is not sticking to the counter. If it is, sprinkle underneath with flour. Carefully place onto a 9-inch pie plate. Gently press the pie dough down so that it lines the bottom and sides of the pie plate. Trim the dough to within 1/2 inch of the edge of the pie dish.
Place the apples in a large bowl. Add the mostarda, and gently combine.
Roll out second disk of dough, just as you did the first one. Gently place onto the top of the filling in the pie. Pinch together the top and bottom of dough rounds. Trim, leaving a 3/4 inch overhang. Fold the edge of the top over and under the edge of the bottom crust, pressing together. Flute edges using thumb and forefinger or press with a fork.
Using a knife, cut several 2-inch long slits in the top crust, so that steam from the cooking pie can escape. Place the pie pan on a sheet pan (this protects your oven from any overflow) and bake for 45 minutes, until golden brown and bubbly.