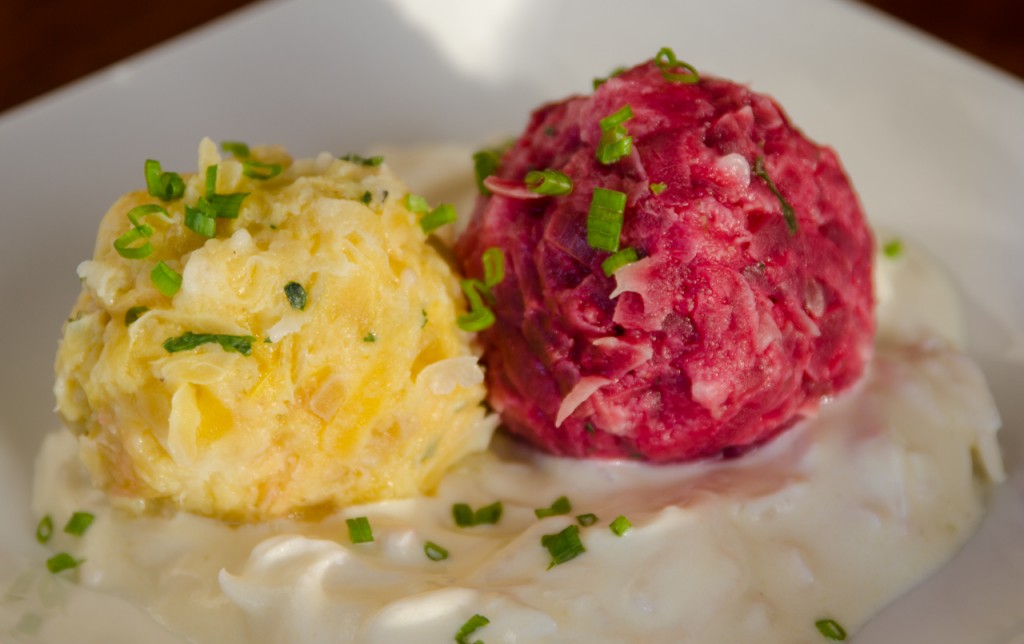 One unique specialty of Tirol cuisine are canederli, large round dumplings that are found on just about every restaurant table in Alto Adige and Trentino. We see these, in various shapes and sizes, almost daily on our bike and ski tours in these region, but never outside of this area. In essence, they are another version of 'gnocchi', but exhibiting the influence of the cuisine of neighboring Austria, Germany, and Slovenia, where they are know as Knödel. In Alto Adige, they more resemble Knödel, in Trentino they typically are smaller, and they favor lighter variations.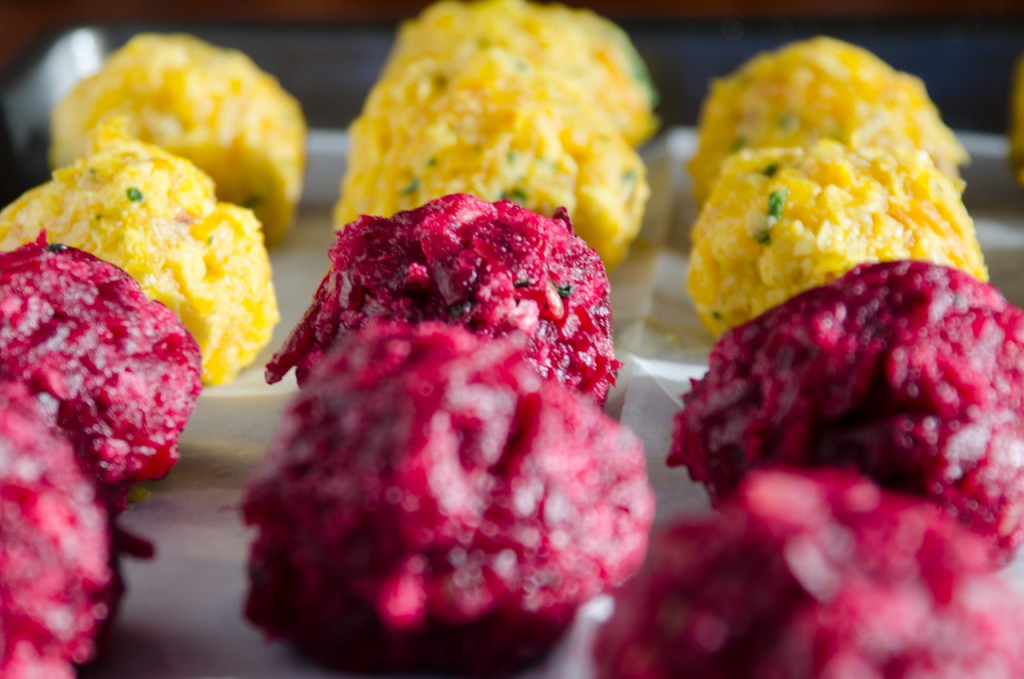 All canederli use some sort of stale bread, but from there the possibilities are endless. Just as with gnocchi, they can be flavored with just about anything; potatoes, flour, semolina, speck, spinach, sausage, cheese, and so on. They are most commonly served as a side dish for roasted meat or stews, and as a soup with a simple beef or chicken broth. I've enjoyed them with goulash at a wonderful summer lunch at a mountain malga, in a simple browned butter sauce, even as dessert, a sweet version stuffed with a chocolate nougat filling in the ski town of Val Gardena.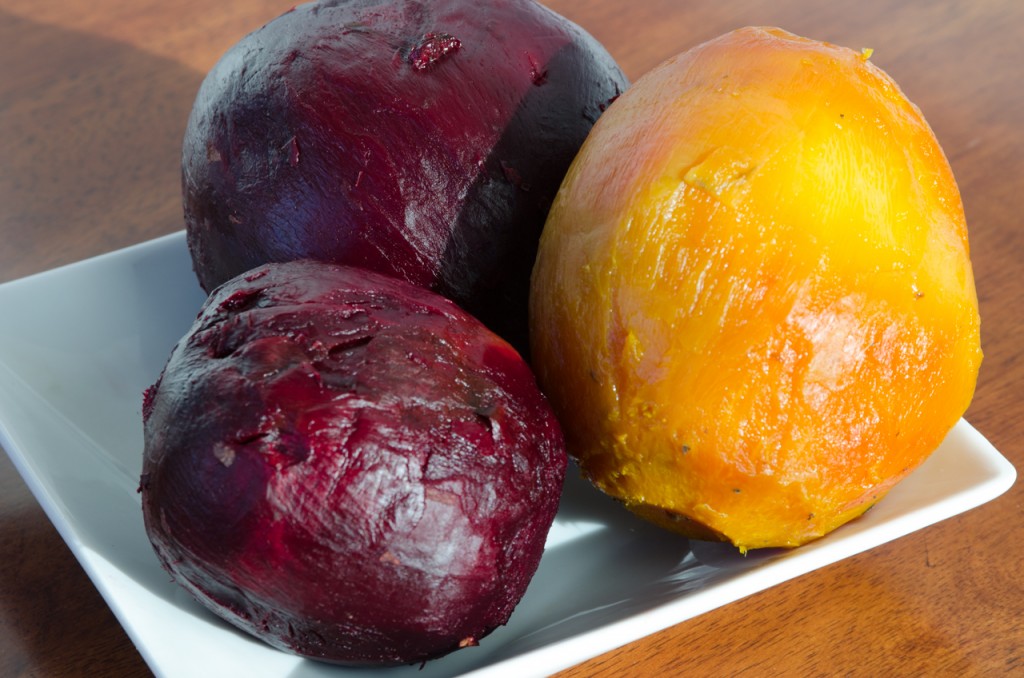 One delicious and unique version I discovered in my travels in the region was a striking beet canederli, canederli di barbabietola, served with a tangy horseradish sauce. I had some wonderful local beets from the Western Maine Market, both red and golden, so I created two versions, a bright red and lovely yellow dumpling. If you choose to use both, make sure to keep the two beets separate throughout, as the red beet juice will discolor the yellow. I served these as I experienced them in Bolzano, with a horseradish sauce, but I have also seen versions of these same canederli served with a browned butter and poppy seed sauce – another wonderful alternative!
Beet Dumplings with Horseradish Sauce
Canederli di Barbabietola
Serves 6-8
Ingredients:
1 pound beets
1 small yellow onion, cut into 1/4 inch dice
1 clove of garlic, peeled and minced
2 tablespoons unsalted butter
1 1/2 cup stale white bread crumbs
2 eggs
1 cup grated grana cheese
1⁄4 cup chopped flat-leaf parsley
1/4 cup all purpose flour
Kosher salt and freshly ground black pepper
Horseradish Sauce
1 cup greek yogurt
1/2 cup horseradish (fresh grated or prepared)
1 tablespoon lemon juice
2 tablespoons extra virgin olive oil
Kosher salt and freshly ground black pepper
Heat the oven to 400°F. Wash the beets, wrap in foil, place on a sheet pan and roast in the oven until tender, 45 minutes to 1 hour. Let beets cool, then peel and grate using a box grater.
While allowing the beets to cool, make the Horseradish Sauce. In a small bowl, combine the yogurt, horseradish, lemon juice and olive oil. Season to taste with salt and pepper, and additional horseradish if you prefer it more spicy.
Heat 2 tablespoons butter over medium heat, add the onion and sauté until soft, about 5 minutes. Add the garlic and sauté until aromatic, about 1 more minute.
In a large bowl, combine the onion mixture with the beets, bread crumbs, eggs, cheese, and parsley. Add flour to bind. Season to taste with salt and pepper.
To test your canederli, bring a small pot of water to a boil. Take a small amount of the canederli mixture and form it into a ball about the size of a small strawberry. Place it in the boiling water. If the ball breaks apart, you need to add a bit more flour to the dough, and test it again. When it holds together as it cooks, eventually floating to the top when done, you are ready to form the rest of the mixture into canederli.
Form the mixture into 16 large round dumplings. Bring a large pot of water to a boil. Season with salt. Drop the canederli into the water and cook at a gentle simmer until they float to the top, 4 to 5 minutes. Remove from the water with a slotted spoon. Serve warm, with the horseradish sauce.