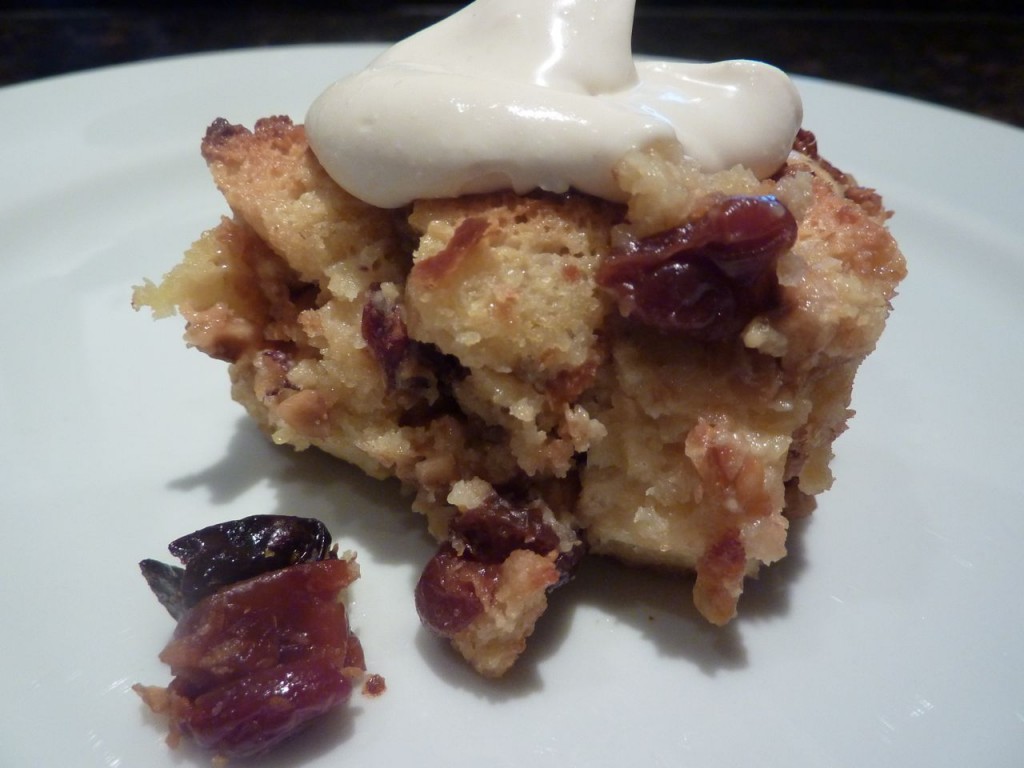 Panettone is a classic holiday dessert found all over Italy. It is most commonly believed to have originated in Milano, but now is actually more popular in Southern Italy than in the North. It is a large, dome shaped egg bread flavored with dried fruits and candied citrus peel. Its' slightly acidic flavor comes from a sourdough type starter and multiple risings. It is quite time consuming and labor intensive to make, so Italians purchase these from a specialty baker, rather than produce them at home.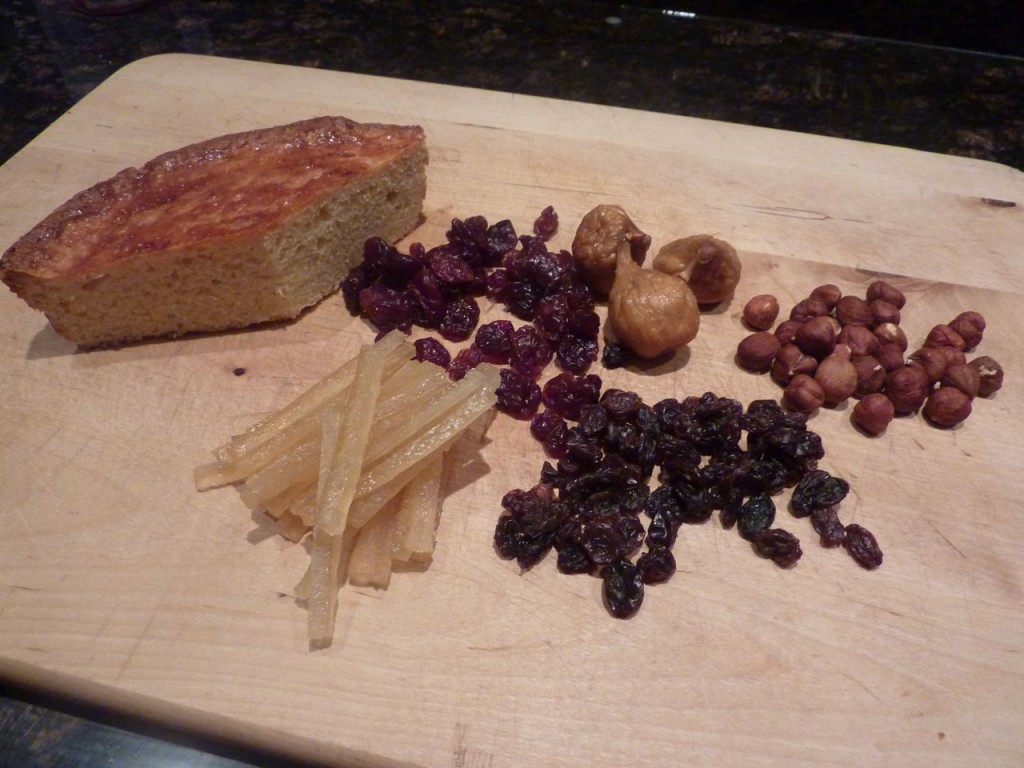 In Italy, panettone has long held a central location on the holiday table. For centuries, there has been a Christmas tradition in which the head of each family would cut three pieces from a panettone, and each family member would eat a piece of each slice to bring good luck during the upcoming year. Sounds better than the creamed herring my dad always swears by! Today, it is a staple of Christmas dinner in Latin America, brought there by Italian emigrants. It is served with a crema di mascarpone (mascarpone, eggs, and a sweet liquor such as amaretto) or a zabaglione. It pairs well with sweet dessert wines; a couple I would recommend from the Veneto wine regions that we visit on our Italiaoutdoors Bike the Wine Roads tours include the Recioto di Soave from the Soave region near Verona, as well as the Torcolato wines from the Breganze region.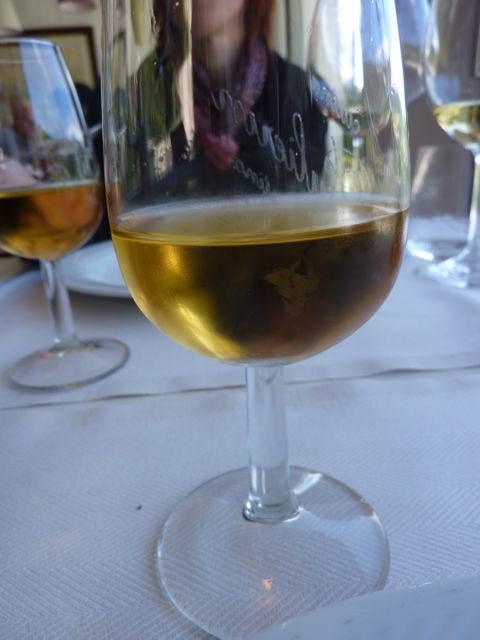 There are numerous legends as to the origin and name of this well-known holiday treat. Among the more interesting:
– the rounded shape of the bread was created to honor the church domes of Lombardy
– this bread was a particular favorite of a certain Padre Antonio, who always wore the proper ecclesiastical hat. The bread, with its shape resembling the hat, was named for the father, Pane Tonio
– In the 15th century, there was a poor baker in Milan named Toni, who had a very attractive daughter. His daughter was being courted by a wealthy suitor, who, depending on the version of this fable, either staked Toni the money to purchase the expensive ingredients for this special bread (eggs, butter, dried fruit), or disguised himself as a poor baker and created the bread himself. In either case, the result was that he won the daughter's hand in marriage.
– One year in Milano, during one of the city festivals, a local baker had an assistant of 12 years old that had the responsibility to watch the focacce as they baked.  The boy (named Toni) fell asleep and burnt all the focacce.  When Toni woke up and saw what had happened he was in a panic, trying to figure out what to do.  On a nearby table, he spied ingredients leftover from various other dishes that had been prepared for the festival, including bread dough, fruits, and nuts.  So he added some eggs to the bread dough, threw in nuts, dried fruit, and raisins, and placed it in the oven to bake, hoping it would become some type of bread to replace the focacce.  The chef returned looking for the focacce, and Toni explained what happened.  The chef made the best of the situation, and put out the only cake that was available, Toni's creation.  To everyone's surprise, the cake was very well liked and when the chef was asked what the name of the cake was, he replied (in dialect) 'Pan de Toni', thus becoming Panettone.
This last legend was related to me by my Italiaoutdoors recreational programming partner in Italy, and represents what he, as a resident of the Veneto region, has been told of the origins of this holiday dessert. In all probability, the name is a simple combination of the word for bread, pane, followed by an Italian suffix "tone", meaning big. At one point, it was referred to as pane grande. However, I find the colorful legends much more in keeping with a traditional holiday celebration!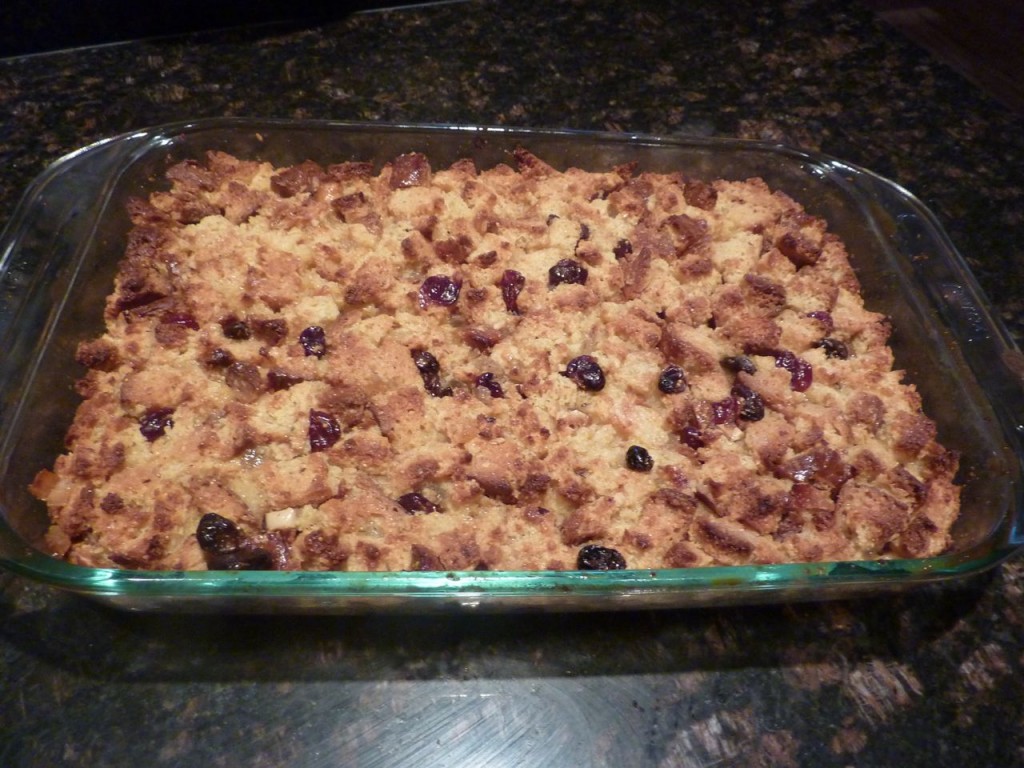 I started with the best intentions of making my own panettone this year, but after studying several different recipes I quickly came to appreciate why they are usually purchased from a bakery. During the hectic holiday season, this is quite a project to take on. I am all for an occasional challenge in the kitchen, but I also want my recipes to be accessible by most home chefs with other things to do besides cook, and I include myself in that category. So instead, I thought I'd work on a recipe that captured the flavors of a traditional panettone with a bit less labor. The result is this bread pudding. I began with an egg bread base, as in a panettone; I made my own brioche, which also includes a ton of butter (not a bad addition), as well as two risings to add the yeasty element. If making your own brioche is not in your schedule – it rarely is in mine – I would select a nice, store-bought sweet egg bread such as brioche, challah, or even a portuguese bread. Add to this the traditional panettone ingredients – raisins, candied lemon, nuts – and cover with a combination of eggs, sugar, cream/milk, just as in most classic bread puddings. And, in my mind, no Christmas dessert is complete without a little liquor. The result follows – Happy Holidays!
Christmas Panettone Bread Pudding
One 13×9 pan
1 1/2 cups dried fruit – cherries, figs (chopped), raisins
1/2 cup liquor – grappa, rum, brandy
1 1/2 9×5" loaves of brioche or challah bread, sliced 1/2 inch thick
1 tablespoon butter
1/3 cup candied lemon peel, diced
1/2 cup hazelnuts, toasted and chopped
1/2 cup sugar
5 large eggs
2 1/2 cups whole milk
1 cup heavy cream
1 tablespoon vanilla
Preheat the oven to 350°.
Place the dried fruit in a small bowl. Heat the liquor, and pour over the dried fruit to soften. Let sit for about 30 minutes.
Place the brioche slices on a sheet pan, and toast in the oven until just beginning to brown.
Coat the inside of a 13×9 baking pan with the butter. Break the brioche into small pieces in a large bowl. Add the dried fruit and liquor, candied lemon peel and hazelnuts. Stir lightly to combine. Transfer mixture to coated baking pan.
In a medium bowl, combine the remaining ingredients. Pour over the bread mixture. Let sit for 30 minutes. Press down firmly on the top of the pudding to make sure the bread pieces on top are sufficiently moist.
Place on the middle rack in the preheated oven. Bake for 30-40 minutes, until the pudding has set and is beginning to brown. Serve warm, or at room temperature. This will keep in the refrigerator for a couple of days, and can be reheated.