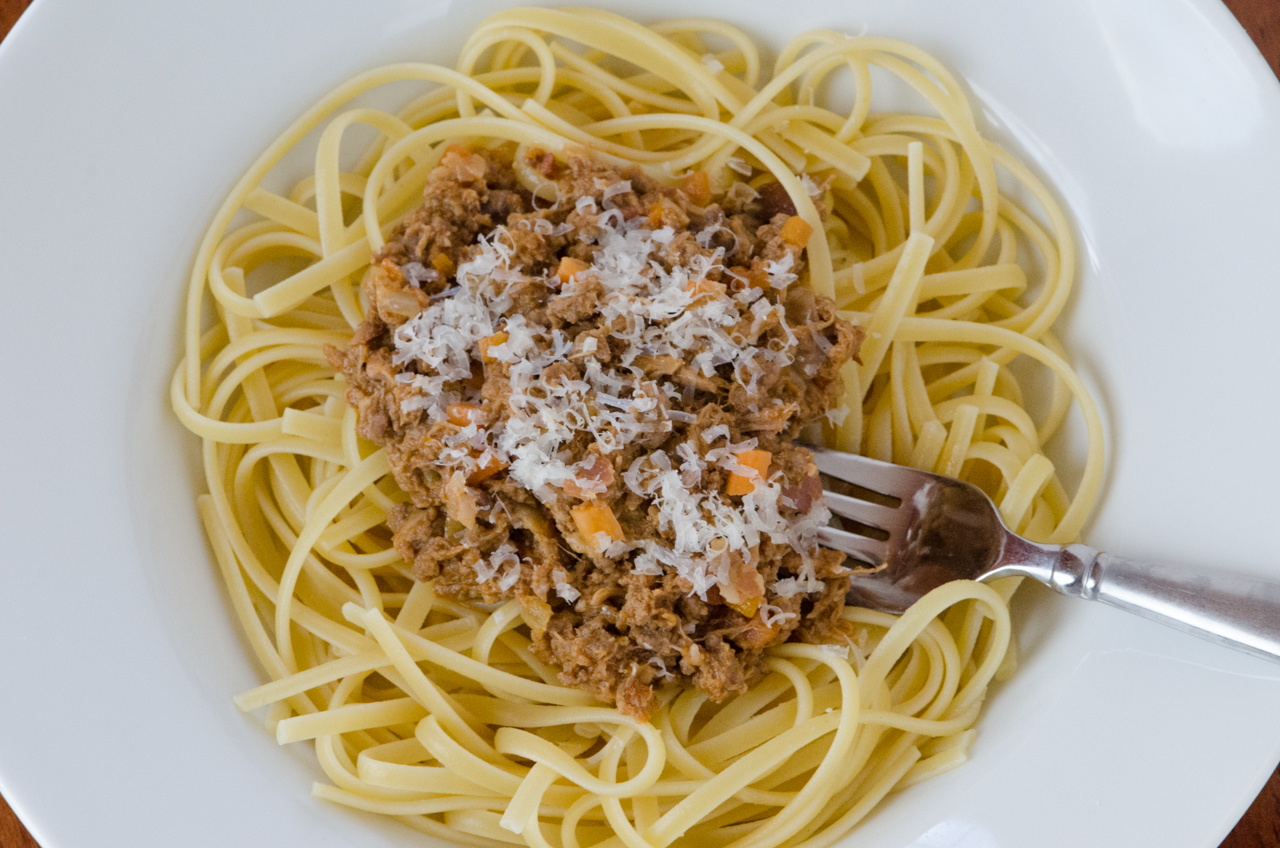 No matter where we travel in Italy, we find various types of meat ragu on the menu. A ragu is a sauce of sauteed vegetables and chopped meat cooked in a liquid. The liquid can be lots of things, – wine, beef or chicken broth, milk or cream, or a combination of several, but one thing it is not – a tomato sauce. A ragu can be flavored with tomato, but it is not a 'marinara' sauce with meat.
We find duck ragu when we tour the Veneto, rabbit or wild boar (cinghiale) ragu in Tuscany, but probably the ragu most familiar to us back in the US (and apparently in Dharamshala as well) is Ragu Bolognese from Emilia-Romagna. This is one region that takes it's ragu, named after it's capital city, very seriously.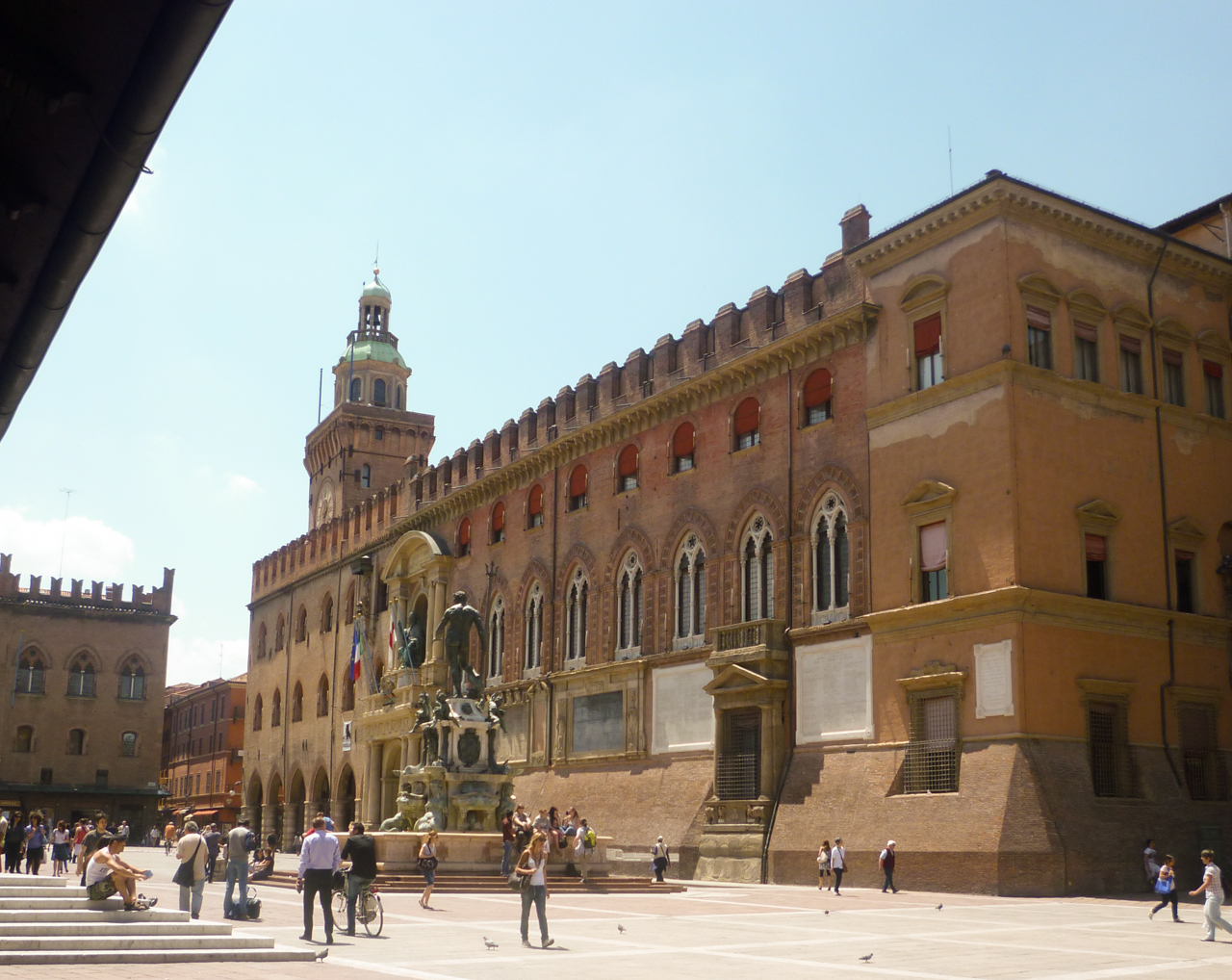 My favorite resource for authentic recipes and background from Emilia-Romagna is Lynne Rosetto Kasper's The Splendid Table. Her recipe for Ragu Bolognese is based upon the official recipe as defined by one of Italy's "preeminent gastronomic societies, L'Accademia Italiana della Cucina". Their book, La Cucina: The Regional Cooking of Italy, is another of my favored references. Needless to say, their selected recipe was the subject of much controversy, as restaurant chefs and home cooks throughout the region objected to pretty much every ingredient and technique. But it provides as good a starting point as any.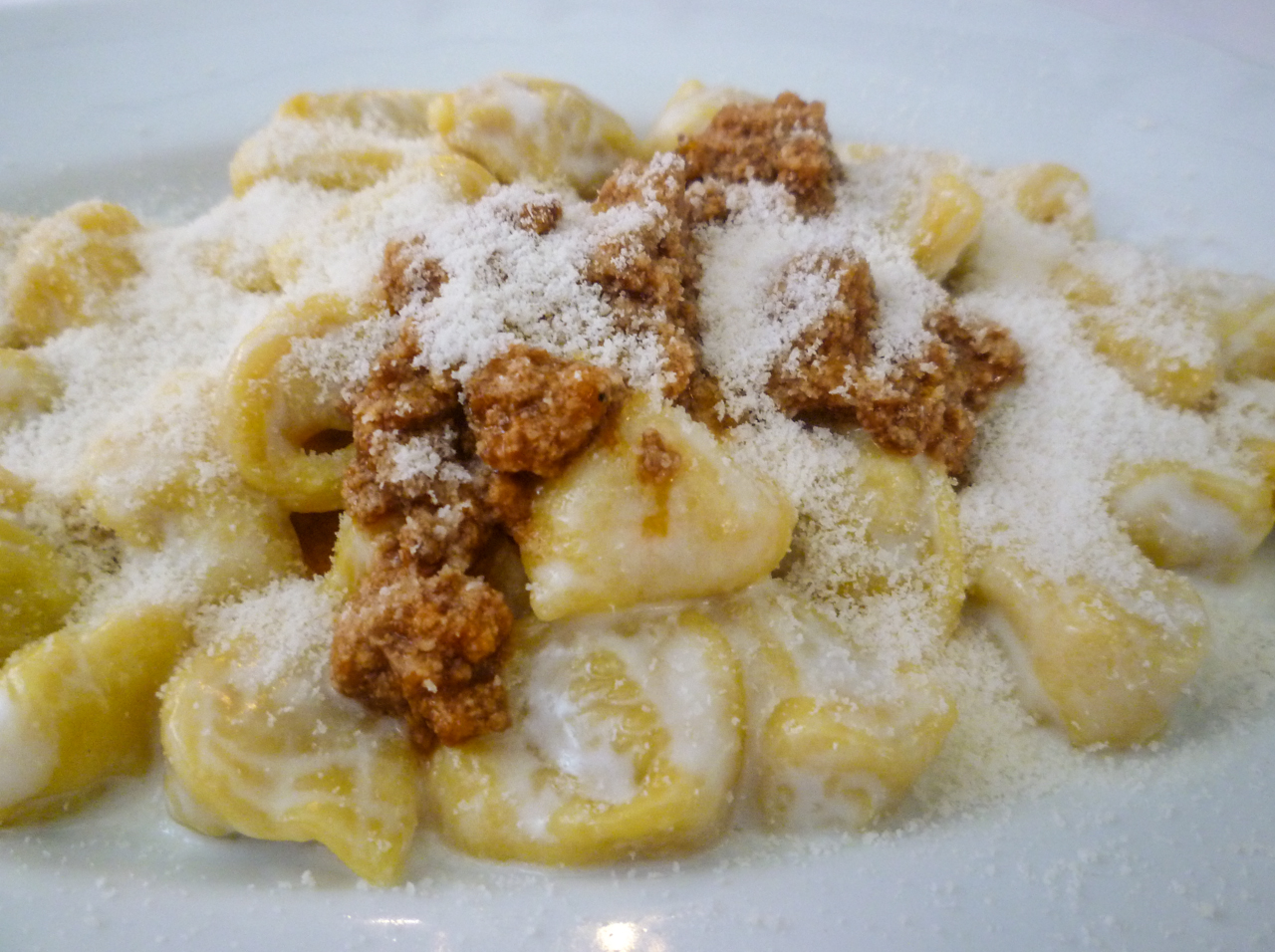 A few years ago as I was working with Chef Jody Adams, The Charles Hotel, home to her restaurant Rialto, was selected to host the Dalai Lama during a visit to the Boston area. He and his entourage were staying at the hotel for a few days, and Jody was responsible for their luncheon, which is the Dalai Lama's main meal. She and I set out to learn about his food preferences, focusing on vegetarian, Tibetan food. We discovered two things, 1) he is not vegetarian, upon the recommendation of his doctors and 2) when not at home, he prefers to eat other types of food. We asked what he would like, and the response – Pasta with Bolognese.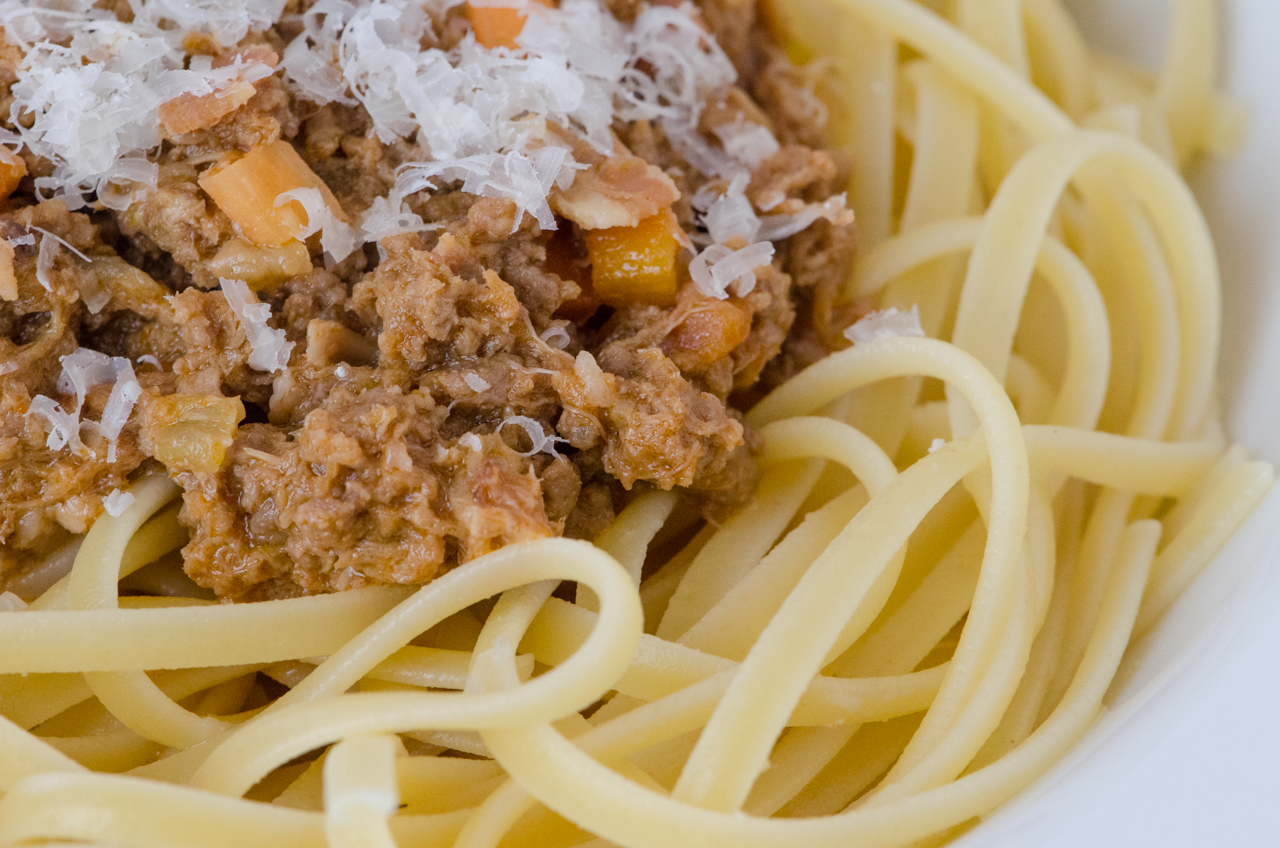 So that is what we made, a variation of the recipe that follows. Jody believes a good Bolognese is made from a variety of meats, not just a single type, and several other friends that brag about their Ragu Bolognese also claim the same. I've used beef, pork, I love to add lamb, chicken livers, and find it a great way to use up any small amounts of leftover meat in my refrigerator. Today I have pork that was braised in milk leftover from a cooking class last night, which makes a perfect addition here, complementing the milk that is used in the Bolognese. Enjoy with a nice Sangiovese from Sangiovese di Romagna DOC, or a Cabernet from the Colli Bolognesi.
Ragu Bolognese
Serves 6
1/2 cup heavy cream
2 tablespoons extra virgin olive oil
3 ounces pancetta or bacon, diced
1 small onion, cut into 1/4 inch dice
2 celery stalks, peeled and cut into 1/4 inch dice
2 carrots, peeled and cut into 1/4 inch dice
1 1/4 pounds mixed coarsely ground or chopped meat – beef, pork, lamb, chicken, even finely chopped leftover braised beef
1/2 cup dry Italian white wine
4 cups beef broth, reduced to 2 cups
2 tablespoons concentrated Italian tomato paste 1 cup whole milk
Kosher salt and freshly ground pepper
Place the cream in a small saucepan and simmer until reduced by 1/3. There should be about 6 tablespoons. Set aside.
Heat the oil in a large saucepan over medium-low heat. Add the pancetta, onion, celery, and carrot and cook until softened, about 5 minutes.
Raise the heat to medium, and add the meats. Brown for 5 minutes, or until the meat is medium brown in color, and almost crisp.
Add the wine, beef broth and tomato paste, stirring until the paste is diluted into the liquid. Reduce the heat to very low, and allow to reduce as slowly as possible. Cook, partially covered, for 2 hours. From time to time, stir in a tablespoon or so of the milk. After 2 hours, all the milk should be used up and the ragu should be only slightly liquid. Stir in the reduced cream. Toss the hot ragu with freshly cooked pasta and serve.