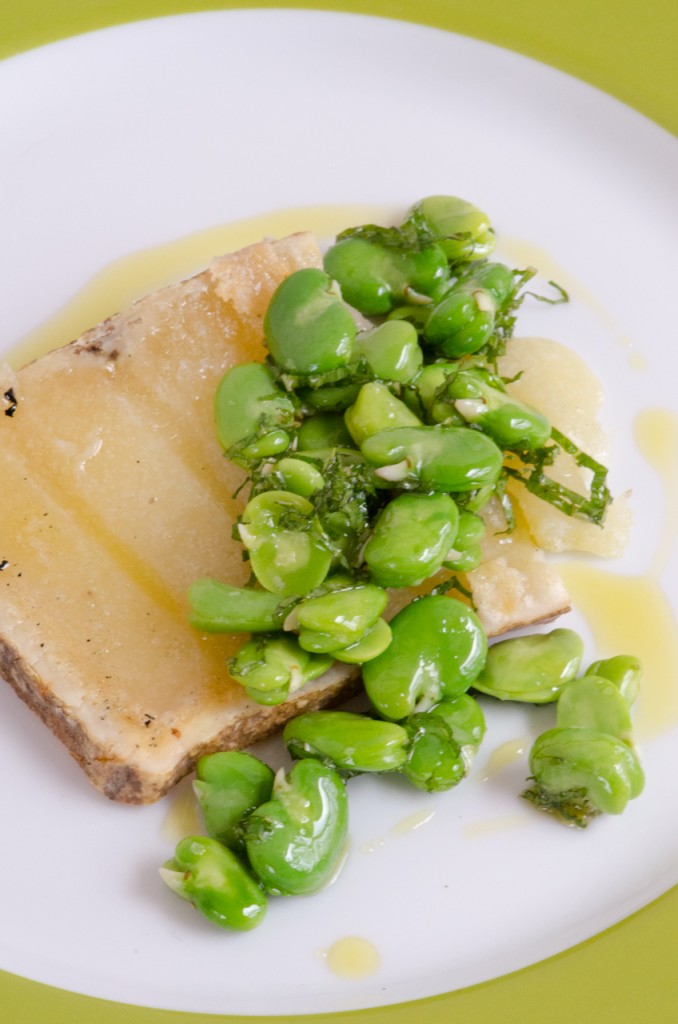 Fava beans, or broad beans (fava is Italian for 'broad bean') have been cultivated in the Old World for thousands of years. Along with lentils, peas and chickpeas, these easy to grow beans have been part of the Mediterranean diet since about 6000 BC. From Elizabeth Schneider's Vegetables from Amaranth to Zucchini: "This venerable mainstay of the Old World has been cultivated for so long that its wild ancestor and place of origin are no longer traceable. Found from China to England, where they are known as broad beans, they are now most associated with the south of France and Italy." This association with Mediterranean cuisine has made the fava bean highly sought after by chefs; the labor involved with preparing them unfortunately makes them a bit intimidating for home cooks.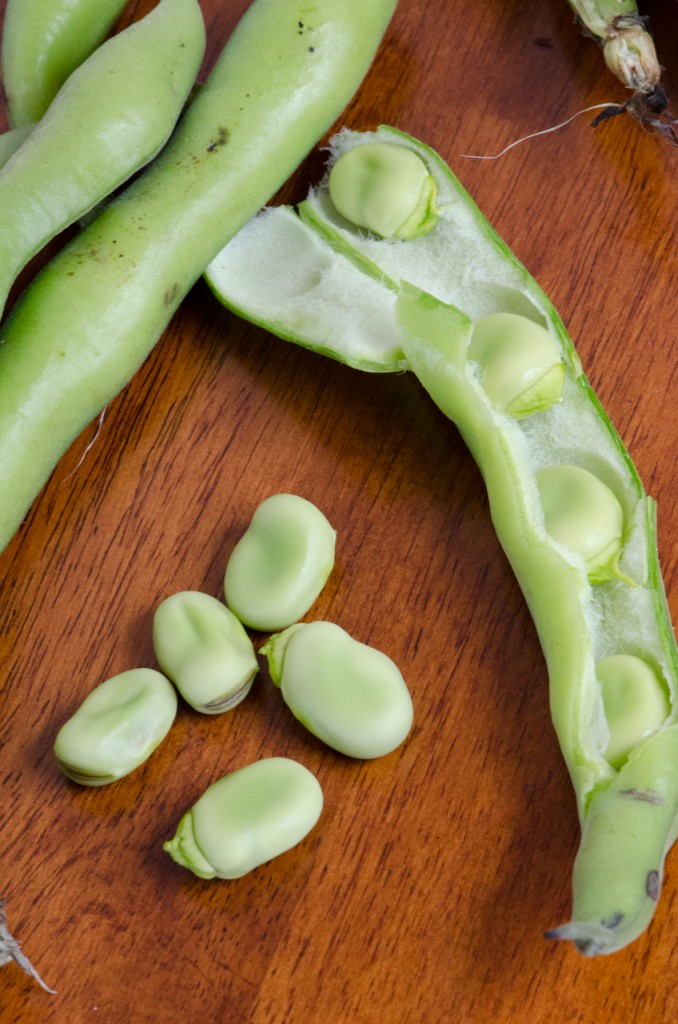 But, once you go through the laborious preparation, very little needs to be done. Simplicity is key here – Elizabeth quotes my good friend, cycling companion and chef, Jody Adams: "I feel they are one of those foods that should be treated with almost ritualistic simplicity."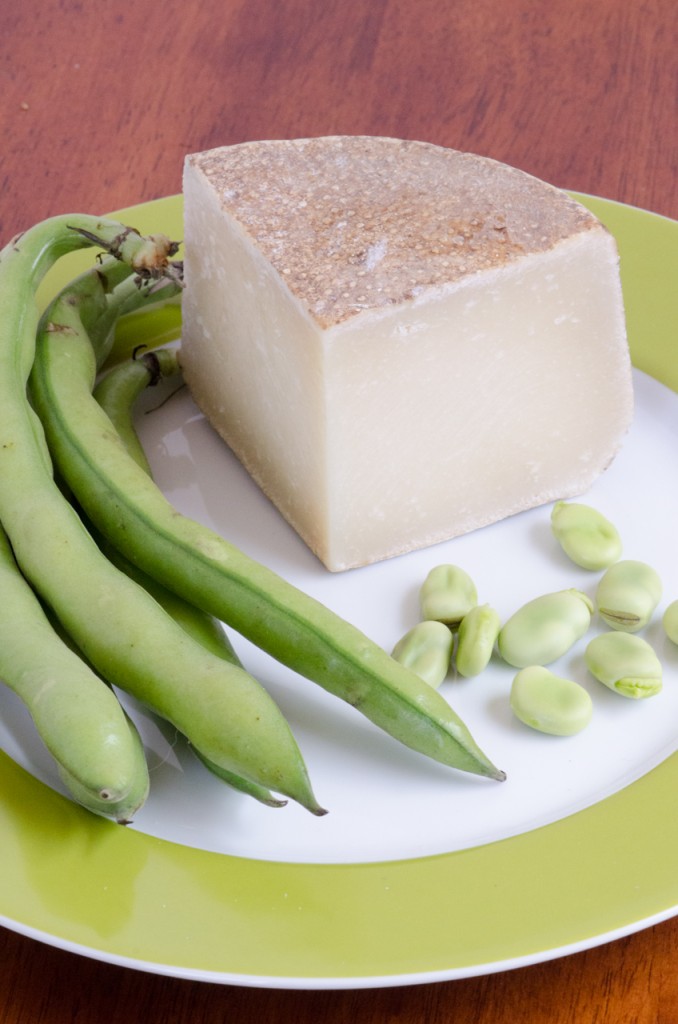 Salty hard cheeses and fava beans are a classic combination. In Tuscany, one of the regions we visit on our Bike the Wine Road cycling tours, the salty hard cheese of choice would be one of the many Pecorino cheeses produced here.  The name "Pecorino" is a somewhat recent invention. Pecorino comes from the word pecora, meaning sheep, as these cheeses are made from ewe's milk. But prior to the end of World War II, every area in Tuscany had it's own "cacio" that it made from ewe's milk, using very similar production techniques. Today, you will find many types of pecorino cheeses in Tuscany (as well as Sardinia, Lazio and Sicily). Pecorino Toscano has earned the EU DOP quality designation. So the salad itself is quite simple; this is an adaptation of a dish from Elizabeth Schnieder's book. The labor – multiple steps, but each quite easy – is in the preparation of the beans themselves.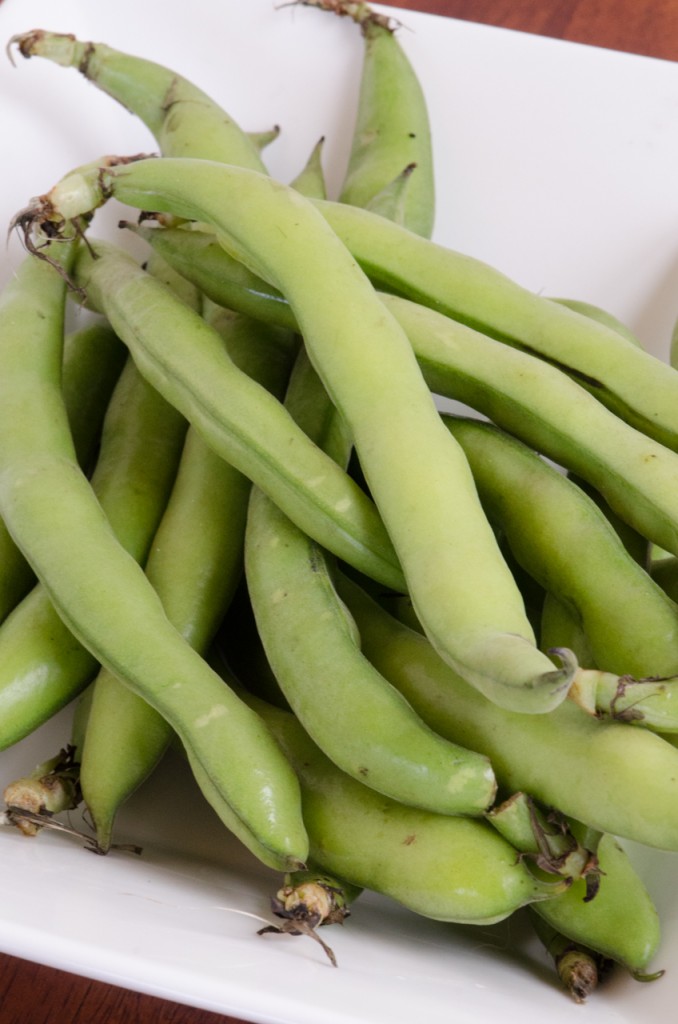 Unless you have access to favas straight off the vine, and using them in stews or purees, you will need to both shell and skin them. Most beans sold in the US will require both. First, spend some time picking out the right beans. You should inspect each pod, feeling for large, individual beans. In my enthusiasm to actually see them in stores – they still rarely grace the produce section in my neck of the woods – I have grabbed handfuls, to get home and open them up and find beans so immature as to yield nothing after peeling. You want to inspect each, feeling for beans inside each pod that are as large as a fingernail.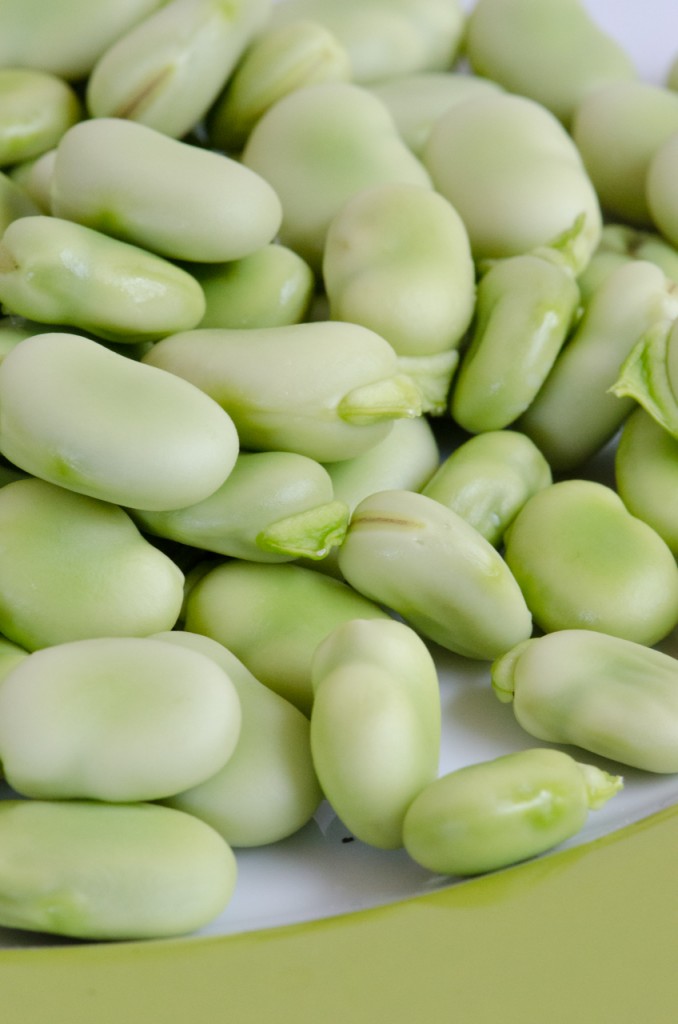 Next, you will need to shell, blanch, and then peel your fava beans. To do this: Snap the tips off the pods, then strip any strings along the pod. Open the seam, and pull out the individual beans from the plush pod in which they lie.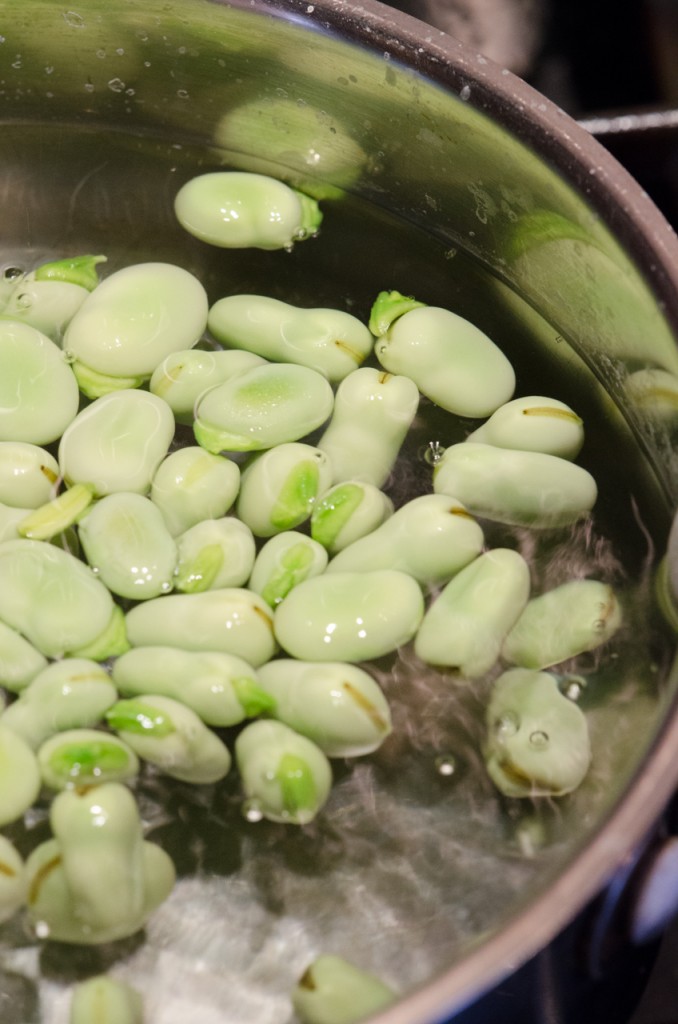 Bring a pot of water to a rolling boil, and salt. Dump the beans into the boiling water, and return to a boil. Do NOT cover. Cook for 30 seconds to 1 minute, depending on size. No more, or they will squish when you skin them. Drain and drop into ice water to stop the cooking process.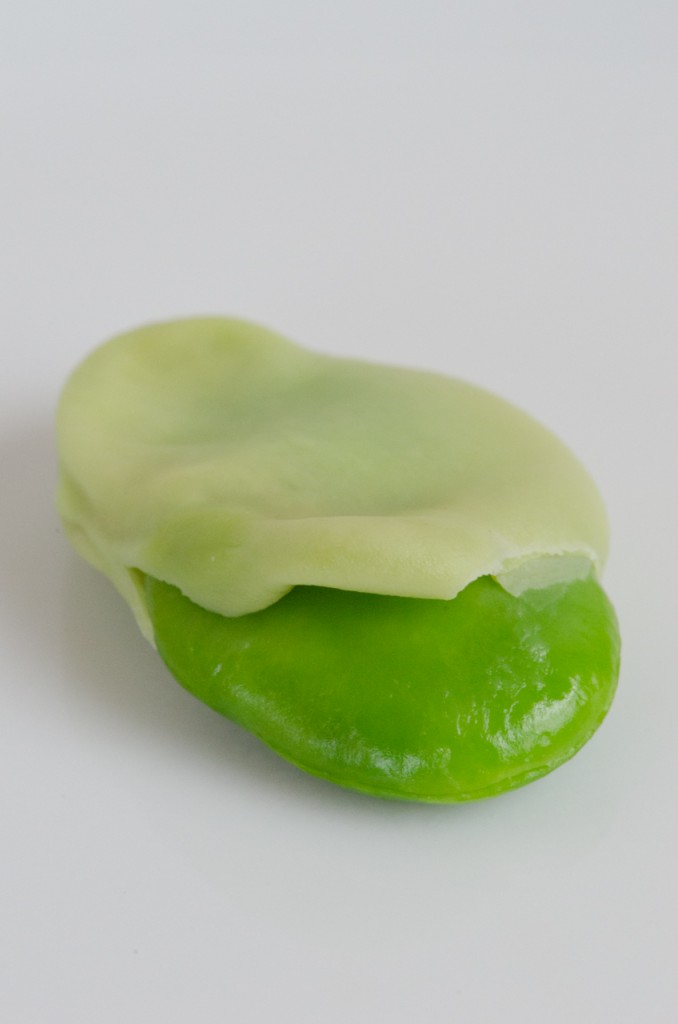 To peel, pinch a bit of skin off of the top of each bean with your fingernail. You will then be able to squeeze the bean at the opposite end and pop out the bean. Truly a labor of love.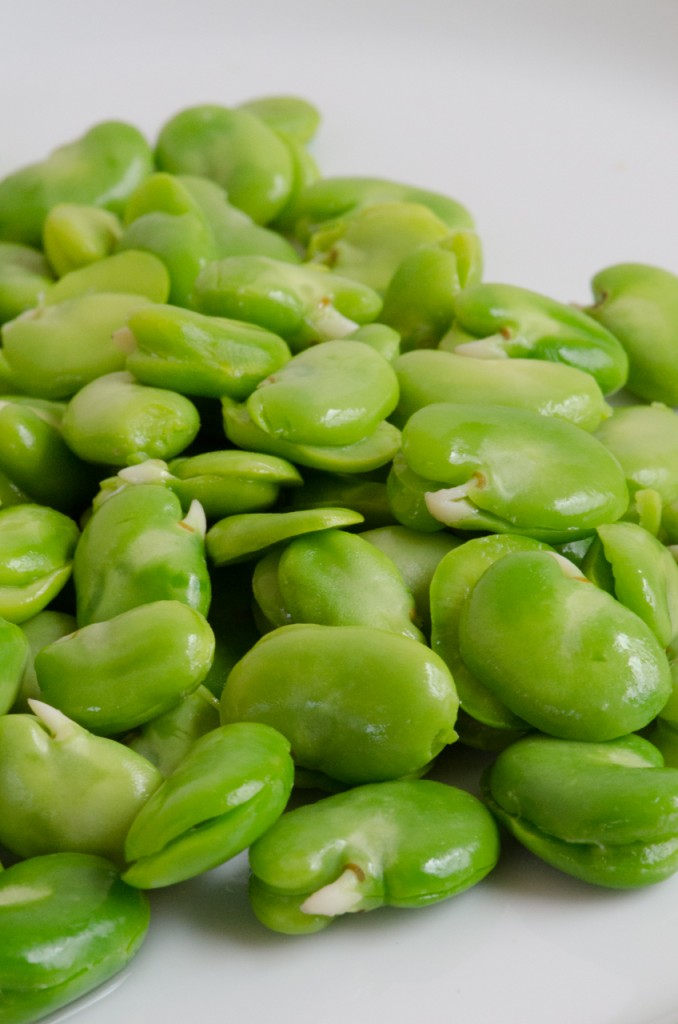 Grilled Pecorino with Fava Bean Salad
Serves 4
8 ounces aged Pecorino, sliced into 1/2 inch slices
20 – 25 pods fava beans
2 tablespoons extra virgin olive oil, plus more for drizzling
1 clove garlic, finely chopped
5 leaves fresh mint, chiffonade
Kosher salt
Blanch favas and peel when still warm. Toss with olive oil, garlic, and fresh mint. Season with salt.
Grill the pecorino cheese until just colored on each side and soft. Place warm cheese on plate and spoon over the fava beans. Drizzle with olive oil and serve.