While I've been busy leading our Bike the Prosecco Wine Roads tour, I've enlisted the help of my first guest blogger, my husband and Negroni fan, Gordy Bechtel.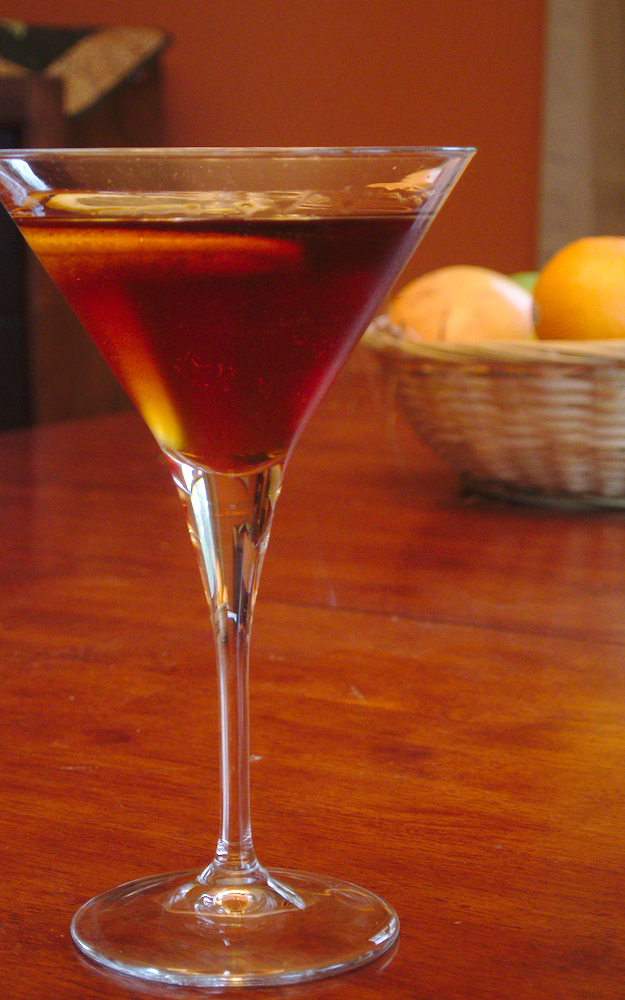 Is it possible to make the Negroni better? After reading my wife's recent post on the Negroni, I'm guessing you might think that I've already placed the Negroni on a pedestal to be worshiped and left alone.
Well, to be honest, you'd be correct.
However, fortunately for me, I was rescued the other evening from my Negroni habit. I don't mean that Kathy confronted me with a room full of my friends and family who all emotionally effervesced about my "problem." No, that wouldn't work. You see my friends and family would just mix everyone their favorite cocktail – Negroni's, Manhattans, and Martinis are well liked in this crowd – and we'd begin talking. The next thing you know we'd be enjoying Kathy's cooking and debating whether or not Jon Stewart really is the best source for news.
No, what I mean by "rescued from my habit" is that I was lifted from my "rut." My habit was shook up, changed – optimized – for the better. My thanks go to my new favorite bartender, Neil. Neil works at Brine – a new restaurant in our hometown of Newburyport, MA – and is a member of a species that I thought had ceased to exist here in the United States. He has a remarkable quality: he appreciates an honest cocktail. At Brine, he created a cocktail menu that is a thing of beauty. Short and dedicated to a wide spectrum of distilled quality. The drinks are based on bourbon, and tequila, and gin, and rum and they make a colorful, thoughtful and delicious list. It was distinctive for its absence of vodka, the overused although excellent liquor of many less thoughtful bars. And right at the top of his list was the Brine Negroni.
Oh. My!
Of course I ordered it. I am an addict afterall. While I was waiting for Neil to mix the magic, I noticed on his menu that he used Antica Vermouth and Cynar instead of standard sweet vermouth and Campari. This was a new thought for me. Could this make a difference in my relished cocktail?
I had heard of Cynar. It's another one of Italy's singular, bitter aperitifs, made even more unique by it's primary ingredient: the bristly artichoke. That's right, it's made from artichokes. I don't know the history of Cynar, but I will have to investigate. Who in the world first thought of distilling artichokes?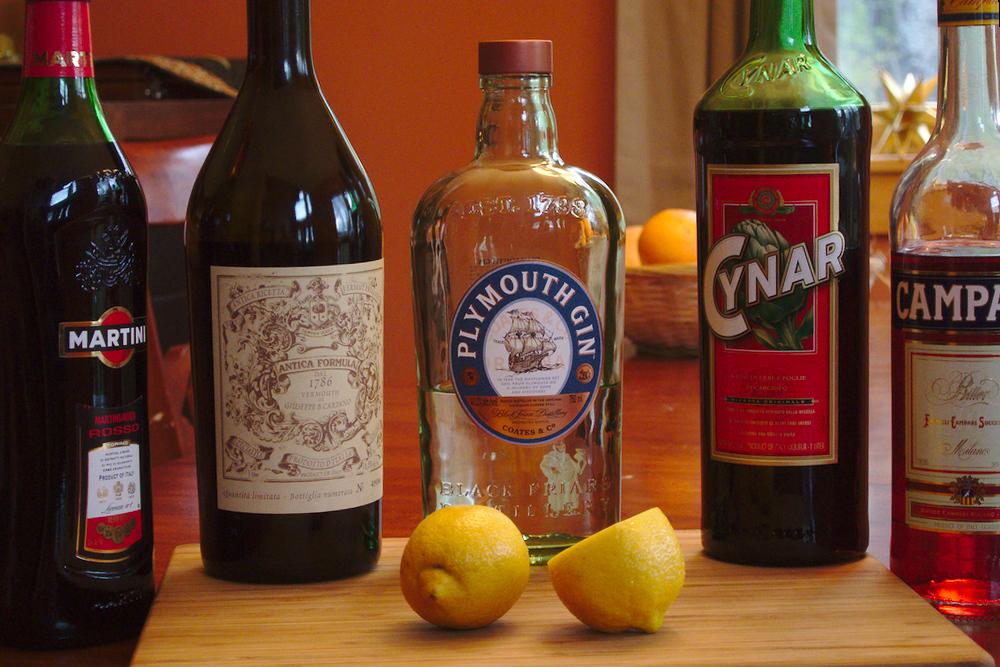 In contrast to Cynar, I hadn't heard of the other ingredient, Antica Vermouth. I asked Neil to enlighten me and he brought over a bottle with an ornately engraved label saying, "Antica Formula, 1786, Vermouth Di Guiseppe B. Carpano, Torino." It turns out to be another formula for Vermouth, of which there are many. This one has a rich, broad and strong blend of flavors, that balances extremely well with the bitter side of a Negroni, whether it is Campari or Cynar.
Neil's Brine Negroni was of course fabulous. It was even better than my classic Negroni. Apparently the Cynar and Antica Vermouth do make a difference. Now, I wondered, which one made the biggest difference? Was it a team effort between the Antica and the Cynar, or did one ingredient make the most difference?
Over the next couple of days – newly motivated to duplicate Neil's mixology and to answer my burning questions – I hit the liquor store and purchased bottles of Antica vermouth and Cynar. Then I proceeded with my mixing and tasting. I made four versions of the Negroni (all recipes below) and found that Neil's ingredients definitely make a difference. First I made a basic Negroni using my tried and true recipe (see column 1, below). Then being an engineer, I made two variations by substituting Antica vermouth for standard vermouth in one (column 2), and Cynar for Campari in the other (column 3). All other ingredients stayed the same. Finally I finished by making a variation similar to Neil's where I substituted both Antica Vermouth and Cynar (column 4).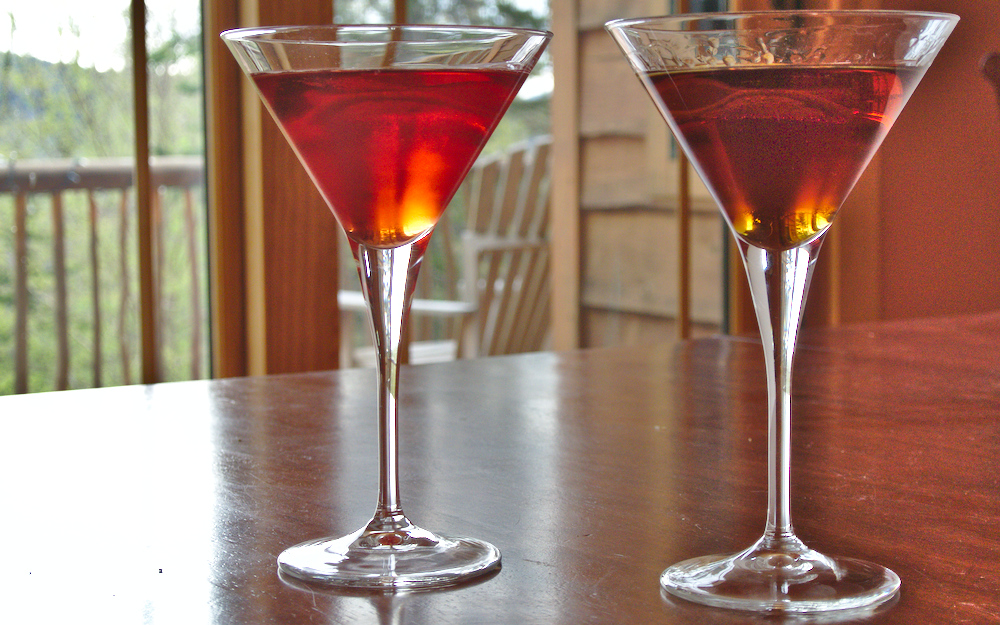 The result? Good, then a little worse, then better, and finally best. The Classic Negroni is good. It has the classic sweet and bitter contrast of a Negroni. The second variation is worse. The Cynar takes over and makes the drink too bitter. The third variation is better than the basic version. The Antica Vermouth provides a much broader and smoother flavor, with better balance against the bitterness of the Campari. The final version is the best. It starts with a slightly sweet and broad embrace and then slowly finishes with a soft sarcastic finish.
 It's this ironic twist that makes the Negroni such a treat for me. The drink is like a good play. Antica vermouth and Cynar play beautifully against each other with their alluring and then biting parts, while the gin is happy to stay in the background and make sure that the play succeeds. It's a wonderful production that I always enjoy.
Variations on the Negroni – Ingredients and Notes

 

 

Variations

Ingredient

Basic

With Cynar

With Antica Vermouth

Both Cynar and Antica

Gin

(2 parts)

Plymouth Gin[1]

Vermouth

(1 part)

Martini and Rossi[2]

Martini and Rossi

Antica

Antica

Bitter Aperitif

(1 part)

Campari

Cynar

Campari

Cynar

Notes

Good.

The baseline of the test. Very slight sweetness to begin and quickly bitter.

Worse.

Too bitter. The Cynar manhandles the basic vermouth.

Better.

The Antica gives it a broad and strong sweetness, and then relaxes into the Campari's bitterness.

Best.

Starts with a slightly sweet and broad embrace and then slowly finishes with a soft sarcastic finish.
Cut a thin slice of lemon and place it in a Martini glass.
Combine ingredients in a shaker.
Add ice to the shaker and shake vigorously.
Strain cocktail into the prepared Martini glass.
Enjoy!
Any basic London dry gin will work. Personally I really like Plymouth, but Gordon's or Beefeaters is fine, too. Don't bother with a real fancy aromatic gin, like Hendricks or Junipero or Tanqueray 10. Save those for your Martinis. In a Negroni the Vermouth and Campari/Cynar will completely slay any delicate aromatic from the gin.
Any common Vermouth can be used in the basic Negroni. I've used Martini and Rossi, Stock, and Noilly Prat. I put Martini and Rossi in this recipe only because it's probably the most common. Personally I prefer Noilly Prat…at least until I tried Antica in the Brine Negroni!