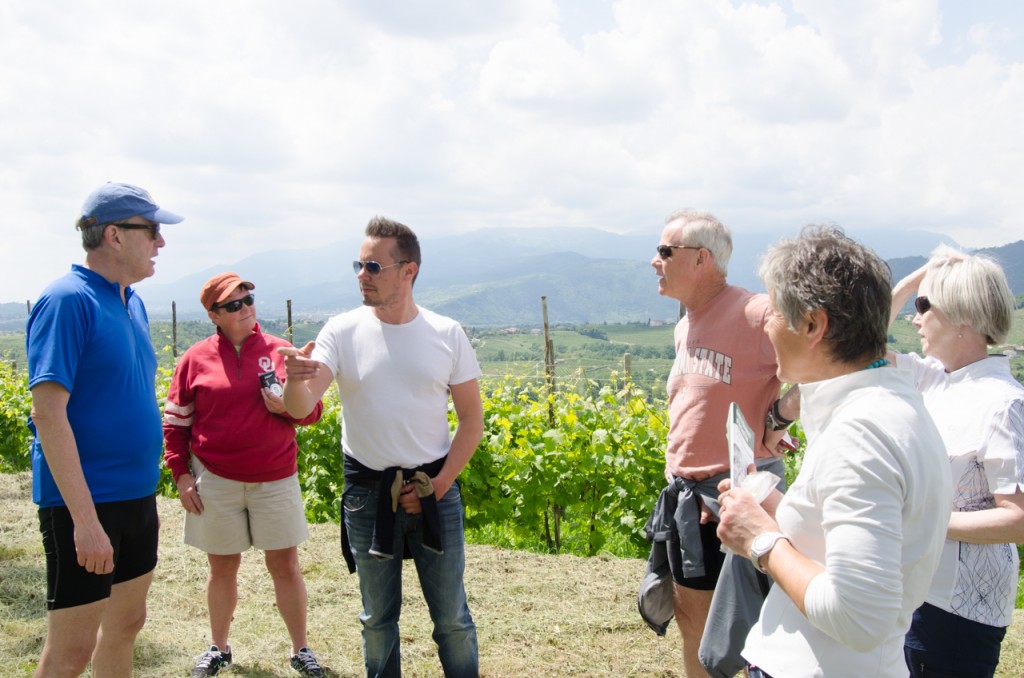 A highlight of our Bike the Prosecco Wine Roads tour is a visit to a Prosecco producer. Just getting there is a pleasure. To quote a guest, "This is the most beautiful bike ride I've ever done." We tackle a few hills, very 'pedalable' as the Italians describe them, and our efforts are well rewarded, with spectacular vistas around each bend in the road.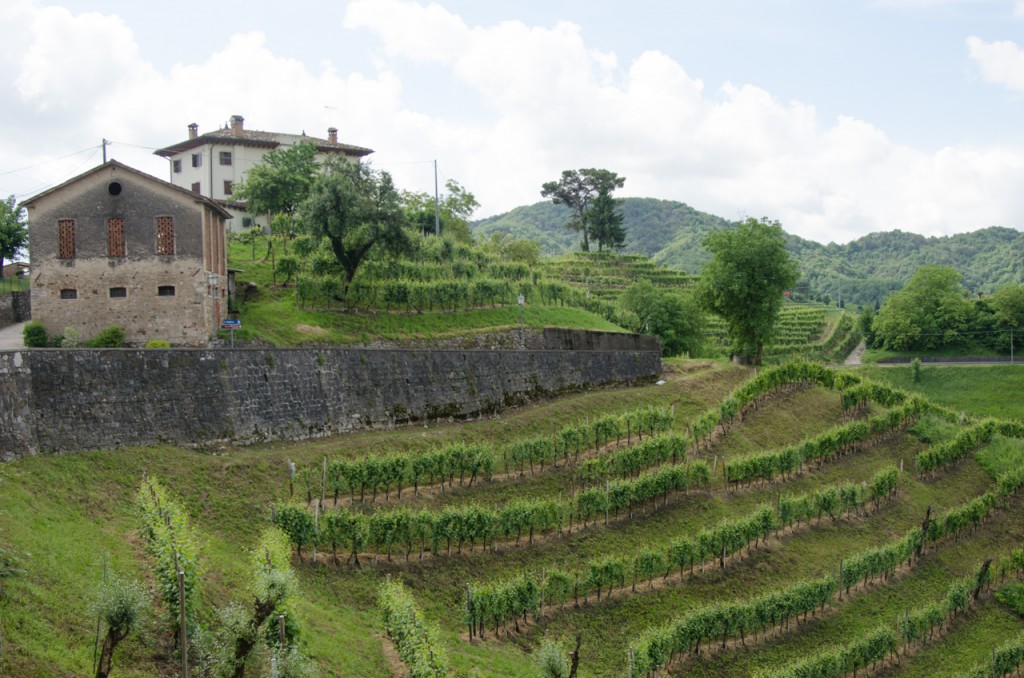 Our ultimate destination is a small family producer in the village of Colbertaldo, just near Vidor. We are late, as we keeping stopping to take yet another photo. But we are warmly welcomed upon our arrival at Col del Lupo by Diana and Marco, who greet us with a tub full of chilled prosecco and some tasty snacks, both much appreciated by weary cyclists.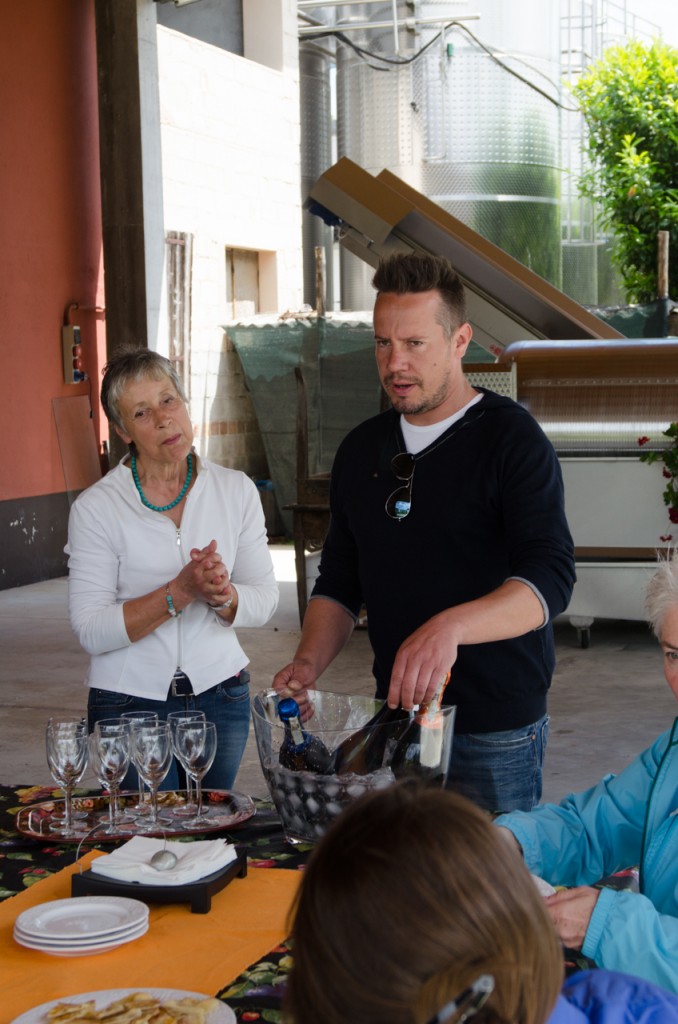 This winery was born in 1942, when, as a boy, grandfather Aldo Adami inherited the property from his father. He received Col del Lupo (Hill of the Wolf), a hillside amphitheater covered with vineyards, with stunning views of the surrounding countryside from the top. In fact, Diana and Marco, Aldo's daughter and nephew, tell us that they receive many requests from professional photographers to photograph their picturesque vineyards, as they are "the most beautiful vineyards in Italy". So when they offer to take us on a tour of these same vineyards, we welcome this unique opportunity.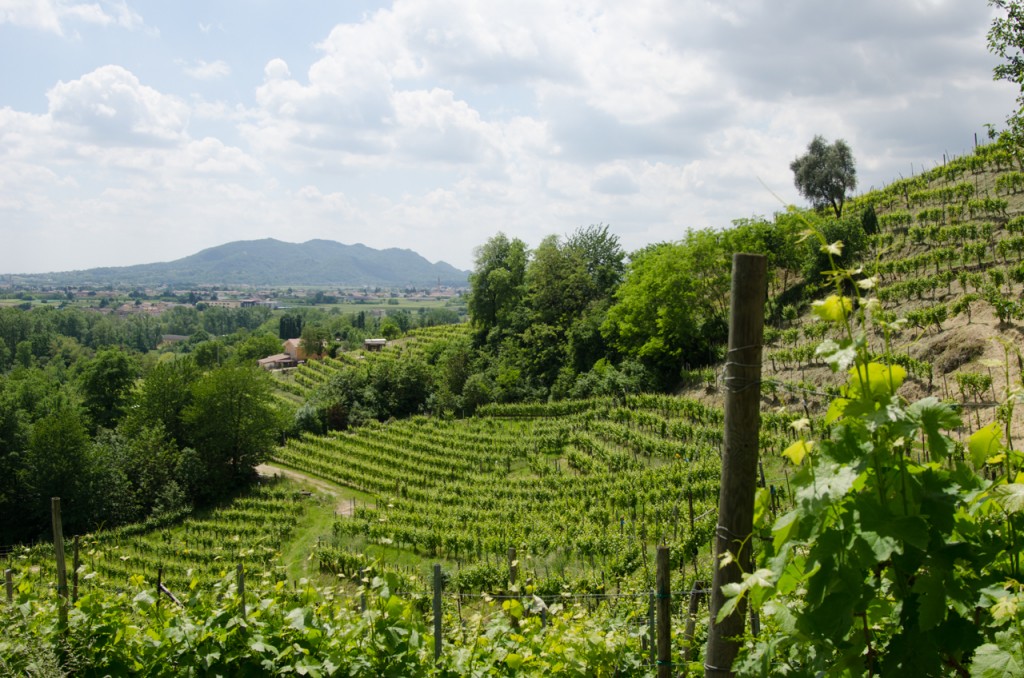 But first, we quickly demolish the snacks and sample their prosecco. We begin with their    Col Fondo, their Vino frizzante that is unfiltered and fermented in the bottle, and aged 'sur lie', on the deposits of residual yeast, which yields a distinctive yeasty aroma and taste to this wine. Marco informs us that this is his favorite way to begin a day, with a glass at 8 am. We all agree this sounds like a great way to start a day, especially paired with Diana's wonderful focaccia bread.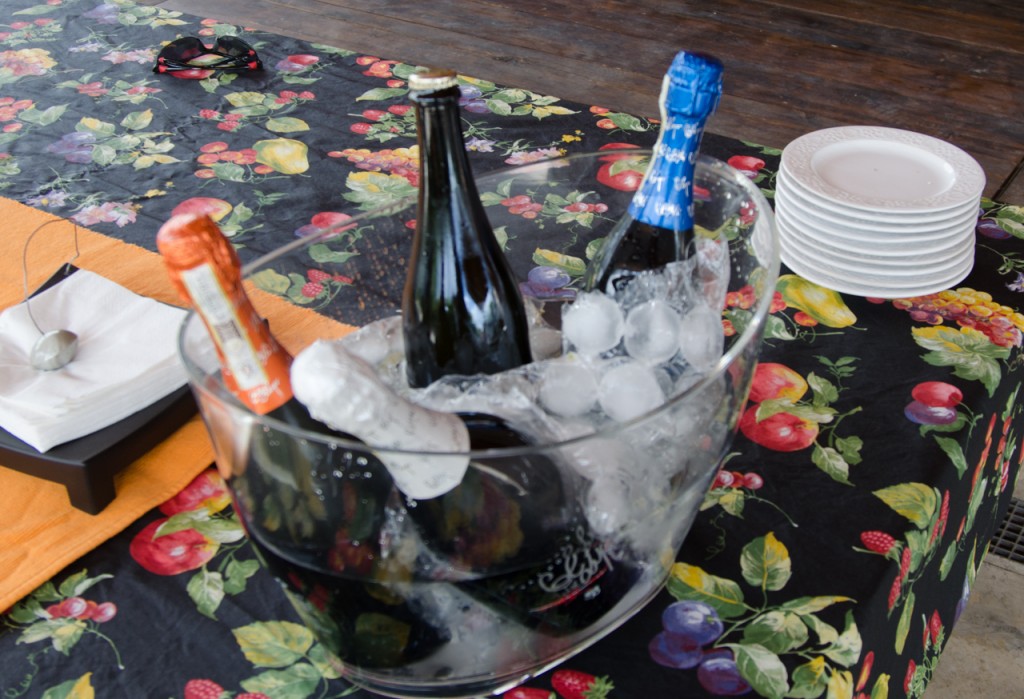 Next, we work our way through their array of traditional Valdobbiadene DOCG prosecco, moving from the driest (brut) to the sweetest (dry). The DOCG guidelines mandate that any Prosecco bearing this designation must consist of at minimum 85% Glera grapes. At Col del Lupo, all their Prosecco DOCG wines are 100% Glera. To quote their literature:
"Glera is the precious grapes of the "Prosecco", noble, supple and vigorous, from hazel branches, berries round and oval, long and large clusters of golden-yellow. With its intense fragrance notes of herbs and white flowers, Glera offers fruity paste mature and a round body and harmonious, a bitter aftertaste of almond, fruity, good acidity. The Glera gave birth to the Italian style of drinking modern, informal and cheerful, appreciated and loved around the world."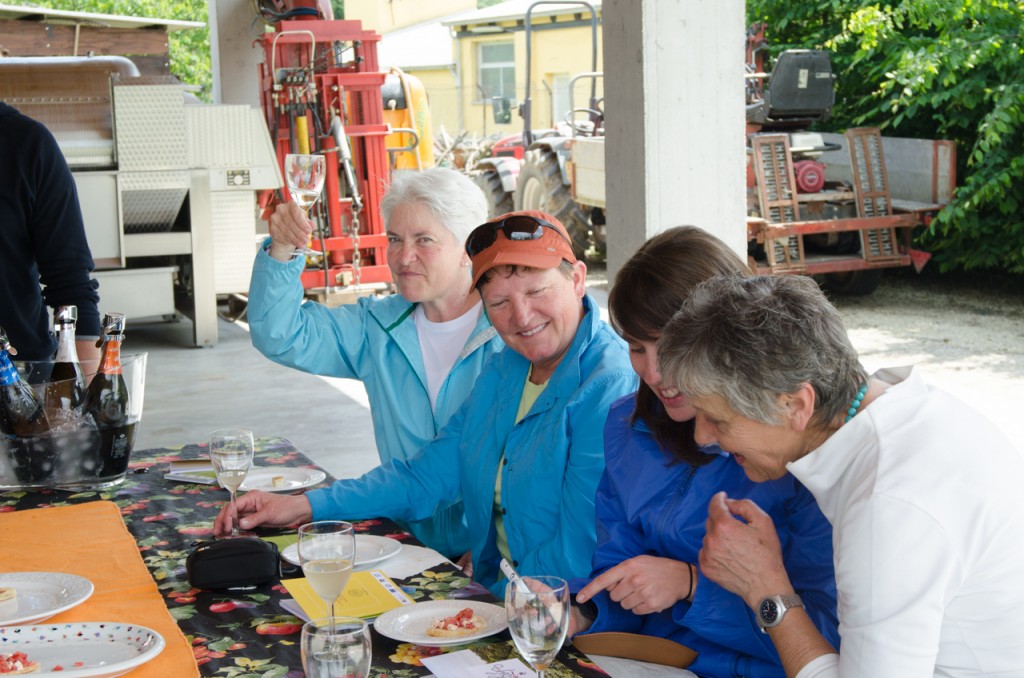 The brut is dry, elegant, with aromas of apple and floral notes. The extra dry is fresh and balanced, just a hint of sweetness and almond flavors, with fruit and floral aromas. The dry is, of course, the sweetest, but not cloyingly so. Still fresh and crisp, well-balanced, with perfumes of rose and honey. All wonderful, we debate which one we prefer, which often required another small sample just to make sure…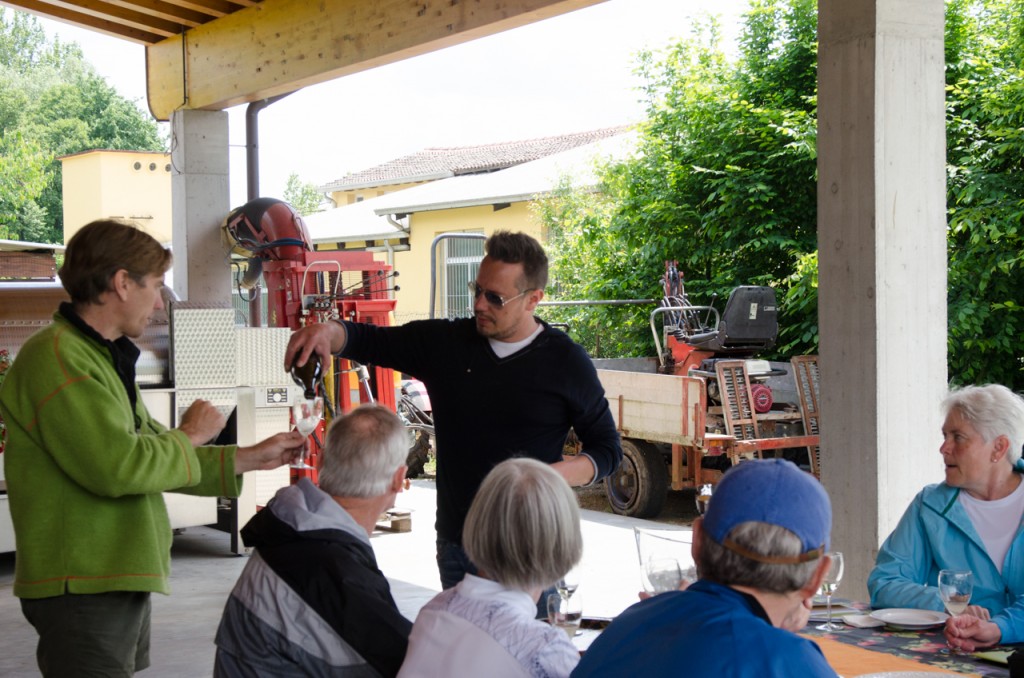 We pile into our support van with Marco and Diana, and head off to their vineyards. It is about 1 km walk to the top of the vineyard, up a bit of a hill, and Marco asks if we are up for the climb. "Of course we are!" we all say. They inform us that many tourists are not,  "especially the Germans." One of our guests just graduated from college with degrees in Environmental Science and Soil Science, she is chomping at the bit to see the vineyards and asks Marco so many questions he joking threatens to throw her off the hill.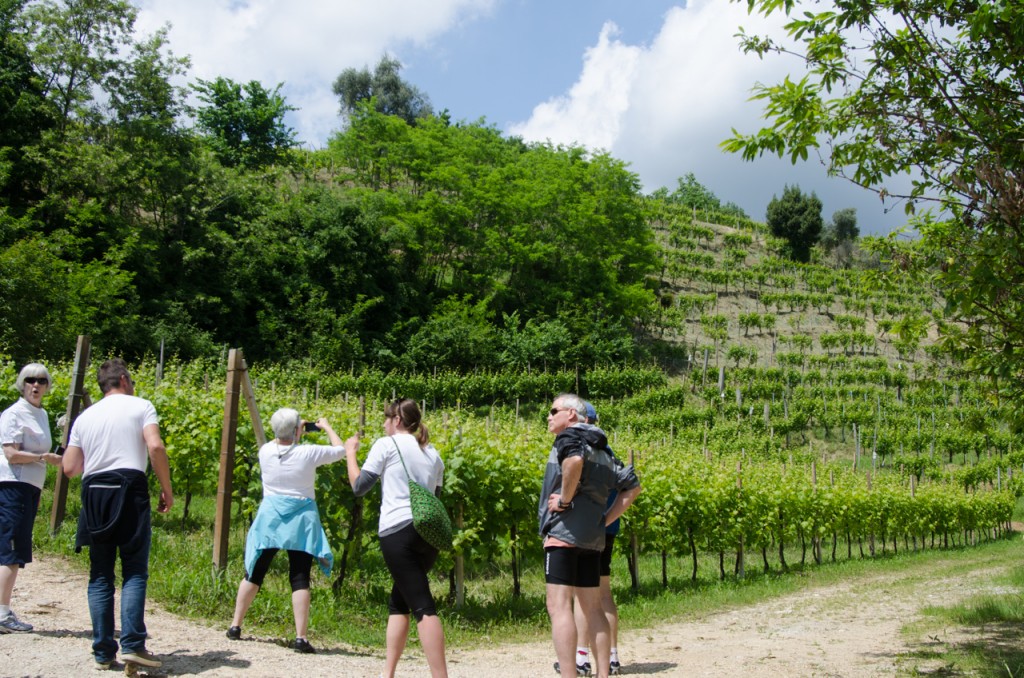 But it is apparent that Diana and Marco are incredibly passionate about their land and their wines. Diana took over the winery from her father, and dedicated her life to developing it. She was joined by Marco, a graduate of the prestigious Scuola Enologica in nearby Conegliano, the premier wine school in Italy. To quote, they prize their "precious heritage that we grandchildren today manage with great respect and deep sense of responsibility, animated by the same strong passion for the vine and the earth." And animated they are – a pleasure to behold.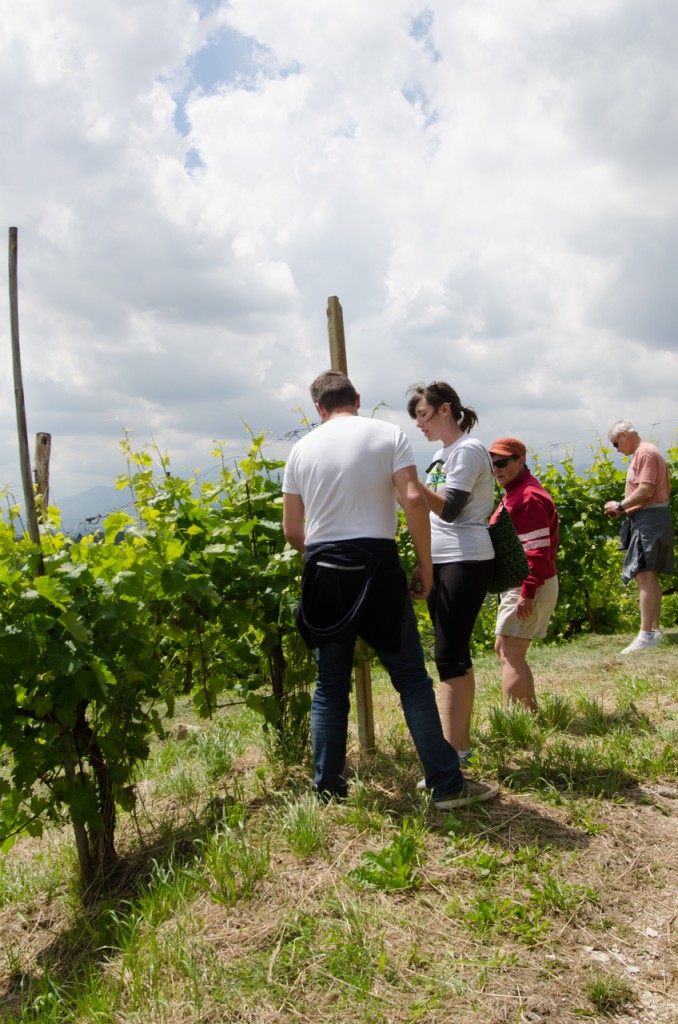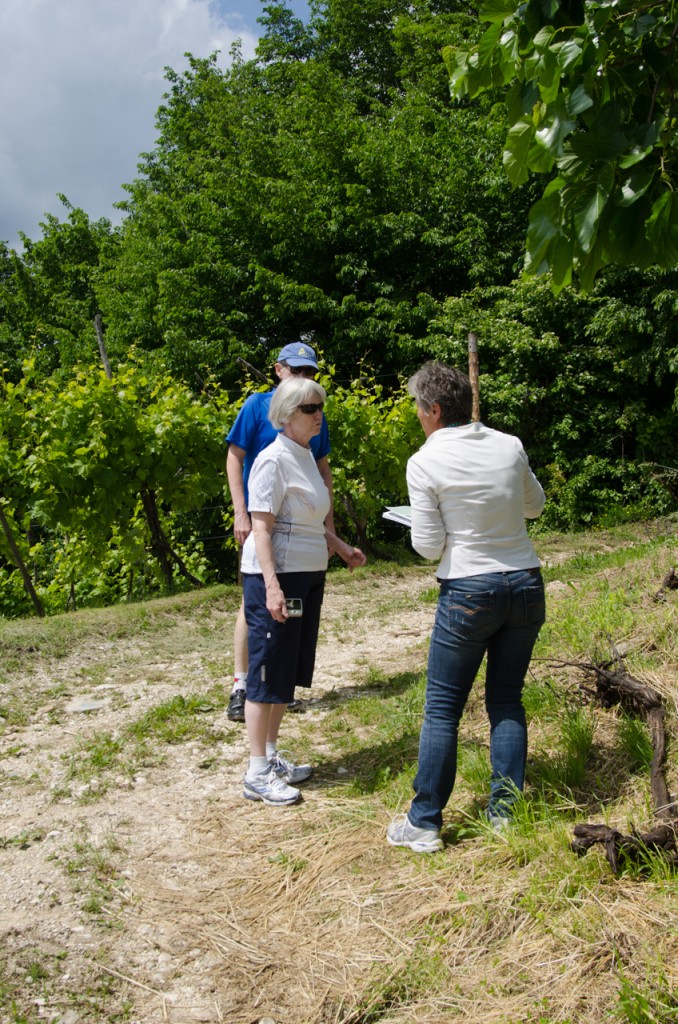 We begin our trek up hill, first reaching a small house in the vineyard that has recently been restored, and will be used to support the cultivation of the vines. We see a couple of cows grazing, and later some workers trimming grass. Both methods are used to keep the grass at bay, which competes with the grapes for water. We add the noun and verb "weed whacker" to Marco's English vocabulary.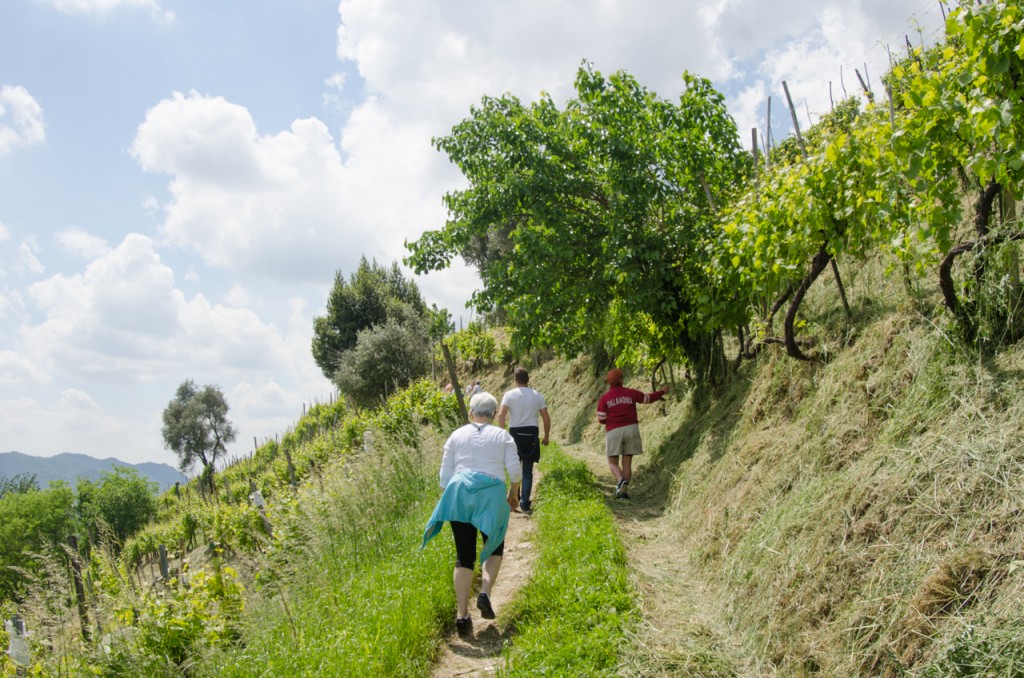 We see lovely small pots of geraniums, and rose bushes planted throughout the vineyards. Why go to the trouble? Diana informs us that bugs will attack the flowers first, leaving the grapes alone. The slopes become quite steep as we approach the top, where pruning and harvest are accomplished not with machines and modern technologies, but with by hand, with baskets and scissors. Backbreaking work, but what a view to be enjoyed as you labor!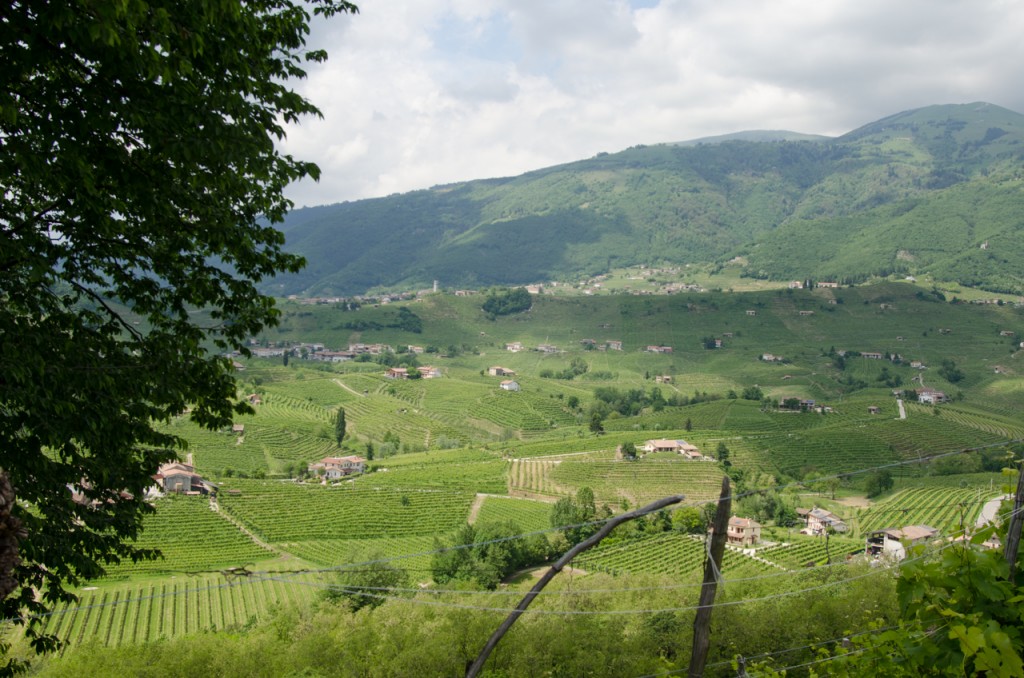 We can see the town of Santo Stefano off in the distance, and vineyards in all directions. The hills of Cartizze, the "Grand Cru" of prosecco are nearby. We take many photos, wander separately and together in all directions, and ask many questions, all of us aware of how fortunate we are to experience this day and this place.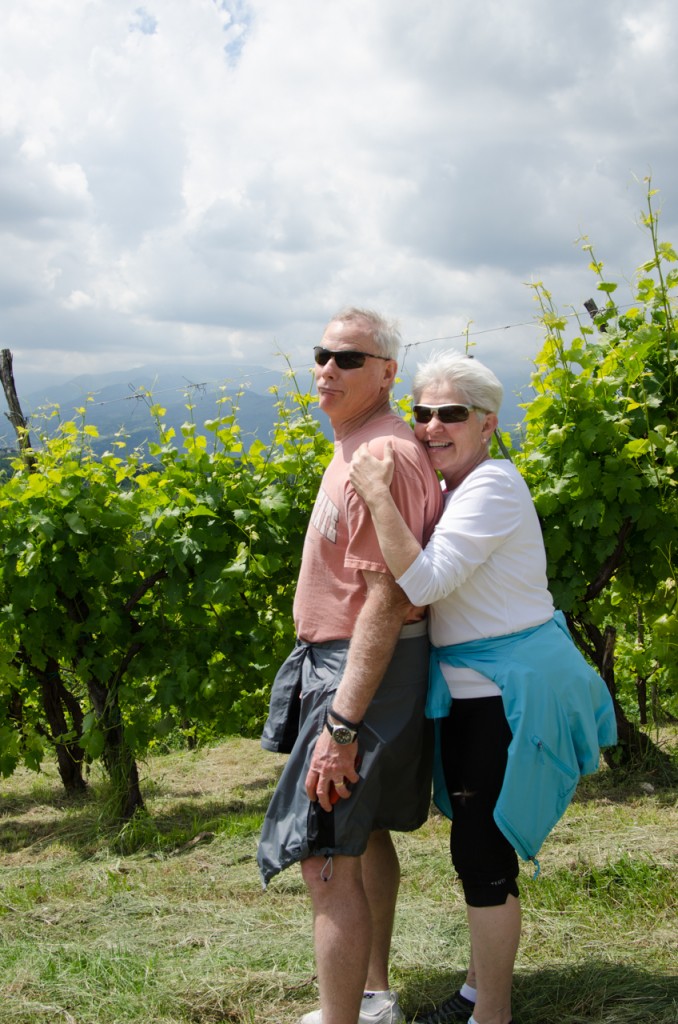 We finally pull ourselves away and head back down the slopes to our van. Diana points out to us the oldest vine on their property, about 70 years old. We reach the van, pile in, and Marco asks me if I remember the way back "You are a woman, after all." I manage to make the grand total of 3 turns with a minimum of prompting. I tell Marco that I will be writing about this visit on my blog, and he asks that I don't write too much about "Crazy Marco." But I don't find anything too crazy about spending your life in such a magical spot, making wonderful wine. If so, sign me up for crazy.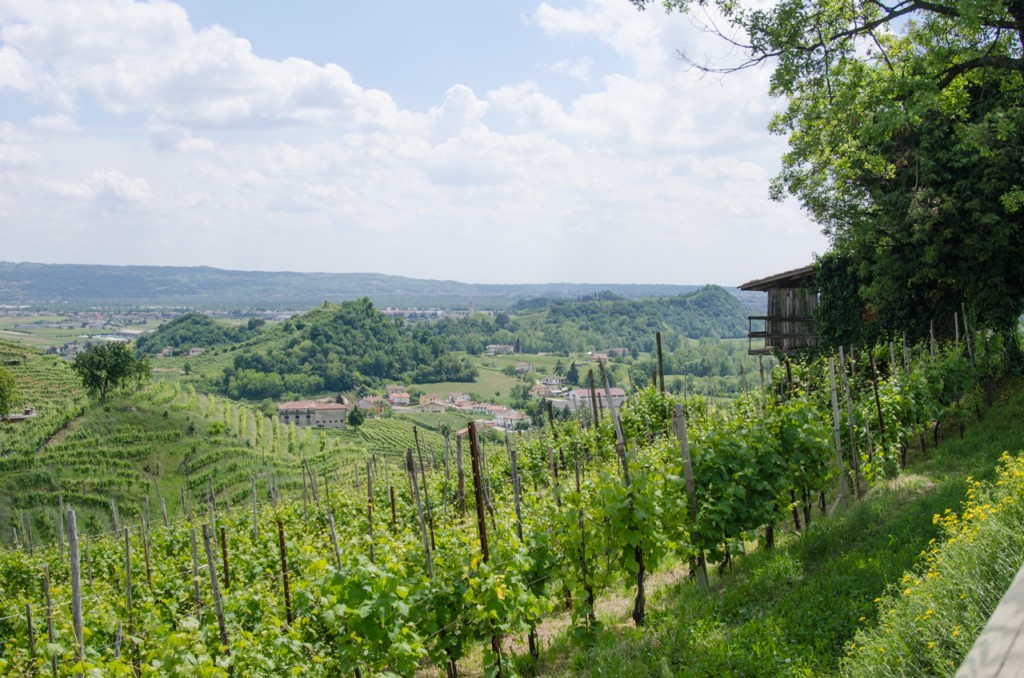 We finish off the remainder of the prosecco while Diana and Marco package up bottles for us – we all purchase prosecco to bring home, as Col del Lupo does not yet import to the US. Unfortunately, my two bottles didn't make it that far. But we are all aware that this was a very special place to visit, and thank Diana and Marco so very much for their wonderful hospitality. And should you ever have the opportunity to enjoy one of their proseccos, don't pass up the chance to "admire the nuances of our landscape, recognize the values of our land, and find the origins of our family."