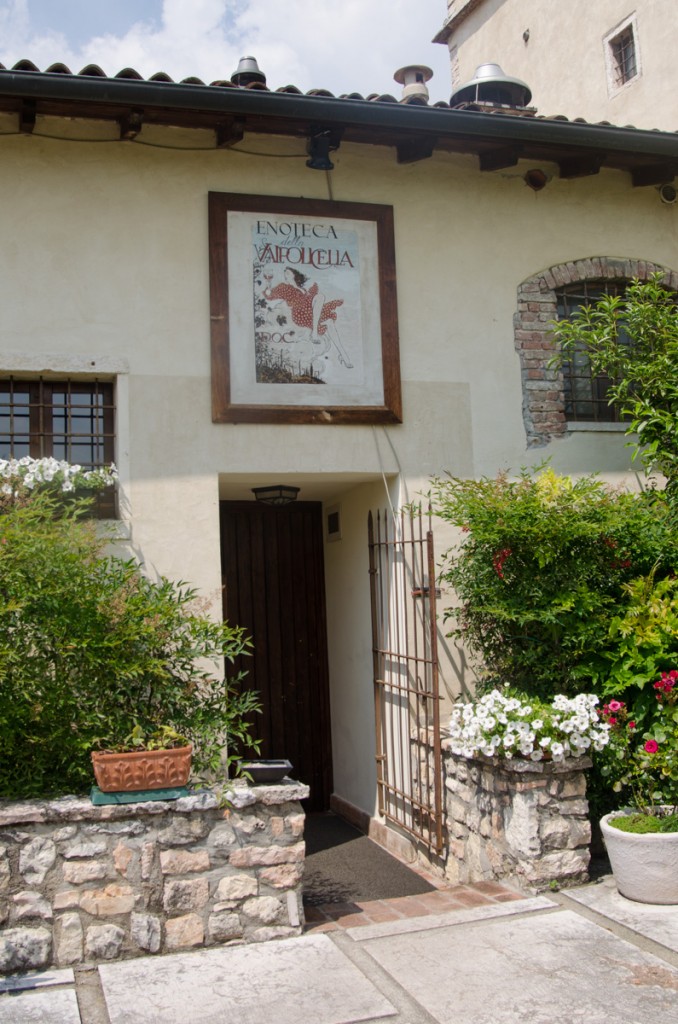 The Valpolicella wine zone is located in the province of Verona, east of Lake Garda, and north of the Adige River. A great place to enjoy both cycling and wine, we visited here recently on one of our private cycling tours. Winemaking in this area dates back to at least the times of the ancient Greeks. In fact, the name itself, Valpolicella, is most commonly believed to be derived from Latin and Greek, "valley of many cellars".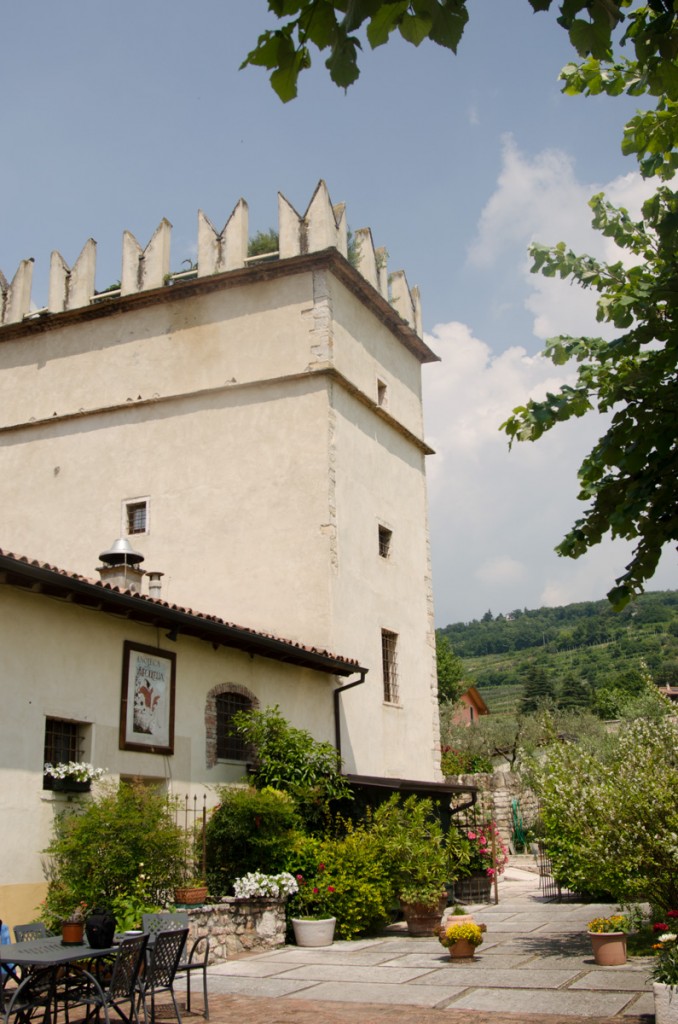 One 'cellar' I recently had the pleasure of visiting was the winery Corteforte, and the adjacent Enoteca della Valpolicella, a wonderful restaurant. Corteforte was built the beginning of the 1400s in a strategic point in the Fumane valley. It was originally composed of four towers joined together by a high rock wall and was an important point in the defense against attacks from the north. Today, only one of the original towers remains, and the estate, now lovingly restored, houses a winery and a lovely agriturismo.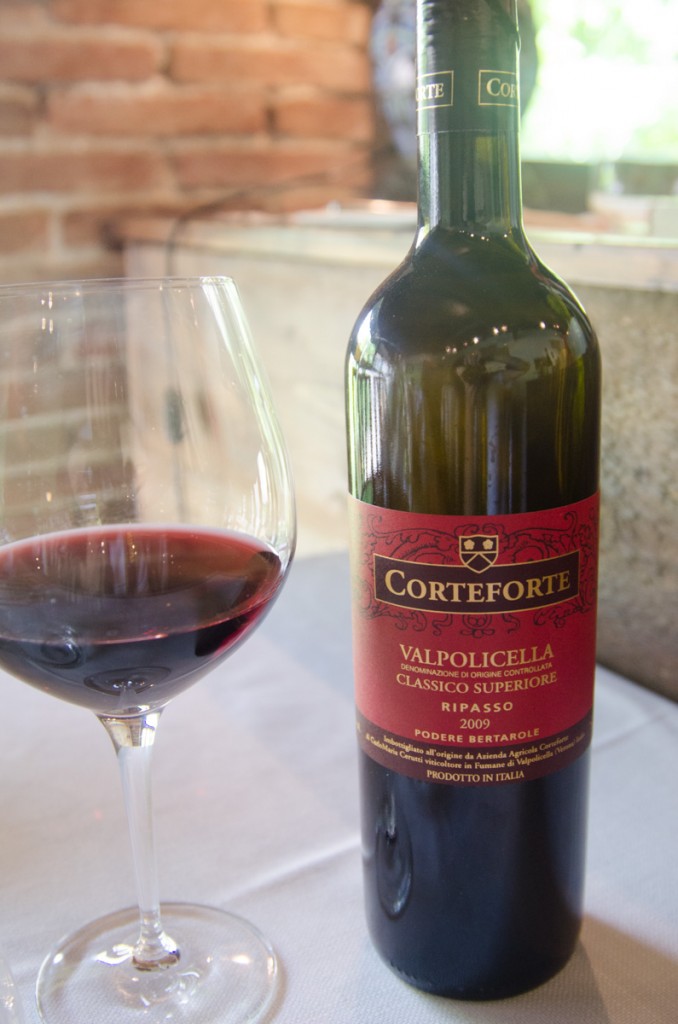 My hostess, Martina treated me to a taste of their wines. Owner Carlo Maria Cerutti is a passionate wine lover, who has restructured the winery, focusing on production of the traditional dried grape red wines of the region:  Valpolicella Classico Superiore Ripasso, Amarone, Recioto Amandorlato and Recioto Classico. I enjoyed tasting their Podere Bertarole Valpolicella Ripasso, their Concentus Rosso delle Venezie, which is a blend of Corvinone, Rondinella, and Sangiovese grapes which have been dried for 40 days, as well as their 2006 Amarone Classico and their Recioto di Valpolicella.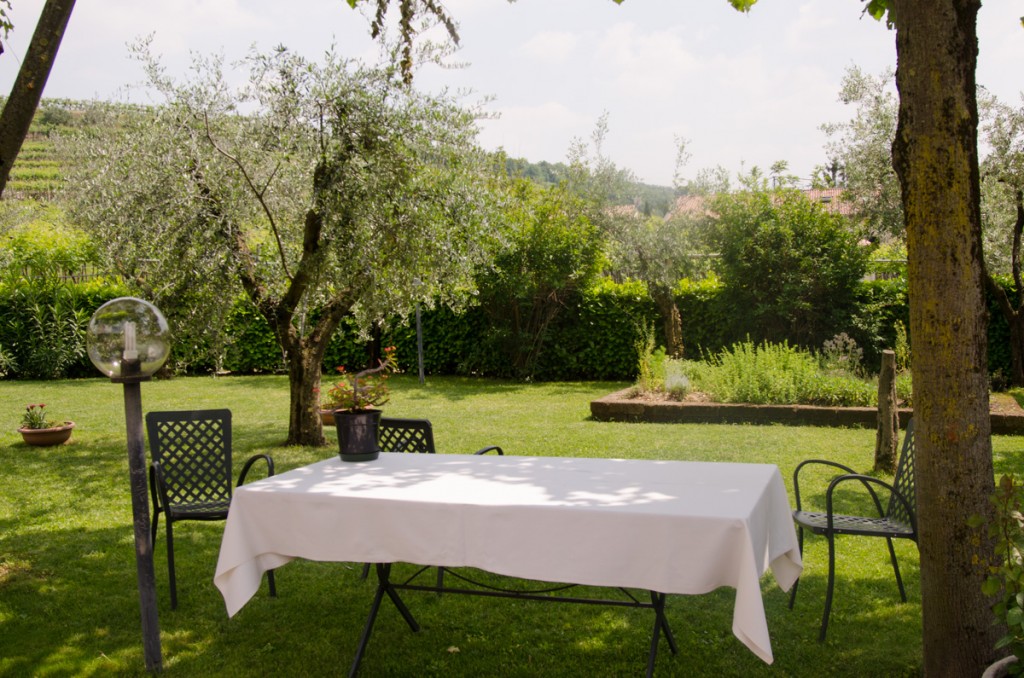 After sampling their wonderful array of wines, I had a quick tour of the property. There are 6 beautiful rooms, all uniquely furnished with antique furniture, but with modern amenities like private baths and air conditioning. A delightful courtyard is a perfect spot for a late afternoon aperitif and snack, which they can arrange for a group. This is a lovely spot to settle for a few days of touring the Valpolicella wine region, perfectly located mid way between Verona and Lake Garda.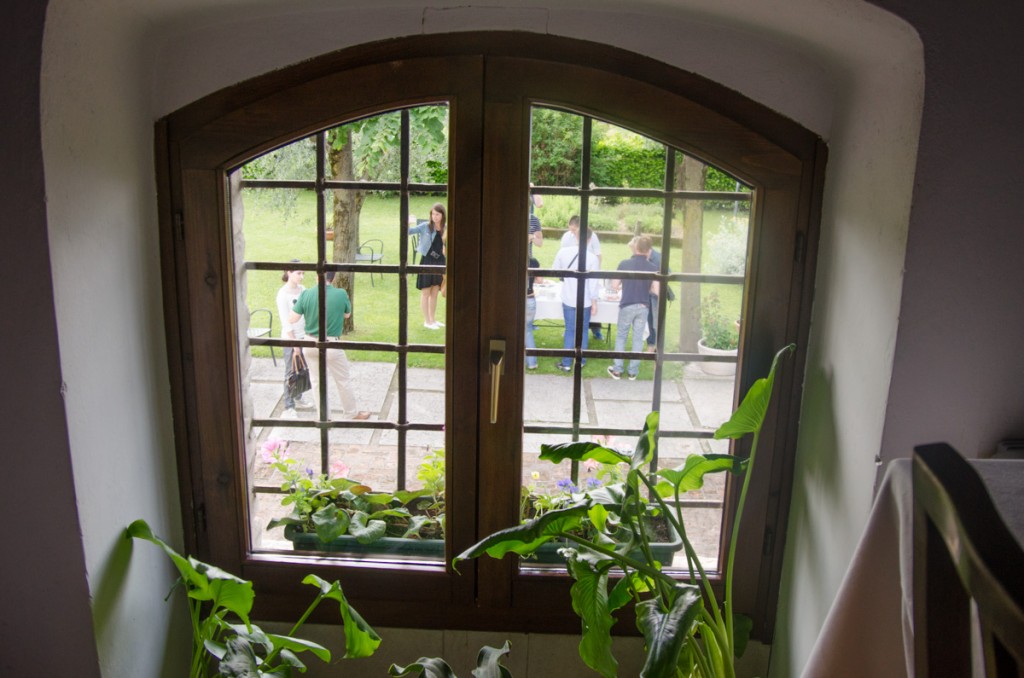 Right off of the courtyard is the entrance to Enoteca della Valpolicella, where Martina led me to meet one of the two women that run the enoteca, Ada Riolfi. Ada and her partner Charlotte are "two friends ready to welcome you and share with you the pleasure of good food."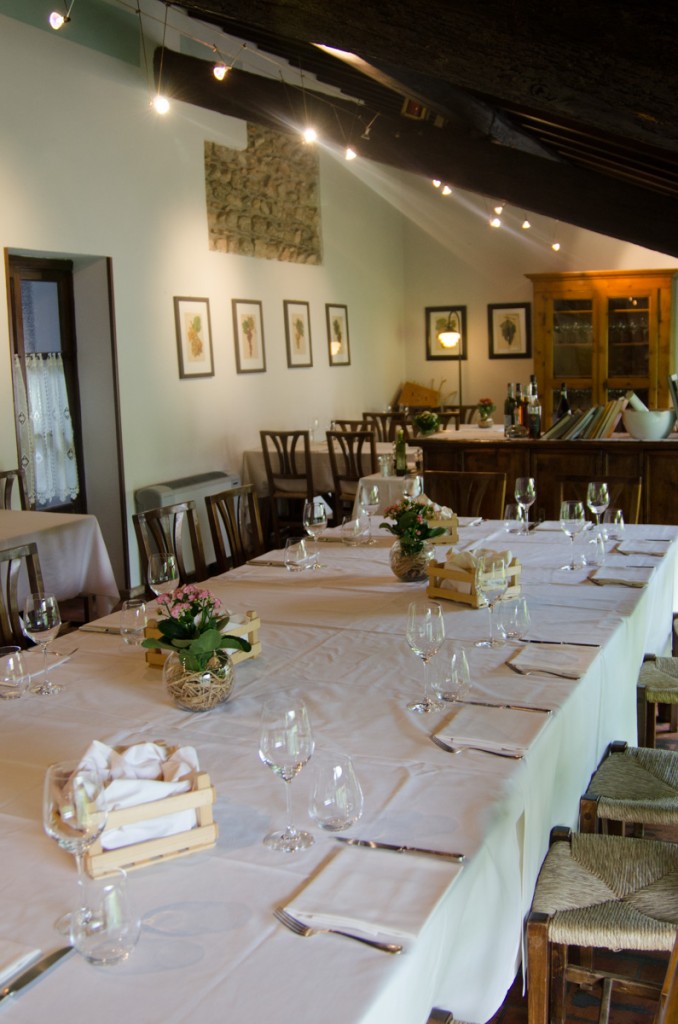 I first got a quick tour of the restaurant. Made up of in the two adjoining rooms, the restaurant can accommodate up to 90 people. It is housed in an old barn, dating back to the 1400s, part of the Corteforte estate. From the windows of the dining room, one enjoys a lovely view of the orchard, and gardens, overflowing with flowers, vines and olive trees.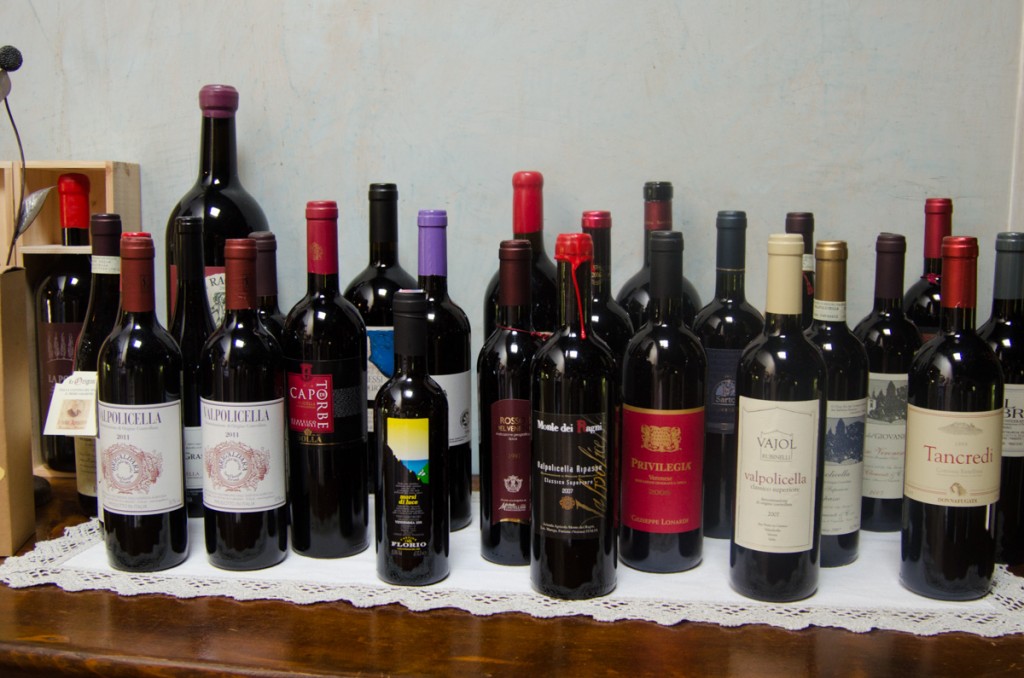 The wine cellar of the enoteca is quite impressive, with wines from over 100 local Valpolicella producers. They can design a wine tasting for a group with antipasti, or a multi-course dinner with wine pairings. They also host many special events of their own creation, cheese tastings, cooking classes, visits from producers and other wine authorities. All of this activity, plus its extensive wine cellar make this a worthwhile destination for any wine enthusiast in the area. And the foodie in me was just about to become equally impressed.
Ada sat me down for lunch at a table overlooking the garden. I was the first to be seated for lunch, but the place soon filled with a large party enjoying a wine tasting with lunch, and a table of 3 gentleman in the wine industry, on a business lunch. Ada asked if I would like something in particular, or if I would like to try a little of this and a little of that. I left myself in her hands.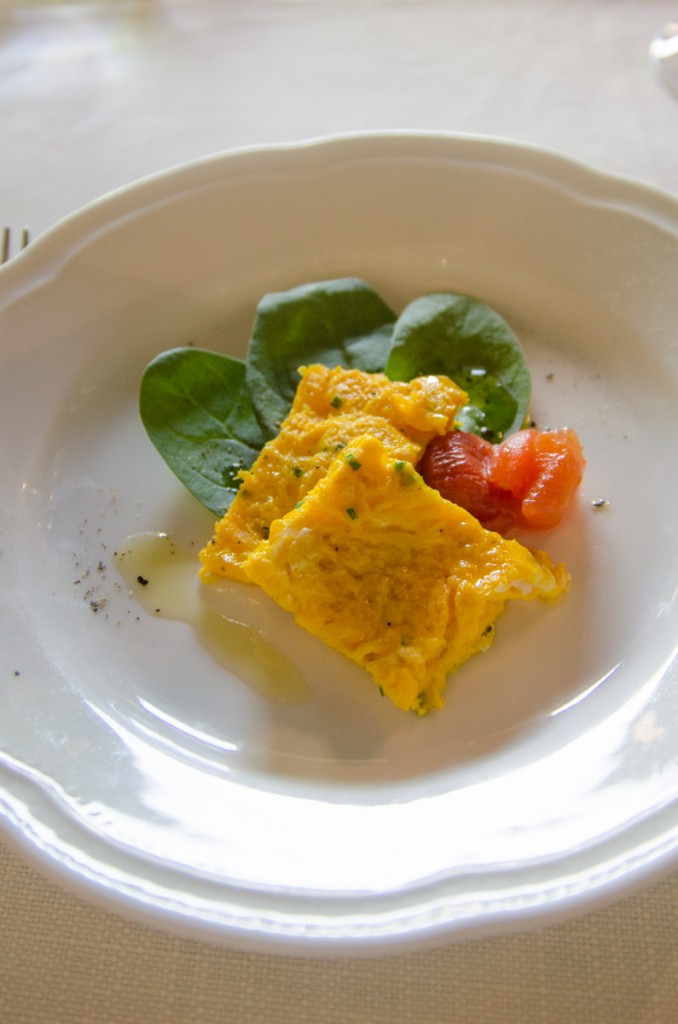 My first plate was a spring fritatta, flavored with chives, cipollini onions and lamb's ears. It was seasoned perfectly, and paired with a glass of Ca' Lojera Lugana white wine. A very traditional spring dish, here's my herb frittata recipe.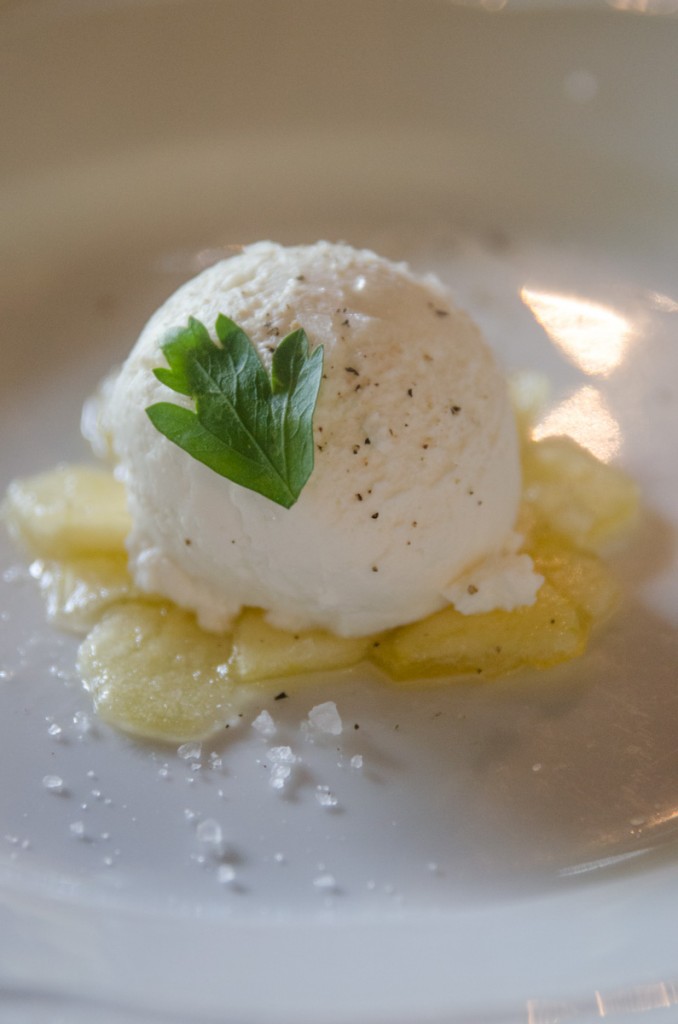 Next, a taste of locally produced ricotta cheese, simply but, again, perfectly seasoned with salt and pepper. It was served on a mostarda of mele (apple), and topped with a bit of crunchy sea salt. This was a wonderful combination, the smooth creamy ricotta against the spicy mostarda.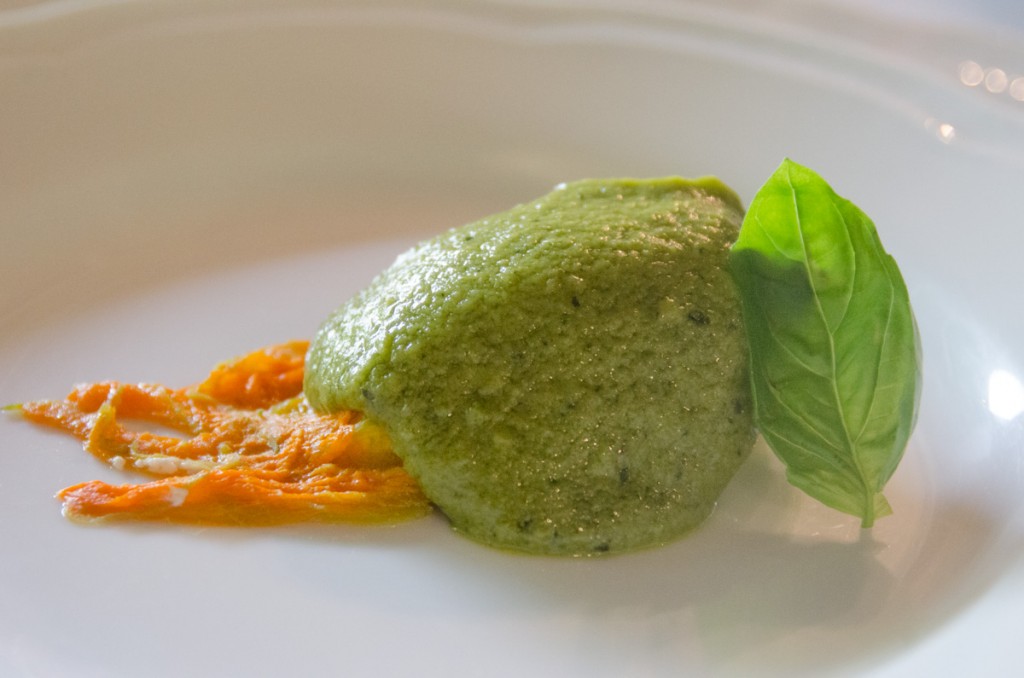 My next treat was gorgeous, and a favorite of mine – squash blossoms. I was glad to see them on the menu, as I was planning on using them during my cooking class for my upcoming private Chefs on Bikes tour. The blossom was stuffed with ricotta and herbs, and steamed for 10 minutes, then topped with a puree of zucchini and basil. Usually these are deep fried, but this preparation was fresh and absolutely delicious. During my cooking class later in the week, we roasted our squash blossoms in the oven, and that worked very well too.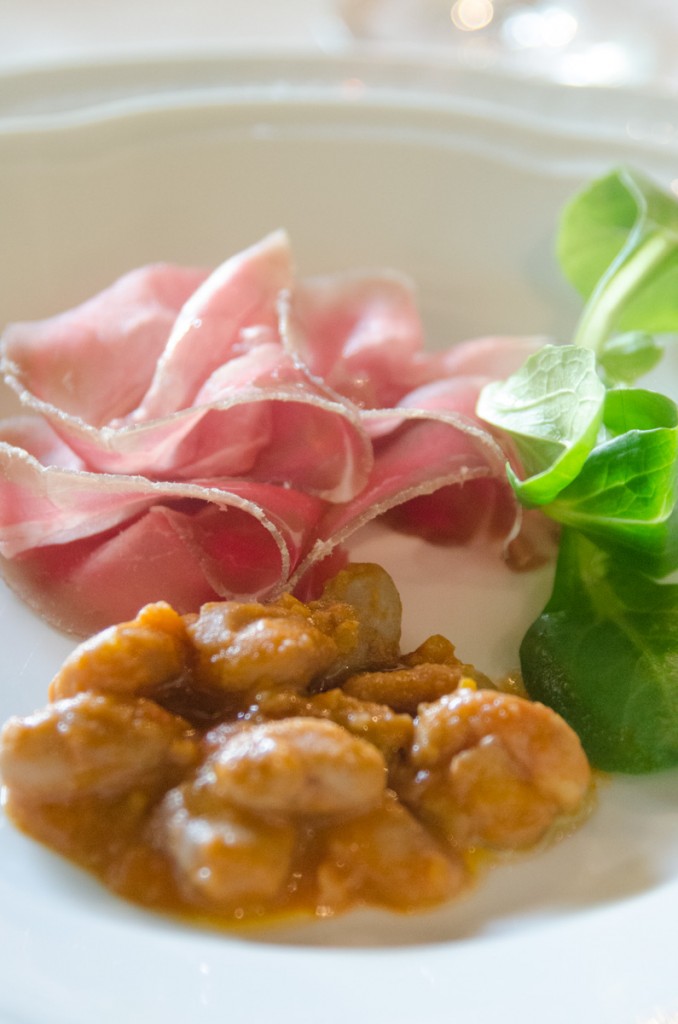 A dish of Carpaccio di Manzo followed. Manzo is beef between 3 and 4 years of age. This had been marinated in sugar and salt, and served thinly sliced. Accompanying it was a traditional Verona bean dish of borlotti beans cooked in tomato and onion. I enjoyed this with a glass of the Corteforte Valpolicella Ripasso.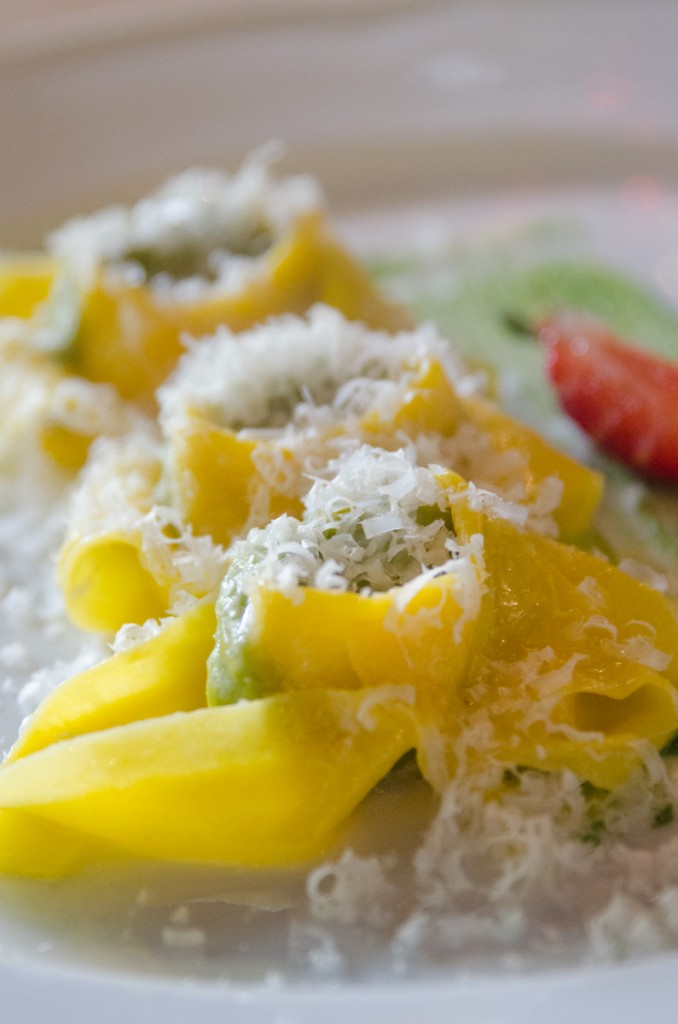 Next, a treat for both the eyes and the palate – three lovely ravioli, stuffed with nettles. Topped with a nettle puree and grated local grana cheese.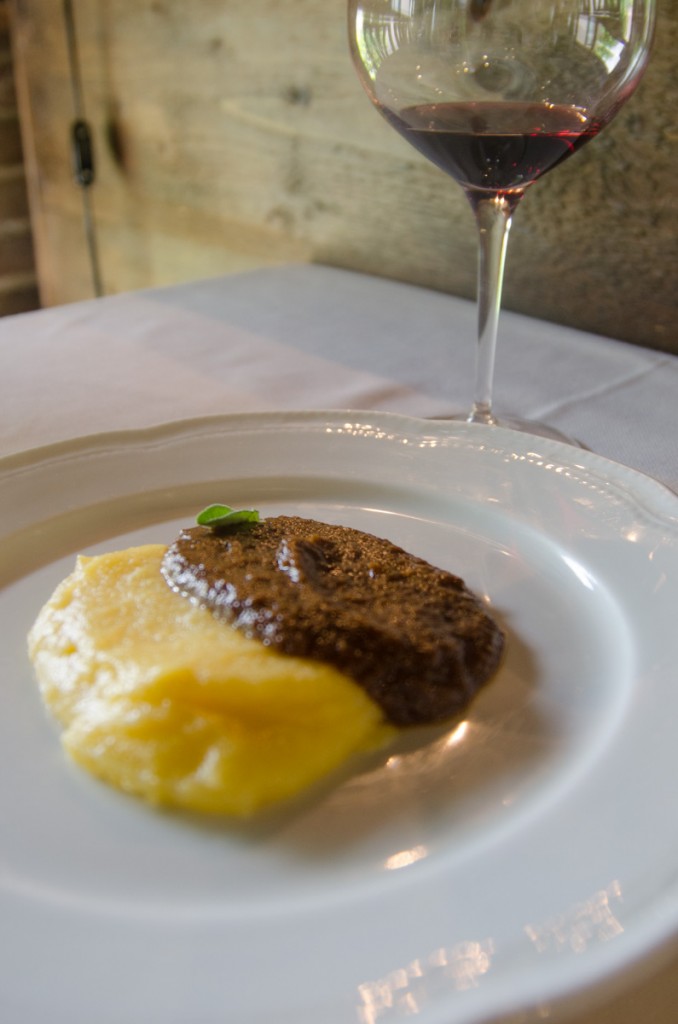 My last savory dish was a taste of a very traditional preparation, a beef cutlet braised in Amarone, served with polenta. A perfect match to the Ripasso. Here's a recipe for a similar dish, Braised Beef in Amarone.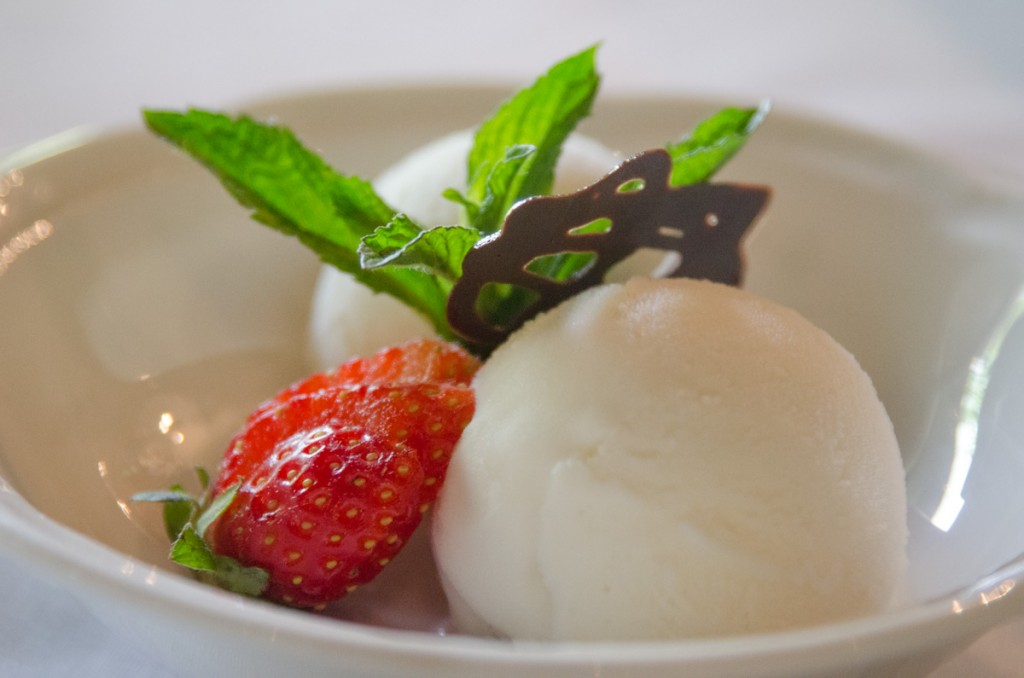 And, of course, I must try a dolce! Another very local recipe, again from Verona, a ricotta gelato 'ball' that has been filled with Grappa di Amarone. Ada tells me that it is the perfect combination – the cheese comes from a malga in the hills of Valpolicella, while the grappa is made from Amarone grapes. Both the cows and the grapes have been raised on the same 'terroir'.
Needless to say, I rolled out of here after a caffe. But will be back on my next tour in the area! Each dish I tasted was simple, but beautifully done, using the freshest of ingredients. The food, wine and hospitality are all superb, the passion and enthusiasm of Ada and Charlotte shine in every dish.