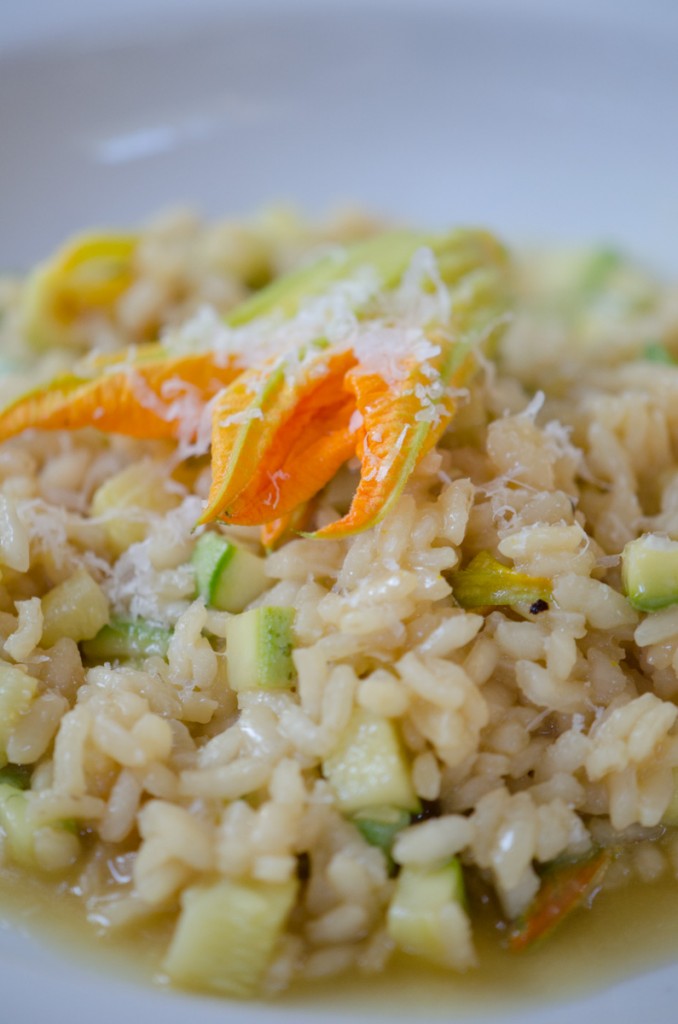 Summer is here, and zucchini is at every stall in my local farmer's market and farm stand. But where, I wonder, are the blossoms? In Italy, these are as prevalent and the squash itself, but I can't find them here. We use them in our cooking classes on our Italy bike tours, and I'd love to show them to my students here at home.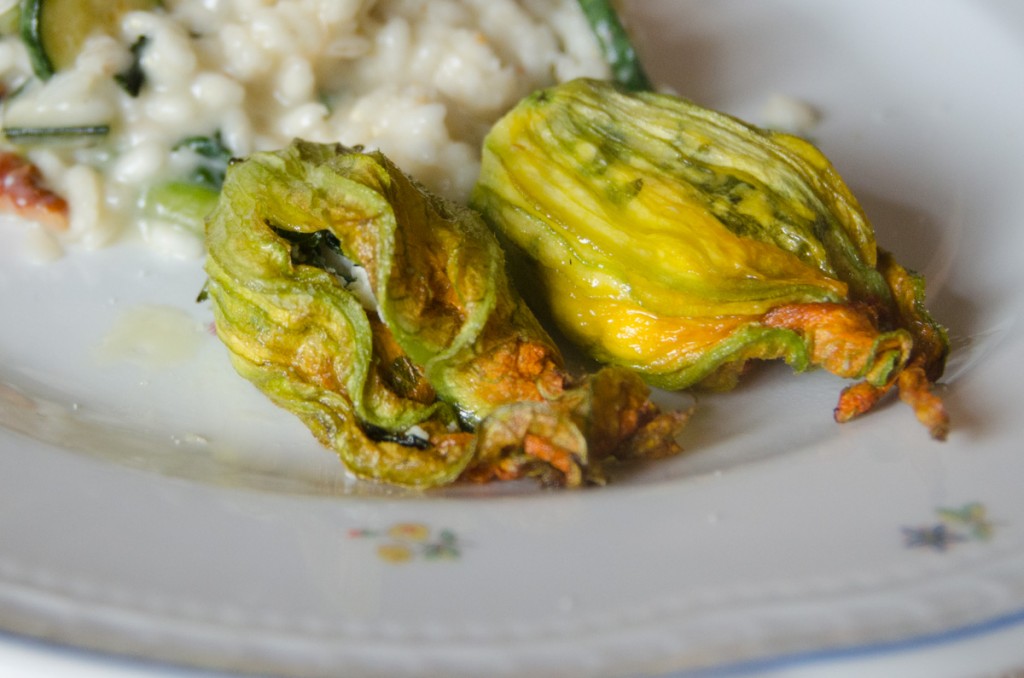 Zucchini, like all squash, has its ancestry in Central and South America, where it has been eaten for several thousand years. Usually considered a vegetable, zucchini is actually a fruit, a member of the cucumber and melon family. Christopher Columbus introduced the seeds of the zucchini to Europe, where in Italy the summer squash as we know it today was developed. It was called "zucchina", or "zucchino" in Tuscany, meaning little squash (zucca).  Zucchini is the plural.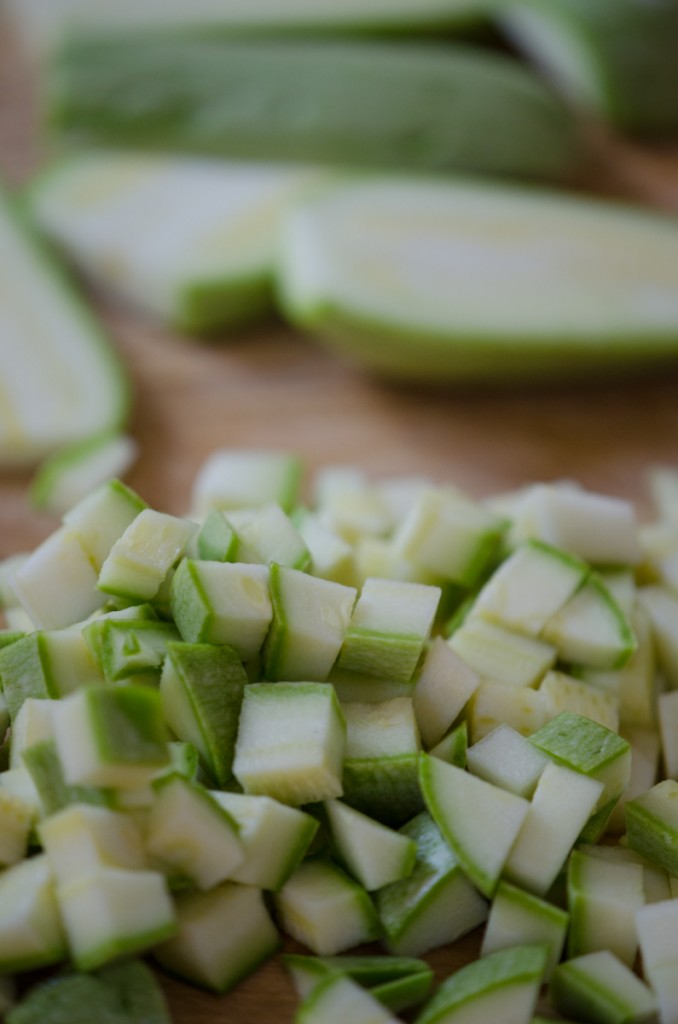 Zucchini was introduced to the United States in the 1920s, by Italian immigrants. I recall finding zucchini squash in my mother's vegetable garden that were over a foot long, and desperately trying to figure out how to eat an overabundance of these every summer. Seeing how Italians enjoy this squash was a revelation. In Italy, zucchini are harvested and sold when they are only 6-8 inches long, when the seeds are still soft and young, and the flesh sweet. Larger plants are much less sweet, and more fibrous.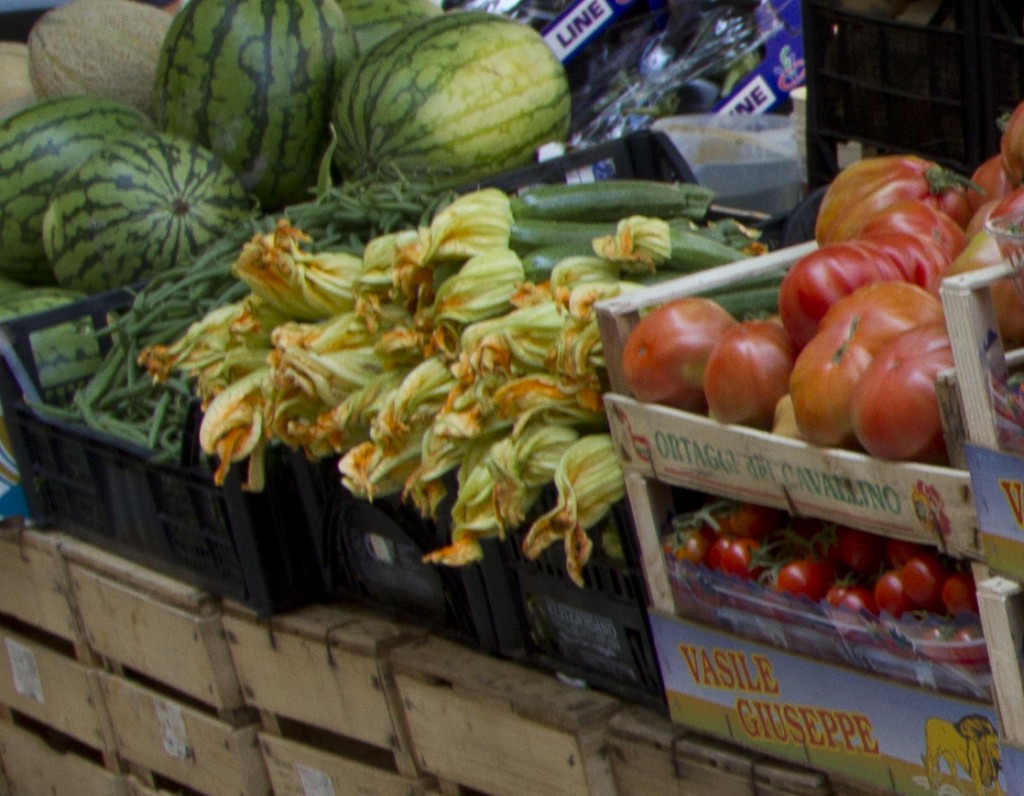 In addition, when zucchini are available in the markets in Italy, they are often accompanied by the zucchini flower. The female flower is a golden blossom that is found on the end of each emergent zucchini. At many a market in Italy, you can buy these small zucchini with the flower still attached. A zucchini with the flowers attached are a sign of a truly fresh and immature fruit, and are especially sought after for its sweeter flavor.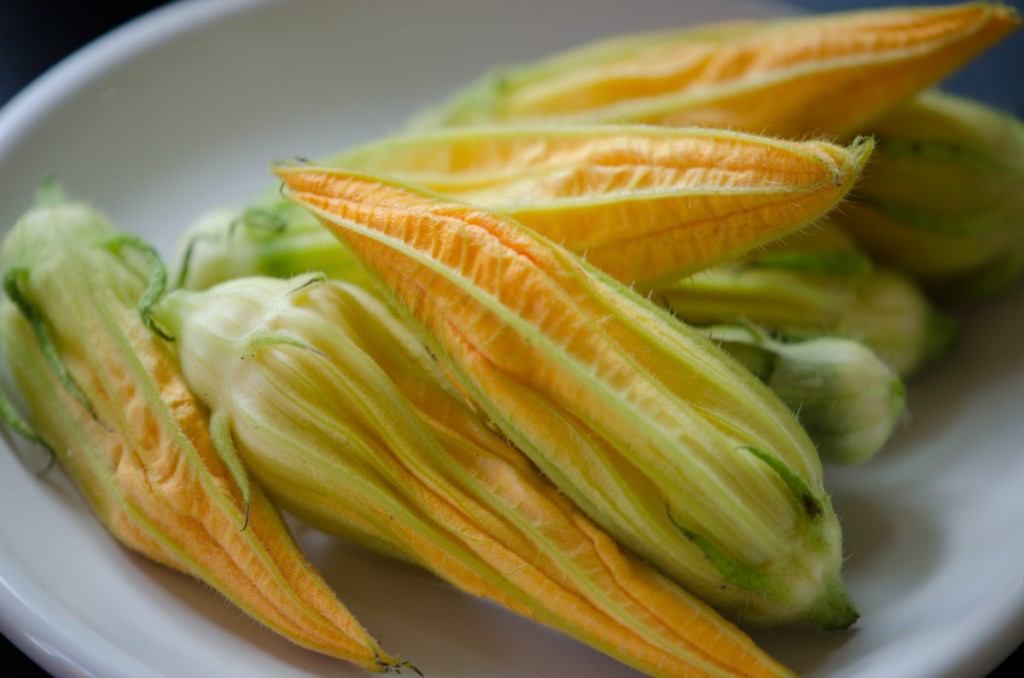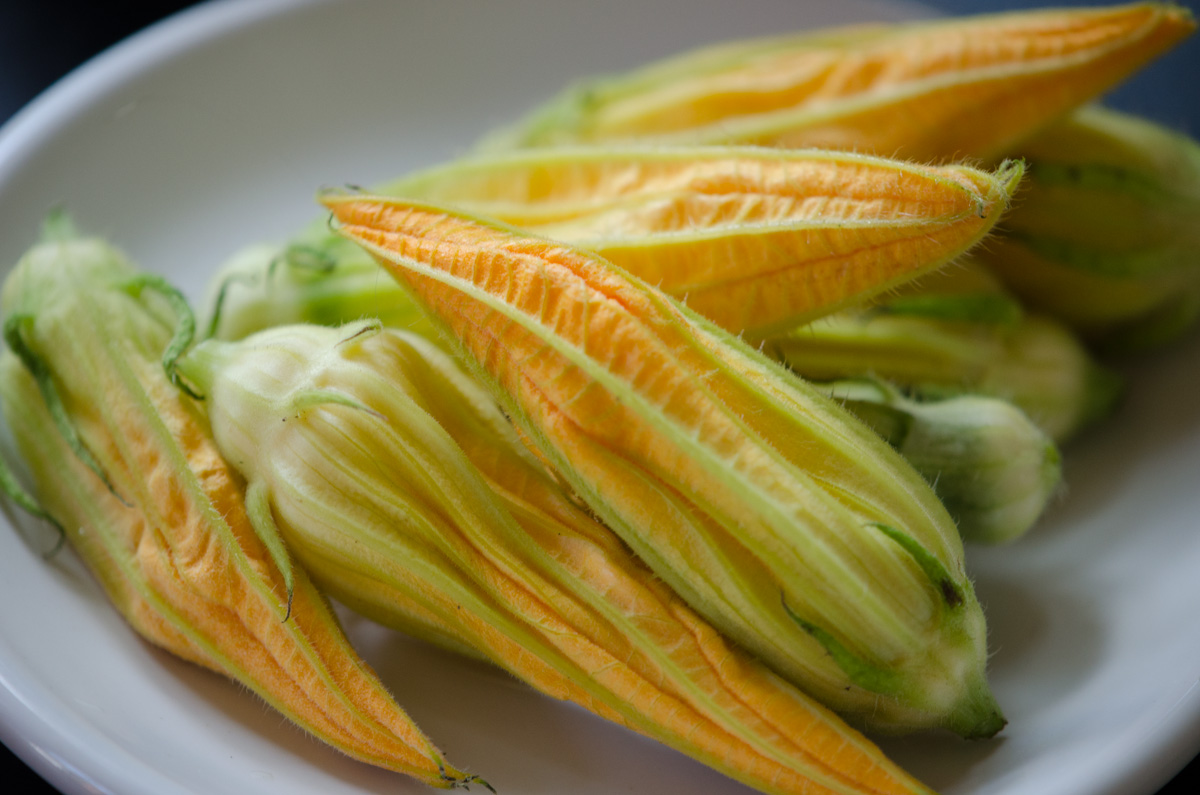 The male flower grows directly on the stem of the zucchini plant on a long stalk, and is slightly smaller than the female. Both flowers are edible, best when only slightly opened, with pistils or stamen removed. They are often served stuffed with cheese, and either deep-fried, or even simply grilled, steamed or roasted. We made a stuffed roasted version during our cooking class on one of our Italiaoutdoors Food and Wine cycling tours in Italy.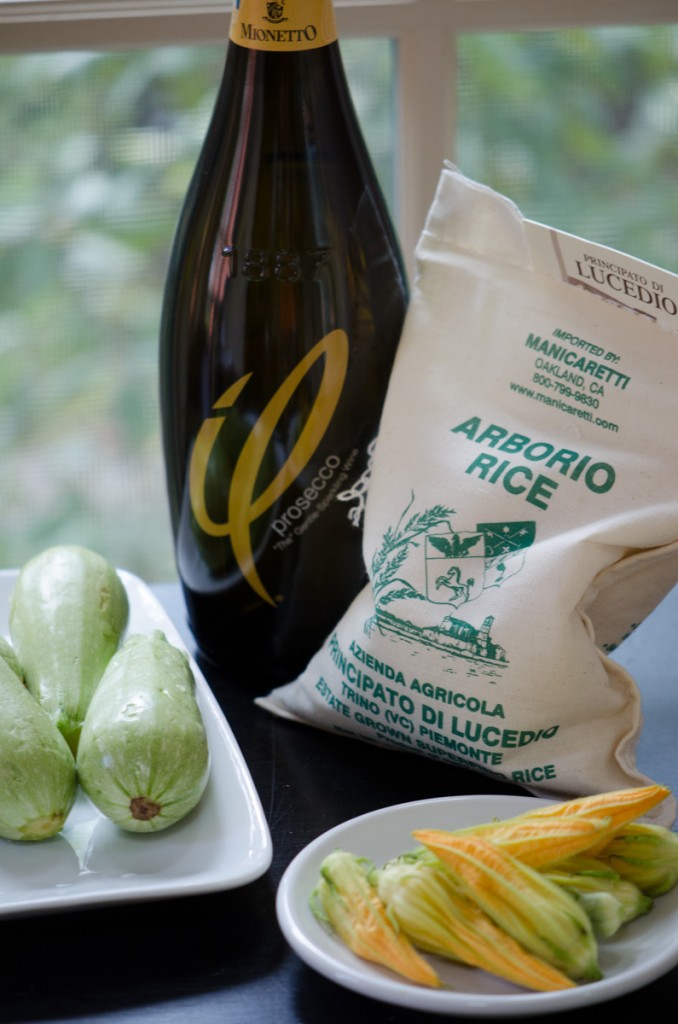 The flowers, and these small squash are very perishable, and the flowers are not a part of our cuisine here in the US, so I suspect it is simply unfamiliarity with their use, and a lack of demand that explains their absence.  But finally, last weekend, I spotted the flowers at our local farmer's market. They were too small to stuff – the 'kids' (to quote the woman that helped me) that were working the fields were experimenting, and I suspect don't really understand the many culinary uses of the flowers. I, of course, couldn't resist buying them. I used them as a beautiful garnish for a fresh summer zucchini risotto made with some very small, sweet zucchini from the same farmer. It is always exciting to see new and interesting produce appear from these small local farmers, and the enticing array of vegetables and fruits at a good farmer's market here in the US is beginning to rival those I see in Italy – a wonderful development I hope to see continue!
Risotto con Zucchini, Fiori di Zucchini e Prosecco
Serves 6 as a side dish
1 tablespoon extra virgin olive oil
2 tablespoons unsalted butter
1 finely chopped shallot
1 1/2 cups Arborio, Carnaroli, or Vialone Nano risotto rice
1 cup prosecco
4 cups chicken broth, either homemade, or unsalted store-bought, heated
3-6 small zucchini (about 10 ounces), trimmed and cut into 1/4" dice
8 zucchini blossoms, pistil/stamen removed, thinly sliced
1/2 cup freshly grated grana cheese, or other hard Italian cheese
Kosher salt and freshly ground pepper
Combine the oil and 1 tablespoon of the butter in a heavy, large skilled over medium-high heat. Add the shallots and cook until soft and translucent, about 2-3 minutes. Stir in the rice to coat with the oil, and cook for 1 minute.
Add the prosecco and stir, cooking until absorbed by rice. Add the chicken broth, 1/2 cup at a time, stirring after each addition and waiting until the broth is absorbed by the rice before adding the next 1/2 cup.
After 15 minutes of cooking, stir in the diced zucchini.
When the rice is tender, but still firm to the bite – al dente, turn off the heat. Add in a last 1/4 cup of broth, the last tablespoon of butter, the zucchini flowers and the grated cheese. Season with salt and pepper, and serve immediately.