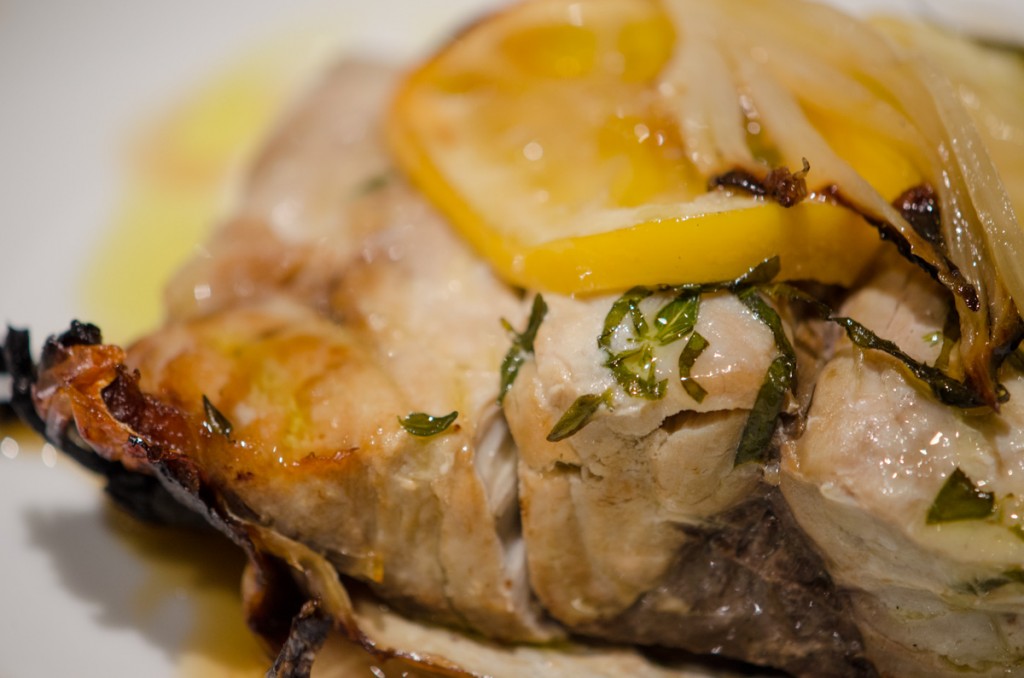 With miles of coastline along it's familiar boot shape, you find fish in just about every regional cuisine in Italy. Even the landlocked regions we tour, we find fish – from Lake Garda, when we cycle down the Sudtirol wine road, or from Lake Trasimeno during our Bike the Wine Roads of Umbria tour. Most are prepared quite simply, a whole fish, split and grilled, served with perhaps a few herbs, and drizzled with olive oil.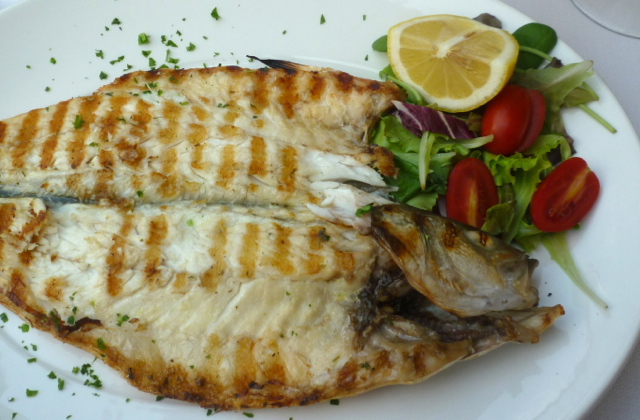 Another common preparation across Italy is fish "in cartoccio", or "al cartoccio", or "cartoccio di…". This is fish cooked in a "packet", either foil or parchment paper. I found a variety of recipes for this dish, branzino al cartoccio (sea bass), cefalo in cartoccio (mullet), even cartoccio di seppioline (cuttlefish). All are similar preparations, simply seasoned fish wrapped up in a packet and baked in a hot oven. I do this technique quite often for a quick and easy fish dinner.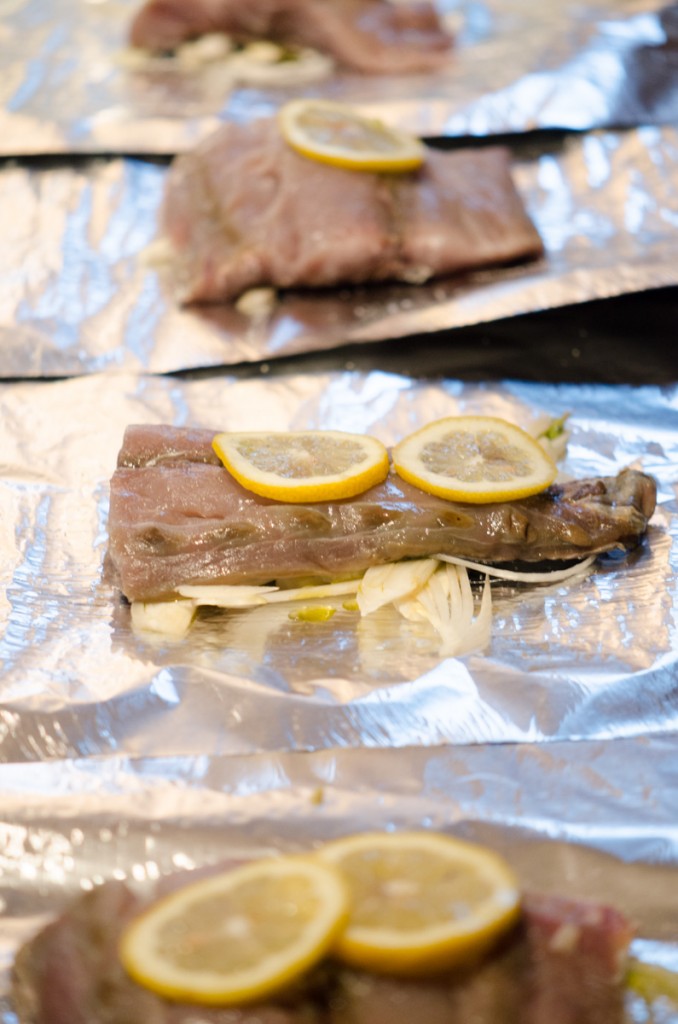 But as I was perusing fish in cartoccio recipes, I found the following description for Carbonaretti del Lago di Piediluco in "La Cucina – The Regional Cooking of Italy". This is how the lake fisherman in Umbria would prepare their fish, right on the water. "The fisherman scorch the local perch over small fires in their boats, giving the dish its name, carbonaretti." I thought cooking 'in cartoccio' over hot coals would be a nice variation, especially on a hot summer day when grilling outside is called for. Reminds me of the hobo packs we used to do on our girl scout camping trips.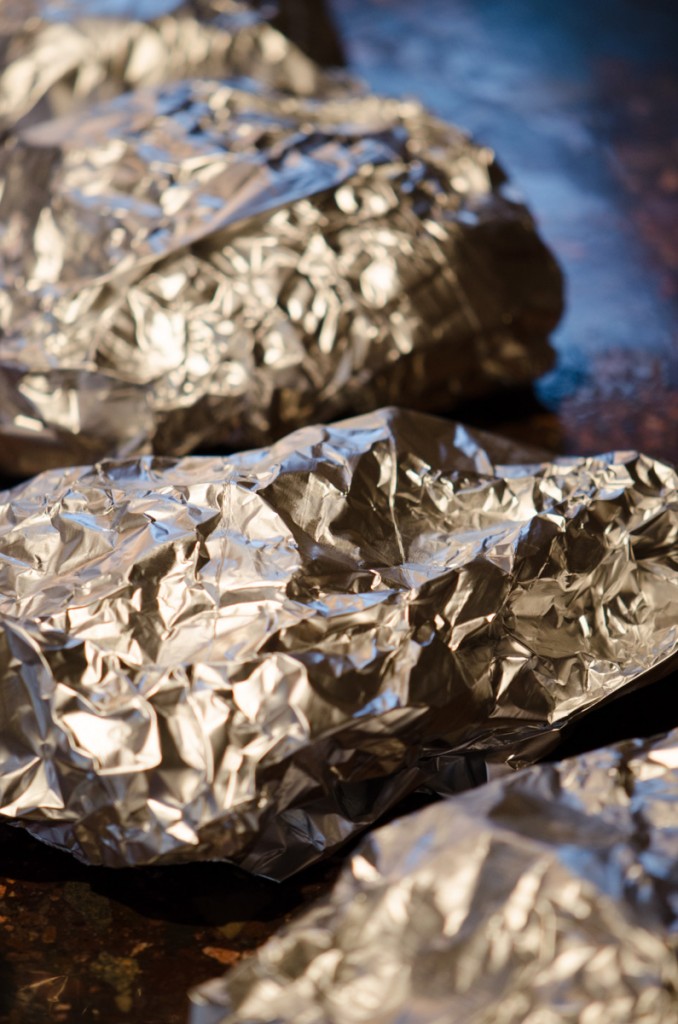 This recipe is intended as a framework, there are many ways to make it your own. Include any vegetable that would cook through in the same time it would take to cook your fish, you could even use potatoes if they were thinly sliced. You can use a whole fish – which are hard to find in my local seafood vendors, unfortunately – or a piece. I used one of my favorites, bluefish. Season with whatever fresh or dried herbs you have on hand, and drizzle with some wonderful olive oil. And clean up couldn't be easier!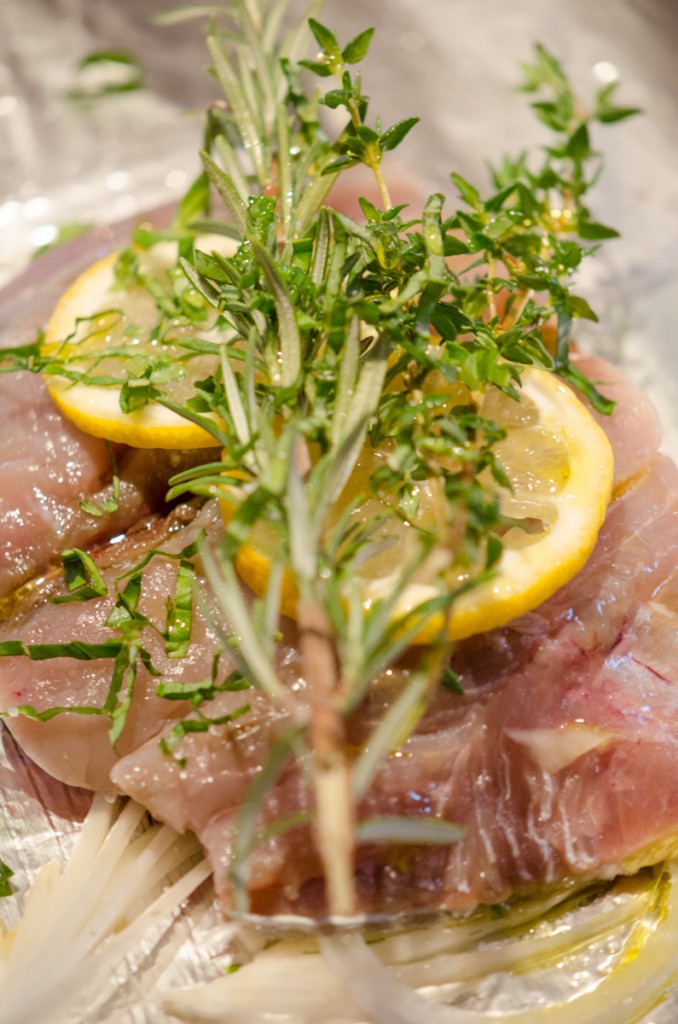 gnocchi class eramo july 2013
Pesce al Cartoccio
Serves 6
1 onion, sliced thin
1 head fennel, thick outer leaves removed, cored, sliced thin Extra virgin olive oil
Kosher salt and freshly ground black pepper
2 lbs. fresh fish, bluefish, striped bass, cut into 6 portions
1 lemon, thinly sliced
Fresh herbs – basil, thyme, rosemary
Preheat oven to 400°, or build a charcoal fire and allow to burn down to coals.
Tear 6 15" sheets of heavy duty aluminum foil, and lay on the counter.
Distribute the onion and fennel slices on the 6 sheets, placing them in a small pile in the center of each sheet. Season with salt and pepper, and drizzle with olive oil.
Place one portion of fish on top of the fennel and onion. Season with salt and pepper. Place one or two slices of lemon on top of the fish, then any herbs you may wish to use. Drizzle with more olive oil.
Wrap the fish and herbs tightly in the aluminum foil, sealing well. Place the foil packets on a sheet pan and put in the oven, or place them directly on the hot coals, if you are using a fire. Cook for 20 minutes.
Remove from heat, and serve.