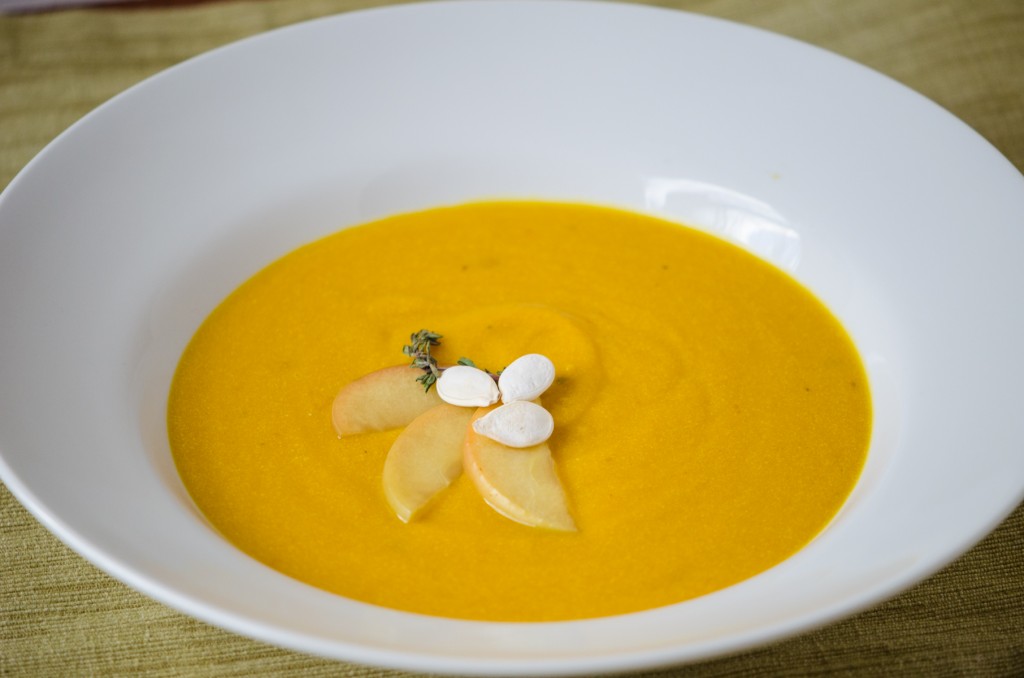 On a past visit to Italy, I spent some time visiting Cormons, Italy, in the region of Fruili Venezia Giulia. Located in the north easternmost corner of Italy, right next to Slovenia, this relatively unknown region produces some of the best wines in Italy. Wonderful wines, and cycling route options from flatter coastal rides to some of the most challenging climbs in Italy make it a great destination for our Italiaoutdoors bike tours. The enoteca in Cormons is a perfect one-stop shop to try out some of the best wines from the Collio wine zones.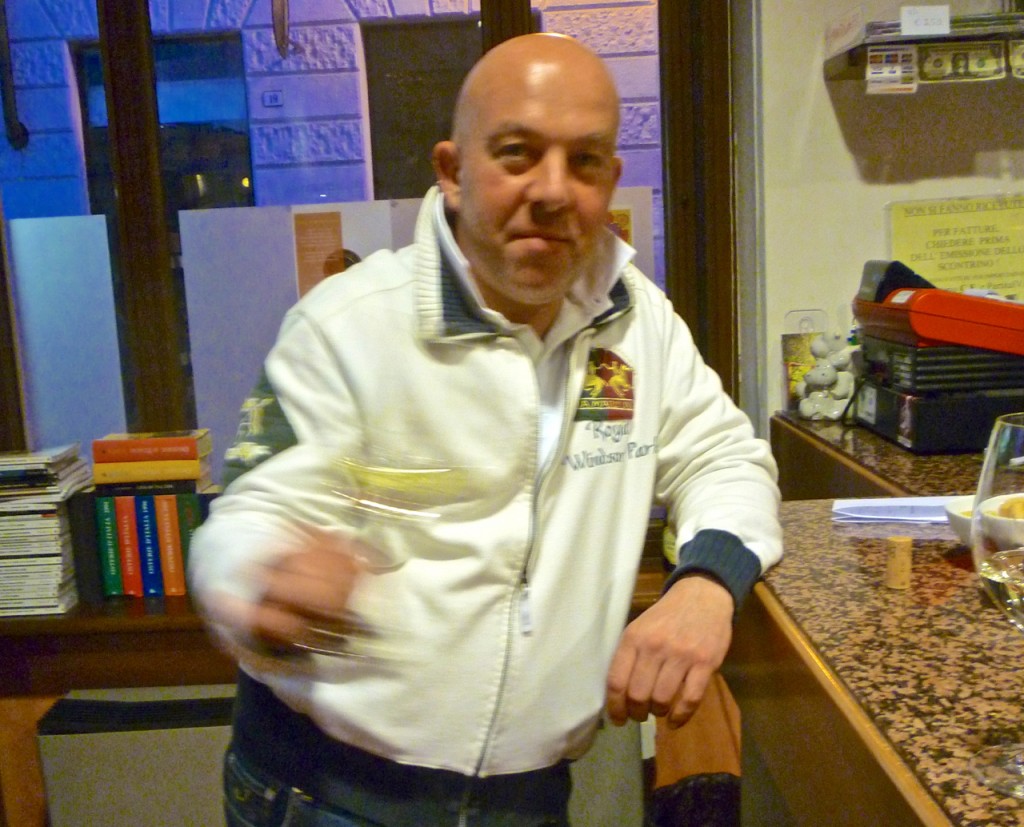 After a few hours touring the area, I stopped by the enoteca. As I was enjoying a few sips of a Magnas Friulano, I noticed the other two gentleman patrons were tasting the Branko Pinot Grigio, a wine I had discovered in the US and found very nice. I commented on how much I like the Branko wine, and to my surprise found that I was talking with Igor Erzetic, the winemaker himself! After explaining my interest in the region and it's wines, Igor and his friend took it upon themselves to give me a thorough introduction to many of the best wines the the area. What followed was almost a blur of wines, and the two gentlemen and the proprietor placed wine after wine in front of me. At the end of the evening, we exchanged contact information and I suggested he contact me if he were ever in the Boston area promoting his wines.
Almost 2 years later, Igor's representatives contacted me, and with lots of help from his local importer, Masciarelli Wines, and my very good friends at TRADE restaurant in Boston, we held a wine dinner last Monday at TRADE. Chef Andrew Hebert  designed a fantastic fall menu, with dishes specifically created to match the Branko wines. For those interested in purchasing Branko wines in the Boston area, scroll to the end of this post for local outlets.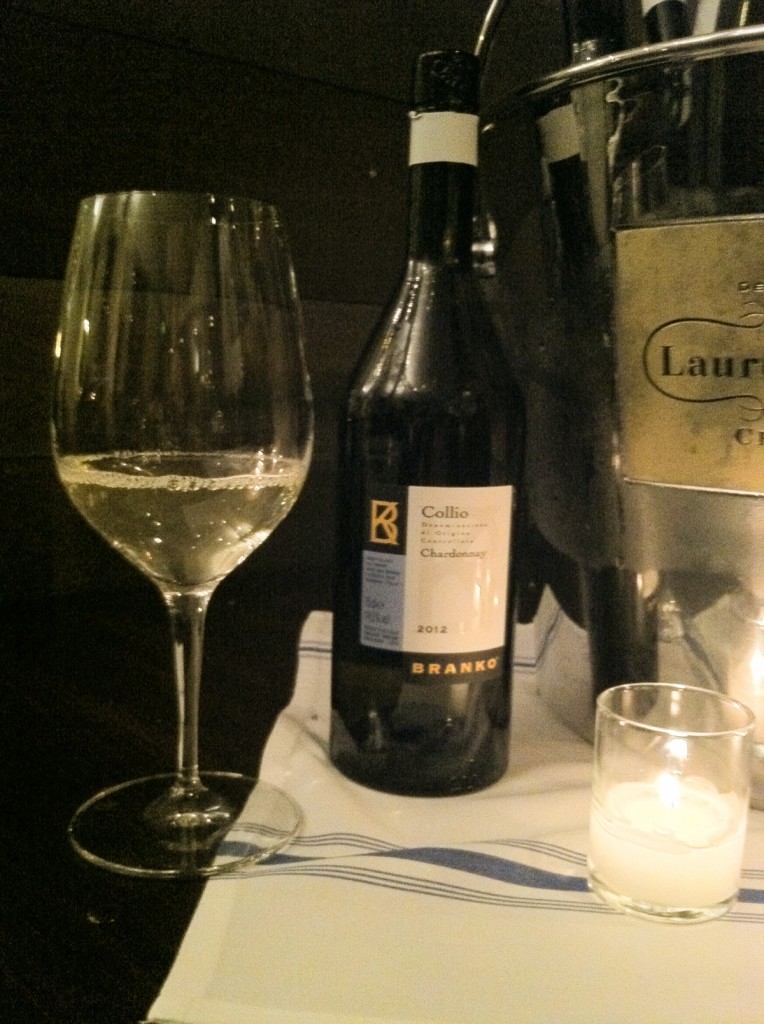 We began with the evening with the Branko Chardonnay. The Erzetic family has been cultivating grapes and producing wines in the Collio region for many years. Branko Erzetic restored the terraced vineyards with his then teenage son, Igor. Today, Igor runs the operation. The Branko Chardonnay is wonderful example of how flavorful and refreshing a chardonnay can be, especially when the oak is used to enhance the grapes, rather than overwhelm. Igor brings out the best in his Chardonnay by fermenting and maturing about 30% of the wine in mid-sized oak containers. We had a discussion about this tendency of some producers, especially in the US, to over-oak their chardonnays, something I have never been a big fan of. The Branko Chardonnay has a very pleasant bouquet with floral notes, pear, apple, and just a hint of oak. Crisp and refreshing, this is a wine to introduce to your friend who has sworn off this grape after one too many glasses of the oaky, buttery versions. The first course, created to accompany the Chardonnay was a ripe avocado served with a peanut-tamarind chutney, mango and cilantro.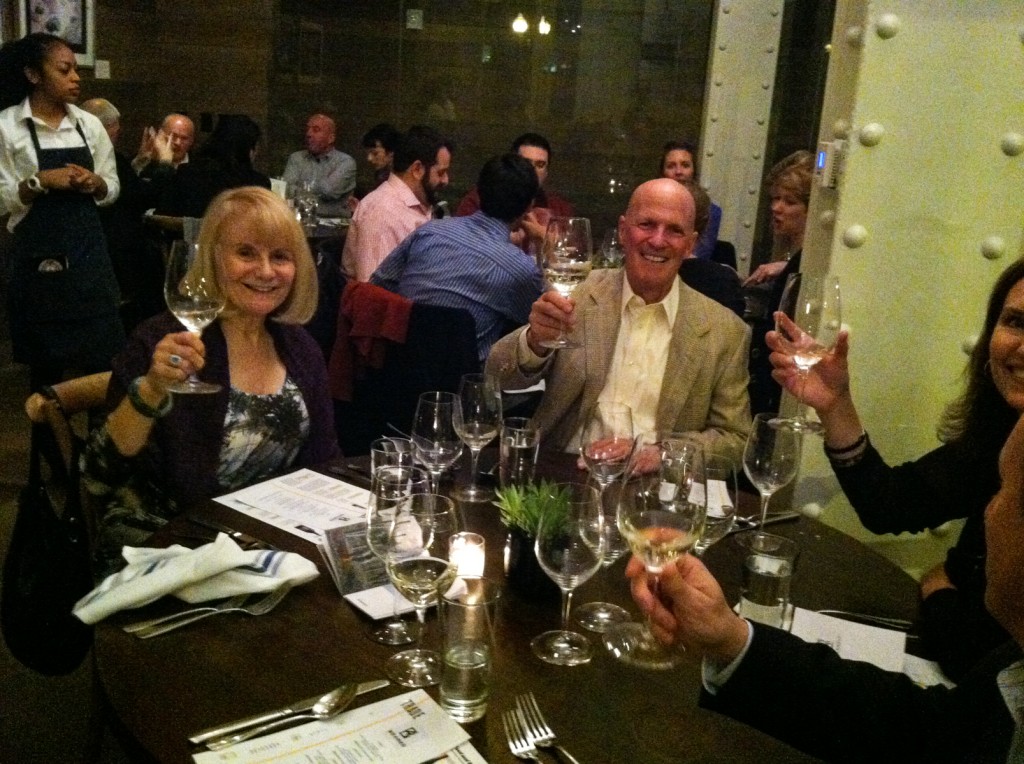 Next, the traditional Friuli white varietal, Friulano. Formerly known as Tocai, the name was changed to avoid confusion with the Hungarian varietal Tokay, you can often still find it served under its former name. Friulano is very aromatic, with hints of bitter almond amongst floral notes. Again, Igor ages a small proportion of the Friulano grapes in oak, to enhance the naturally fresh-tasting palate. Overheard among the guests – "This is a great wine for turkey – something memorable to serve at Thanksgiving, rather than just another white." We enjoyed a Pumpkin Soup with pickled apples and toasted pumpkin seeds with the Friulano – I've included a recipe for this dish below, a traditional Friuli recipe that I've altered a bit.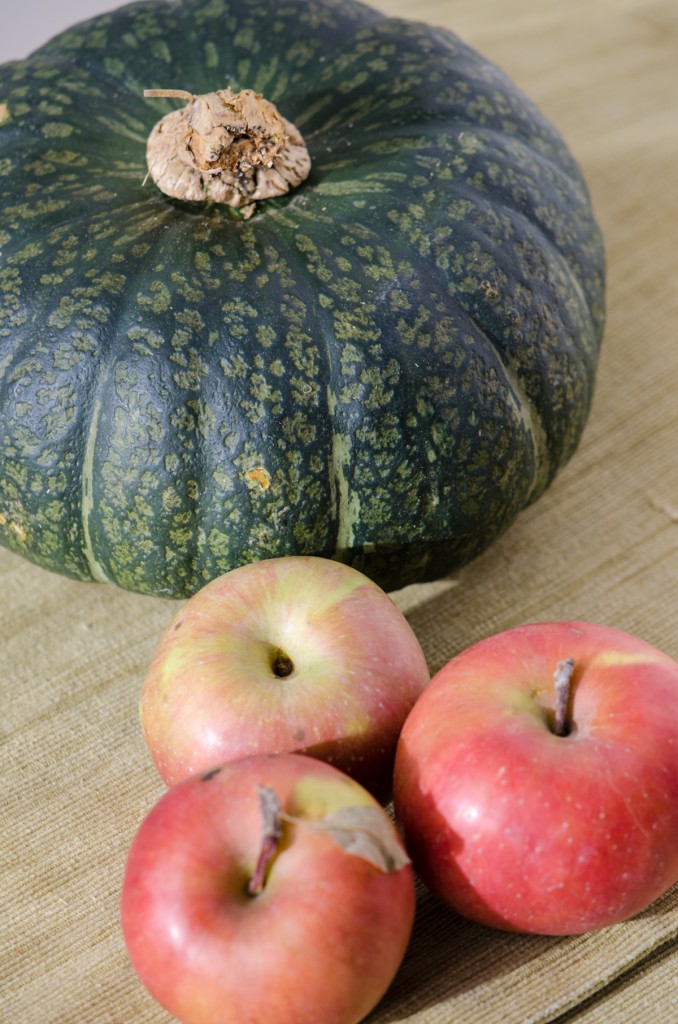 Next, the Branko Pinot Grigio. This is Branko's flagship wine, and a regular contender at Gambero Rosso's Three Glass finals. This wine has walked away with the prestigious 'tre bicchieri' award on numerous occasions, earning a reputation for a top notch example of this varietal. For those of you who view Pinot Grigio as a rather uninteresting wine, this will be an eye-opener. Full-flavored and intense, hints of ginger give this a spiciness that is balanced with velvety flavors of pear and almond, and just a hint of oak. It manages to be both complex and refreshing at the same time, and is now one of my favorite Pinot Grigio wines. A wonderful, flavorful wine that pairs well with an antipasti of speck and local cheeses, poultry, or seafood – we enjoyed it with Grilled squid and fried tentacles with vinegar peppers, bean salad and olives.
Our last course, a Crispy pork shoulder with polenta, fennel, apples and grapes, was served with the one red wine in the Branko portfolio, a Cabernet Merlot blend. A fresh, young, fruity wine with a bit of softness and elegance from a brief aging in wood. Flavors of dark forest berries and cherries combine to produce an elegant, structured palate that can be enjoyed both young and after a bit of time in the cellar.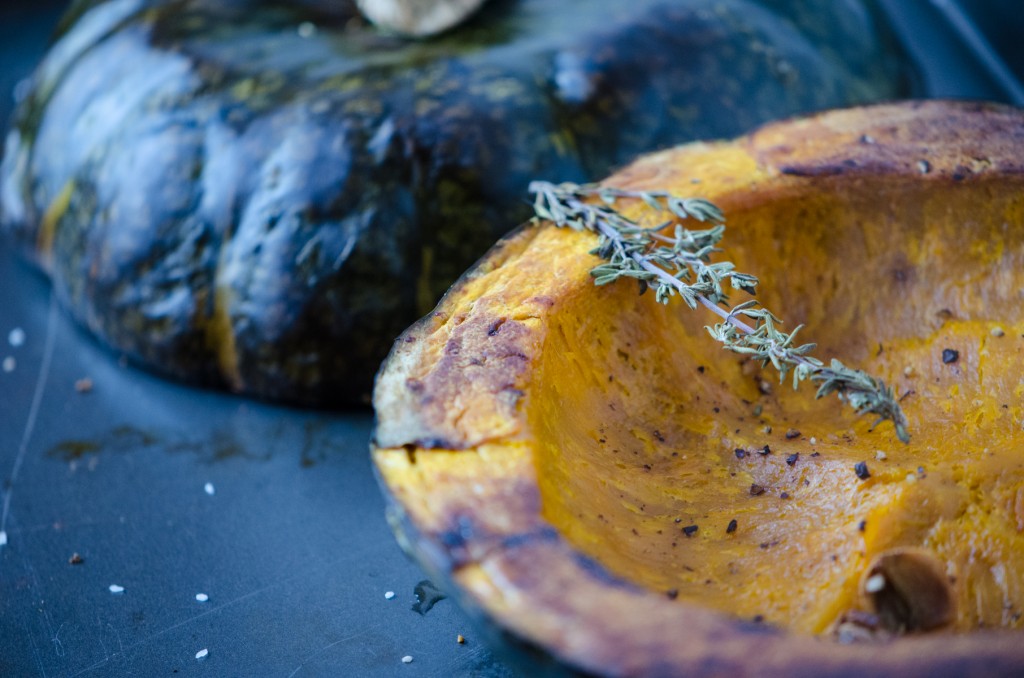 As promised, here is my version of a traditional pumpkin soup from Friuli Venezia Giulia. A great Thanksgiving first course, to be enjoyed with the Branko Friulano.
Pumpkin Soup with Pickled Apples
1 small pumpkin or large winter squash
Extra virgin olive oil
Kosher salt and freshly ground pepper
2 sprigs thyme
4 cloves garlic
1 cup ricotta cheese
2 cups apple cider
2 cups water
Pickled apples
Roasted pumpkin seeds
Preheat the oven to 350°.
Split the pumpkin and scrape out the seeds and pith, oil the cut surfaces with olive oil, and season generously with salt and pepper. Place the halves cut side down on a baking sheet, with a sprig of thyme and 2 cloves of garlic, tucked underneath each seed cavity. Roast in the oven for 45 minutes, or until completely tender. When the pumpkin is cool enough to handle, scoop out the flesh (or peel off the skins) and add the pulp to a soup pot along with the roasted garlic and ricotta cheese. Mash them together with a potato masher or spoon; add the cider and water, and heat to a simmer. Taste and correct the seasoning. Serve, garnished with a few slices of pickled apple and a few roasted pumpkin seeds.
Pickled Apples
2 small apples
1/2 cup cider vinegar
1 cup apple cider
Cut the apples into quarters, then cut out the core. Place the apple quarters skin side up on a cutting board and cut into thin slices.
Combine the vinegar and cider in a non-reactive sauce pan. Bring to a boil. Add the apple slices and remove from heat. Let sit for at least one hour.
Where to purchase Branko wines in Boston area. If any of these don't carry them, they will be happy to order them for you.
Downtown:
Federal Wine and Spirits
Boston Wine Exchange
BRIX
Bacco's
South End:
BRIX
Urban Grape
West Suburbs:
Urban Grape (Chestnut hill)
Spirited Gourmet (Belmont)
Concord Wine & Spirits
North Suburbs:
Henry's (Beverly)
Pairings (Winchester)
Leary's  (Newburyport)