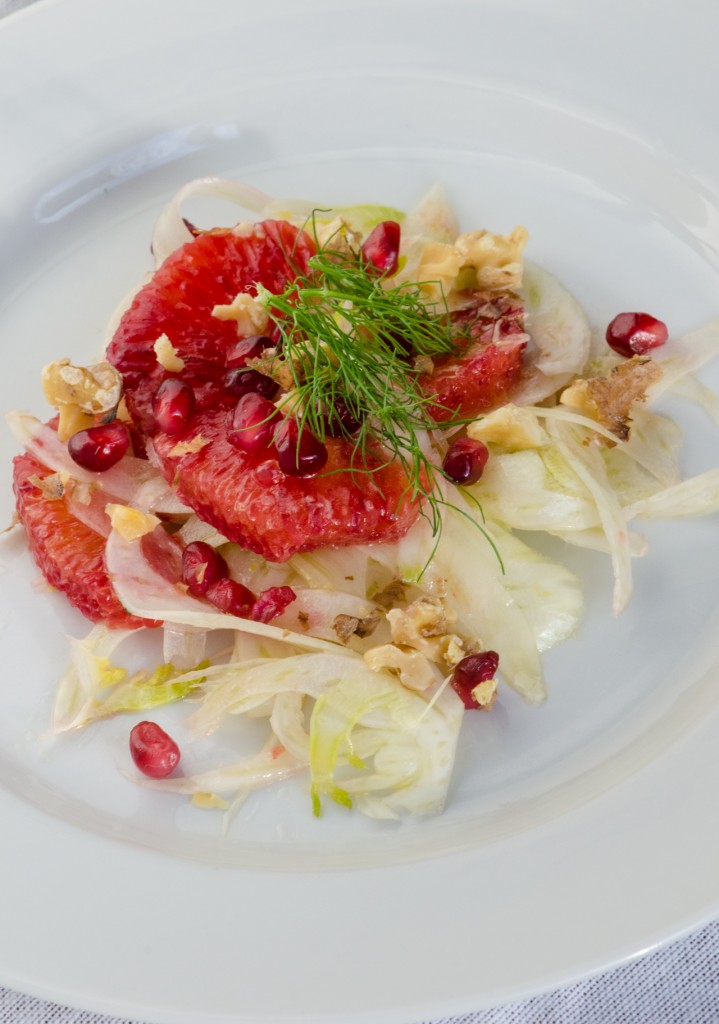 After the elaborate meals of the holidays, I find lighter fare refreshing. Here is an elegant salad, amazingly simple, requiring only a few wonderful ingredients found throughout Italy during the winter season. We see fennel and pomegranate growing by the side of the road during our Italy cycling tours. Oranges are produced in the southern regions, but find their way north where blood orange juice, arancia rossa, is on every breakfast buffet. Walnuts are harvested during the fall, and are used in everything from salads to savory meat dishes to risottos to desserts. A few basic knife techniques and a nice olive oil are all you need – directions on how to prepare the fennel and segment the orange (the fancy culinary term is 'supremes') are included here.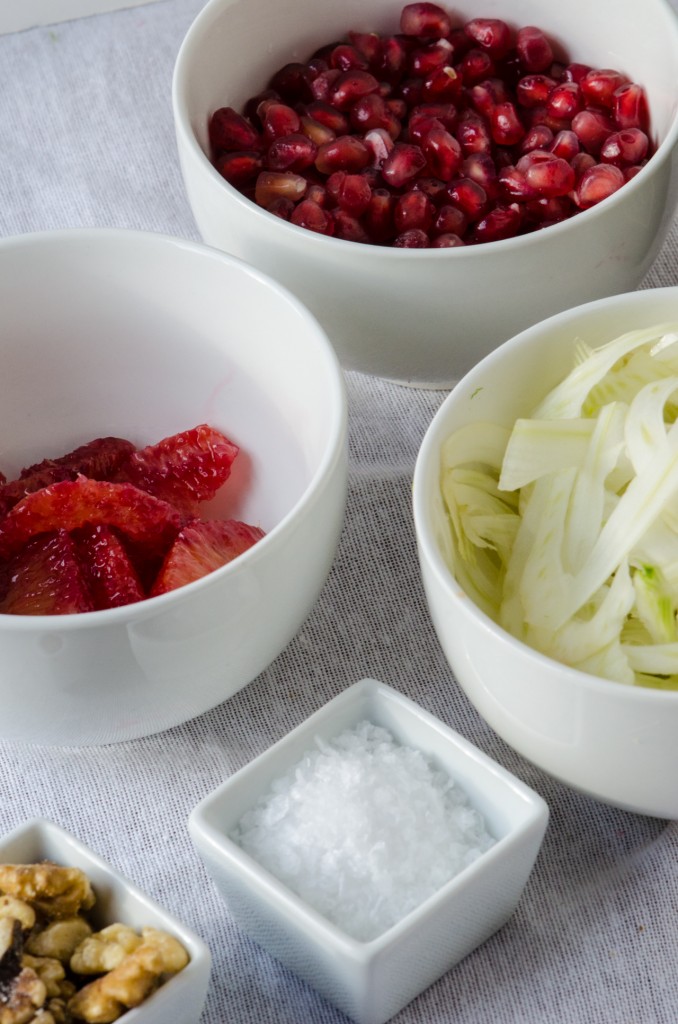 The Silver Spoon, Italy's best-selling cookbook for over fifty years, includes the description of fennel: "Fennel bulbs are attractive, tasty, and aid digestion. They are also the leanest vegetable. …they are rich in minerals, including calcium, phosphorus, sodium and potassium.Their delicate aroma is reminiscent of aniseed. When buying fennel, bear in mind that the division into male (round) and female (elongated) bulbs has no scientific basis, but it is worth knowing that the former are better for eating raw – on their own or with other types of salad – while the latter are better cooked."
To prepare the fennel:
To make orange 'supremes':
Cut the top and bottom off of the orange, Cut deep enough so you cut away all of the pith. The pith is bitter, and we want nice attractive slices with NO pith so don't be shy about penetrating into the flesh of the orange.
Place the orange on a cutting board, top or bottom flat on the board, and begin to cut away the skin and pith on the sides, cutting in long vertical strips. Again, make sure you cut deep enough to remove ALL pith.
To prepare pomegranate:
Cut pomegranate into quarters.
Over a bowl of water, use your hands to peel away the white pith and brush out the seeds into the water.
After removing all the seeds, agitate the seeds in the water, brushing off any remaining pith. The pith will float, and the seeds will sink, helping you to separate the two. Store the seeds in the refrigerator. Finnochi con Arance, Melagrana e Noci

Serves 4

2 heads fennel, halved and thinly sliced
Good quality extra virgin olive oil
Sea salt
2 oranges, peel and pith removed, and separated into segments
2 tablespoons toasted walnuts, coarsely chopped
1/4 cup pomegranate seeds

Place the shaved fennel in a bowl, drizzle with olive oil and season with salt. Add the orange segments, walnuts and pomegranate seeds. Mix and serve, garnishing with a drizzle of olive oil and fennel fronds.