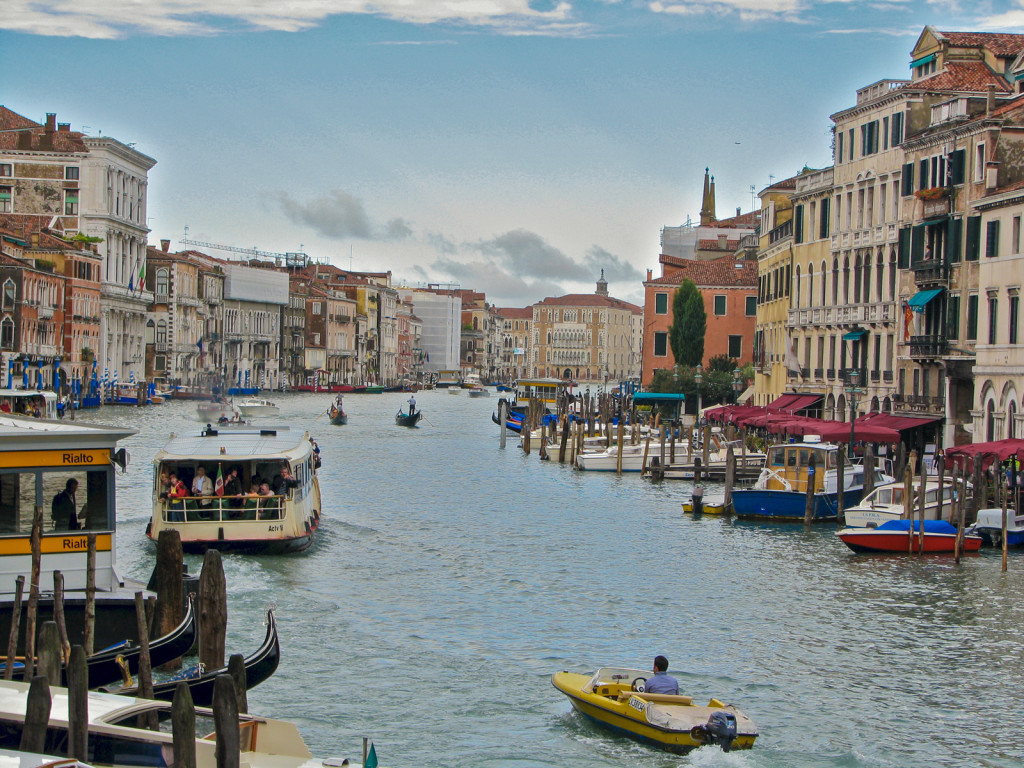 Venice is perhaps Italy's most extraordinary city – a city of elegant palazzos, palaces, theaters and markets surprisingly situated in the middle of a lagoon, connected by a maze of canals and bridges. Guests on our Veneto cycling tours often ask us to include a couple of days where they can experience the wonders of this city. We happily oblige, as it is an amazing city with plenty to explore on walking tours. My partner Vernon leads us on walks through history, visiting the birthplace of explorer Marco Polo, and discovering the haunts of luminaries from Henry James and Proust to Casanova. Venice itself boasts an impressive history, with the Republic of Venice existing for over 1000 years, during which it was a major maritime power and center of trade between Europe and the Byzantine empire.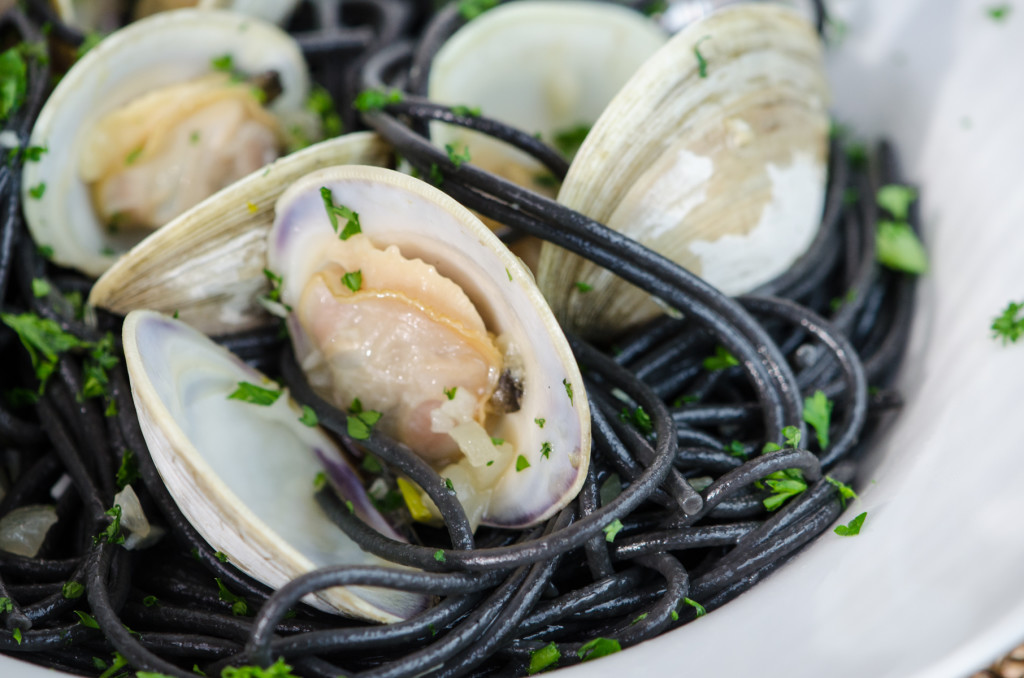 My walking explorations focus on the foods and wines of Venice. We'll spend some time in the Rialto market appreciating the vast array of produce and seafood available here where the fertile valleys of the Po river meets the Adriatic. We enjoy a prosecco (or two) during a giro d'ombra, a tour of the Venetian wine bars where we snack on cicchetti such as baccala mantecato or carciofi castrature from the island of Sant'Erasmo during the spring.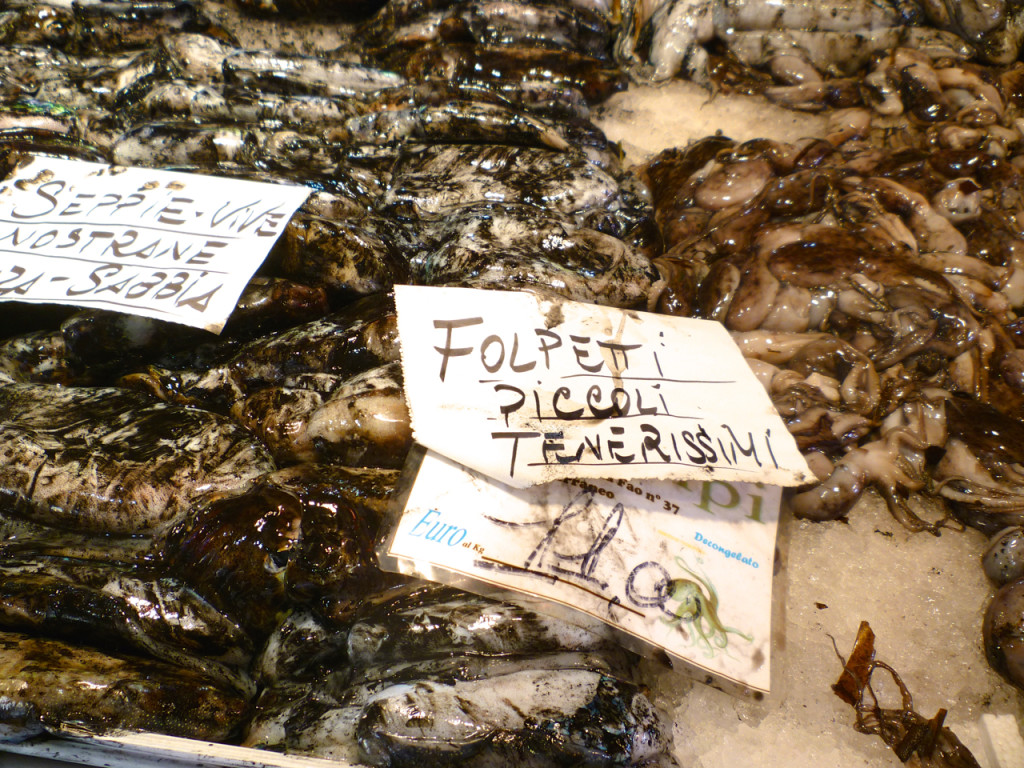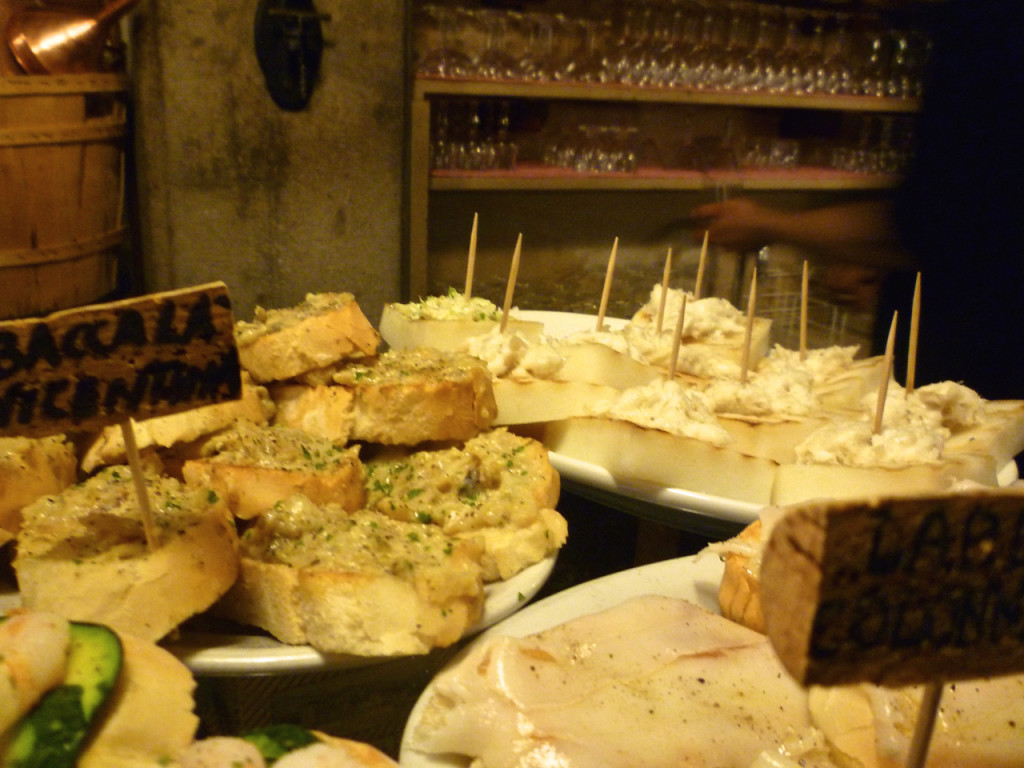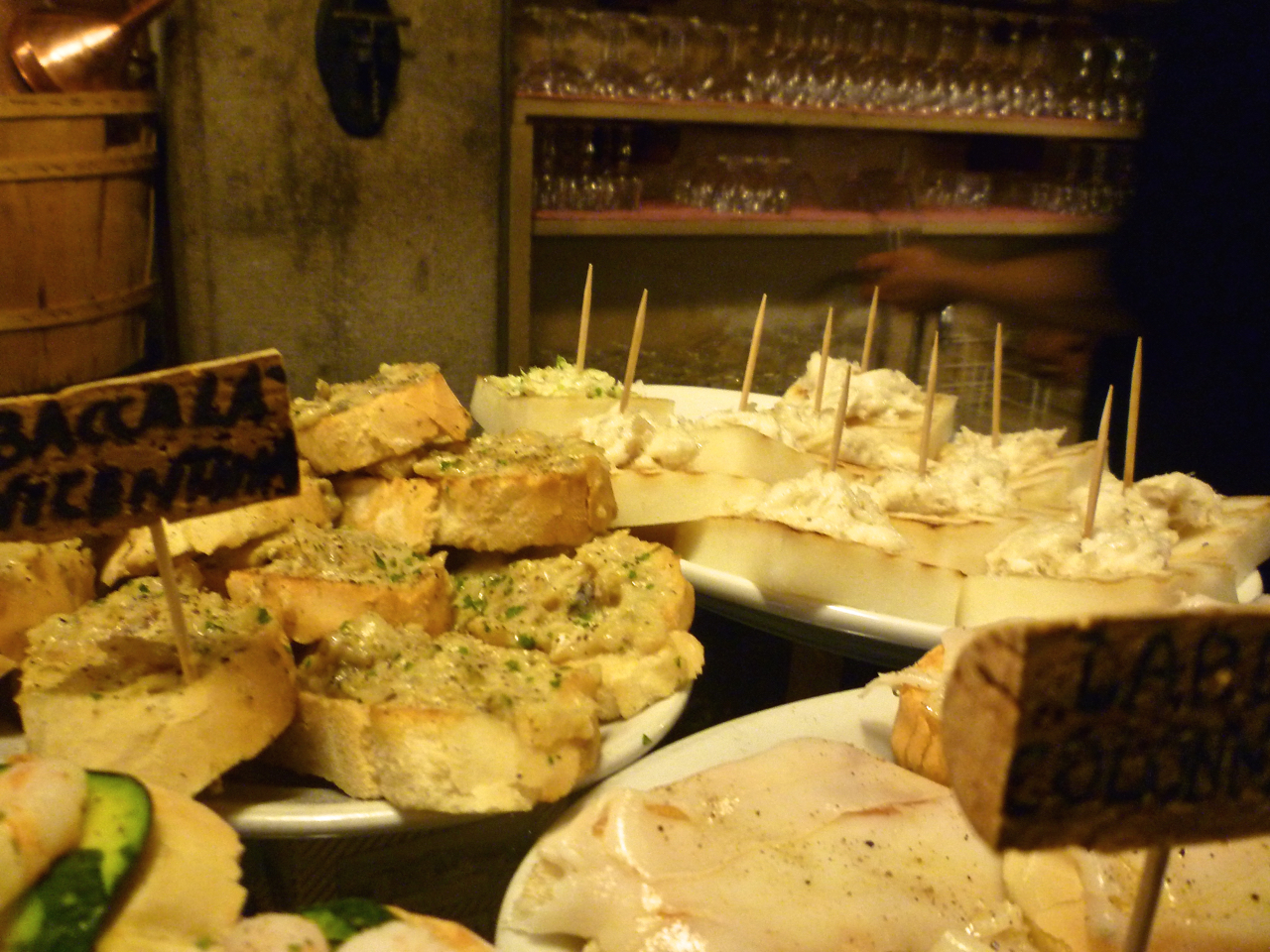 Dining in Venice can be tricky – there are many superb restaurants and trattoria, but also many tourist traps. It takes a bit of effort to find those special spots where the locals dine. Most restaurants right near San Marco or along the Grand Canal cater to tourists, especially avoid those with a host standing on the sidewalk accosting you as you approach with a large placard outside with photos of the standard "menu turistico". But walk a few blocks closer to the Rialto market, perhaps risking a wrong turn or two, which always happens in Venice, and you will discover a small trattoria where what they serve today is the fish we just saw at the market that morning.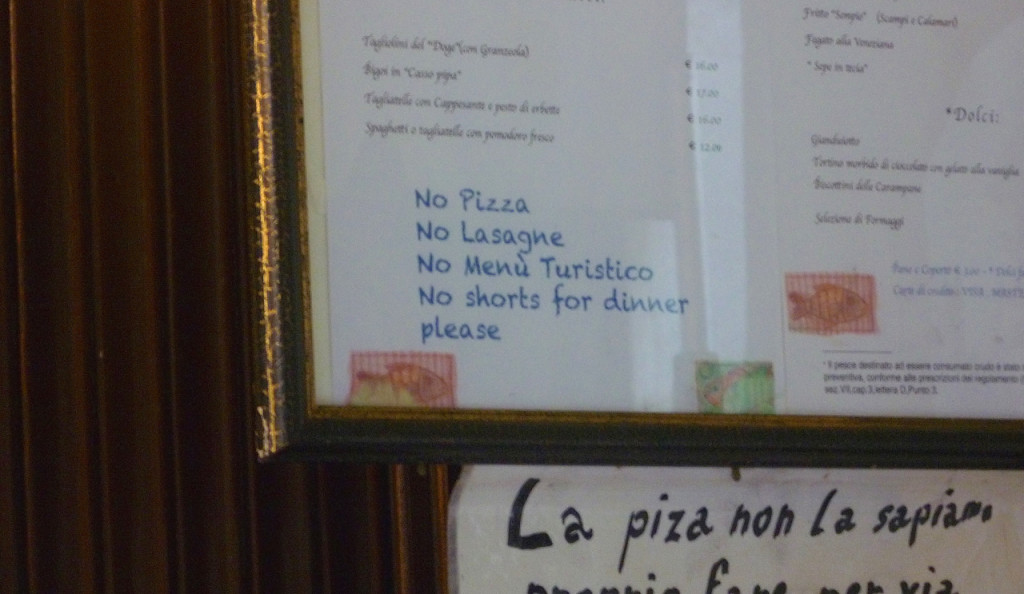 Whenever I am in Venice, my favorite lunch is a pasta with squid ink. In Venice, it is a white pasta, usually spaghetti or linguini, flavored with squid ink in the sauce, often served with sauteed squid. Back here in the US, it is hard to find squid ink. However, black pasta made from squid ink is available here and makes a dramatic dish. Here is a recipe I make at home using fresh local clams; a comfort dish that brings me back to dining canal-side on a sunny afternoon in Venice.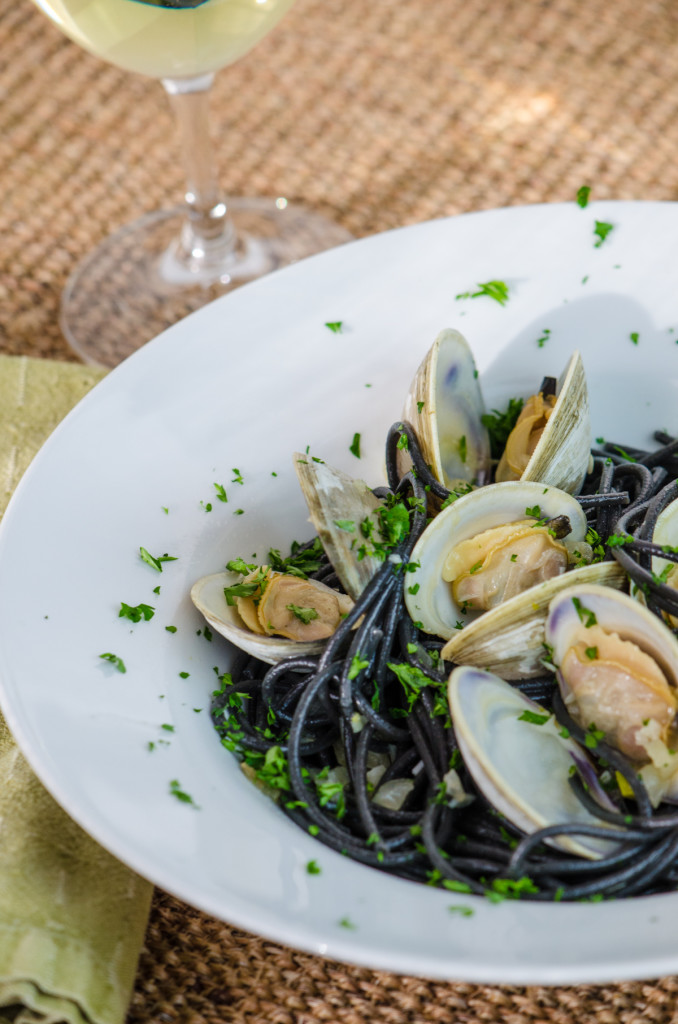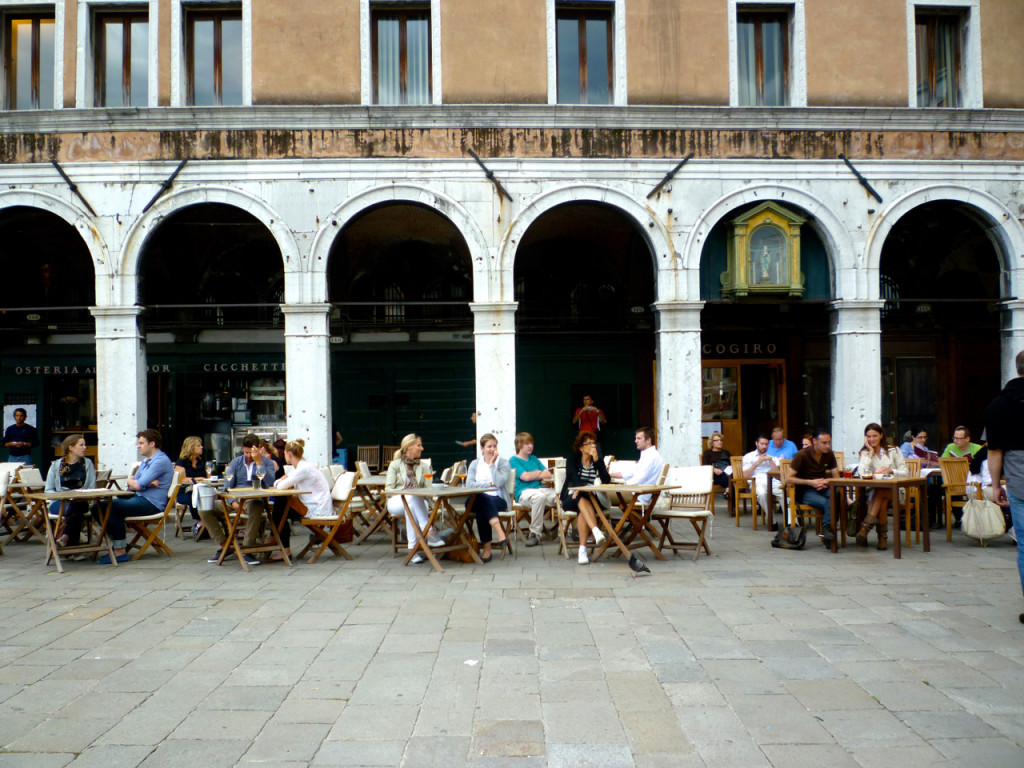 Enjoy with a crisp white from the Veneto, like a Garganega based Soave or Gambellara.
Spaghetti di Nero con Vongole
Serves 4-6
2 lbs. small clams
1/4 cup extra virgin olive oil
1 small onion, cut into 1/4 inch dice
2 cloves garlic, minced
1/2 cup white wine
1 lb. spaghetti di nero (squid ink pasta)
1 tablespoon flat parsley, minced
Kosher salt and freshly ground black pepper
Carefully wash the clams, and put them in a colander to drain.
Put a large pot of water on the stove over high heat, and bring to a boil for cooking the spaghetti.
Heat the olive oil in a large saute pan over medium-high heat. Add the onion, reduce heat and saute until translucent, about 5 minutes. Add the garlic and cook just until aromatic, about 1 minute.
Add the white wine and the clams. Cover and bring to a simmer. Allow the clams to steam until they have opened, about 7-10 minutes, depending upon the size of the clams. Remove from heat, and discard any that do not open on their own. Remove the clams from the liquid and keep warm in a separate dish.
Salt the boiling water, and add the spaghetti. Cook until al dente, remove from the heat and drain.
While the pasta is cooking, place the clam steaming liquid back on the stove over high heat, bring to a boil and reduce it by 1/2.
Place the drained spaghetti in the pot with the reduced clam cooking liquids and toss to coat. Add the clams, season with salt and pepper – taste, as the clams can be quite salty so you may not need much salt. Garnish with the chopped parsley and serve.