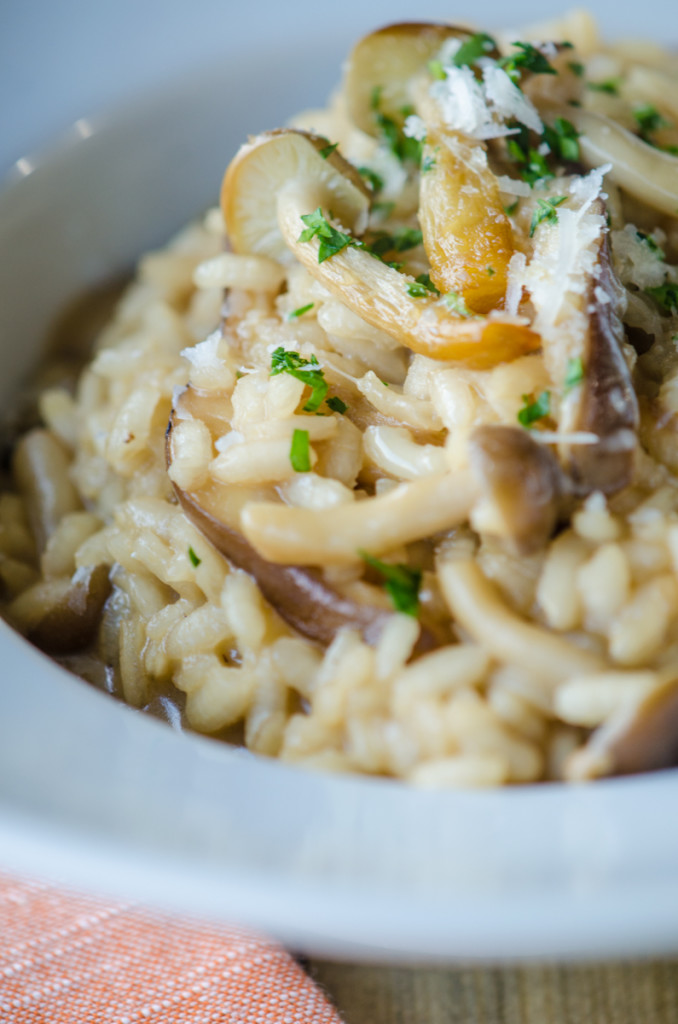 On our late summer and fall tours, whether we are hiking in the Dolomites or cycling through Tuscany, a wide array of lovely mushrooms appears on our dinner menus or impresses us as we visit an outdoor market. The varieties differ from region to region and month to month, but are becoming increasingly available year round with cultivation. But in Italy, where foraging is still practiced by many, wild mushrooms are front and center in the autumn markets.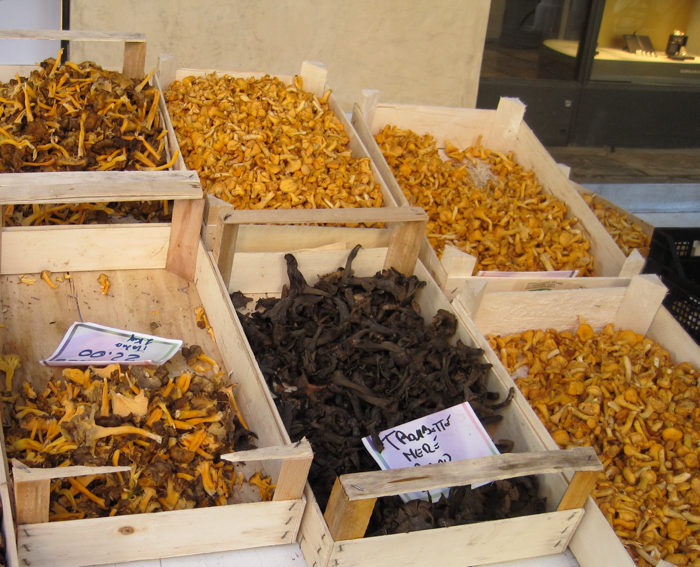 Mushrooms, found wild in the forests, are used in the cuisines throughout Italy, from Trentino-Alto Adige and the Veneto to Tuscany and Umbria. Wild mushrooms have been prized since ancient times; the Pharaohs of Egypt controlled their distribution, and they were referred to as "food of the gods" in ancient Rome.
Caves are used for cultivation in Trentino-Alto Adige, but the many woodlands are also a source of a huge variety of wild mushrooms. These include well-known wild varieties like chanterelles, honey mushrooms, morels, yellow trumpets, porcini and chiodini, but also many lesser-known: penny buns caps, pine mushrooms, parasols, russulas, Caesar's agaric, and even 12 different species of Trentino black truffle.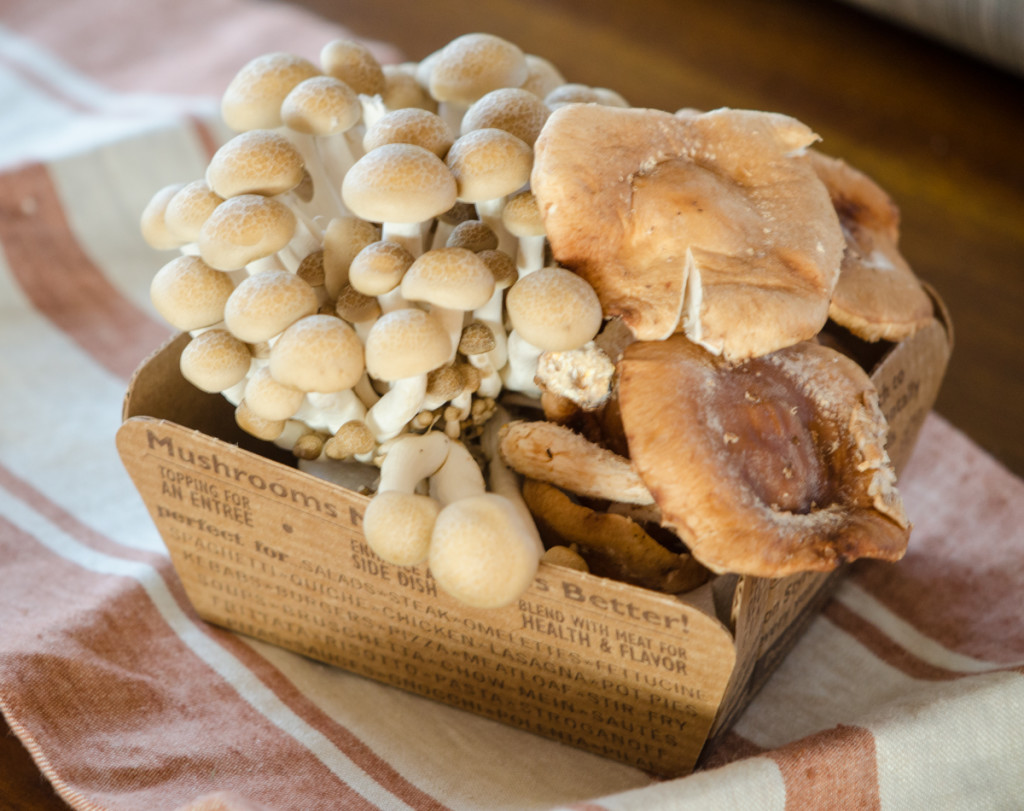 Due to the limited growing season of the wild varieties, their availability was limited until the French developed methods to cultivate them. In the late 1800s, entire families from Venice traveled to France to work in the mushroom farms in the caves near Paris, and learn these techniques. These families returned to the Veneto and began their own mushroom farms. These first farms were located in the caves around Costozza, as these possessed the optimum humidity and temperature for mushroom growth.
Production in caves results in fewer mushrooms per foot than indoor cultivation of these mushrooms, but the cave environment yields a superior quality. The micro climate of the cave enables the production of a much more 'natural' mushroom, with a taste and smell more similar to it wild counterparts. Many grottos used for mushroom cultivation are located in the Berici Hills near Costozza, but also are found in the area of Cismon del Grappa and Sovizzo.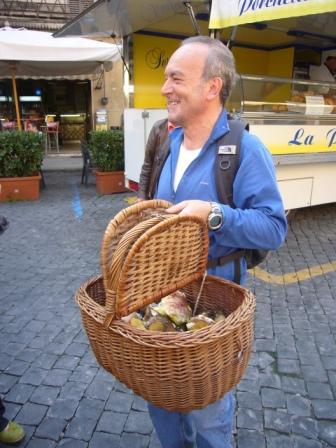 During autumn time in Tuscany and Umbria, we spot locals emerging from fields and forests, holding onto a wicker basket loaded with lovely wild mushrooms. These regions are home to a large variety of edible (and inedible) mushrooms, including the well-known porcini. Here, we find mushrooms in all sorts of dishes, from our antipasti to tagliatelle pasta and risotto primi to main courses. As well as the porcini variety of mushroom, which can be found in areas such as Maremma and Mugello, look for the rarer prugnolo variety,
Here is a lovely risotto recipe from Sudtirol/Alto Adige that I've translated and adapted. It calls for fresh chanterelles, but a nice mix of fresh mushrooms, or even some reconstituted dried mushrooms would work well – rinse the dried mushrooms, then soak for about 30 minutes in hot water to cover. Drain, reserving the soaking liquid, and add the mushrooms to any fresh ones you may use. Add the soaking liquid to your broth in the recipe below.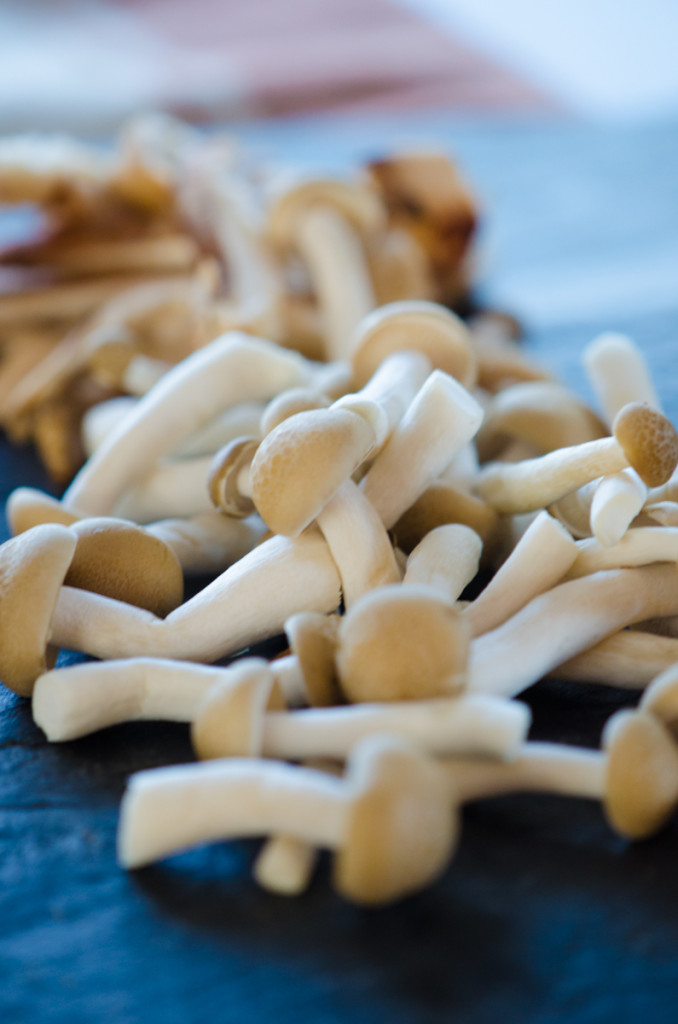 Risotto con Gallinaci Freschi
2 tablespoons extra virgin olive oil
1/2 onion, cut into 1/4" dice
6 ounces fresh chanterelle mushrooms; or fresh mixed mushrooms
Kosher salt and freshly ground pepper
1 cup arborio, carnaroli or vialone nano rice
4 1/2 cups beef broth
1/2 cup white wine
2 ounces mascarpone cheese
1/4 cup grated grana cheese
parsley
Heat the oil in a large sauté pan.  Add the onions and mushrooms and cook over medium heat, stirring occasionally, until the onion is translucent and the mushrooms are beginning to brown, about 5-7 minutes. Season with salt and pepper.
In a large saucepan, heat the stock, keeping it just below a simmer.
Add the rice to the sauté pan with the mushrooms. Stir for about 1 minute, until the grains are coated with the fat and liquid in the pan. Add the wine, and simmer slowly, stirring frequently, until it has evaporated.
Add a ladleful of the hot stock and again simmer, stirring gently, until the stock is absorbed. Continue adding the stock a ladleful at a time, stirring and waiting until the stock is absorbed before the next addition of stock. Continue until the rice is al dente. The stock may not all be used.
When the risotto is done, stir in the cheeses and season with salt to taste. Pour into a soup tureen and serve, garnish with the fresh parsley.