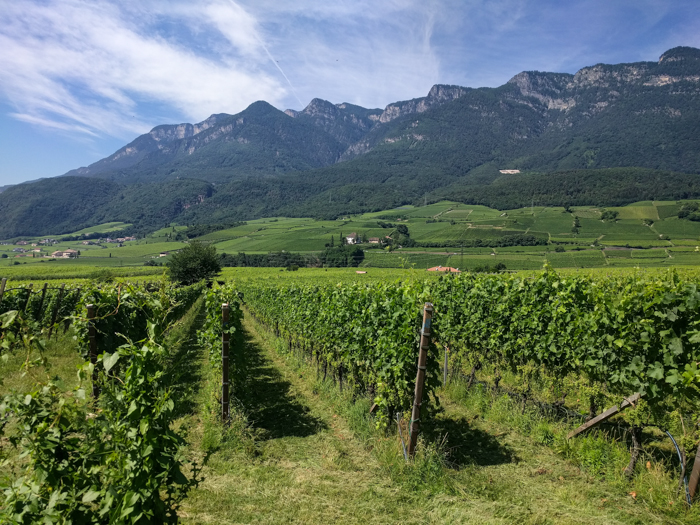 A favorite destination for our custom hiking tours and private bike tours in Italy is the region of Trentino Alto Adige. The terrain accommodates all types of cyclists or trekkers – from flat well maintained bike paths to some of the most challenging climbs in Europe, all offering a view of some of the most spectacular vineyards in Italy. But the view alone is simply the start – the wines of Alto Adige are now receiving well-deserved international attention and accolades.
This region has been producing quality wines for centuries, with evidence of production here dating back to Roman times. This is due to the regions unique location, lying on the southern slopes of the Alps, where the central valleys and south-facing slopes enjoy long sunny days and cool nights, with plenty of breezes to keep the grapes dry during the ripening season.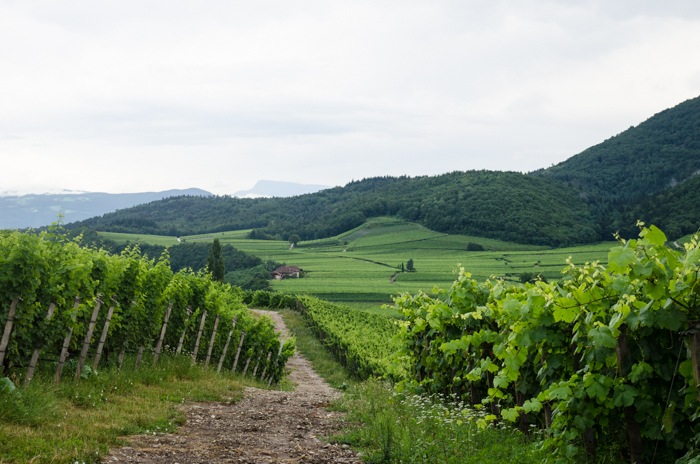 On a recent private bike tour, we cycled along the Sudtirol Weinstrasse, or Wine Road, home to a large number of the top producers in the area. Our destination was Castel Ringberg, located just north of Lago di Caldaro, one of the most important vineyards of the estate of Elena Walch.
In 1985, a young architect named Elena Walch married into one of the leading producers of this region, and took over management of her new family's business. The family owns two prestigious estates; Castel Ringberg, overlooking Lago di Caldaro, and Kastelaz, a south-facing, steep hillside above the village of Tramin. Elena dedicated herself to improving the quality of the vineyards, drastically decreasing the yield. The result are premium wines with superb aromatics and a concentrated fruit character. Their whites, including Pinot Grigio, Sauvignon Blanc, Chardonnay, Riesling and Gewurztraminer, are classic, 'old-world' style, elegant with a crisp acidity. Reds are concentrated and intense, with more fruit and less tannin.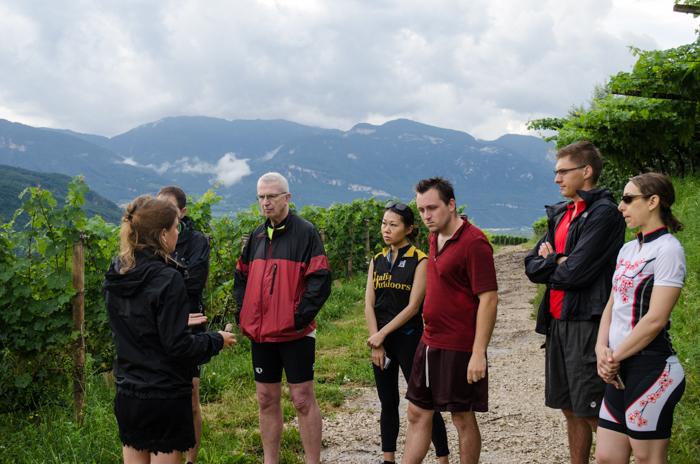 After our ride, we settled in to enjoy a private tour and tasting at their Castel Ringberg estate.  To quote their literature: The philosophy of the estate is dedicated to its terroir – the idea that wines must be the individual expression of their soil, climate and cultivation in the vineyard – and that this must be maintained according to principles of sustainability and passed on to the next generation. The firm belief that the quality of wine is created in the vineyard requires uncompromising work, taking into account the individuality of each vineyard." We saw this dedication to the terroir and sustainability in action during our tour.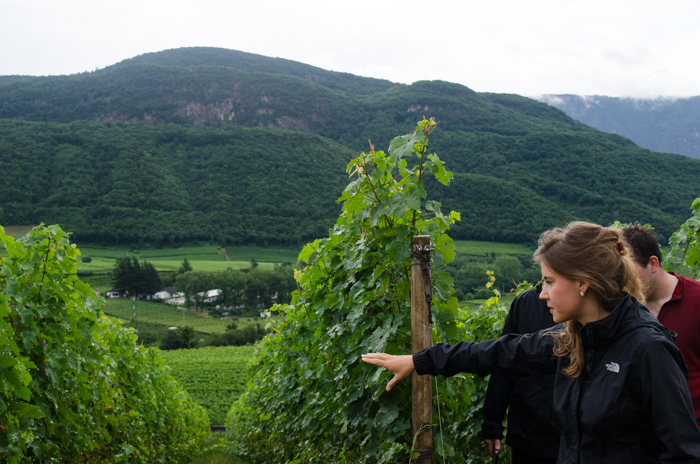 Our tour began in the vineyards of Castel Ringberg, the estate's most important vineyards, located on a hillside about 300 m. Formed by a glacier, the limestone soil that surrounds the estate is quite poor, but this stimulates deep root growth, resulting in better quality wines. Castel Ringberg has the prestigious additional denomination of VIGNA.  The VIGNA designation recognizes the smallest historical / geographical unit of a vineyard. Every single VIGNA must be officially admitted and registered with the regional authorities.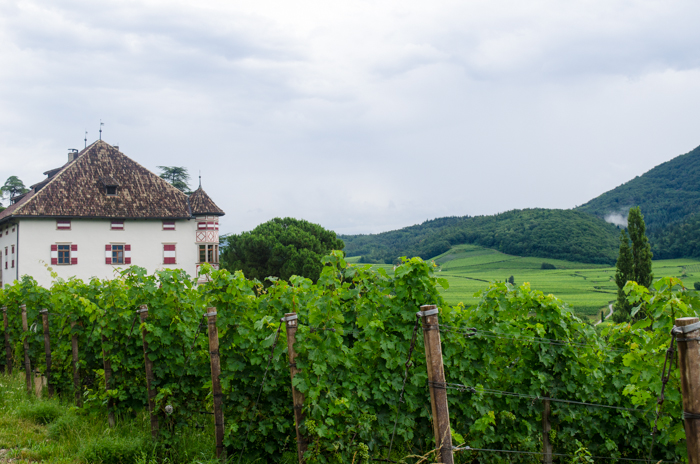 We passed row upon row of vines as our guide Lena described the sustainable cultivation techniques employed by the estate. She pointed out the cover crop that is encouraged to grow between every other row of vines, alternating rows every other year. In the past, these plants would be cut down, due to a misguided perception that they were taking away nutrients from the grapes. Here, the growers recognize that the opposite is true – a diverse mix of plants in the vineyard nourishes the vines. She pointed out the roots nodules of the clover, which are crushed when you step on them, providing much needed nitrogen to the surrounding soil. This cover crop also provides an environment for a diverse population of insects, keeping the unwanted pests at bay.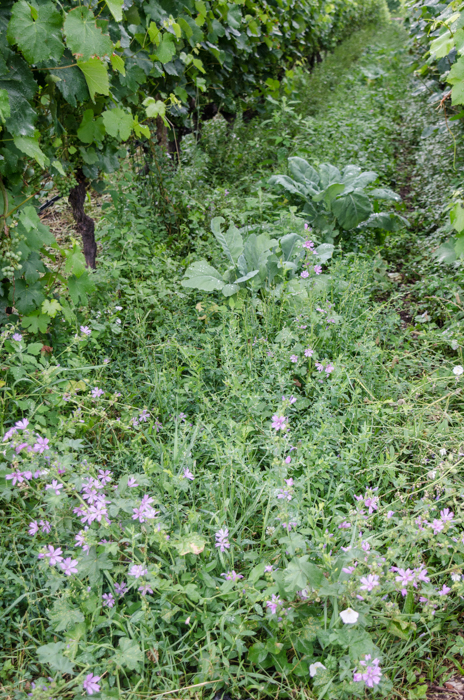 As Vernon and I discuss the unique geography of Italy during our tours, we point out how it has affected everything from its history to its amazing array of foods. The high density of different micro climates allows a wide variety of products to be cultivated within a very small area. Our vineyard tour supplied a first hand demonstration of this as we marveled at the change in the cover crop as we walked – a stroll of about 10 rows presented us with a totally different cover crop, due solely to the change in climate.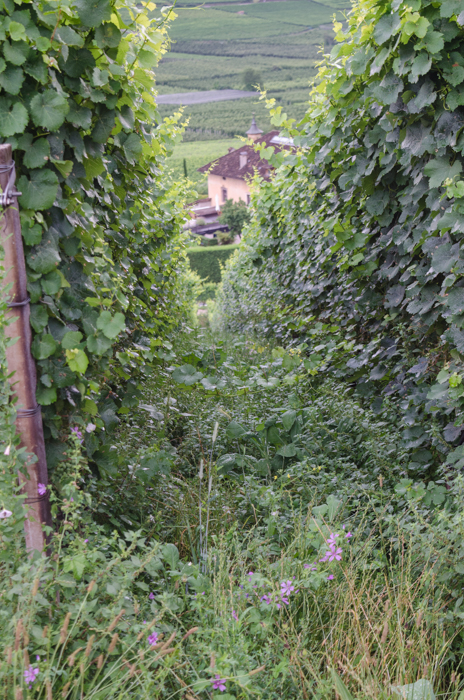 As the first drops of rain began to fall, we headed back to the castle for our private tasting. The castle itself is a lovely building, a perfect setting for a special event. It was originally built as a hunting lodge for the Austrian monarchs, the Habsburgs, in 1620. We settled around a large table to enjoy some amazing wines.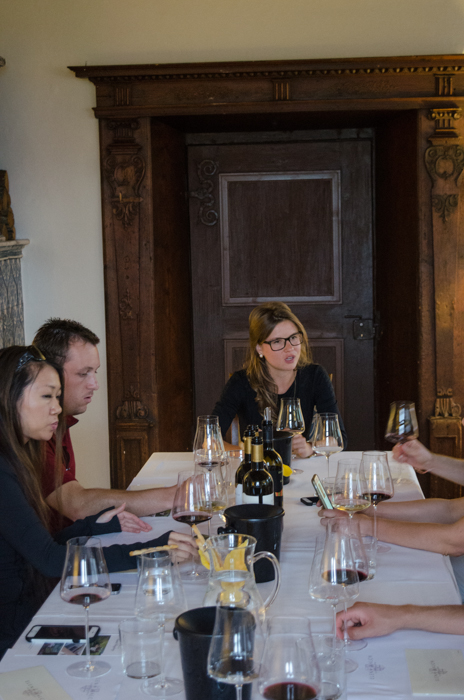 Selezione Pinot Bianco
100% Pinot Bianco, from vineyards in Tramin and Caldaro
Clear, bright yellow, elegant fruit flavors of apples, pears and some herbal notes, with a nice acidity. It is a very versatile wine, and would be wonderful as an aperitif, with mild cheese, with light pasta dishes and fish.
Sauvignon "Vigna Castel Ringberg"
100% Sauvignon, from vineyards of Castel Ringberg
A rich golden yellow with hints of green. It has a lively, fruity nose with herbal notes. Its' flavor is crisp and elegant, a traditional "old world" sauvignon, with less citrus and more notes of elderflower and green pepper. Full bodied and firm acidity. A very sophisticated, well-balanced wine. A great pairing with light pasta dishes, fish and other seafood. Awarded 92 points by James Suckling and 90 points by Wine Enthusiast in 2013.
Gewurztraminer "Vigna Kastelaz"
100% Gewürztraminer, from the estates other VIGNA, Kastelaz
Rich golden color, intensely aromatic, with floral notes and exotic fruit balanced by spices and honey. These components contribute to a complex flavor profile, as you understand why this wine earned the name Gewurztraminer, the spicy wine from Tramin. Well-balanced, creamy and elegant, wonderful with fish and shellfish, as well as spicier dishes. Recognized by numerous organizations including Gambero Rosso (3 bicchieri), Gilbert & Gaillard, James Suckling.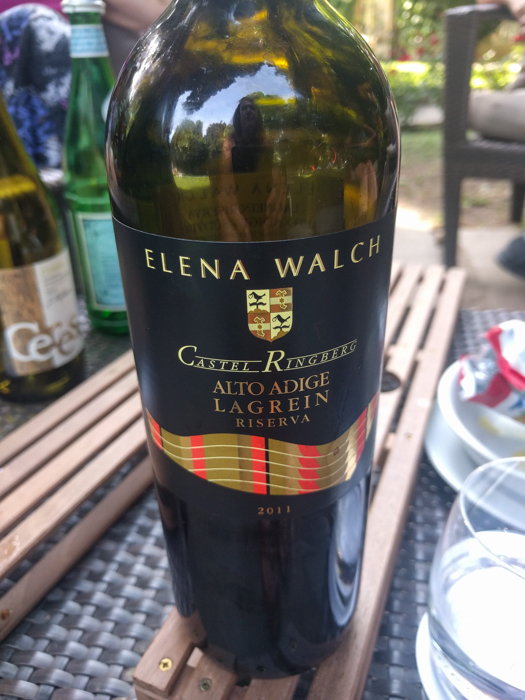 Lagrein Riserva "Vigna Castel Ringberg"
100% Lagrein from vineyards of Castel Ringberg
A deep dark red, this robust rich wine is an amazing play of spice and fruit – berries, dried fruits mixed with smoky chocolate. Robust tannins, a nice acidity and long finish make is a great wine to enjoy with red meats, hearty braises, and aged cheese. Awards from James Suckling, Slow Wine and Wine Advocate.
A wonderful lunch followed our tasting, featuring meats and cheeses all produced by local farmers with 20 km of Tramin. Another memorable day as we explore the less-traveled areas of Italy!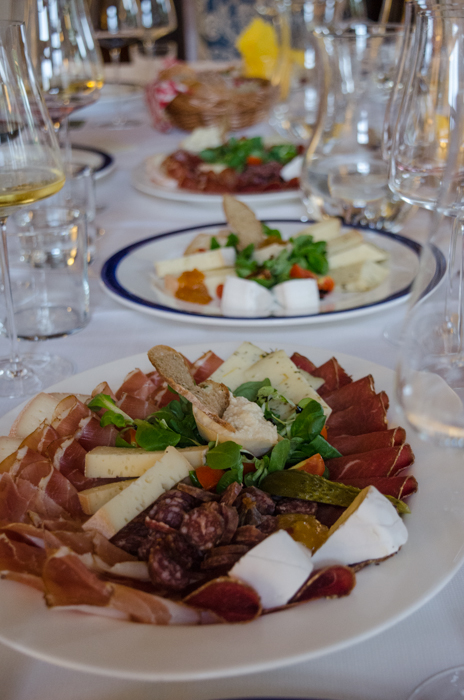 The wines of Elena Walch are available in the US.
Here are some retailers in Washington D.C. that are supporting the brand:
Calvert Woodley, 4339 Connecticut Ave NW, Washington, DC 20008
P&C Market, 1023 E Capitol St SE, Washington, DC 20003
Cork Market, 1805 14th St NW, Washington, DC 20009
Here are some in New York City:
Acker Merrill & Condit, 160 W 72nd St, New York, NY 10023
Alphabet City Wine Co., 100 Avenue C, New York, NY 10009
Alina's Wine & Liquor, 5014 4th Ave, Brooklyn, NY 11220
Astor Wine & Spirits, 399 Lafayette St, New York, NY 10003
Ask at your local wine store – many will be happy to order for you!