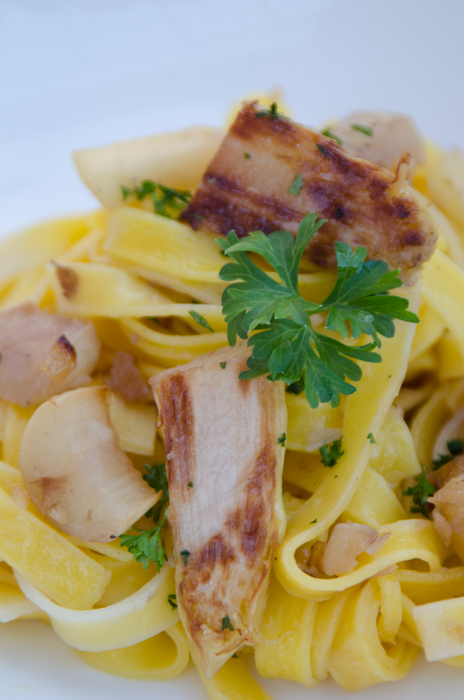 On our April private cycling tour this past week, we feasted daily on the delicacy of the season, the famed white asparagus of Bassano. Appearing from mid-March to mid-June, the oldest legend attributes its introduction to the area hark back to the 1200s,  when Saint Anthony of Padua, who was fond of this asparagus, spread knowledge of the vegetable to Bassano to appease the Lord of the Western Venetian region and nasty tyrant, Ezzelino II da Romano.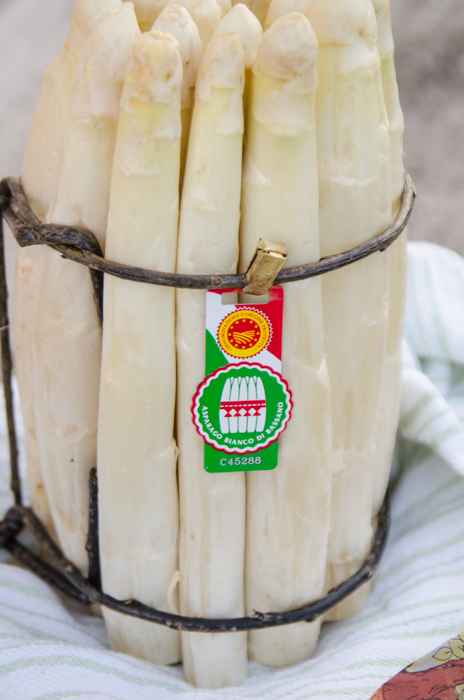 More recently, Ernest Hemingway, during his stint as a volunteer in the Red Cross of the United States during the First World War, so enjoyed the taste of an asparagus dish that he celebrated the plant in his legendary book, Farewell to Arms.
Alongside the Brenta River in Bassano the asparagus found the ideal environment: sandy, soft, well-drained and slightly calcareous soil. The soil type, combined with a particularly mild climate, produces a product recognized for its quality the world over. Its' pale color, tenderness and sweet-sour perfume make it particularly well-suited for rice dishes, soups, pasta and salads.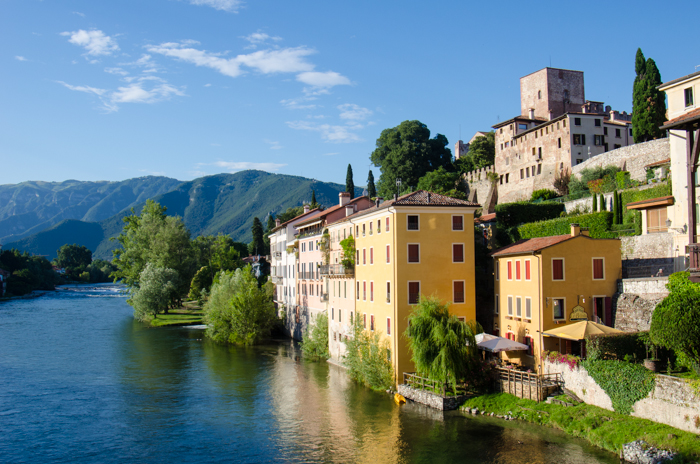 During our week, we enjoyed an asparagus risotto on our first night. Later in the week, we visited a winery with a farm-to-table restaurant that produces their own asparagus. Our antipasti selection included roasted white asparagus with polenta and sopressa. Our primi was a tasting of two pasta dishes – we couldn't make up our minds! Another asparagus risotto, and a pasta carbonara with white asparagus and poppy seeds, made with eggs from their own geese.
The white asparagus has a very different flavor than our green. It is less grassy and earthy, more refined and well rounded, with hint of sweetness. So we find many more recipes for white asparagus that you might for green. The recipe below is an updated version of a classic recipe for Tagliatelle pasta with asparagus, where apples and nuts complement the asparagus, demonstrating the range of possibilities with this versatile delicacy.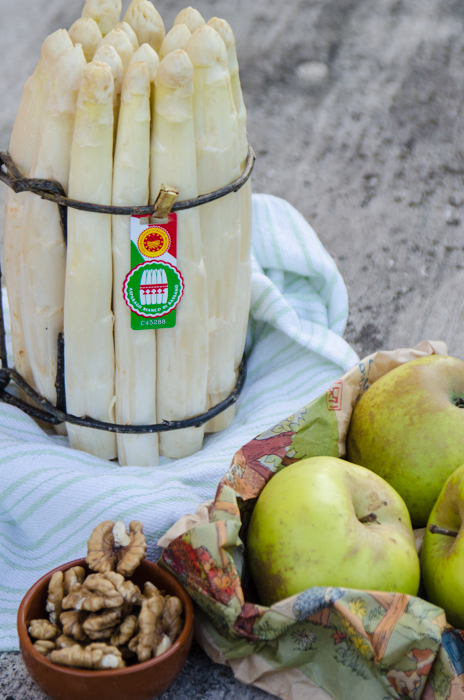 Pairing wines with asparagus is tricky, some of the compounds can make wine taste metallic and harsh. A citrusy, unoaked white is best. Thankfully, the white asparagus is significantly less vegetal than the green, and a bit more wine-friendly. Here in Bassano, I pair it with the local white, Vespaiolo, but this will be hard to find outside of the area.
A Sauvignon Blanc is another good choice, and easy to find. With the white asparagus, I prefer an Old World style Sauvignon (from France, Italy, Spain) which are typically more mineral and herbal than New World style (USA, Australia, New Zealand) which are usually more citrusy. One from Italy I quite like is the Sauvignon from Cantina Terlan in Alto Adige. Probably not a coincidence, as the town of Terlan is know for its local delicacy, white asparagus!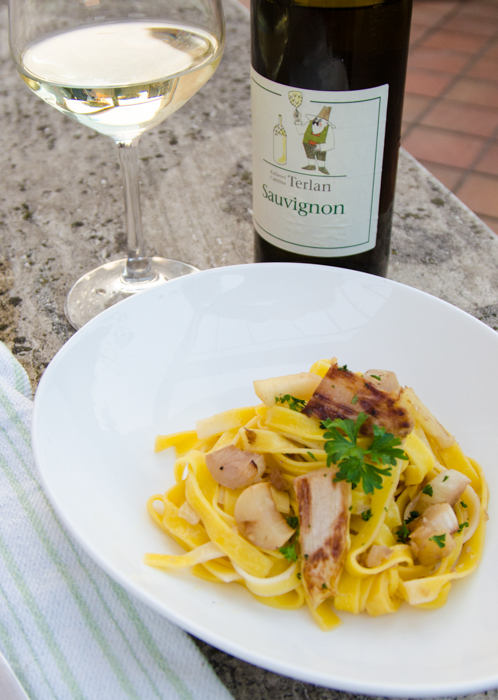 Tagliatelle agli Asparagi, Mele e Noci
Serves 4
1/2 onion, minced
Extra virgin olive oil
1 pound fresh egg tagliatelle or other pasta
12 ounces white asparagus from Bassano, cut into 1/2 inch pieces
1 Renetta apple, peeled and chopped
2 ounces shelled walnuts, chopped
Parsley, minced
Kosher salt and freshly ground pepper
In a large saute pan, pour a bit of olive oil and saute the onion. Add the asparagus pieces and season with salt and pepper. Cooked until the asparagus is tender, about 15 minutes.
Bring a large pot of water to a rolling boil. Add salt. Add the tagliatelle and cook until al dente, which should only be a couple of minutes with fresh pasta. Drain.
Add the apples, nuts, and butter to the pan with the braised asparagus, and cook for a couple of minutes. Add the tagliatelle and stir to combine.
Serve garnished with minced parsley.