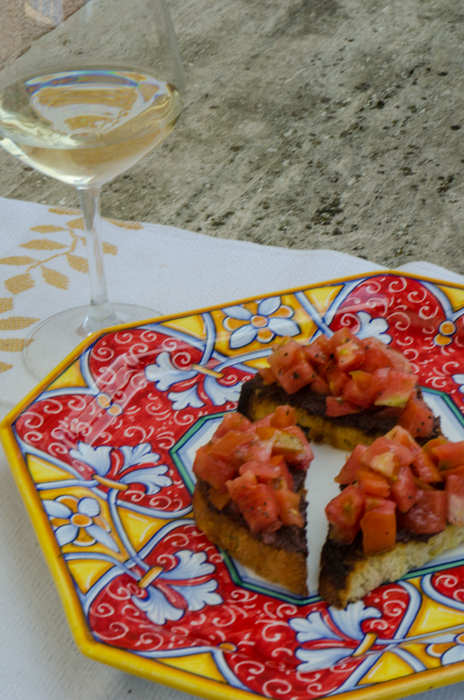 A few years ago I wrote an article here on "Secrets Behind a Great Bruschetta". We made bruschetta this week on our cooking class during our Bike the Amarone Wine Roads cycling tour, and after cooking again with my friend Lucas I have a few more insights to share!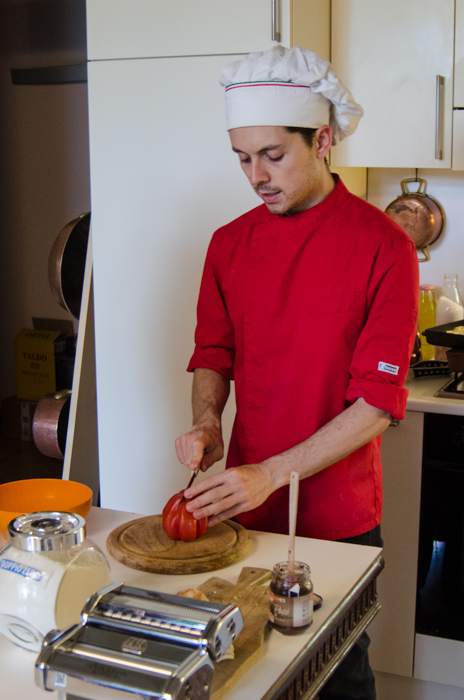 First of all, one of the secrets to the great tomato bruschetta here in Italy is their tomatoes. As early as mid-May I find tasty fresh tomatoes at the market. We have in the US the large Beefsteak tomatoes. In Italy, the equivalent is at the market already, the "Cuore di Bue" or "Heart of Ox" tomato. They are cultivated all over Italy, under different names in the different regions – Pomodoro di Albenga in Liguria, Pera d'Abruzzo in Abruzzo (Pear of Abruzzo). These tomatoes have a characteristic pear-shape, large and irregular with a smooth thin skin. They make a great bruschetta, and other raw tomato dishes, because they have exceptionally fleshy meat, with very few seeds in the pulp – a much more solid consistency than a typical Beefsteak or Heirloom tomato I find here. They also are incredibly tasty.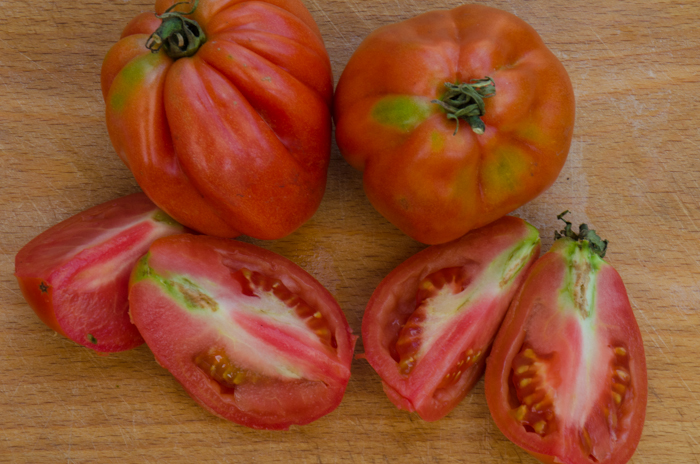 There are many varieties of fruits and vegetables found in Italy that are not cultivated in the US – I see numerous types of radicchio here, white asparagus, artichokes I can eat raw, and these Cuore di Bue tomatoes – which surprises me especially given that tomatoes originally came to Italy from North America! In lieu of Cuore di Bue tomatoes, you can chop up the best eating tomatoes you can find, season them with salt, pepper and oregano as the following recipe instructs, then place the tomatoes in a strainer over a bowl and allow to sit for a couple of hours. The water will slowly drain out, concentrating the tomato flavor.
Lucas recommends a good robust bread for bruschetta, something made with harder wheat like semolina, rather than a lighter baguette. I like to use sourdough breads back in the US. He also adds a layer of olive paste, which we all agreed made a great dish even better!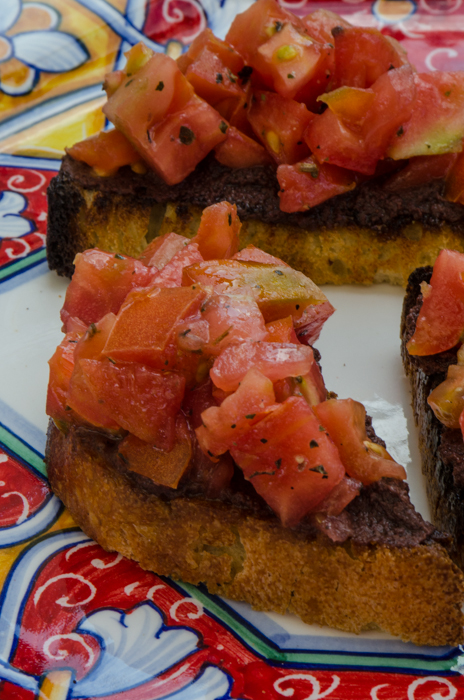 Visit my original post to read the rest of the tips: Secrets Behind a Great Bruschetta.
In Tuscany, where bruschetta is very popular, a nice white to pair would be a Vernaccia from San Gimignano. Here in the Veneto, I chose a wondeful Vespaiolo, a local white grape from the little-known Breganze wine region.
Tomato Bruschetta with Olive Paste
Makes 12 bruschetta
4 fresh tomatoes chopped and without seeds
1 tbsp good quality dried oregano
1 tsp salt
Pepper to taste
4 tbsp olive oil
12 pieces toasted sliced dense bread
Whole garlic cloves
Olive paste (you can find in Italian grocery shops, is very similar to Tapenade. If you can find, just buy your favorite olives and blend in a food processor).
In a bowl mix the chopped tomatoes, oregano, salt, pepper and olive oil.
Rub each slice of bread with the clove of garlic, a lot if you really like garlic, just a little if you don't.
Top each bread piece with the olive paste, and then top with tomatoes. Serve immediately.