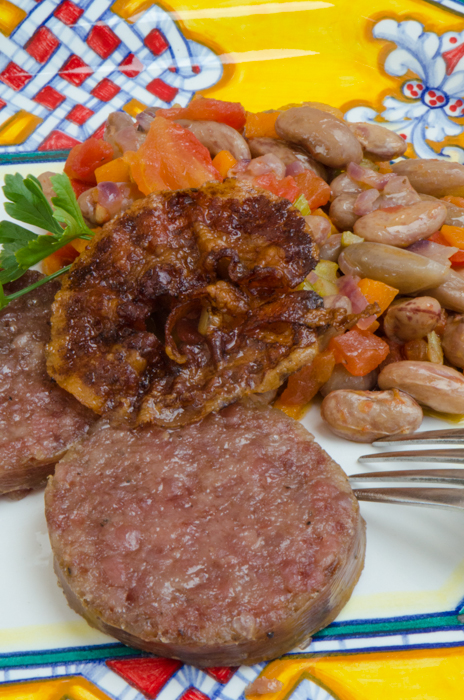 Exploring the local cuisine of the regions we visit on our walking tours and cycling tours in Italy is an important part of creating an authentic Italy experience. No tourist menus, no spaghetti and meat balls. Italians pride themselves on their food knowledge, and part of this is knowing where the best food comes from – what towns produce the best white asparagus, makes the best salumi, or tastiest cheese.
Italian law, as well as EU law, supports this identification of food products (and wines) with a place of origin. This is something we don't have in the US, and in fact ignore as we label cheese as "Asiago" – which is a location in Italy, a lovely mountain plateau in northern Veneto region, and only cheese made there can legally use the name. A great place to explore on foot, enjoying the amazing view of the Veneto plains as we follow the "Giro di Malghe", a walk through the small farms that produce the authentic Asiago cheese.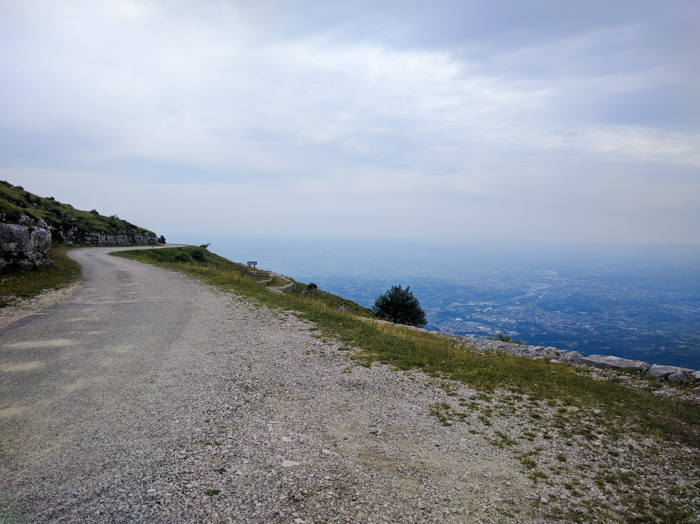 These guidelines are the DOP certification system. DOP is short for Denominazione di Origine Protetta  "Protected Designation of Origin". This certification ensures that products are locally grown and packaged. Some food products have earned this certification, others not quite yet, but this association between product quality and source of origin is a point of pride for every chef we work with in Italy – from restaurant chefs to home cooks. This focus on the very best ingredients is how Italian cooks can create such amazing dishes from a few simple items.
This recipe is a wonderful example. I found it in a recipe book put out by the Veneto tourism board, and the entire book is devoted to the local beans from Posina. The ingredient list illustrates this wonderfully – it doesn't just identify the ingredients, but specifies the origin of many; red onions from Bassano, olive oil from Colli Berici. The following description from the tourism board gives you an idea of the attention Italians pay to their food: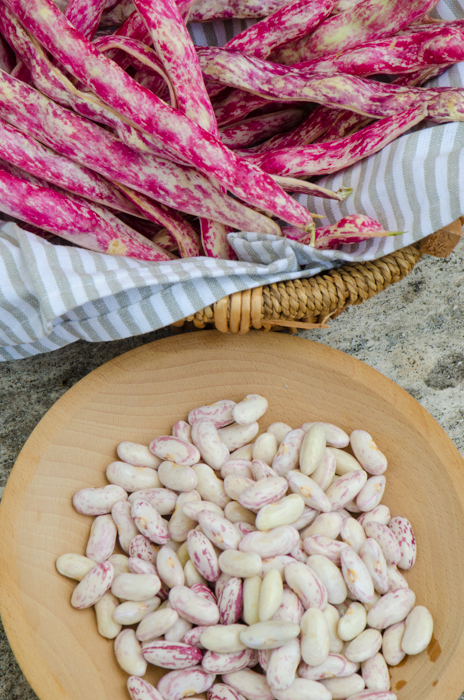 The valley of Astico lies in the heart of the Vicenza province, sheltered by the mountains that separate it from Trentino. In this environment, renowned for its mineral water, grow the beans of Posina, Arsiero and Laghi. Two varieties, Scalda and Fasòla, are cultivated both in the valley and on the slopes. Between the World Wars, Posina beans were sold throughout the country, but today only small amounts are produced. These beans require fresh, well-drained soil, with little clay so that they don't become tough. The Scalda variety is particularly sweet and highly nutritious, with a pleasant, floury texture and a thin pod that withstands heat and keeps it from coming apart in soups. The Fasòla can grow to up to four meters in height and has a vinous scarlet-colored seed with black speckling that is double in size. It has a denser consistency, is best served raw and has a flavor vaguely reminiscent of the chestnut. Both varieties are perfect for a classic dish of this region, a bean soup called Pasta Fagioli.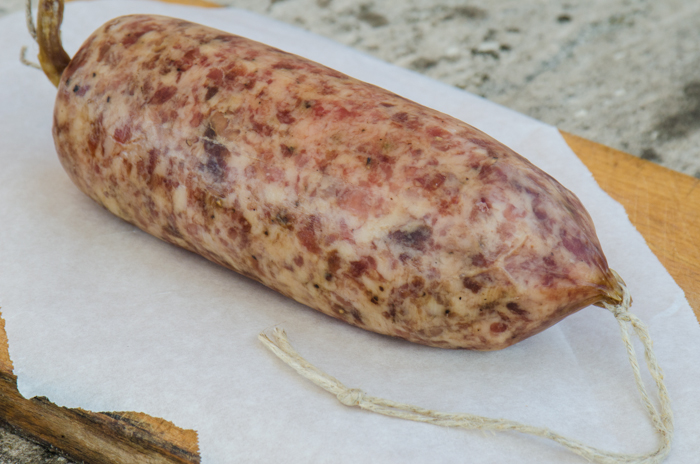 The cotechino featured in the recipe has local ties too – a large salumi found in the northern regions of Emilia Romagna, Lombardy, and the Veneto, and is typically featured in the classic dish Bollito Misto. The name originated from the presence of pork skin (cotica) in varying proportions in the salumi. At one time it was as high as 50%, but today cotechino contains no more than 30%. It is derived from pork parts around the neck and head of the animal, adding a substantial place at the base of the head. It is seasoned with salt, cloves, pepper, and cinnamon. My local butcher described to me how to cook it, submerged in simmering water for a minimum of 2 1/2 hours – not a minute less!
At home, I would substitute a local sausage for the cotechino, and dried borlotti beans for the Fagioli di Posina.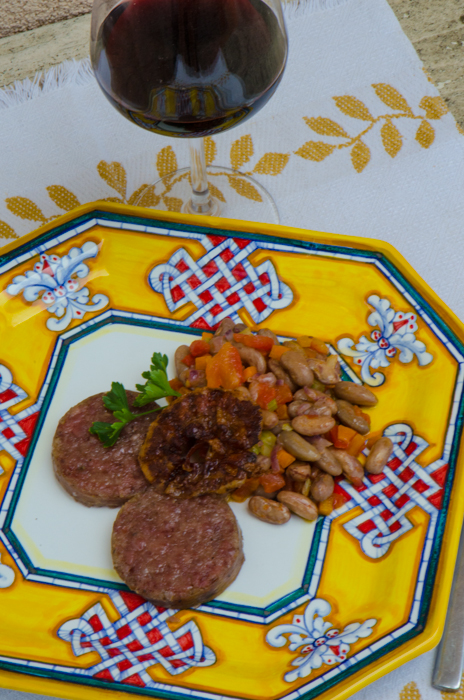 I always pair my dishes with a wine from the same locale – for this dish I recommend a wine from the Colli Berici wine zone in the Veneto, Piovene Porte Godi's Polveriera, a Bordeaux blend made with estate grown grapes.
Cotechino in Umido con Fagioli di Posina
For 4 persons
1 cotechino
1 pound Posina beans
1 red onion from Bassano
1 carrot
1 stalk of Rubbio celery
4 tomatoes, peeled and seeded
1/4 cup extra virgin olive oil from Colli Berici
2 bay leaves
Sea salt and freshly ground pepper
4 slices of pancetta
Poke the cotechino with a toothpick several times. Place the cotechino in a large pan, cover with water and bring to a boil. Reduce to a simmer and cook for 2 1/2 hours.
Meanwhile, in another pot place the beans in plenty of salted water. Add the bay leaves and cook in simmering water until tender. Drain and set aside.
Finely chop the onion, carrots and celery and then saute them in a saucepan with the oil. Combine the vegetables (in Italy this is called a soffrito) with the beans and the tomatoes, then cook for a few minutes. Season with salt and pepper.
Place the slices of pancetta on a sheet pan and broil until crispy.
Pour the beans into a large oven proof frying pan. Cut the cotechino into 1/2 inch slices and add to the pan. Place in a 250°F for 20 minutes. Serve, topped with a crisp pancetta slice.