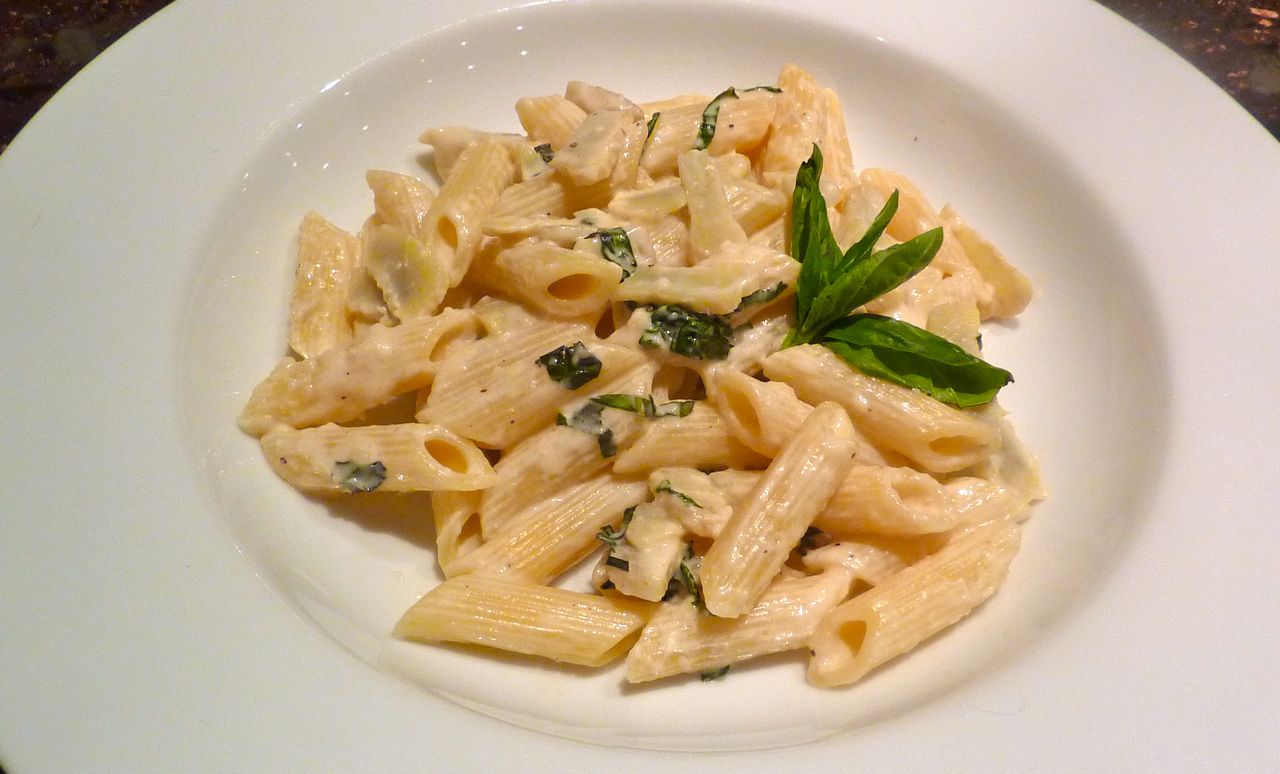 This recipe had several inspirations – first of all, the discovery of LOCAL artichokes at Tendercrop Farm in Newbury, MA. A first for me in New England, I must say! Second, the markets we see along our bike tours of the Veneto with their wide variety of artichokes, including tubs full of trimmed hearts, allowing the cook to enjoy fresh artichoke hearts without the labor intensive preparation. Thirdly, looking through The Splendid Table, by Lynne Rosetto Kasper, an award winning cookbook on the cuisine of Emilia Romagna, I discovered a recipe for tortelloni stuffed with artichokes and mascarpone. Well, trimming the artichokes was enough labor for me, so instead of a stuffed pasta I applied the same combination to create a sauce that I then served over penne rigate. If you use canned artichoke hearts, this becomes a very simple, quick recipe.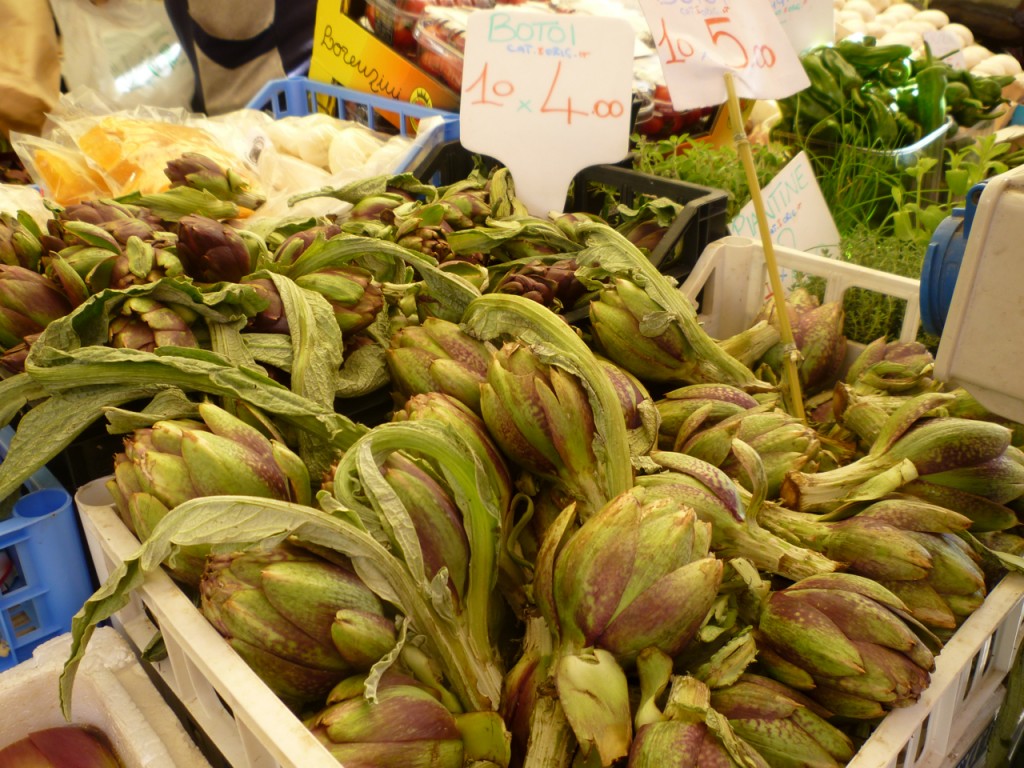 Lynne Rosetto Kasper developed her stuffed tortelloni recipe to reproduce the original which she discovered in Tamburini, a gourmet store in Bologna. Their pasta stuffing was a combination of artichokes, mascarpone, and fresh white truffles. If you are lucky enough to have a white truffle, you could shave that on top of the pasta – for those of us without a pig, I've suggested a drizzle of white truffle oil as a final garnish.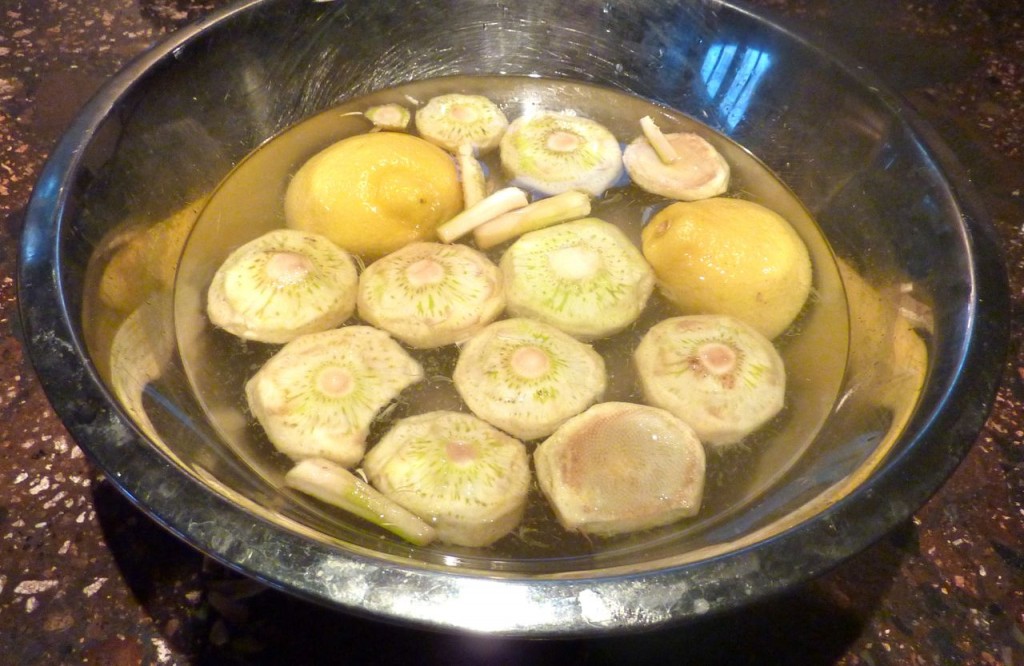 On our Italiaoutdoors Food and Wine web site, I am compiling some details on the foods and wine of the regions in Northern Italy. I just added some background on artichokes, and there you will find a description and pictures of how to trim the artichokes for cooking, just as they do in the markets of the Veneto.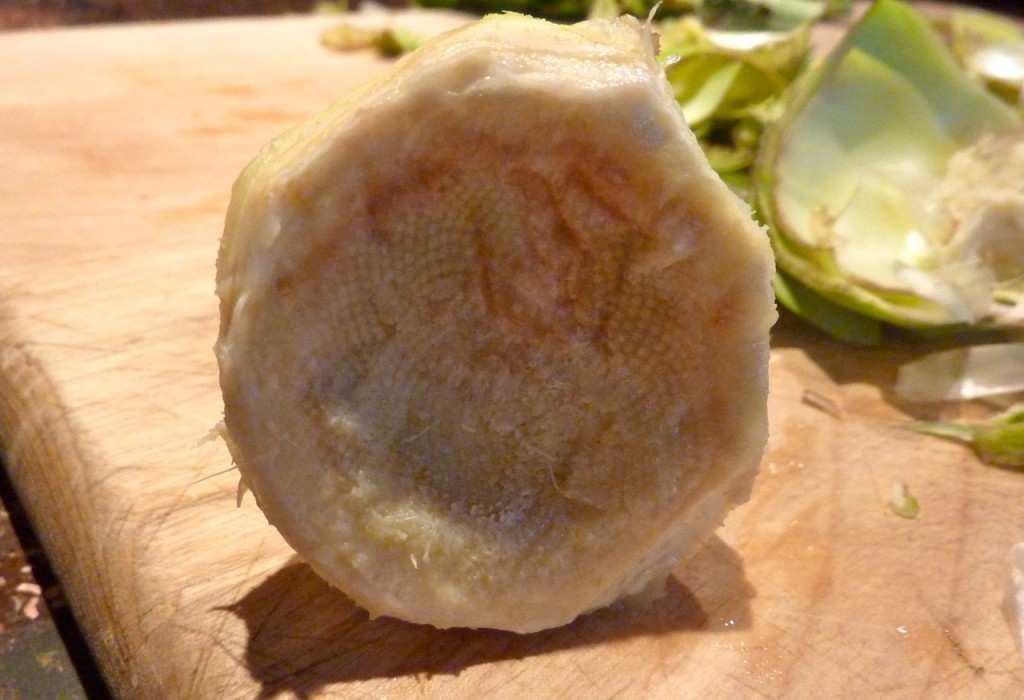 For another pasta with artichoke recipe, check out Oui, Chef for a great version with shrimp.

Pasta with Artichokes and Mascarpone (Penne con Carciofi e Mascarpone)
Serves 4 as a first course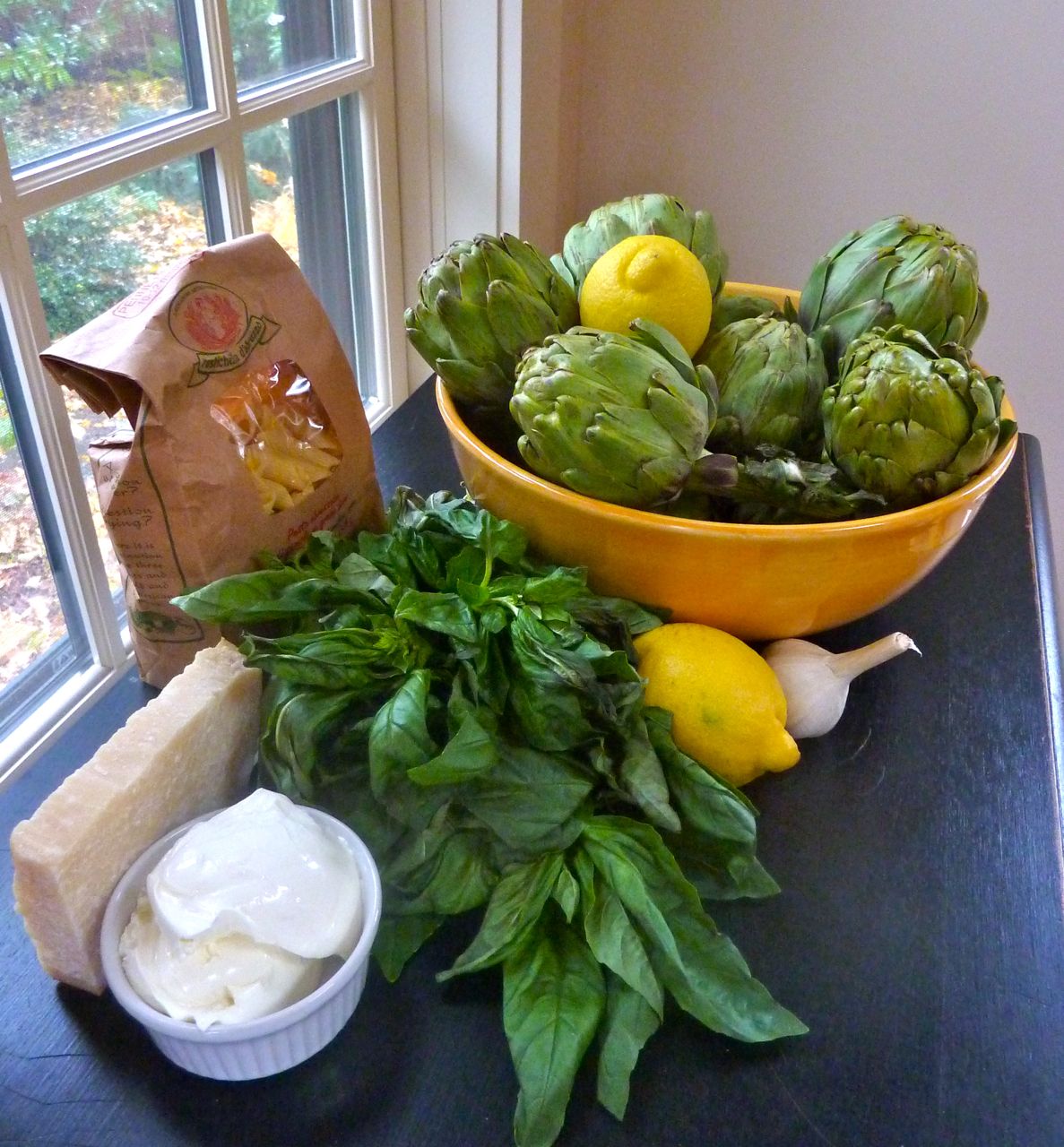 8 trimmed, raw artichoke hearts, soaking in 1 1/2 cups acidulated water

3/4 cup white wine
2 cloves garlic, smashed
Sprig of basil
Sprig of mint
or:
8 canned artichoke hearts
1 tablespoon lemon juice
for both:
6 ounces mascarpone
1 clove garlic, minced
3/4 cup grated Parm

igiano-Reggiano

cheese
10 leaves basil, chiffonade (thinly sliced)
Kosher salt and freshly ground pepper
1 pound penne rigate or similar dried pasta
4 small whole basil leaves
White truffle oil (optional)
If you are using raw artichoke hearts, you must cook them before continuing with the remainder of the recipe. If you are using canned hearts, you can skip on to the step in which you slice the cooked artichokes.
For the fresh, raw artichoke version: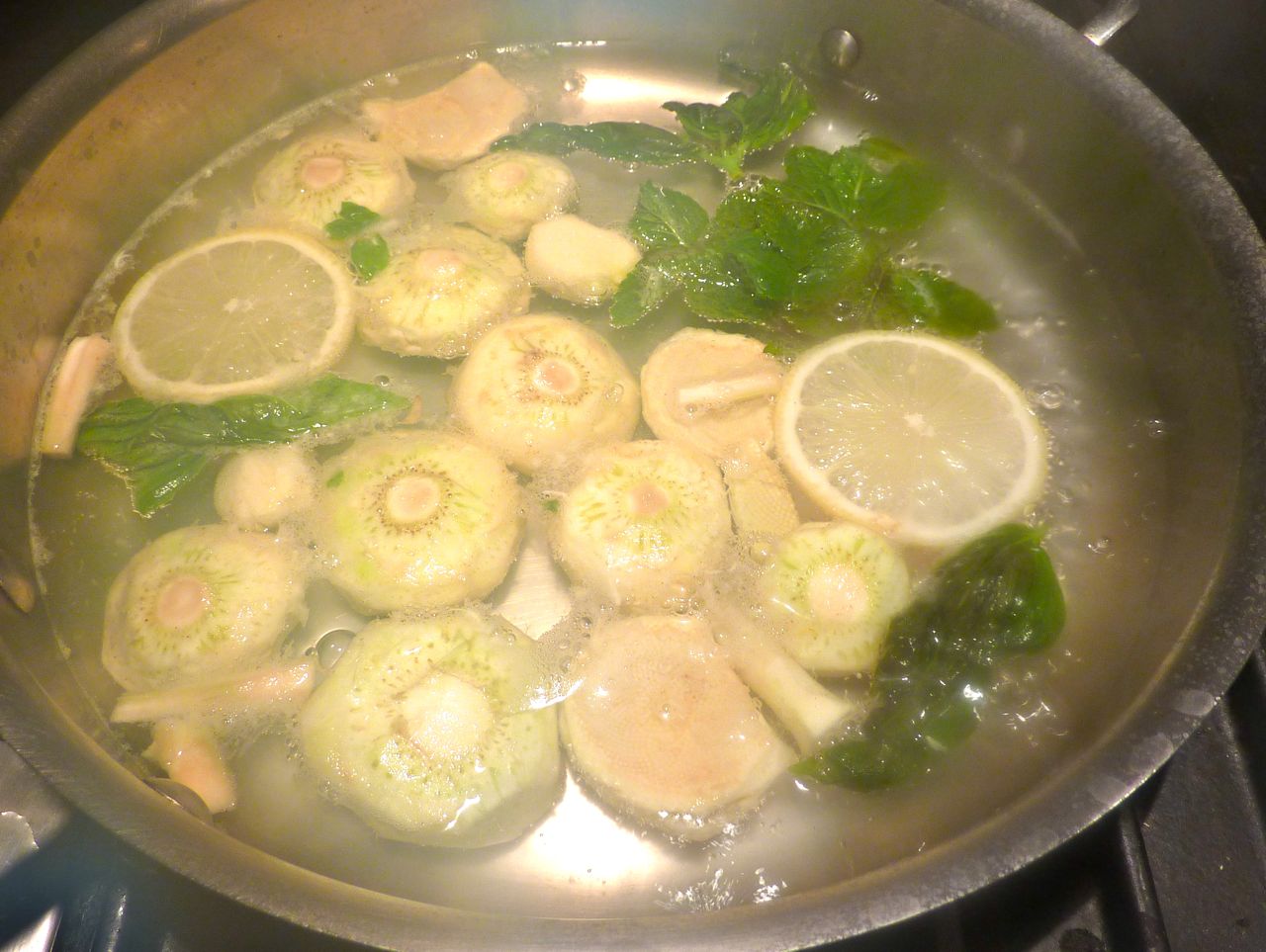 Place the 8 raw artichoke hearts and the acidulated water into a large saute pan. Add the white wine, garlic cloves, basil and mint. Bring to a boil, then reduce the heat and simmer until the hearts are tender enough to be pierced with a skewer, about 20-25 minutes. If your hearts are quite different in size, they may not all be done at the same time. As they finish cooking, remove the hearts and set aside. When all have been removed, use a slotted spoon to extract the garlic cloves and herbs from the cooking liquid. Increase the heat, and reduce the liquid to a glaze, 1 to 2 tablespoons.
For both canned and fresh versions: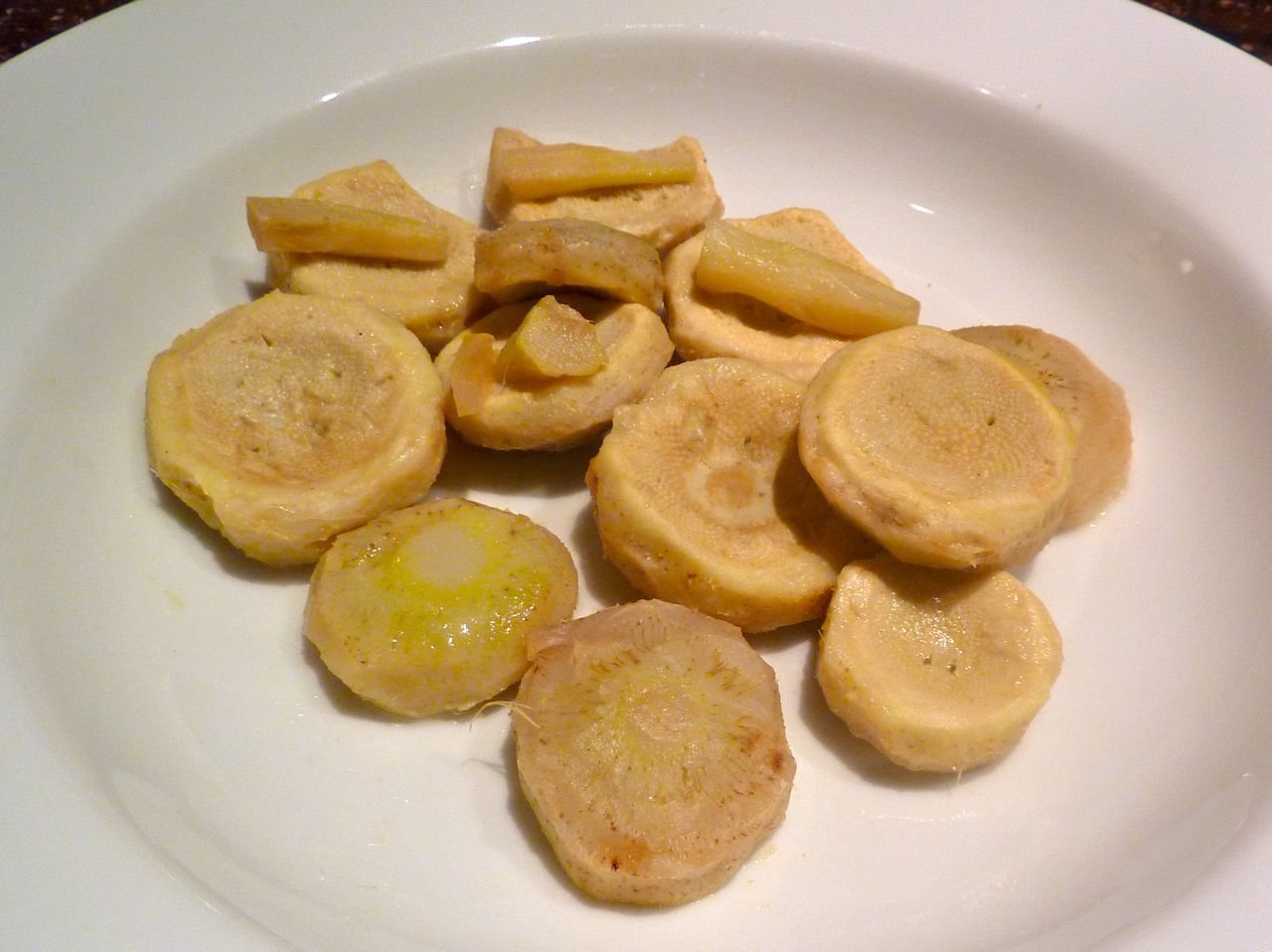 Thinly slice the artichoke hearts.
Bring a large pot of water for the pasta to boil over high heat.
If using canned artichokes, add the 1 tablespoon lemon juice to a large saute pan. If using the raw artichokes, use the saute pan in which you cooked the artichokes, as the remaining glaze will replace the lemon juice. For either option, heat the pan over medium heat.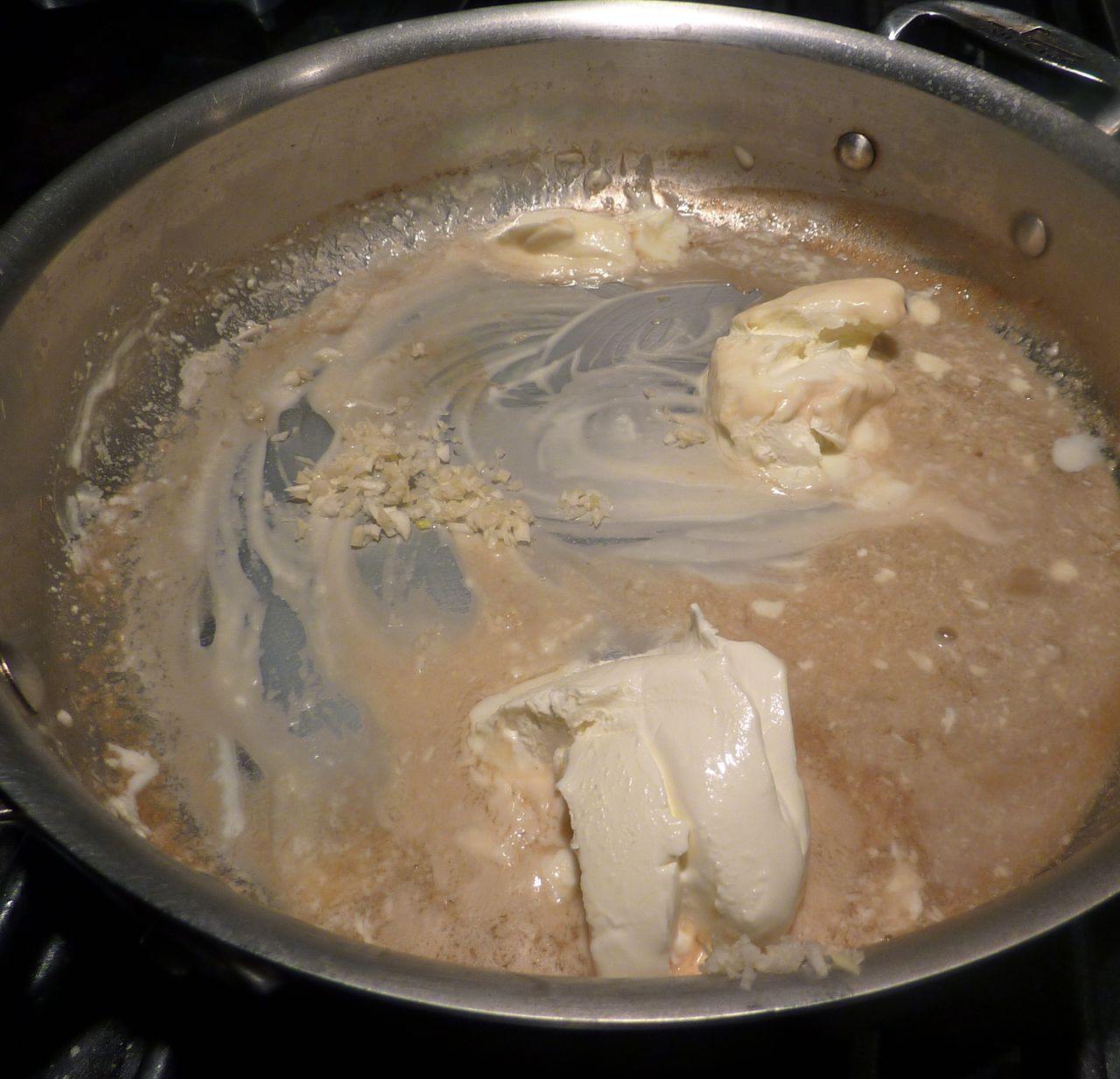 Add the mascarpone, stirring as it softens. Add the garlic and cook for 1 minute. Add the sliced artichoke hearts and the Parmegiano-Reggiano cheese. Stir until combined into a smooth sauce. Season with basil, salt and pepper.
When the pasta water is boiling, add salt, return to a boil, and then add the pasta. Cook until al dente. Remove and drain, reserving 1 cup of pasta cooking water. Add the drained pasta to the sauce in the saute pan, stirring to combine. If the sauce seems a bit thick, you can use a little of reserved pasta cooking water to loosen it up a bit, but this may not be necessary.
Serve in four bowls, garnished with a basil leaf and a drizzle of truffle oil.