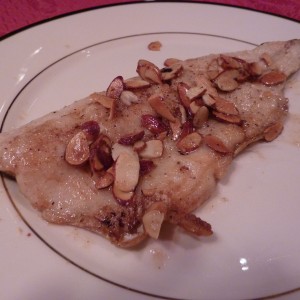 The freshwater lakes of Trentino and Friuli-Venezia Giulia abound with many varieties of trout. The northern provinces of Friuli not only produce more trout than any other region of Italy, they also consume more of it than any other region. In Friuli, trout is found in both the rivers and in lakes near San Daniele and Venzone. In Trentino, there are approximately 70 trout farms along the Avisio, Brenta, Chiese and Sarca rivers. The first trout farm was established in Val Rendena in 1902, and the introduction of rainbow trout occurred even earlier.
The Trentino Trout Farmers Association unites fifty or so trout farmers who are dedicated to continual improvement of breeding techniques and developing the highest quality product. These farmers produce not only the adult fish for consumption, but trout eggs for breeding purposes, which requires special conditions on the farm and an all natural diet. This association, known as ASTRO, also handles selling and distributing the Trentino trout to specialized shops in Northern Italy, Austria and Germany. A major objective of this association is achieve the 'certification' of trout farming in Trentino, so that Trentino trout will be included under the Trentino products trademark now being established.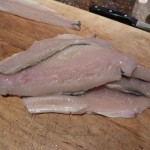 There are several different trout species found in these regions; most common these days are rainbow trout, which were actually imported from North America. Also present are lake trout, brook trout, and the marbled trout.
For centuries, trout, salmon and herring have been smoked in order to preserve them. Today, the area around San Daniele in Friuli-Venezia Giulia has become known for its high quality smoked fish products, which are now being exported. The producers of these high quality smoked products use the extremely fresh fish available from their local lakes in conjunction with traditional smoking techniques to obtain the highest quality products.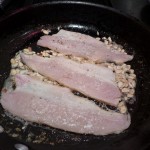 The following recipe is a very simple preparation – trout pan fried in butter, with a little grappa for a bit of a kick. Olive trees are not common in these Northern regions, so butter is used. Grappa is the most famous distillate of Friuli and Trentino. The almonds are my own addition, and not necessarily something hailing from this region. But I have vivid memories of a visit to New Orleans when I was 20, to visit my father who was enjoying a sabbatical at Tulane. He was very happy to have his two oldest daughters' visit and join him as he explored the restaurants. We had a great meal at Galatoire's, with a trout almondine.
Trout with Grappa and Almonds
Serves 4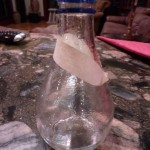 4 whole trout, heads removed, boned, and cut into 2 fillets each
kosher salt and freshly ground pepper
1/4 cup flour
2 tablespoons butter
1 clove garlic, minced
2 tablespoons grappa
1/4 cup sliced almonds
Season the fillets with salt and pepper. Dredge in the flour, shaking to remove the excess.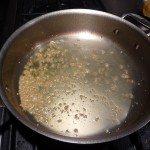 Cook the 8 fillets in two batches in a large saucepan. Over medium high heat, melt half of the butter. Add half the garlic, half the grappa and half the almonds. Place 4 fillets in the pan, skin side down. Cook for 2 minutes or so, then flip. Cook until just done. Remove fillets from pan and place on warm plate. Top with almonds and butter from pan.
Repeat with the remaining fillets. Serve.