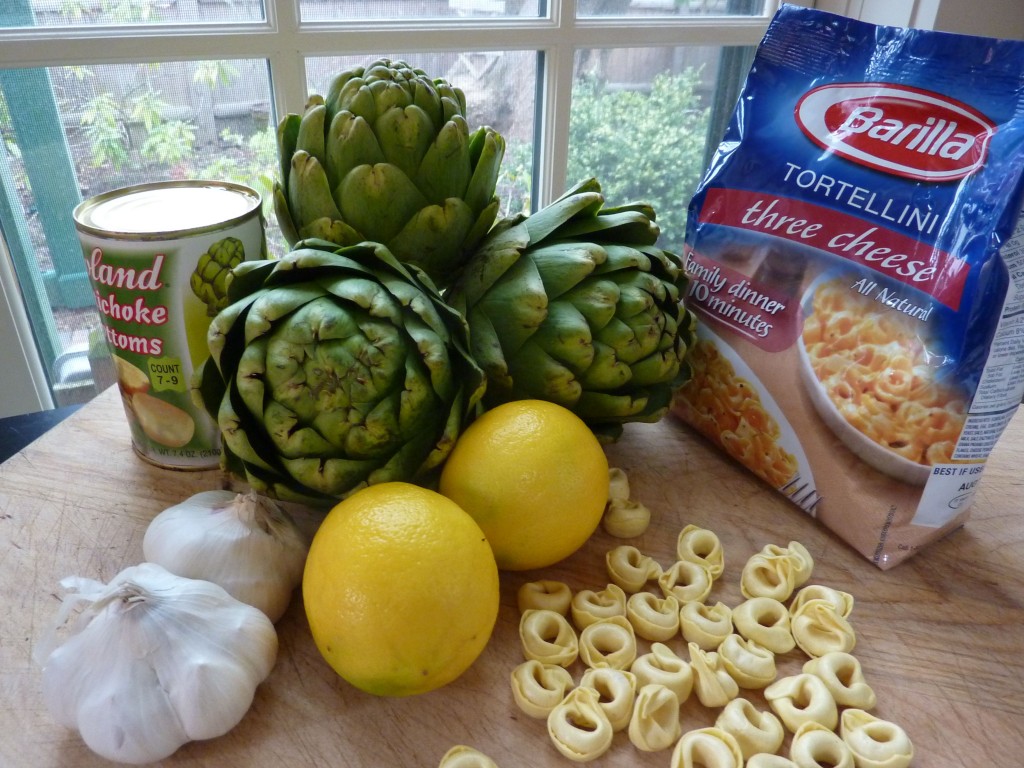 Tortellini, and their larger relative, tortelloni, are homemade stuffed pastas originally from the Emilia-Romagna region of Northeastern Italy. This region is renowned for its' many wonderful varieties of stuffed pastas, which date back to the Middle Ages. In Bologna, these small 'dumplings' are referred to as tortellini; in the Romagna provinces of Rimini, Forli and Ravenna they are called cappelletti, or "little hats". Traditionally, these pastas were handmade in the home kitchens of this region, often to serve as a Sunday lunch dish. Pasta dough is made from two simple ingredients: eggs and soft-wheat flour, with the addition only of spinach or chard should a green pasta be desired. The dough is kneaded until soft and smooth, then rolled out with a long rolling pin until almost transparent. It is then sliced into strips for square shapes, or cut into circles for rounded shaped pasta.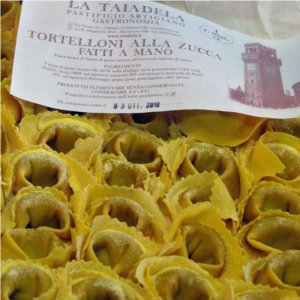 A 'traditional' stuffing recipe would not have made much sense to a woman making her own Sunday lunch tortellini – the stuffing would be made from whatever leftovers were on hand. And you would not purchase these from a store; who could know what would be inside! But today, busy lifestyles are the norm worldwide, and both here and in Italy homemade pastas are becoming a lost art. But luckily, specialty stores and even large multinational pasta companies are producing their own versions of these stuffed pastas, making them even more popular today than ever. No longer do we need to wait for Sunday lunch to enjoy these!
Tortellini are synonymous with Bologna, and Bologna's own Learned Confraternity of the Tortellino has arisen to ward off the ersatz imitators who may want to capitalize on the popularity of this favorite traditional dish. Tortellini alla bolognese is the classic dish, traditionally served in capon broth. The Confraternity specifies all the pertinent details involved in producing the traditionally correct version of this – including the size of the pasta squares (3.7 cm), the filling recipe, which includes mortedella, prosciutto, parmesan, eggs, nutmeg, and pork loin that has been allowed to sit for two days in a mixture of salt and herbs before being cooked in butter. A small dollop of the filling is placed in the center of one of these 3.7 cm squares, then the square is folded in half diagonally, forming two triangles. The edges are then pressed together and sealed with a bit of water or egg.
To shape the final tortellini, one would pick up a triangle by the folded over end, with the tip pointing up toward the ceiling, and wrap that folded end around your index finger, preferably an index finger that is 18 millimeters in diameter (thanks again to the Confraternity for this detail.) Bring the two corners together and pinch to seal. Slip it off of your finger, and place on a floured sheet pan. Repeat with the remaining tortellini.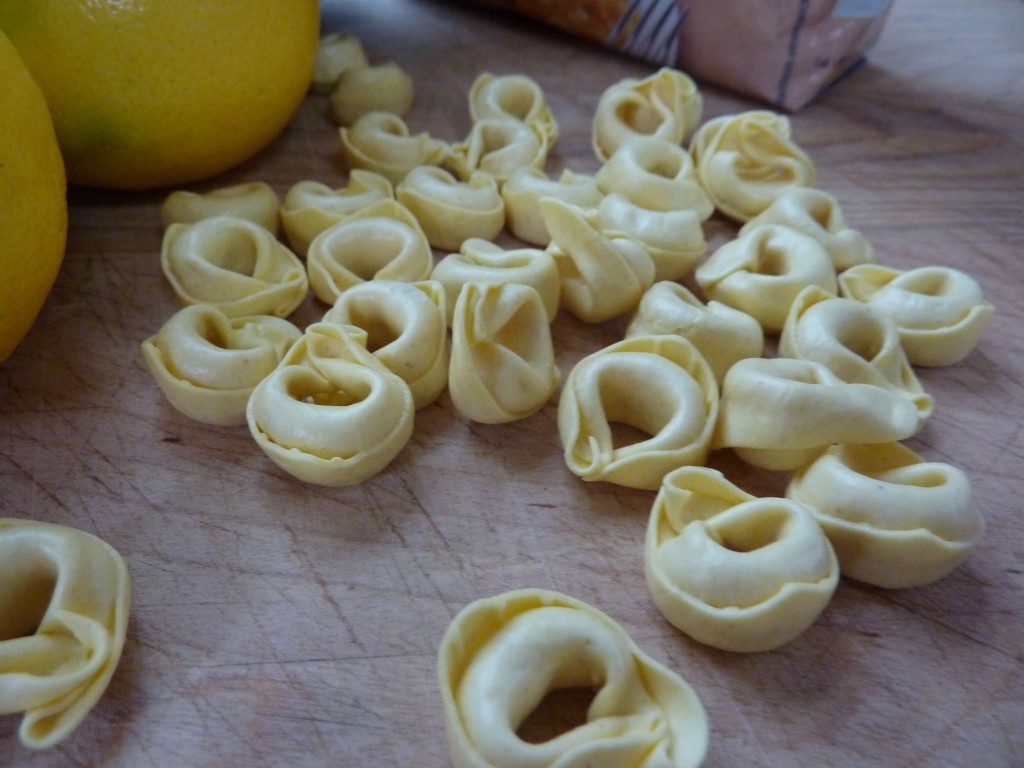 At this point, we can all appreciate why this labor-intensive task is unfortunately disappearing. Even when I go to the effort of making my own stuffed pastas, I usually opt for a larger and easier shape to form. But here I've used some packaged tortellini (Barilla) to create these two spring pasta dishes – same flavors in each, but a little change in preparation creates two different dishes.
Lynne Rosetto Kasper, author of The Splendid Table, developed her stuffed tortelloni recipe to reproduce the original which she discovered in Tamburini, a gourmet store in Bologna. Their pasta stuffing was a combination of artichokes, mascarpone, and fresh white truffles. It is currently pea season in the Veneto region of Northern Italy, a neighbor of Emilia Romagna, and the home of the first business to produce and distribute pre-made tortellinis. So I thought peas would be a nice addition here.
If you are lucky enough to have a white truffle, you could shave that on top of the pasta – for those of us without a pig, I've suggested a drizzle of white truffle oil as a final garnish.
On our Italiaoutdoors web site, you will find a description and pictures of how to trim the artichokes for cooking, should you choose to use fresh artichokes. Trimmed artichokes were found at just about every market we visited last year on our culinary bike trips, the vendors would pass the time between customers trimming artichokes and adding them to the basin of lemon water.
So here you are, a tortellini with sauce, and a baked tortellini version – let me know which one you prefer!
Tortellini with Artichokes, Peas, Mascarpone and Mint
Serves 4
4 trimmed, raw artichoke hearts, soaking in 1 1/2 cups acidulated water
3/4 cup white wine
2 cloves garlic, smashed
Zest of one lemon
Sprig of basil
Sprig of mint
or:
4 canned artichoke hearts
1 tablespoon lemon juice
Zest of one lemon
1 tablespoon extra virgin olive oil
1/2 cup white wine
for both:
8 ounces mascarpone
1 clove garlic, minced
4 artichoke hearts, thinly sliced
1/2 package (5 ounces) frozen baby peas, defrosted
3/4 cup grated Parmigiano-Reggiano cheese
10 leaves mint, chiffonade (thinly sliced)
Kosher salt and freshly ground pepper
1 pound tortellini
4 whole small mint leaves
White truffle oil (optional)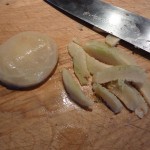 If you are using raw artichoke hearts, you must cook them before continuing with the remainder of the recipe. If you are using canned hearts, you can skip on to the step in which you slice the cooked artichokes.
For the fresh, raw artichoke version:
Place the 4 raw artichoke hearts and the acidulated water into a large saute pan. Add the white wine, garlic cloves, lemon zest, basil and mint. Bring to a boil, then reduce the heat and simmer until the hearts are tender enough to be pierced with a skewer, about 20-25 minutes. If your hearts are quite different in size, they may not all be done at the same time. As they finish cooking, remove the hearts and set aside. When all have been removed, use a slotted spoon to extract the garlic cloves and herbs from the cooking liquid. Increase the heat, and reduce the liquid to a glaze, 1 to 2 tablespoons.
For both canned and fresh versions:
Bring a large pot of water for the pasta to boil over high heat.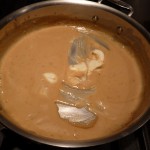 If using canned artichokes, add the lemon juice, zest, olive oil and wine to a large saute pan. Cook until reduced to a glaze. If using the raw artichokes, use the saute pan in which you cooked the artichokes, as this contains the glaze, ready to use.
Add the mascarpone, stirring as it softens. Add the garlic and cook for 1 minute. Add the sliced artichoke hearts, peas, and the Parmegiano-Reggiano cheese. Stir until combined into a smooth sauce. Season with the mint, salt and pepper.
When the pasta water is boiling, add salt, return to a boil, and then add the tortellini. Cook until al dente, about 5-6 minutes. Remove and drain, reserving 1 cup of pasta cooking water. Add the drained tortellini to the sauce in the saute pan, stirring to combine. If the sauce seems a bit thick, you can use a little of reserved pasta cooking water to loosen it up a bit, but this may not be necessary.
Serve in four bowls, garnished with a mint leaf and a drizzle of truffle oil.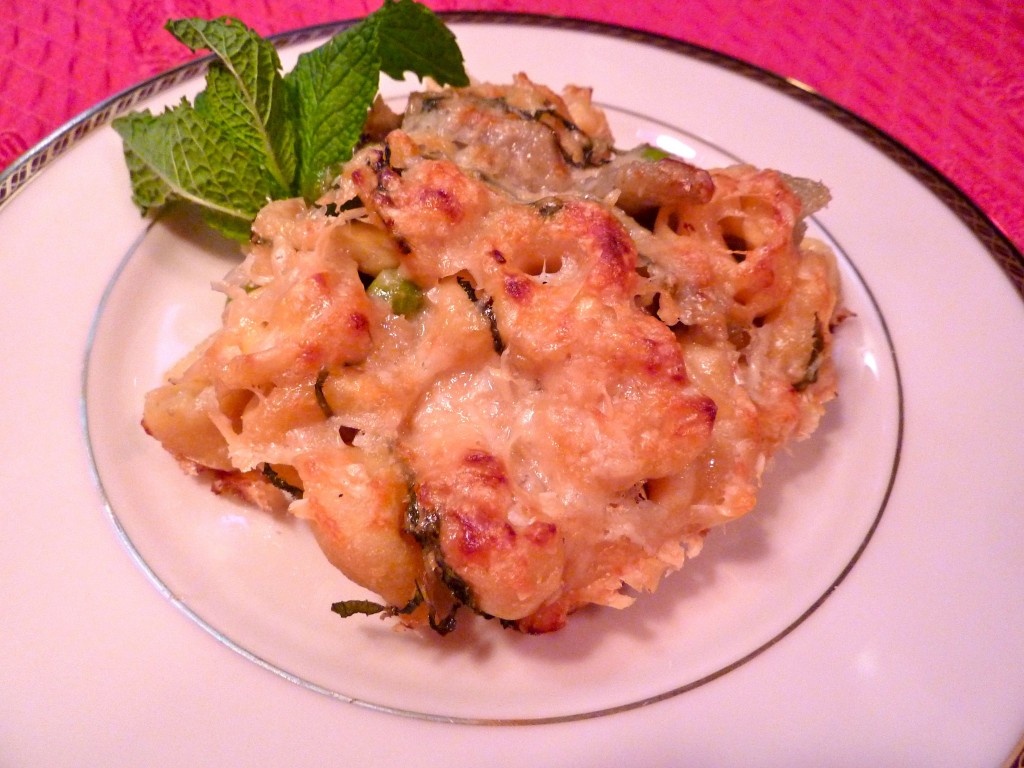 Baked Tortellini with Artichokes, Peas, Mascarpone and Mint
Same ingredients, with an additional 1/2 cup grated Parmigiano-Reggiano cheese.
Preheat the oven to 400°.
Complete the recipe above, but instead of serving the pasta in four bowls, pour the tortellini and sauce into a casserole pan. Top with the 1/2 cup grated cheese. Bake until bubbling and golden brown, about 15-20 minutes. Place for a minute or two under the broiler if the top is not browned to your liking. Serve, with an optional drizzle of truffle oil.
I think these various additions would be wonderful as well!
A bit of sliced prosciutto, added into the sauce
Smoked salmon
Asparagus