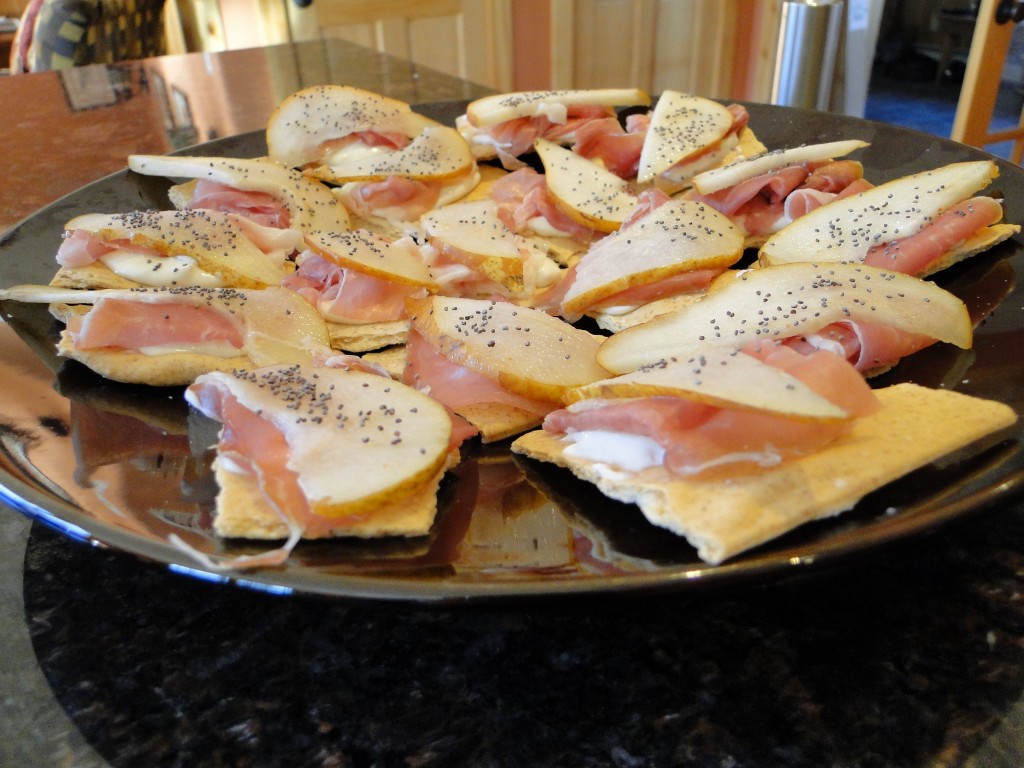 Americans are very familiar with the Prosciutto di Parma, but there are many other wonderful hams produced across Italy that are virtually unknown to us. We sampled the great Prosciutto Berico-Euganeo and a few types of speck on our culinary bike trips last season. But there are many more to discover, especially in the mountains of Trentino and Friuli-Venezia Giulia.
Hundreds of years ago, the first settlers to the area known today as Friuli-Venezia Giulia were the Celts and the Carni, both Celtic peoples who settled in the mountains here. They brought with them their methods of preserving hams, and their expertise enabled them to recognize that this area, located between the mountains and the Adriatic sea, provided the perfect climate for air drying of these hams.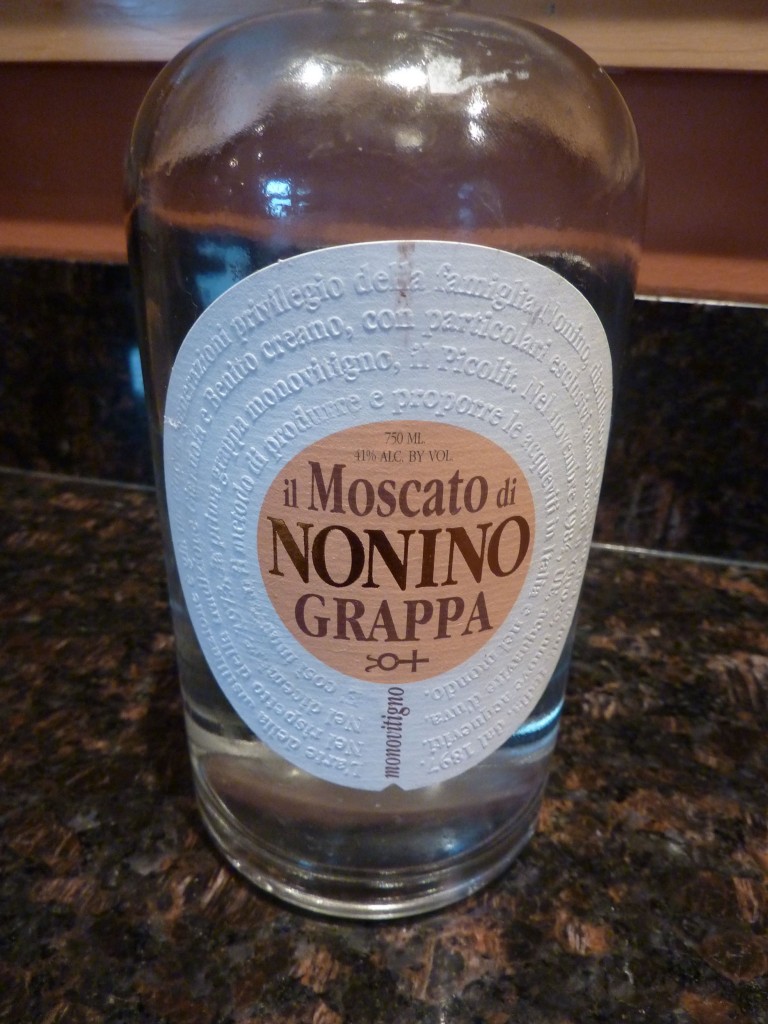 I am still struggling to understand the difference between a 'prosciutto' and 'speck'. I have been told, and read, that prosciutto is brined, salted, and air dried, while speck is smoked.  In my recent readings on the Prosciuttos found in Fruili-Venezia Giulia, the difference between the two is said to be that a speck is a prosciutto with the bone removed, so both prosciuttos and speck can be smoked, or not.  I admit to being mystified. But I don't worry too much about the definition, and just enjoy using these wonderful hams. For more information on this Prosciutto di Sauris, visit our food and wine section of our Italiaoutdoors Food and Wine web site.
This hors d'oeuvre recipe was inspired by the great mountain flavors of Northeastern Italy – pears from their orchards, a amazing prosciutto (or speck), and finally a little touch of grappa to add a bit of a kick to the cheese spread. It's also quite a pretty and delicious addition to any antipasti platter.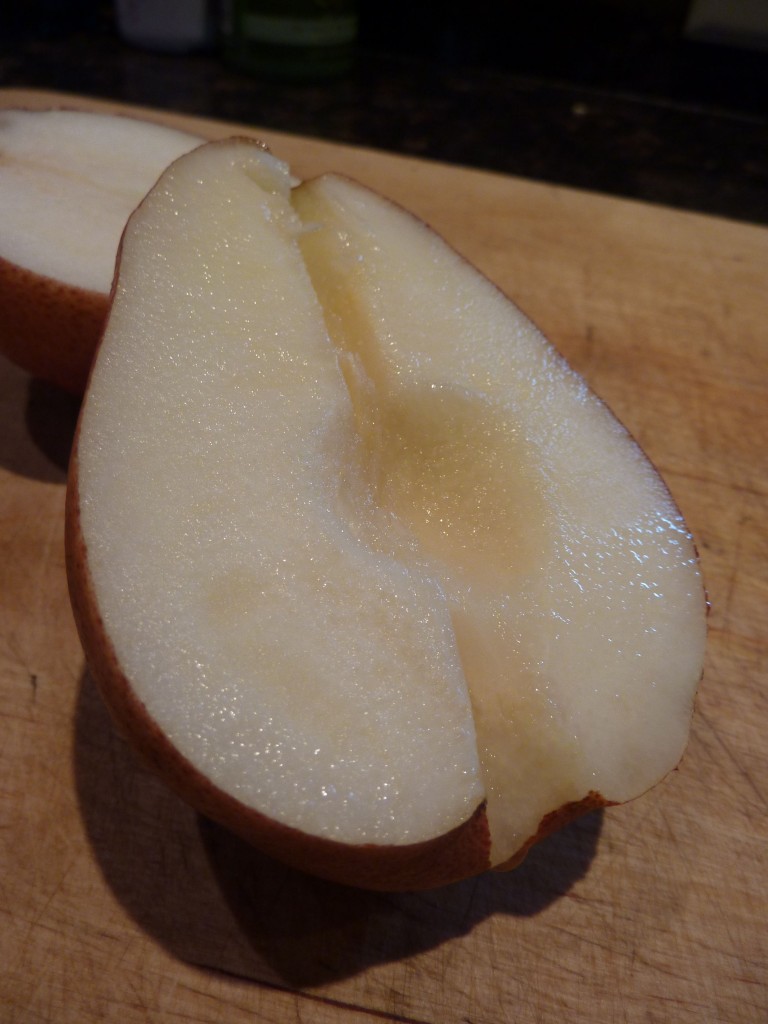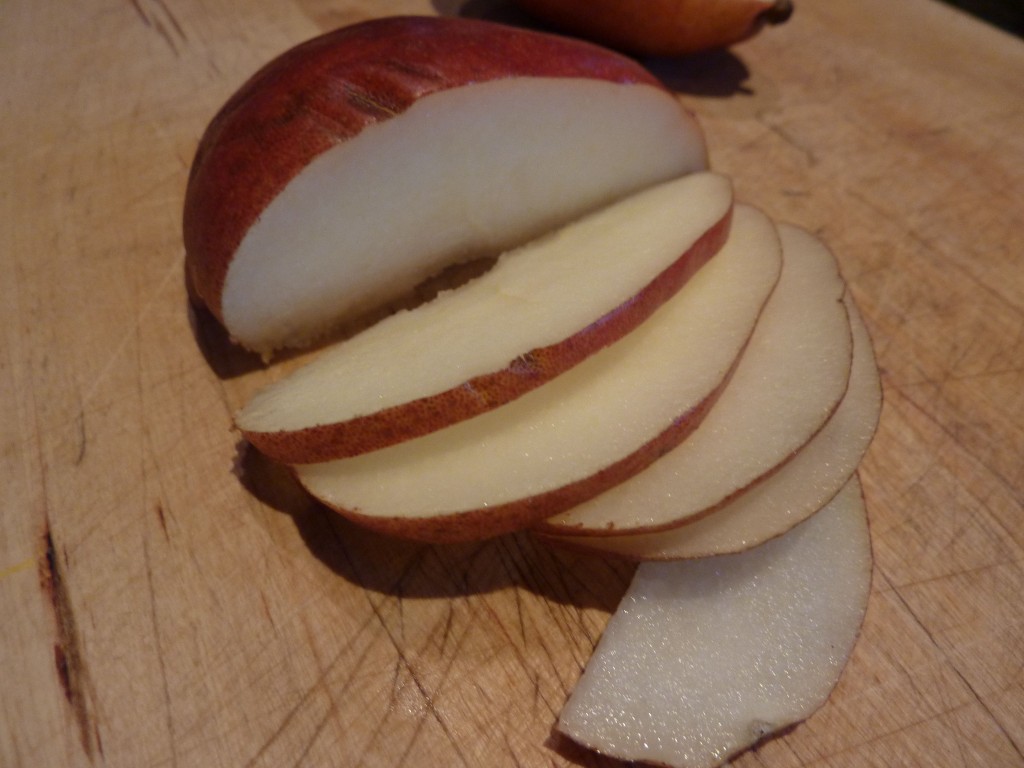 Pear and Grappa Crostini with Prosciutto di Sauris
Makes 16
1 baguette, sliced on the diagonal into 16 1/4" slices, or 16 crostini size pieces of thick flatbread crackers
1/4 cup extra virgin olive oil
1/2 cup mascarpone cheese
1/2 cup ricotta cheese (preferably homemade, recipe here)
1 tablespoon grappa
kosher salt and freshly ground pepper
1 pear
juice of 1/2 lemon, strained
8 slices of Prosciutto di Sauris, or another smoked prosciutto or speck
1/2 teaspoon poppy seeds
Preheat the oven to 350°.
Place the baguette slices on a sheet pan, and cook until just beginning to brown. Don't let them get too hard, or they will break apart when you bite into your crostini. Remove from oven and brush with the olive oil.
Place the mascarpone and ricotta cheese in a small bowl. Stir in the grappa. Season with salt and pepper.
Slice the pear in half lengthwise. Remove the core and the string that extends from the stem to the base. Place each half cut side down on a cutting board, and slice each half lengthwise into thin slices. Place in a bowl and toss with the lemon juice.
Cut each prosciutto slice in half.
Lay the 16 baguette slices out on a sheet pan. Spread a layer of the cheese mixture on each baguette. Top with a slice of the prosciutto, then top each with a slice of pear. Garnish each with a sprinkling of poppy seeds.
Wine Pairing: a nice prosecco, or from Friuli-Venezia Giulia's Colli Orientali di Friuli DOC, the Bastianich Sauvignon "B".