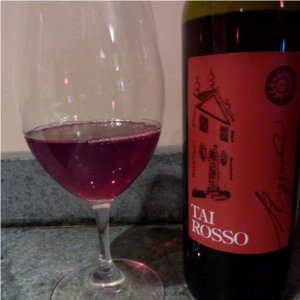 This family of winemakers has occupied Villa Rezzadore for many centuries. It is located right near to La Rocca Pisana, a famous villa designed by Scamozzi, a student of Palladio. The renovated cellar is located in the estates' old barn. The surrounding area is very typical of the Colli Berici, with soil of marine origin, and later volcanic, which gives great freshness and flavor to the wines. Red grapes have traditionally flourished here, but as of late the white grape Garganega has also done well here.
The Tai Rosso wine I'm reviewing here is made from an indigenous variety that we don't see here in the states. This variety, Tocai Rosso, dates back at least 700 years in this region. It became an official DOC wine in the Colli Berici in 1973.
It is not related to the Tocai grape produced in Friuli or Hungary; most experts believe that it is more likely related to the Sardinian Cannonau or Spanish Aragona "granacha", or Granache. In this region, it will appear either as a single varietal wine (such as this), or occasionally blended with Garganega.
After an initial selection during the harvest, the grapes undergo a second, more rigorous selection in the cellar before moving on to the first pressing and maceration on the skins for about 10 days. After pressing and fermentation, it is aged for about 6 months in steel, then bottled and aged for another 3 months before selling.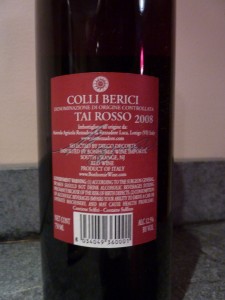 This is a rather light red wine, quite different from the heavy reds that most of us here in the US are accustomed to. While I would not recommend this to go with a juicy big steak or something very rich and meaty, it is a very nice, light red that can be an elegant accompaniment to the right dish. So often here in the US we get caught in the 'big red' trap. In Italy, there is more of an appreciation of the diversity available in the genre, and I think more attention paid to selecting the appropriate wine/food pairing.
This wine is quite affordable, I paid about $12 a bottle. So when I review a wine like this, I appreciate it for what it is, rather than comparing it to a 20 year old Amarone. They both have their attributes, and we are better off for having both on our list to choose from! The Tai Rosso has a very fruity nose and palate, with flavors of wild strawberry and cherry. It is quite lively, but not overly intense. It would go wonderfully with a lighter, warm weather lunch – a grilled chicken salad or a pasta with fresh cheese. I would pair this with my Penne with Peas, Bacon, Ricotta and Mint, for example.