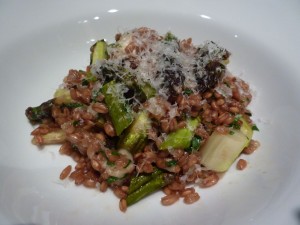 Farro, or spelt as it is often called in the US is a species of wheat, and an important staple in parts of Europe from the Bronze Age to medieval times. It is a hybrid that originated from a domestic wheat, such as emmer, and wild goat grass.  In the Middle Ages, it was cultivated in Switzerland, Germany and Tyrol, the southern part of Tyrol now being part of Italy. Spelt was introduced to the US in the late 19th century, soon to be replaced by bread wheat. The rise of organic farming has created a resurgence in popularity of this wheat, as it requires fewer fertilizers to grow than other varieties.
I have heard many claim that spelt and farro are different grains, but according to the International Plant Genetics Resources Institute, they are. They surely seem quite identical to me, based on what I've been able to find.
Also contributing to the re-introduction of farro or spelt is a renewed interest in the multiple health benefits of whole grains. Spelt contains 57.9% carbohydrates, 17% protein and 3.0% fat. It is also a great source of B vitamins such as niacin and thiamine, and minerals such as iron and magnesium.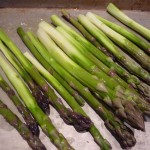 Risotto is a classic dish from all the regions we visit in Northeastern Italy. This time of year, with the wonderful white asparagus beginning to appear, an asparagus risotto would be a perfect dish to showcase this vegetable. In the Veneto, the white asparagus of Bassano del Grappa is renowned for its delicate flavor, and the quality of this hard-to-obtain product is protected with its' own DOP status. But Friuli-Venezia Giulia is also home to an area that boasts a white asparagus of similar quality, one of the most celebrated crops in Friuli. The town of Tavagnacco honors its' prized product every spring with the Festa degli Asparagi. Recent years have seen a market increase in the quantity and quality/ the white asparagus is now the most popular vegetable crop in this region, with 250 hectares and about 150 companies cultivating nearly 1M kg annually of the product. Even with this increase in production, there is still not enough available to meet the demand for the product within the Friuli-Venezia Giulia itself, but it is exported nonetheless.
I've presented a couple of risotto recipes already on this blog, so I decided to mix things up a bit and experiment with other options. Also, I didn't have any decent risotto rice, but had spelt! The result was not creamy like a risotto, but quite nice all the same! If you prefer to use rice, the recipe will work for that as well, and will probably cook more quickly, requiring less liquid. I may try pre-soaking the farro or spelt next time I try this, to cut down on the cooking time. I also love roasted asparagus, so I've substituted the usual blanched asparagus used in the classic asparagus risotto recipe with oven roasted.
Just a word of caution when using store-bought chicken broth for a risotto – make sure it is low- or sodium-free. I just made some using College Inn broth, and the result was much too salty, even for me who is not shy about using the stuff! I didn't add any to the dish, but just the continually reduction of cup after cup of the stock during the process of making risotto concentrates the sodium, making the product too salty.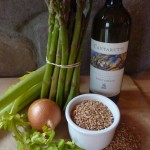 Farro con gli Asparagi
Serves 4-6
1 pound asparagus, ends trimmed
3 tablespoons extra virgin olive oil
2 tablespoons butter
1 medium onion, cut into 1/4 inch dice
2 stalks celery, peeled and cut into 1/4 inch dice
1 1/2 cup farro
1 cup dry white wine
8-12 cups chicken stock
1 cup grated grana cheese
1/4 cup chopped fresh herbs; parsley, chives, basil
kosher salt and freshly ground pepper
Preheat the oven to 350°.
Peel the asparagus, starting from 1 1/2 inches below the tip and extending to the opposite end. Place the spears on a sheet pan, drizzle with some of the olive oil and season with salt. Roast in the oven until tender. Remove and allow to cool. Cut off the tips, and cut the stems into 1 inch pieces.
Place the stock in a large saucepan and heat over medium heat. Keep warm.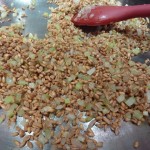 Heat the remaining oil and the butter in another pan, add the onion and celery and cook over low heat, stirring occasionally, for 5 minutes.
Add the farro. Stir for about 1 minute, and then stir in a ladleful of the stock. Cook, adding the stock a ladleful at a time, for about 45 minutes until the spelt is tender and all the stock has been used.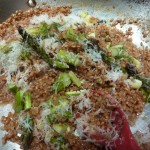 Season with salt to taste, stir in the roasted asparagus, the cheese (reserve some for garnish) and herbs. Serve.
To pair with this dish, I would suggest the white wine I used in the preparation – a crisp, clean Cantaruzzi Pinot Grigio from the Grave region of Friuli-Venezia Giulia.