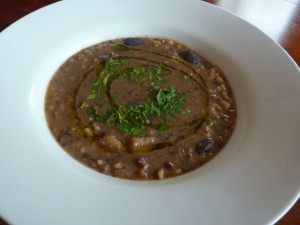 A while ago I did a post on the very familiar Italian soup, Pasta e Fagioli. Here is an interesting variation, hailing from Friuli-Venezia Giulia. This is Orzo e Fagioli, or Minestra di Orzo e Fasio, a barley and bean soup. Recall that, in Italy, orzo is not the small pasta we know in the US, but is the grain barley. Barley is one of the most important grains in Friuli-Venezia Giulia. It is the most popular soup found in Friuli, and also popular in Venezia Giulia, but Jota dominates there, a bean and sauerkraut soup. The Friuli version calls for pancetta; in Trieste you will find smoked pork or smoked lard used rather than pancetta. I used bacon – all are delicious!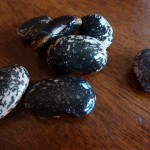 I've taken a few liberties with the multiple recipes I read for this soup. First of all, I used a local bacon rather than a poor version of pancetta. I also browned the vegetables first, before cooking the beans. I used chicken stock rather than water, to add a bit of protein and a little meat flavor. Finally, I cooked the barley separately, and store the bean base and the barley in individual containers until I am ready to eat the soup. I find starches kept in the soup for a day or so take on a mushy, unappetizing texture. And according to Fred Plotkin in his recipe for this soup in La Terra Fortunata, the barley will take on a bitter taste if it is reheated more than once. I haven't experimented with this, as the soup was too good to waste!
Orzo e Fagioli
Serves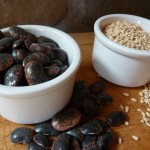 1 pound dried beans, such as borlotti (cranberry) or cannellini
2 tablespoons extra virgin olive oil, plus more for drizzling
2 ounces pancetta or bacon
1 large onion, chopped
2 carrots, chopped
2 celery stalks, peeled and chopped
2 garlic cloves, minced
kosher salt and freshly ground black pepper
8 cups chicken, beef or vegetable broth
1 large potato, peeled and cut into 1/2 inch dice
2 bay leaves
1 teaspoon dried rosemary
1 cup pearled barley
3 tablespoons chopped fresh herbs, parsley, basil, rosemary, sage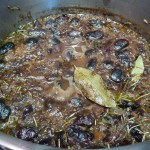 Rinse the beans, place in a large bowl and add enough water to cover by a couple of inches. Allow to soak overnight. If in a hurry, you can place the beans in a pot, cover with water and bring to a boil. Remove from heat and allow to soak for 2 hours.
In a large soup pot, heat the olive oil over medium high heat. Add the pancetta or bacon, onion, carrots and celery. Saute until softened and starting to brown, about 5 minutes.
Add the garlic and cook until aromatic, about 1 minute. Season with salt and pepper.
Drain the beans from the soaking liquid, and place in the pot with the vegetables. Add 5 cups of the chicken stock, the bay leaves and the dried rosemary. Bring to a boil, reduce to a simmer and allow to cook until the beans are soft, 1 to 1 1/2 hours, depending upon the size of the beans. The length of time will vary significantly, depending on the type, size and age of the bean. If you are keeping some or all of the beans whole, you will want them to still be firm enough to hold together, so some firmness is desirable here.
While the beans are cooking, place the barley in a medium bowl and cover the barley with water. Allow to soak for 1 hour, then drain.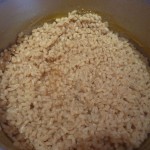 Place the soaked barley in a medium saucepan and cover with the remaining chicken broth. Cook until the barley is tender, about 30 minutes. Season with salt.
Remove the beans from the heat. Search through the beans for the bay leaves and remove. Using an immersion blender, puree the beans slightly – you want about 1/4 of them to be pureed.
Transfer to a smaller pot the soup you will be serving immediately. Add some barley – roughly estimate the percentage, if you are serving half of the soup, add half of the barley. Add some of the chopped herbs. Warm and serve in warmed bowls. Top with a a drizzle of olive oil, and serve.
Save the remaining bean soup base and barley in two separate containers. Combine and heat through just before serving.