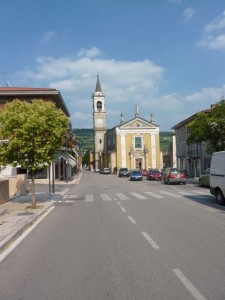 I arrived in Fumane mid-afternoon on my first day in Italy, after a nice lunch in Soave. Not to hard to find, this is a small hamlet in the heart of Valpolicella wine country. We will visit here on our upcoming Bike the Wine Roads of the Veneto trip in September, and I have a list of vineyards that I want to check out before then. I stayed at the Locanda Le Salette, a small locanda right in the downtown area. Clean, inexpensive, a fine place to stay for someone more interested in what is outside the hotel than in!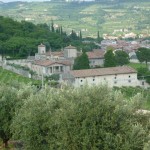 I settled in my room, then headed out to explore Fumane on foot, after too much time on a plane and in a car. I headed out the main street, and started up hill. Fumane is the home of one of the larger producers in Valpolicella, Allegrini. Just down the hill from my locanda is their cantina, which I passed on the way in. Up the hill is the Villa della Torre Allegrini. The historical vineyard Palazzo della Torre surrounds the Villa, and gives its name one of the best known wines of Allegrini. You can arrange in advance for a tour and tasting, so I was only able to admire the exterior. But I enjoyed a nice hour plus hike up the hill behind the Villa, around several switchbacks until I was able to take some good shots from above.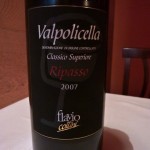 The ristorante at Le Salette is the highlight of the locanda. It specializes in Cucina a Km 0, serving only local foods and wines, not hard to do when you have such a location. All the wines hail from Fumane, and the fruits, cheeses, salumi, even flour, comes from local producers. They were listed by name in the menu. I could not keep track of all the local wines I tried – I was served by Fabio, who made me feel right at home, and kept my wine glass full all night. As it was his birthday, I was not allowed to buy any myself! I started with an apertif of a sparkling wine, then a Valpolicella Classico Superiore 2007 Ripasso from Flavio Cottini (wonderful cherry), then an intense Amarone, and a sweet Recioto to finish.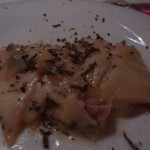 My meal began with Millefoglie di Patate Nostrane con Monte Veronese DOP e Tartufo Nero Scorzone de Monte Baldo – thinly slice potatoes, similar to our gratin, layered with speck, covered with melted Monte Veronese cheese, and finished with shaved black truffles from Monte Baldo.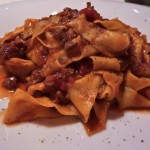 A tough act to follow, but I was also quite pleased with my pasta dish: Tagliatelle alla Bertarola. A nicely prepared homemade tagliatelle (using the local flour, no doubt), with a lamb ragu from a local farm raising an heirloom breed of the region, Pecora Brogna.